software
Control your computer remotely with radmin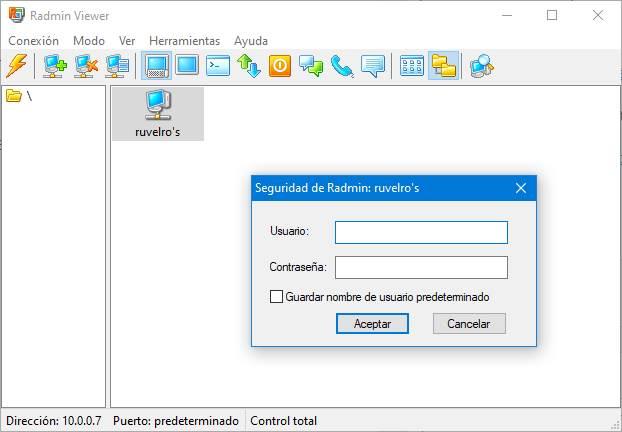 Thanks to the networks that nowadays we always have at our fingertips (for example, a fiber optic connection, or a 4G or 5G data connection), connecting to our computer, or to the company computer, has been remotely made into something very simple. On the web we can find a wide variety of products that will allow us to always have our PC at hand and connect to it remotely from anywhere to use it as if we were sitting in front of it. And one of the most professional programs for this purpose is Radmin.
Radmin is a remote control software that will allow us to connect to our computer from anywhere and have total control over it. This program is specially designed to allow any user to telework from home (something that is becoming more and more fashionable), as well as to provide other people with all kinds of remote assistance or to manage unattended computers or servers to ensure that it works correctly.
Main features
A software of this type has to comply, above all, with three fundamental aspects. The first of these, and one of the most important, is that it be safe. Radmin has an advanced security system that guarantees that all connections always carry maximum security. This software has a 256-bit AES encryption system , and during its 17 years of life not a single vulnerability has been found in it.
Another very important aspect is that it is a fast and easy-to-use program . The installation of Radmin is very simple, and each of the steps is very well explained, which guarantees that any user, both administrator and without much knowledge, can put this software up and running. In addition, its protocol has an advanced optimization system that allows us to control the PC remotely even through a 3G connection without noticing much slowness.
Radmin Manual
Let's see how this remote control program for Windows works.
Configure the server
The first thing we must do is install the server version on the PC that we want to control remotely. The installation of this program is very fast and easy, it does not hide anything. We simply have to run the installer and follow it to the end.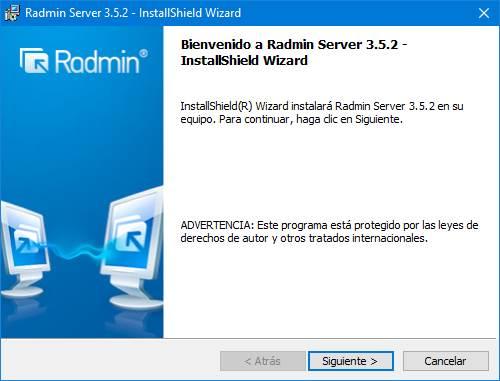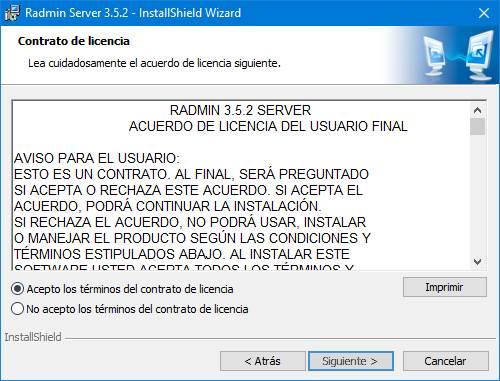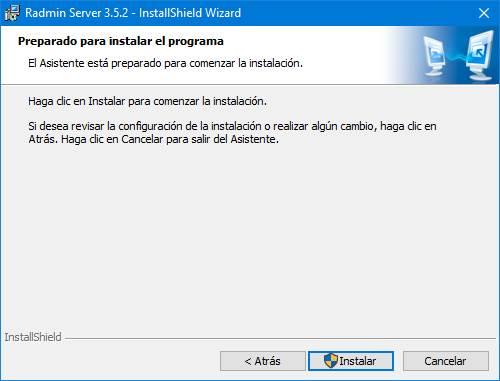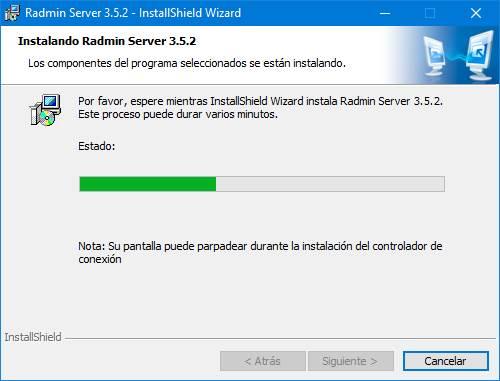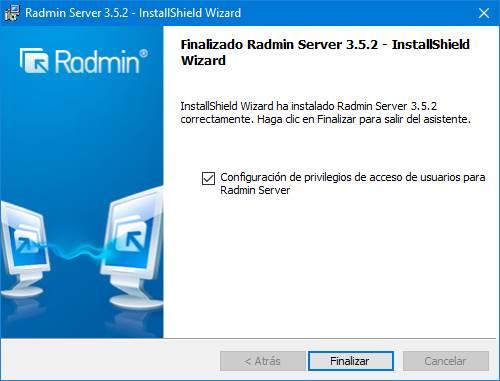 When the installation of the program is finished, the main server window will open automatically.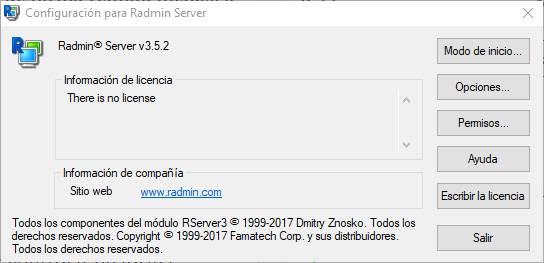 By clicking on "Startup mode", a new window will open in which we will have to choose between "Automatic", if we want Radmin Server to start at the start of Windows, or "Manual" to have to start it manually when we go to use it. We recommend leaving it on "Automatic".
Returning to the main window of the program, now we will choose the option «Options». From there we will be able to configure the port through which Radmin Server will listen, which by default will be 4899. This port must be open in the Windows firewall, or in any other filtering software that we have (such as a router), since otherwise the connection cannot be established.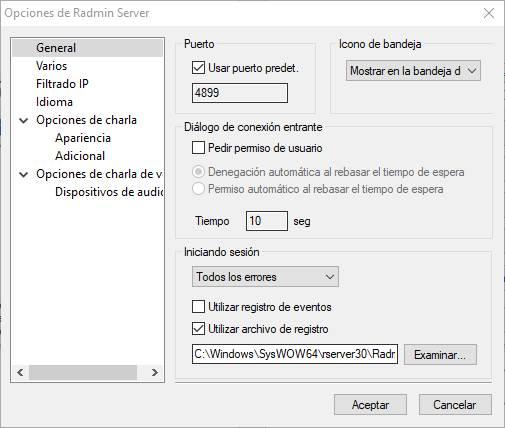 We will also be able to configure different connection modes, and even IP filtering that will provide us with greater security. And we can configure the chat options when we are connected to the remote PC.
If we go back to the main window of the program we will see another button called "permissions". From it we will be able to create a new user of the program, and choose what it can and cannot do on the controlled PC when it is connected remotely to it.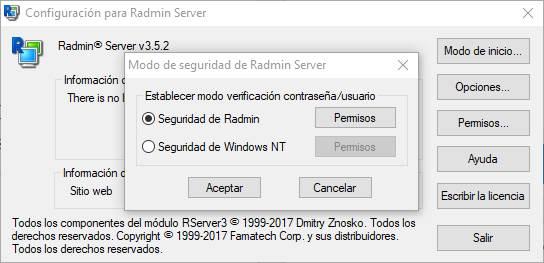 We can choose if we want to use the Radmin security system, or we prefer to use the Windows NT permission system.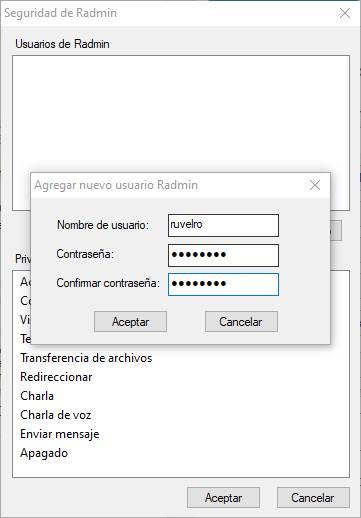 We already have the server configured, now we are going to see how to configure the client.
Configure the client
Now that the server is ready, the next step will be to connect the client, that is, Radmin Viewer. We will install this on the computer from which we are going to connect to the remote PC, and it will be, broadly speaking, the "command".
The installation, like that of the server, is very fast and easy. The wizard does not have any mystery, so we follow it to the end and that's it.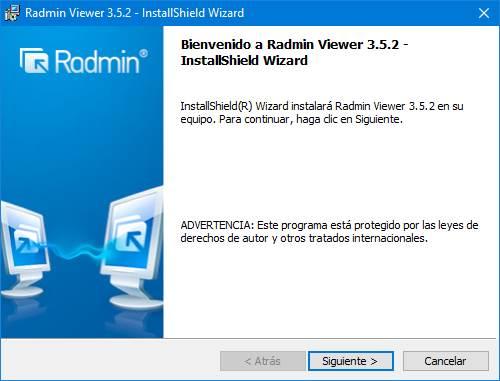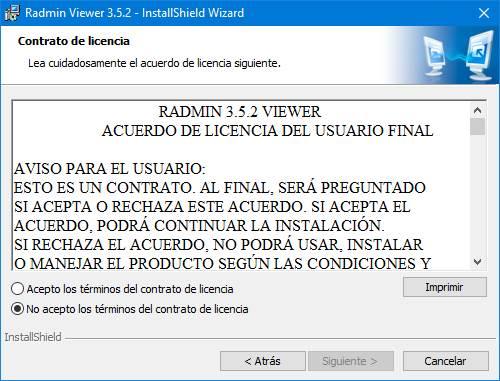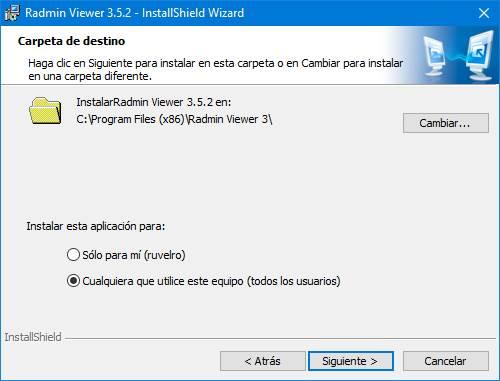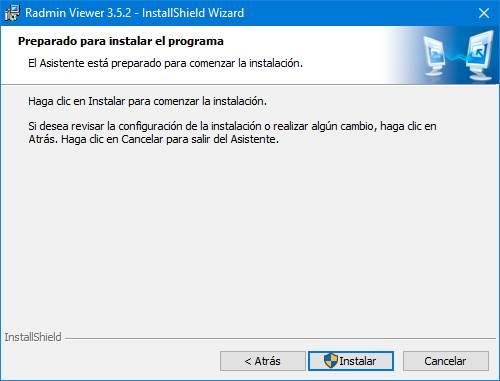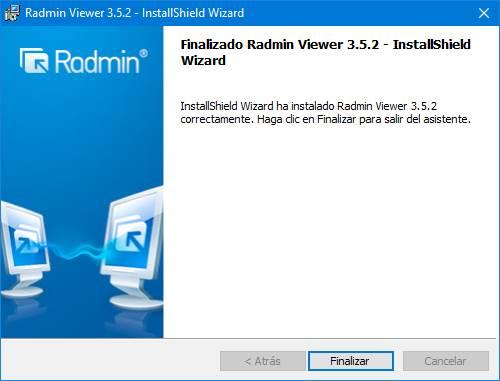 Once the program is installed, we execute it. And we can see the main window of the remote control software.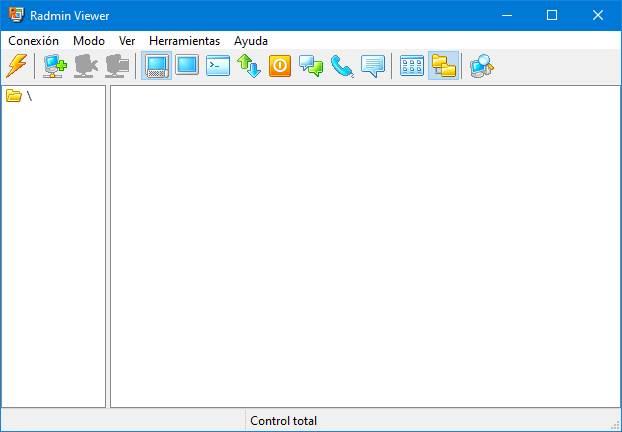 In this window we will see all the connections that we have configured and saved, being able to connect to any computer very quickly and in seconds. The first thing we will do is add a new connection. To do this, using the "connection" menu, we will create a new one.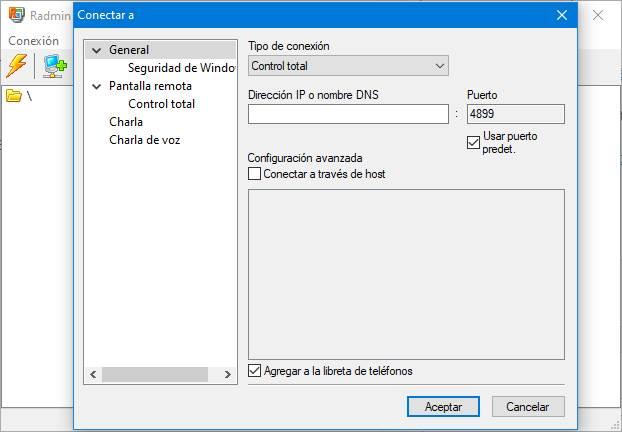 We will need to enter the IP and port of the server to which we are going to connect. We can also, for example, choose the type of connection we are going to use, although we can allow all of them and choose it when we are going to connect to it.
Clever. When we save the changes, the new server will appear in the program. We double click on it, and the connection will be established. Of course, if we have created a username and password (something essential, for security reasons) we will have to enter the data before connecting.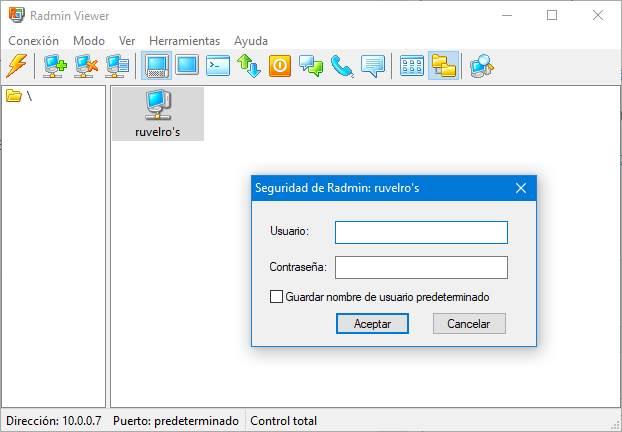 If everything is correct, and if we have gotten this far, it sure is, we will already be connected to the remote PC, being able to control it as if we were sitting in front of it.
Download Radmin
We can download this program for free from the following link . On this website we are going to find the main download, which will download both the client and the server in one go. In addition, we will also find other independent downloads, among which we have to choose the one that best suits our needs and the PC where we are going to install it:
Server: the server program, the one that we must install on the computer that we want to control remotely.
Viewer: the remote control program, which we must install and run on the PC in front of us and it will connect to the server.
Portable Viewer : the same as the previous one, but portable; no installation required.
Deployment Tool – An installer for large infrastructures, as it allows the program to be installed on many computers at once.
VPN: a free VPN that allows us to connect to remote computers more securely.
Radmin is not a free program, although the truth is that it is cheaper than other similar options. This software offers us a 30-day trial version, during which we can use the program indefinitely. The client is free, so we will only have to pay for the server. And all payments are unique, there are no subscriptions or other hidden expenses .
A standard license, for a single computer, has a cost of 46.20 euros . And from there, we can buy license packages according to the number of PCs we want to control. 50 licenses cost 1405 euros, while 100 licenses cost 2348 euros.
All licenses include technical support.
Alternatives to Radmin
If we are looking for a program that helps us to control our Windows computer remotely, we present some alternatives to Radmin to consider.
TeamViewer
It is undoubtedly one of the most popular remote desktop programs for Windows, as it is indicated for both personal and home use. And it is an application that has always been characterized by being very simple to use, so it can be used by all types of users. To use it, it will only be necessary to know the ID associated with our computer, as well as the password. It also does not require any type of installation since it is a portable program. Its biggest drawback is that the free version is somewhat limited and the paid ones are quite expensive, since it is aimed at companies. We can download TeamViwer from this link.
AnyDesk
Another very interesting program to control Windows remotely, and in this case completely free (although it also has a paid version). It has reliable, fast and secure connections, without the need for us to have to open ports or carry out complex configurations. With this program we can achieve transfer rates of up to 60 FPS, shielding our connection with a military encryption to prevent them from being hacked. In addition, it is a cross-platform application so it is compatible with operating systems such as Windows, macOS and Linux, and they are even mobile devices with Android and iOS. If we want to use AnyDesk we can download it for free from here .