software
Connect securely to remote pcs and servers with kitty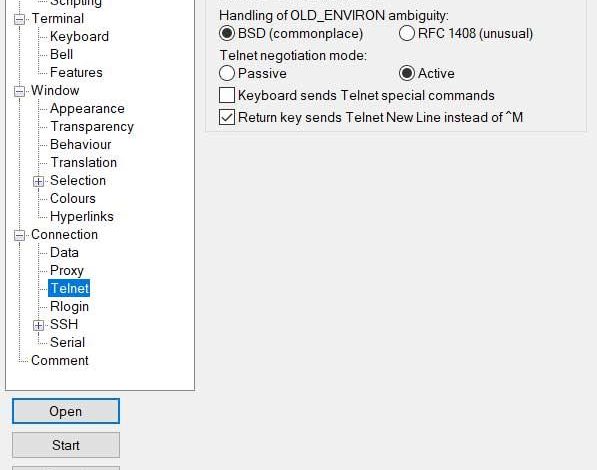 Internet is a basic element when we open our PC in most of the occasions. We use programs for a multitude of online jobs, both at the user level and related to work areas. In these lines we will talk about a proposal that will be useful in both cases, it is the software solution called KiTTY .
As we mentioned, here we find a powerful program that is actually a branch of the popular PuTTY . Surely many of you have been a familiar name for many years. For those of you who don't know it, here we refer to an application that acts as a KiTTY Telnet / SSH client developed from the aforementioned PuTTY.
But of course, to differentiate itself from the basic application, it has all its functions as well as adding other interesting ones of its own. Hence, over the years many users have opted to switch to this other version of the more complete program.
At the same time this program can be configured for secure connections through an HTTP or SOCKS proxy, adding default AES encryption for SSH connections. At the same time, it also offers us the possibility of making use of Blowfish and 3DES encryption algorithms .
What will KiTTY be useful for on the PC?
To give us a better idea of ​​what we are talking about, Telnet is a network protocol used on the Internet to remotely access any computer or server. In this way, the protocol does not allow access to the command line of the other system to perform all kinds of tasks, including those related to system administration . But of course, this is something that in many cases is limited to certain advanced users who know well what they are doing.
Therefore, to be able to carry out this type of specific work, that is, to access a remote server by telnet, two previous premises are needed. On the one hand, that remote server has telnet support , in addition to having a user account to access. At the same time, it is advisable to use a local client to facilitate both access and work of this type. And that's where the KiTTY client we are talking about here comes into play, although there are many others.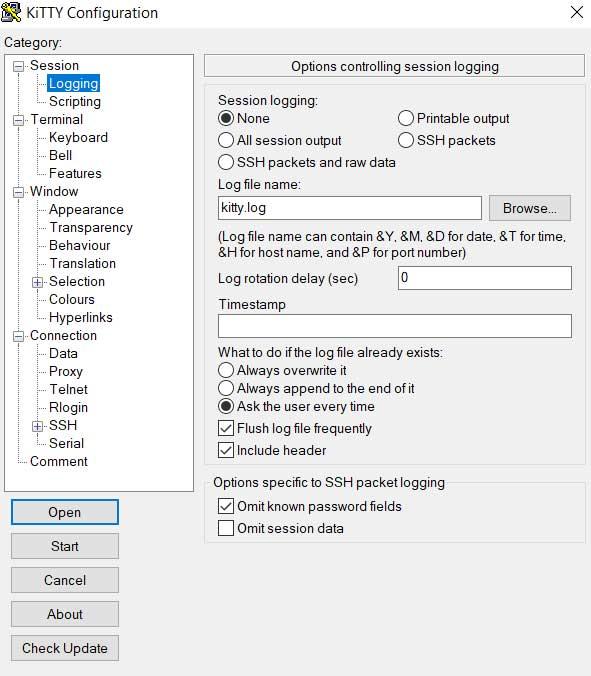 First steps to use KiTTY
Well, this is a program that is installed on the computer like any other so that we can start making these remote connections that we are talking about. Once it has been installed locally, we find a complete user interface full of customizable options and parameters. We basically carry out all of this from a single window, with the advantages that this offers us.
At first we can say that the main interface we are talking about is divided into two well differentiated sections. On the left we find a panel in which we see the different categories and subcategories of which the application is composed. Thus, we only have to click on each one of them so that the corresponding configurable parameters of that section appear in the right panel. Say that here we find sections related to both the appearance and the functionality of the program.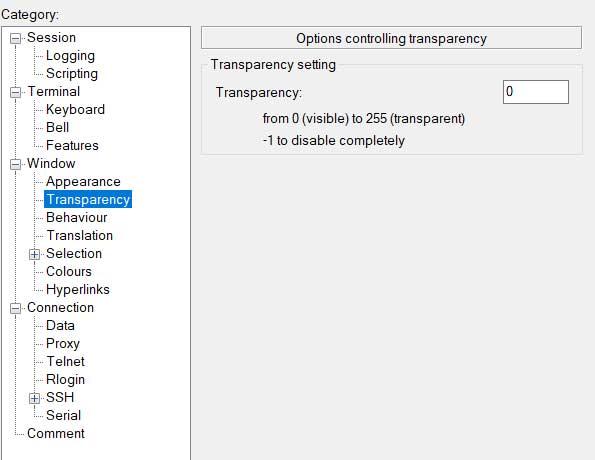 But with everything and with this, we must also bear in mind that KiTTY comes prepared by default to be able to start working from the first moment. We say this because thanks to the default configuration that it proposes, we will be able to make remote connections via Telnet as soon as we install it. To do this, in the first of the sections, Session, we only have to enter the corresponding credentials of the server we want to access. Here we specify the name of the server, the port to use, and the type of connection we want to establish. Then we just have to click on the Open button that is located in the lower left part of the main interface.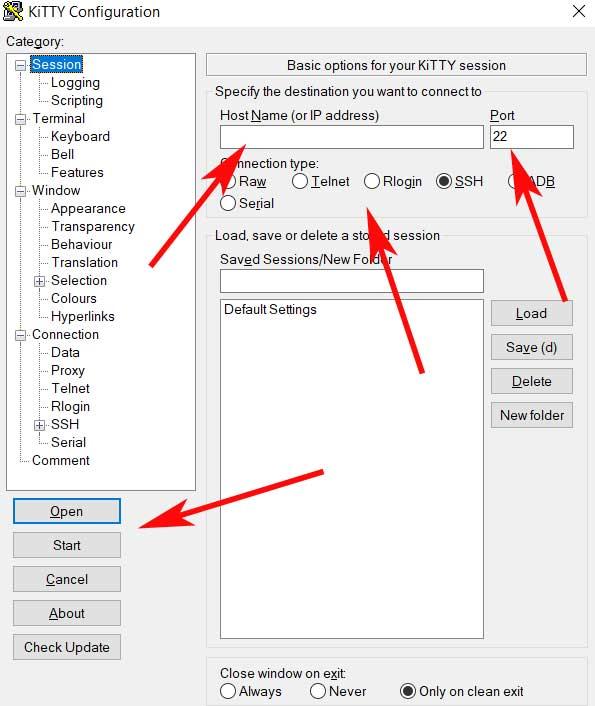 Types of remote connections supported by KiTTY
As expected in a program with these characteristics, there are several types of remote connections that we can use from here. In this way, the versatility of the software increases and we have access to a greater number of remote servers depending on their support. These are the types of connections that we can configure in KiTTY:
Raw
Telnet
Rlogin
SSH
ADB
Serial
Some of the main features of KiTTY
As we say, if something characterizes this Telnet / SSH client, it is the enormous amount of customizable options that it presents. For example, we have the possibility of adapting its operation with each of the types of connections mentioned independently. This is something that we achieve from the section called Connection. But that's not all, since this complete program also offers us an automated password and command system, session filtering, executing local scripts remotely, etc.
At the same time we can make use of elements such as URL hyperlinks, ZModem integration, or SSH Hadler here to interact with Internet Explorer . In addition, as we mentioned before and in order to improve its use, we also find parameters related to the KiTTY user interface.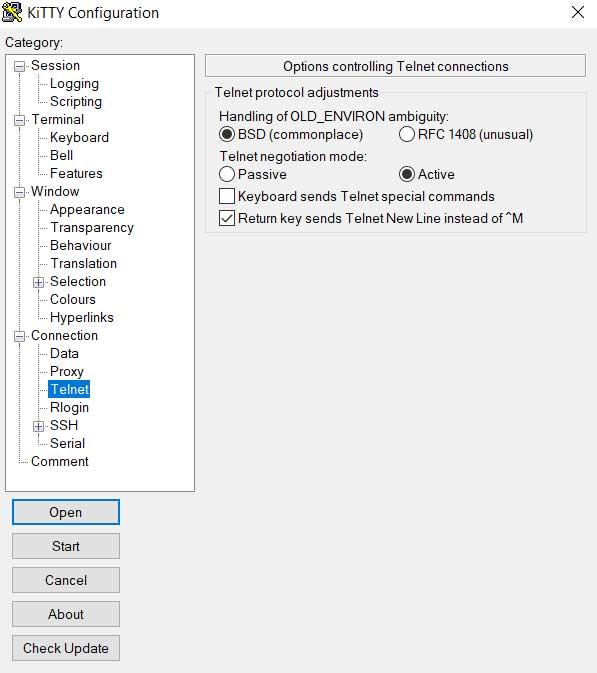 Other alternatives to KiTTY
PuTTY
As we have mentioned before, this application we have talked about is based on the popular PuTTY. This is a client program for Telnet / SSH connections that has been around for a good number of years. We found a version of both 32 and 64 bits, both free, and that you can download from here . Also, as we can see, its user interface is very similar to the one reviewed in these lines.
OpenSSH
In this case we find another similar tool that will be very helpful for this type of connection. We are actually talking about a free client to establish remote connections in terminal mode. It is more than useful for all those who need to connect to a remote server or computer through the secure SSH protocol . Therefore, in order to test this proposal first-hand, we can do it from this link .
How to download KiTTY for free
Well, at this point, it may be the case that you want to try this software for remote connections for yourself. This is something that you can do completely free of charge, just click on this link . from your favorite Internet browser . Say that the program has both an installable and a portable version.