software
Color windows folders with folder painter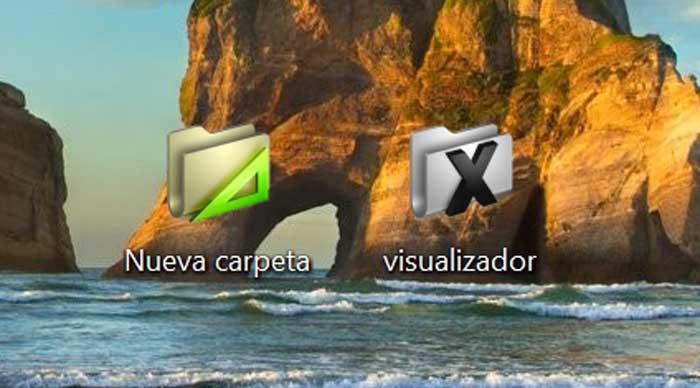 If we work with our computer or use it to store all kinds of information, we will surely have countless folders to keep everything fairly organized. One of the disadvantages of Windows in terms of customization is that it does not allow you to customize the folders to give it a better organization. Therefore, today we are going to talk about Folder Painter, a simple application with which you can put and change the color of the folders.
Personalization is one of the most important aspects of our computer. That is why on more than one occasion we have considered the possibility of changing the design of the different components, such as the folders, to avoid the typical and common yellow of them. To be able to carry out this task, Windows does not have any tool by default, so we will have to use third-party programs, such as the one we are going to see next, which allows us to change the color easily.
Folder Painter is free software that will allow us to customize our folders by changing their color, so that it is much easier to access our files when necessary. By giving each folder a different color, we will no longer need to be looking for its name or looking closely to find it, we will simply find it with its personalized color. Thus, with this application we can color the color of the Windows Explorer folder by changing the default yellow color.
This program will allow us to assign any color to our folders, so that we can have a different color for each of them. By having each folder in a different color makes it stand out quickly and we have no problems accessing it, without having to look at their names.
Customize folders with Folder Painter
To start using Folder Painter, the first thing we must access is to download it from the developer's website . It is a completely free and portable application, so it does not require any type of installation and does not try to install any third-party software, being quite transparent and providing confidence. Being portable, we also prevent the program from modifying the Windows registry with new entries, as well as having the possibility of executing it from an external storage device such as a hard disk, a pendrive or a memory card.
Once the ZIP file is downloaded, we unzip the folder and two files FolderPainter.exe and FolderPainter_x64.exe will appear, the latter aimed at 64-bit computers. Once the corresponding file is executed, the main menu will appear, completely in Spanish. Say, that the application does not need to be always running to be used, since we can close it and it stays in the background without consuming hardly any resources and keeping all the changes we make with it.
Up to 294 icons available
On the left side of the panel we have three default icon packs, each with 14 different icons or colors. Through them, we can customize our folders either with colors or also with some images. Additionally, it is possible to download up to a total of 21 icon packs, with a total of 294 icons, so it has a wide variety of customization options.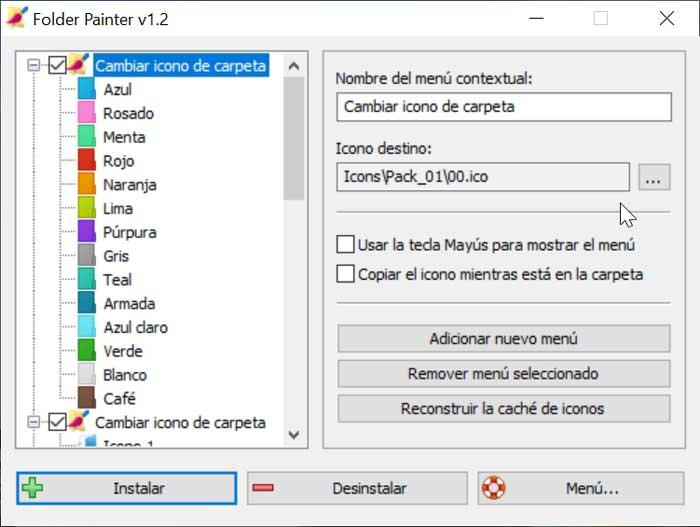 Below the panel with the list of icons we find the Install button , which we must press so that Folder Paint is added to the Windows context menu. We will have to do this with each icon pack that we have. Later we right-click on any folder to open the context menu, where we will find the option to Change folder icon . If we hover the mouse pointer over it, a submenu appears where we will find some colors to add and customize the folder. We will select the desired one and the folder will change its color. In case the change is not made first, we must proceed to Update the Desktop so that the changes are made correctly.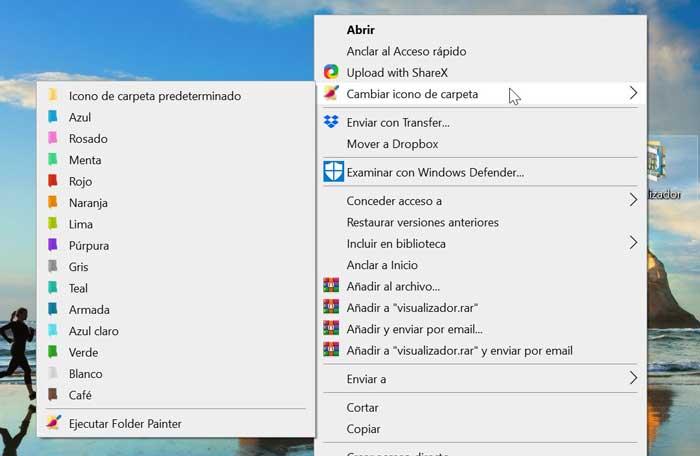 Some inconvenients
The main drawback is that, if we have images in the folder, they are not previewed as they normally do. In case we want to return to the original color, just click on the Default Folder Icon button . If we want to remove an icon pack or all the Folder Paint packages that we have installed, we will use the Uninstall option from the main menu.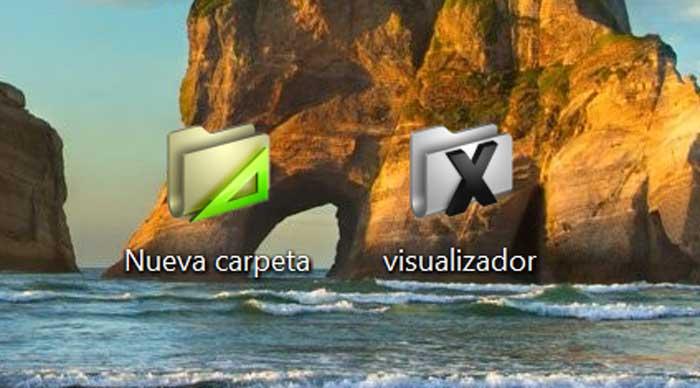 An important function is to Copy the icon while it is in the folder . If we have it marked, we will ensure that the marked icon continues to have the custom color, even if you decide to move it to another computer using any removable drive such as a pendrive or an SD card. It also has the Rebuild Icon Cache feature, which is useful in case of problems.
Alternatives to Folder Painter
If you would like to be able to customize Windows folders with different colors and styles, we suggest some alternatives to Folder Painter such as:
Rainbow Folders
With this application we can change and customize the color of each folder to our liking, so that we can distinguish them more easily. It does not require any type of installation, since it is portable, it stays in the background, consuming very few resources. You can download Rainbox Folders for free from its official website.
Folder Colorizer 2
It is a simple application with which we can have the folders on our desktop in different colors, quickly and easily, achieving very satisfactory results directly and giving a distinctive touch to our desktop. Rainbow Folder is completely free and can be downloaded for free from their website .
CustomFolder
We are facing a free program with which we can customize our folders in Windows with different colors, icons and emblems. Since this application allows us to give each folder a different appearance, we can access it more quickly even without the need to search for them by name. This software allows adding up to 8 collections of 24 icons each, as well as adding up to 80 additional emblems. We can download it for free from here .