software
Clean, optimize and speed ​​up windows 10 with cleaner one pro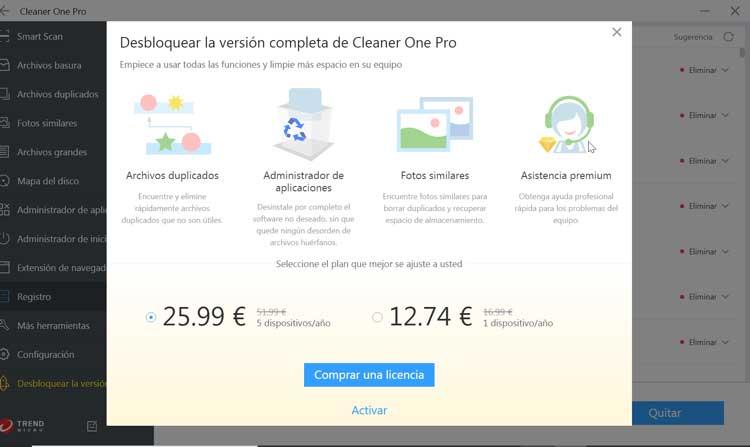 When we use our computer frequently it is possible that we find over time how the system does not work the same as the first day. And it is that Windows is responsible for generating garbage files that causes our PC to go slower than desired. When it comes to frequent maintenance of our computer, it is necessary to have the necessary software to clean Windows, free up space on the hard disk and optimize all its operation. For this we can use a tool like Cleaner One Pro .
Cleaner One Pro is a powerful PC cleaner with which we can free up storage and memory space, execute logins faster, as well as clean browsers and the system. It is an all-in-one, powerful and easy-to-use maintenance tool that allows us to safely remove junk and duplicate files to save space.
Through this software we can analyze and visualize everything that occupies our storage, allowing us to search for errors and residual elements in the registry, to later clean and defragment it. In this way, we can correct the most common Windows problems and speed up the PC, offering an exclusive application management solution.
Cleaner One Pro is a program capable of eliminating junk and temporary files, similar photos, large files, as well as recovering and eliminating duplicate files. It also allows you to achieve a better boot time through better management of startup items. We will achieve a better optimization of the system by identifying and eliminating excess entries in the registry so that the system remains stable and efficient.
All-in-one cleaning manager
Once we run the program, its main menu appears with a simple, minimalist and intuitive user interface completely in Spanish, so that it can be used by all types of users, from the most expert to those who are beginners and want to start experimenting. with its functions. In the left column we find its main sections from which to run a scan for the specified types of elements. Some of the functions that we can perform with Cleaner One Pro are:
Smart scan
Through this function we can check the storage problems of the hard disk, as well as carry out a diagnosis and security of our equipment just by pressing the button Explore now.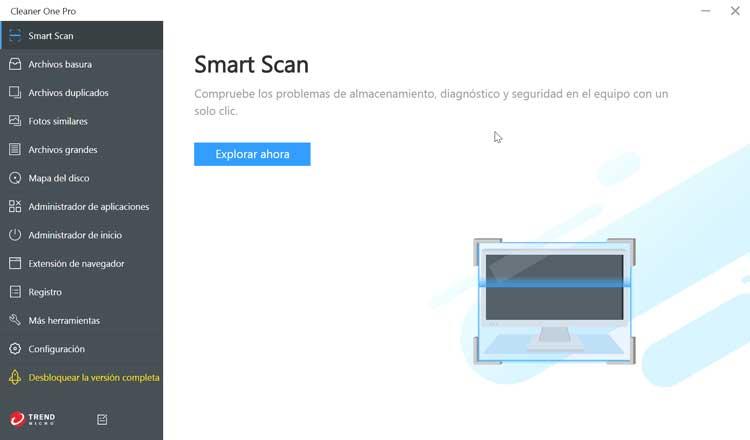 Junk files
In this section we can detect and eliminate unnecessary files that are unnecessarily occupying space on our hard drive, helping to prevent websites from tracking our online activity.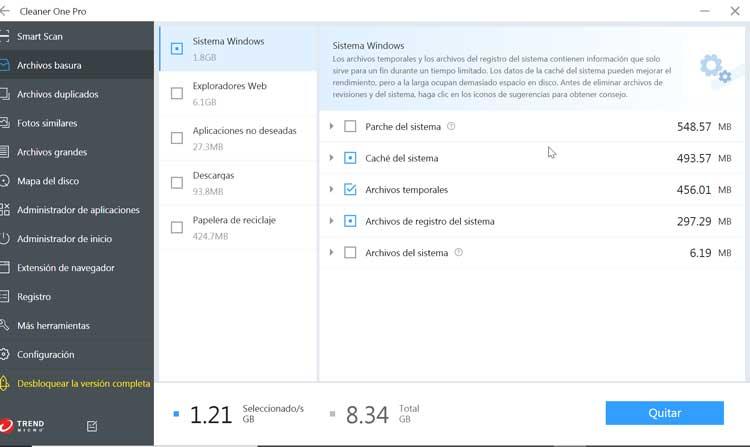 Duplicate files
Here we can search for and eliminate all types of files that are duplicated and therefore are essential on our computer, thus recovering space on our hard drive.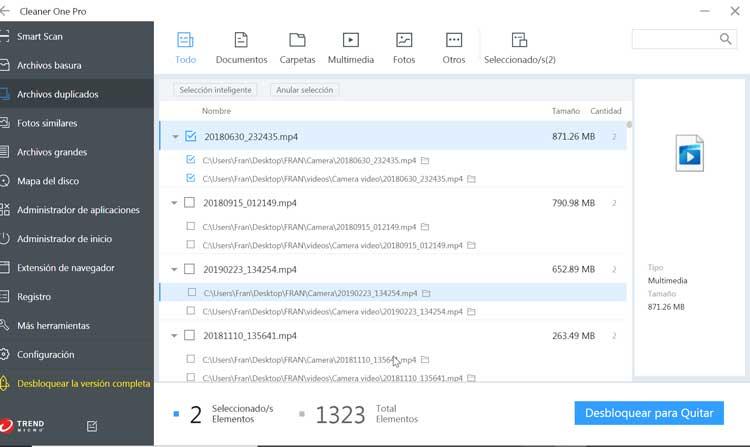 Similar photos
In this section we can search our hard drives or specific folders for all kinds of similar photos that we can delete to recover disk space without losing our valuable memories.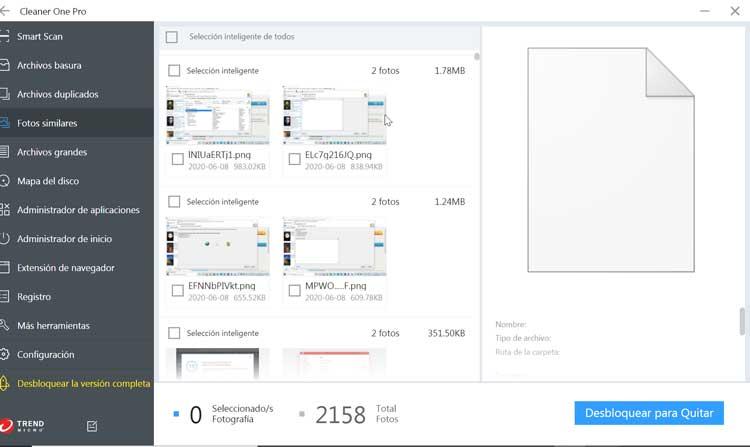 Disk map
Through the disk map we can analyze the space on our hard disk to show all files and folders in an interactive graph, through which we can easily see which elements take up more space and thus better manage their content.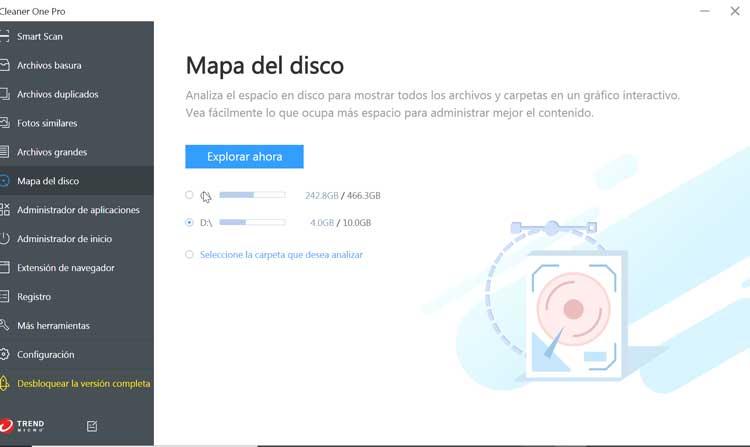 Application Manager
From the Applications Manager section we can easily delete several applications and their associated files to recover disk space.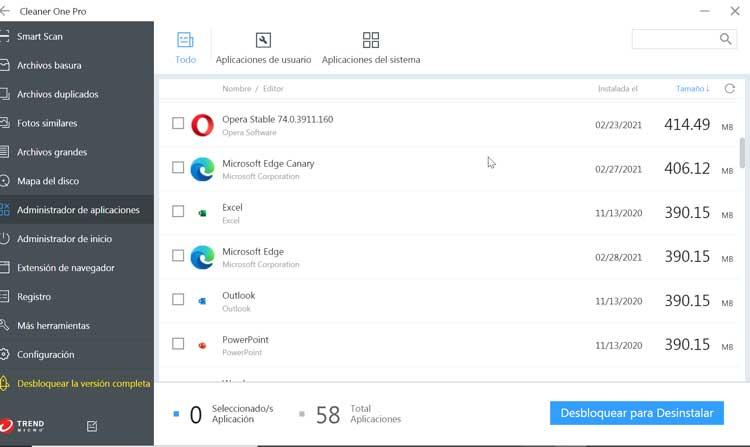 Startup manager
With this function we manage to optimize the startup of our computer, as it is responsible for preventing unnecessary software from starting automatically when we start Windows, improving its performance.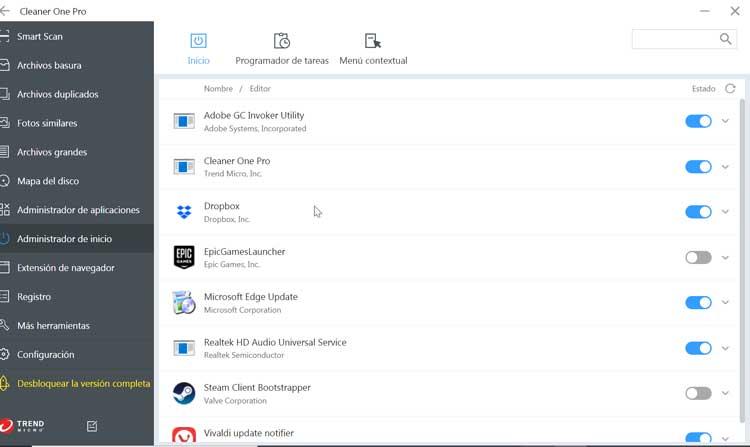 Browser extension
Browser extensions are small tools that we install in the browser to improve its usefulness. Sometimes an abusive use of them can reduce their performance and the team. With this function we can activate, deactivate or delete the installed browser extensions.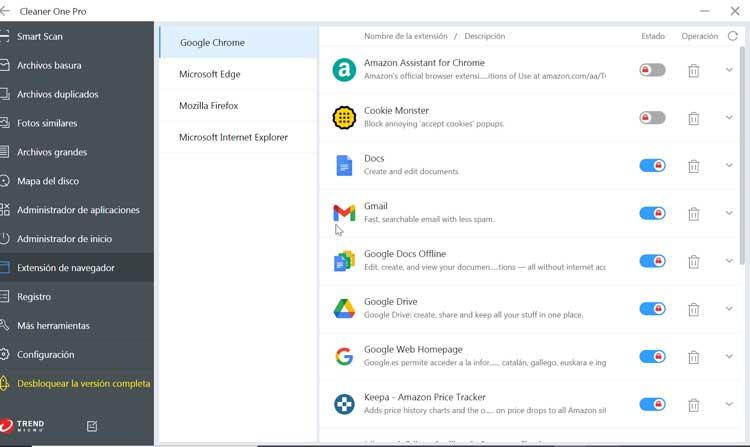 Registry
From here we can find and delete the registry keys that have been saved unnecessarily and thereby improve the performance of the computer.
Download Cleaner One Pro
If we want to start using Cleaner One Pro we can download a free version from its website, although somewhat limited in functions. Later we can decide if we want to acquire your license for a subscription period of 1 year. If the license is for one device, its price is 12.74 euros, while if it is for 5 devices, its price is 25.99 euros. With it we get additional functions such as finding and deleting duplicate files, managing applications, finding and deleting similar photos and premium assistance. The program is compatible with macOS 10.12 or later and Windows 10 version 14393.0 or higher, being valid for 32-bit and 64-bit systems.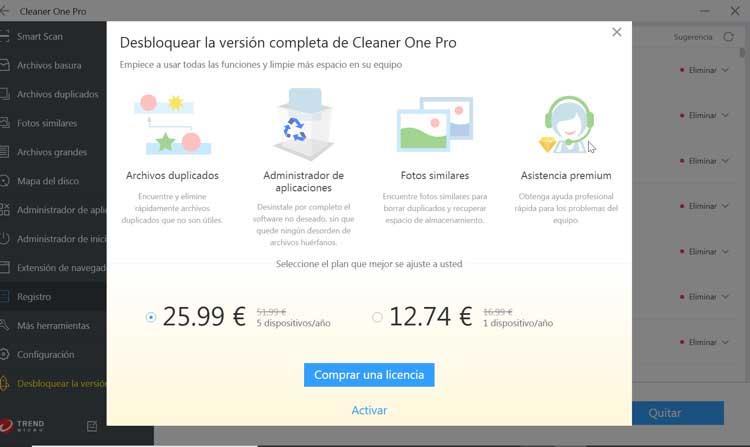 Alternatives to Cleaner One Pro
If we are looking for a program to clean and optimize our computer, we suggest some alternatives to Cleaner One Pro:
Glary Utilities
It is one of the most popular programs to clean Windows. It has many options to analyze and optimize our PC, performing cleaning tasks automatically with just one click. It has a free function that we can download from this link, as well as a Pro version with a greater number of functions.
Wise Disk Cleaner
This free software will allow us to clean our computer quickly and easily, allowing us to safely remove all junk files from our PC. In addition, it helps us protect our privacy, since it also deletes cookies. Similarly, it has several optimization functions to improve the performance of our team. We can download Wise Disk Cleaner from here .
PrivaZer
With this program we can erase all traces of our PC to improve privacy, becoming a great option to consider when cleaning and optimizing the computer. Its cleaning system allows us to check how we are using the space on our hard disk and use an intelligent cleaning system that will free it up. We can download PrivaZer from this link.