software
Clean, optimize and improve windows performance with glary utilities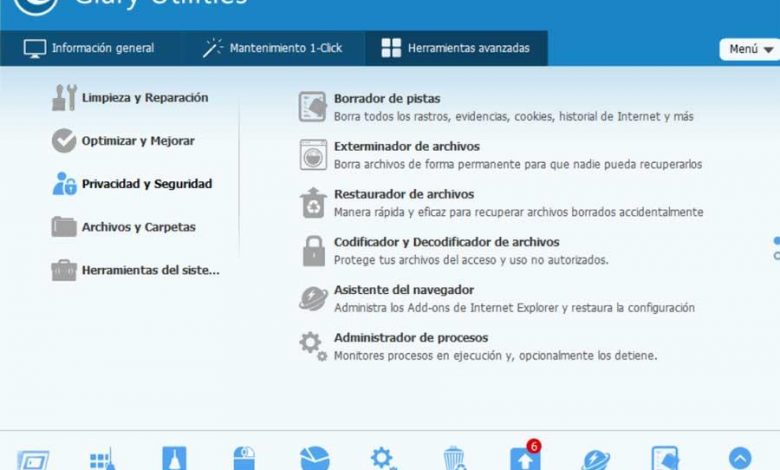 When we buy a new PC, one of the main objectives we seek is that it works in the best way, which in most cases is faster. This is something that we want to happen in the Windows 10 operating system , for which we can use third-party solutions. This is the case that we will talk about in these same lines, Glary Utilities.
But of course, that desire we are talking about, not only refers to the first days with the team, but also extends to later. What's more, as time goes by, we use the operating system, and install applications, the general performance of the computer can be affected. We will always be able to take certain measures to solve this problem from the system itself and optimize Windows, but sometimes it is not enough.
Surely on more than one occasion you have heard of applications to optimize the Redmond system. Well, to say that Glary Utilities is a free maintenance suite that we can use in Spanish and that it has nothing to envy to other better known ones in this same sense. Actually we find a very varied set of tools that are very useful for a multitude of tasks. These will allow us to optimize and fine-tune our system even with a single mouse click.
In this way we are in its interface, with cleaning tools, optimization, security and more utilities. All of them together are the functionalities that Glary Utilities offers us in a single program, free of charge, and we can use them quickly and easily. It should be mentioned that Glary Utilities has been available for Windows operating systems for years, including the current Windows 10.
Glary Utilities Windows 10 upgrade options
That is why there are several software developers who put at our disposal a series of their own software solutions that will help us in these tasks. This is the case that we are going to talk about in these lines, specifically we refer to Glary Utilities from Glarysoft . In addition, this devaluation of the system can not only refer to what the performance is, but it could also affect the stability of the equipment.
Glary Utilities General Information
As soon as we download and install the program on our PC, the first thing that appears on the screen is a tab called General Information. Actually it helps us to configure the application as such in a basic way. This is where we set the automatic maintenance mode of the system, or where we specify how it is going to be updated. It also informs us of the status of the PC's startup in terms of the time it takes to do it compared to other computers .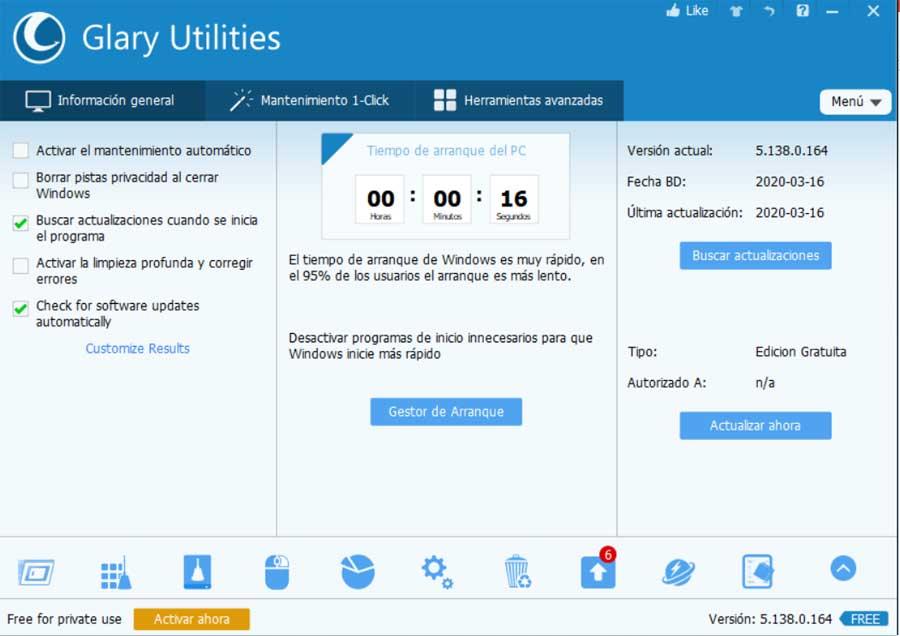 And we must bear in mind that with the passage of time and continued use of the PC, we may notice a significant drop in performance and instability. Not to mention the conspicuous reduction in available space on disk drives. Well, if you see yourself in these common situations, Glary Utilities will help you. This is something that we are going to show you in the following lines thanks to the functions it offers us.
Specifically, we are talking here about a powerful software solution to help us improve the performance of the computer, we are talking about Glary Utilities. Actually here we are going to find a set of utilities and functions combined in the same software that will be very useful to us. Thus, distributed throughout its interface, we find utilities to improve the speed of the system, as well as to keep it cleaner and safer.
Windows optimization tools
It should be noted that in the main user interface that we find here, Glary Utilities differentiates three fundamental tabs. The first, General Information, lets us see very interesting system data such as the time it takes to start up, when it was last updated, as well as other shortcuts . These will give way to the Windows optimization function, the space analyzer, registry repair , or a process manager .
1-click maintenance
To all this we must add a really interesting feature, especially for users who are not too specialized in these issues. And it is that in the second tab of those mentioned, we find a section called 1-click maintenance. As you can imagine, this will help us to perform optimization and cleaning tasks much more quickly. When we place ourselves on the same tab, a series of selectors will appear on the screen so that the program can start working on them.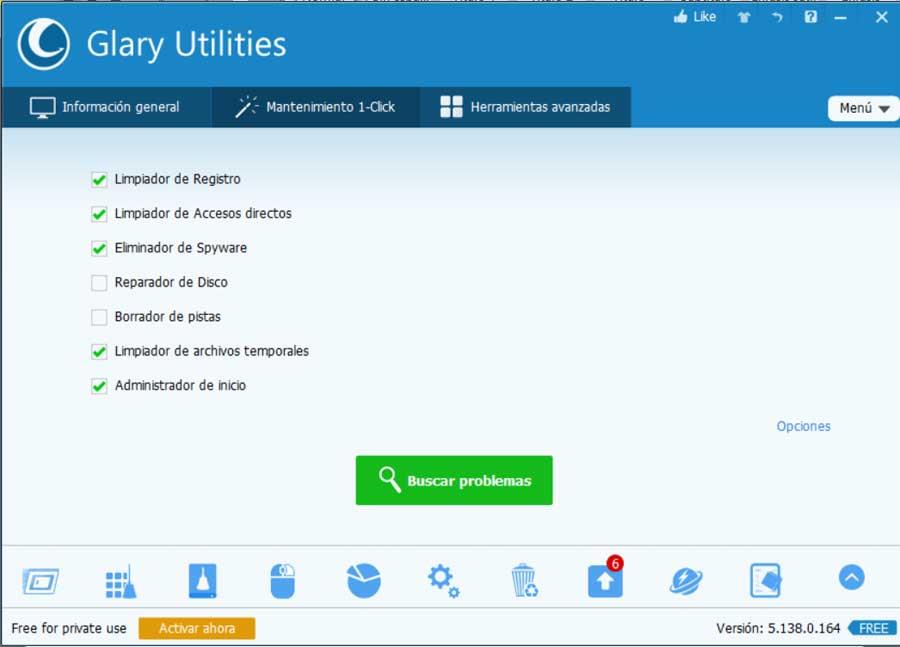 Of course, while the option discussed above makes the optimization and cleaning tasks much easier, Glary Utilities is also valid for advanced users. Therefore, for those who wish to have greater control over the processes to be carried out on the system from this solution, there is the third tab, Advanced tools. Here we are going to find a good number of functions related to a multitude of sections of the system.
All this that we find in this section will be very helpful to perform maintenance tasks in various sections of Windows. Items such as disk drives, the registry, spyware that may have reached the system, or useless shortcuts come into play here . With all this, what we really achieve is that the operating system is free of unnecessary elements. Thus, in addition to freeing up some space on the drives, we managed to increase the fluidity of Windows thanks to this deletion.
As we told you, we achieve all this thanks to the fact that from here we can also clean the registry or delete obsolete or invalid shortcuts. This is something that we achieve by marking the disk units to be analyzed and we can erase these shortcuts. At the same time, the program also gives us the opportunity to uninstall those programs that we do not want or those that have been in the system for the longest time and we do not use.
Glary Advanced Tools
It is worth mentioning that we have a functionality that allows us to quickly add or remove programs that run on Windows startup, all from the Advanced Tools tab. In the same way, we can optimize the use of RAM if its use is high. Therefore, in the event that Windows can free up memory, it will. To say that we have a very useful option to optimize the access time to a Windows registry value. This is because program installations and uninstallations over time cause the Windows registry to become fragmented, like a hard drive. Therefore, what we can do here is use the registry defragmenter and thus optimize its operation.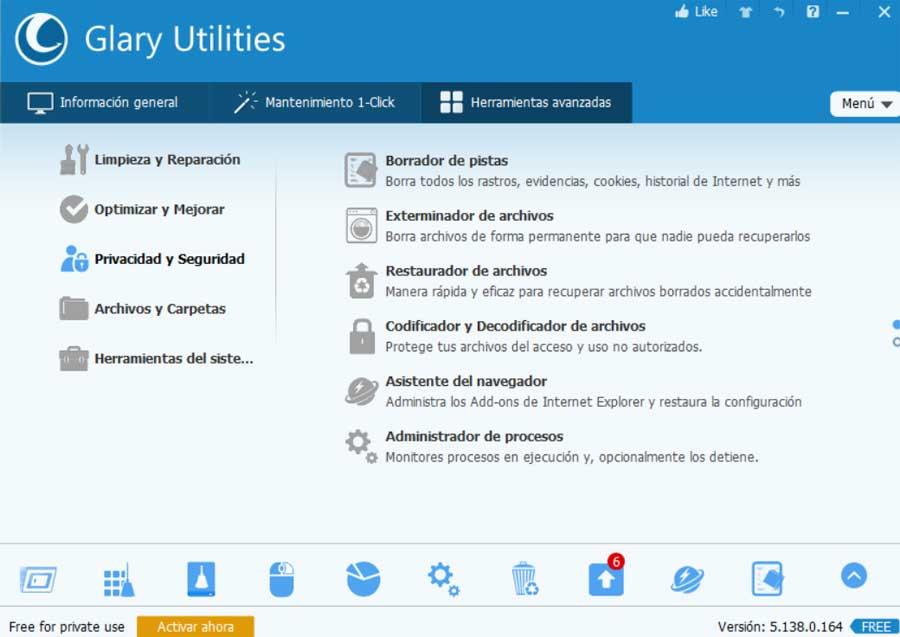 Privacy & Security
From this section of which we are going to make a special mention, we can delete temporary files, cookies, browser history, etc. We will also have a function that allows us to completely eliminate the deleted files or folders so that they cannot be recovered later.
These address cleaning unnecessary data, repairing the registry, defragmenting disk drives, increasing privacy and security, etc. All this in addition, in one way or another, will help us to manage processes, optimize the use of RAM, manage system startup, or encrypt and decrypt our own and personal files.
Versions and how to download Glary Utilities
Well, once we know all this, if you are interested in trying the program first-hand, say that there is a free version , and a paid version. The first of them we can use it with a series of limitations in terms of functions, but without spending a single euro. On the other hand we find the full version, known as Pro, which costs $ 39.95.
Regardless of the choice we make regarding the chosen version, to download the program and install it on Windows, we can do so from this link .