software
Clean and optimize your pc performance with auslogics windows slimmer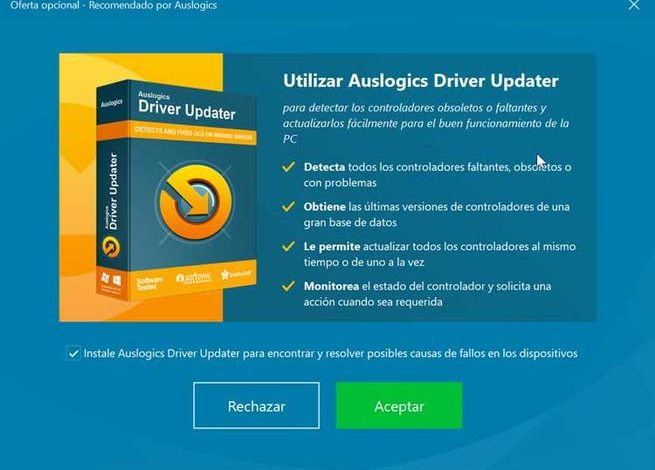 Windows 10 is an operating system powerful enough and optimized for it to function correctly for many years, the truth is that it never hurts to carry out regular maintenance of our PC. For this it is important that we clean up unwanted files or temporary data whose presence may slow down the speed of our computer. To help us with this optimization and maintenance of our equipment, we can use a tool like Auslogics Windows Slimmer, about which we will talk below.
Although we usually do cleaning tasks on our Windows computer, the truth is that, on occasions, we may continue to maintain applications, system files and other unnecessary elements that do not help to optimize our equipment properly. Dispensable elements such as Windows Update files, old system Restore points or disabled components, can remain on our system taking up space on our hard drive while slowing down its performance.
Auslogics Windows Slimmer is a free program that allows us to eliminate all those unnecessary components and applications from our computer, achieving better performance. With its use we can give our operating system a more adequate deep cleaning, eliminating the clutter of our files and carrying out administration tasks of our installed applications and programs.
Thanks to this software we will be able to obtain a simple way to eliminate unnecessary components for Windows. In this way, we can uninstall applications that we no longer need and modify the configuration to reduce the space that the operating system occupies on our hard drive. With this we will be able to reduce the amount of memory used, as well as the capacity of the CPU. In addition, we will also be protecting our privacy by avoiding having to make an unnecessary transmission of our data.
Clean and delete files to optimize the system
When we start the program we find a simple and easy-to-use interface. Although it is convenient to have a minimum knowledge of the tasks that we can perform in order not to end up eliminating some unwanted files. In the left column we will see the functions of the program that will or will not be available depending on whether we use the Free or Pro version of it. In this way we will find a function of "One-time maintenance", "Regular maintenance", "Compact operating system" and "Unnecessary applications".
One time maintenance
This first mode allows us to eliminate unnecessary files and specific data . Targets versions of Windows WinSxS libraries, disabled components, "Windows.old" folder containing obsolete operating system data generated after Windows update, system restore points, and update files Windows. Due to the very nature of these components, they can only be removed once .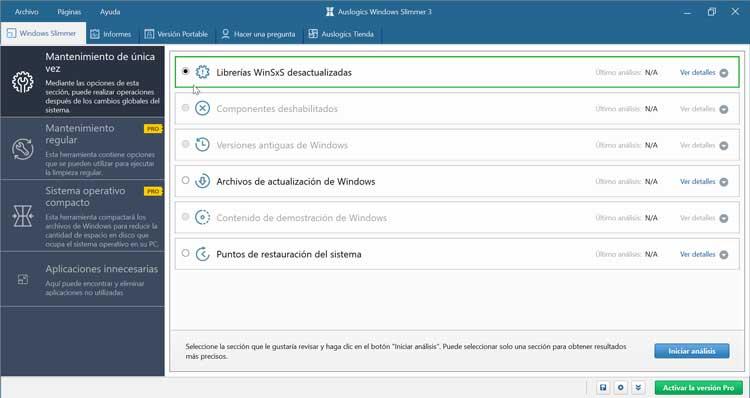 Regular maintenance
Through regular maintenance mode, we can clean the files dumped in memory and the contents of the Recycle Bin. We can also delete the data stored in temporary folders, application logs, as well as the cache folder created before burning a CD or DVD. As the name suggests, it is a procedure to perform tasks on a regular basis, so it is not a one-time procedure.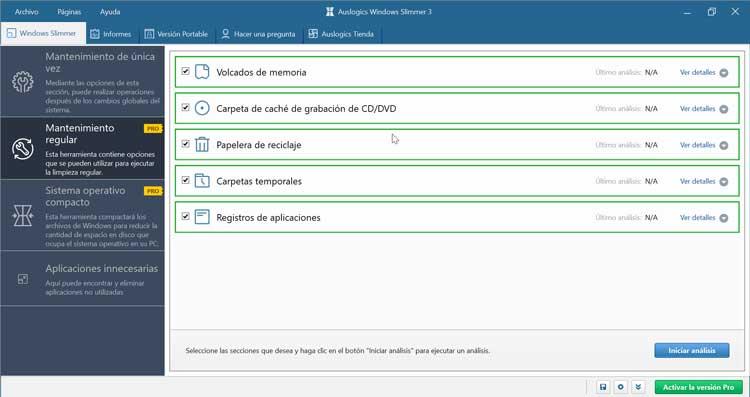 Compact operating system
This built-in tool is responsible for compacting Windows files to reduce the amount of disk space that the operating system occupies on our PC. This feature is only used in Windows 10 so it is recommended that we use it when hard drive space is minimal. With this we can save between 1 and 4 gigabytes of space in the system unit, being possible to revert it and return the operating system to its original state at any time.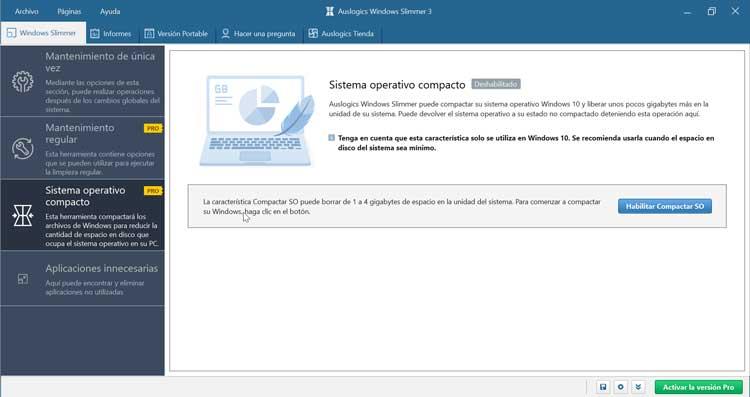 Unnecessary applications
Another cool feature is its built-in app uninstaller. This tool shows us a list of all the programs that we have installed, along with their frequency of use and their classification. We can use this tool to clean the applications that we want to uninstall from our PC, and if it fails, force its removal. In addition, it allows us to modify the installation of an application or repair the installed instance.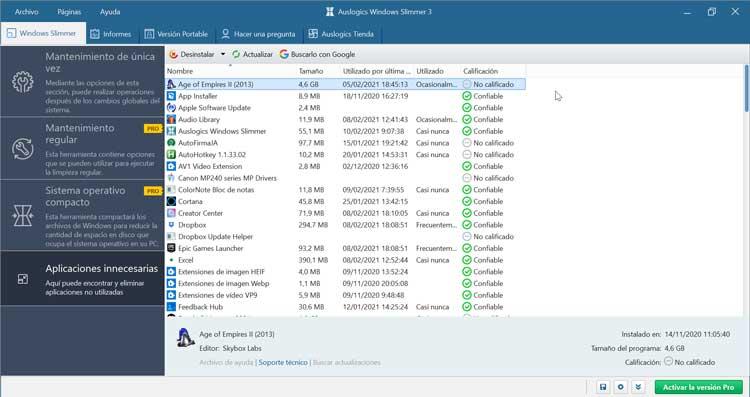 Auslogics Windows Slimmer free download
Auslogics Windows Slimmer has a free version compatible with Windows 10 and that we can download directly from its website . The installation file weighs only 16.4 MB and the whole process is done through its wizard in a simple way. Of course, we must bear in mind that, during the installation, it will try to install other software recommended by the manufacturer, so, if we are not interested, we must uncheck its box. Additionally we will also have a paid version, with additional features.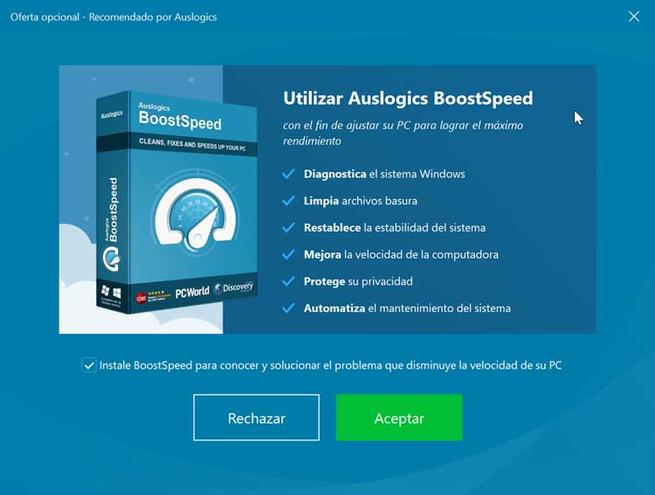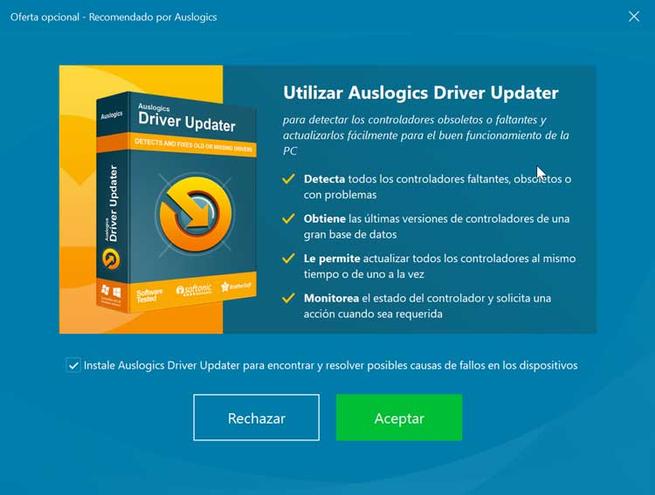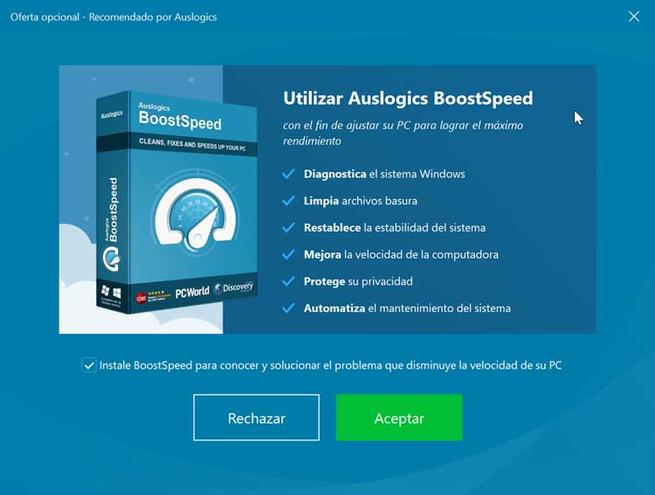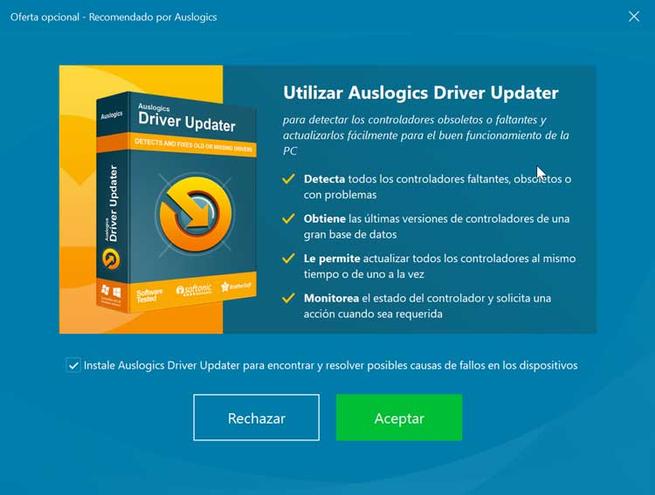 Differences between the Free version and the Pro version
Free : the free version offers us the verification of Windows and a basic optimization system. It includes an ultra-fast scan engine and one-time maintenance, which allows us to perform operations after global system changes. It also has a common function to find and eliminate unnecessary applications that we hardly use.
Pro : this full version of the software allows us to perform regular system maintenance. It also includes the Smart Compact OS feature to maximize space, a notification setting control, as well as extended priority support. Its price is 32.61 euros for a license for one year with the possibility of installing up to three computers.
Since the free version is fully functional, it is ideal for one-time Maintenance mode. In this way we can eliminate all those data that are obsolete or Windows update files that we no longer need. In the event that we want to squeeze the program more and perform other functions such as reducing the space that the operating system occupies on the disk, we can choose the paid version.
Alternatives to Auslogics Windows Slimmer
If we are looking for a program with which to optimize the performance of our operating system and eliminate unnecessary applications, we propose a couple of alternatives to consider:
Glary Utilities
It is one of the most popular Windows cleaning programs, with many options to analyze and optimize your PC. It allows us to clean our computer by different categories or do everything automatically. We can download Glary Utilities from their website . It has a free version and a paid version with additional functions.
PrivaZer
It is another excellent option with which to perform cleaning and optimization tasks on our computer, in order to erase any trace of the PC and thereby improve our privacy. With this program we will be able to eliminate all unnecessary data with a single click, as well as prevent it from being recovered. We can download PrivaZer for free from its website .