software
Choose to boot your windows, macos, or linux pc with easybcd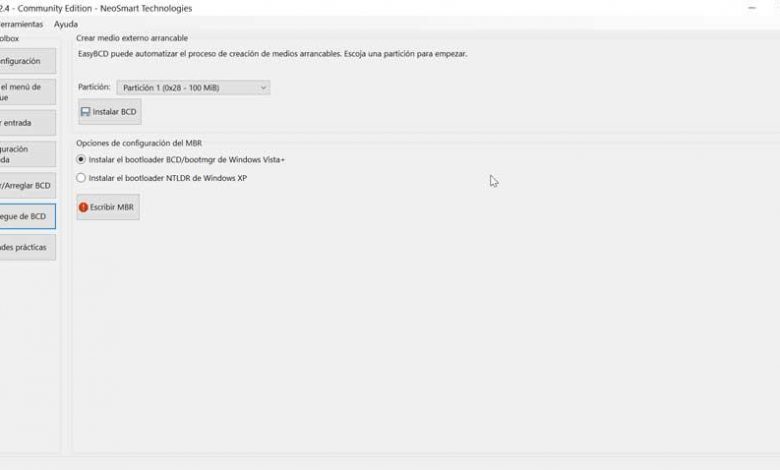 In general, in our computer we have an operating system, which is in charge of starting and providing functionalities to all the hardware of our PC. However, it is also possible to have different operating systems between Windows and Linux and choose which one we want to start the system with each time we start the computer. To perform this task, we can use a tool like EasyBCD that allows us to perform dual starts.
In general, each operating system has its own boot manager, since Windows has Boot Configuration Data and Linux does the same with GRUB or Lilo. It is also possible to control the boot of operating systems from the BIOS / UEFI. However, Windows does not allow us by default to change the order of operating systems. This is something that we can do through EasyBCD, an interesting program that we will talk about below.
EasyBCD is a software developed to allow us to dual boot our computer with operating systems such as Windows, macOS and Linux. It also allows you to start the system with other old versions of Windows that Microsoft does not support, such as Windows 9x, Windows ME and Windows 2000, as well as the mythical MS-DOS.
With this application it will be easy to boot to and from USB drives, ISO images, virtual hard drives and more. We can create bootable USB sticks with repair utilities that we can take anywhere. To protect ourselves from any disaster we can create entries to boot both in the repair utilities and in safe mode.
From its simple interface we can add, change the name, delete, configure and reorder the entries of each operating system to our liking. In addition, we can use EasyBCD to troubleshoot Windows, backup and repair the boot system in other functions.
EasyBCD, control system bootloader easily
Once we run the application and select the Spanish language, we find its main menu. It has a well-organized interface, since each function has its own section that we find on the left side panel. In the central part we can see a general description of the configuration that we currently have on our computer, with the operating systems that we have installed and their order.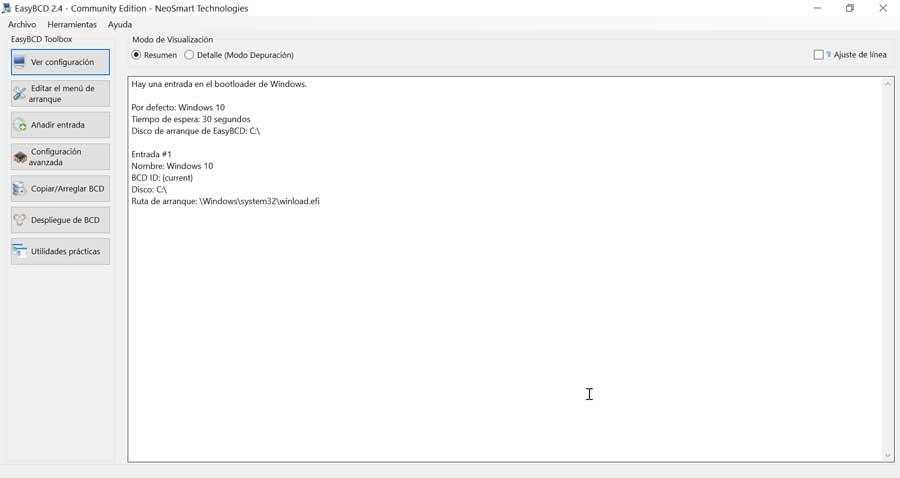 Edit boot menu
From this section we can configure the system start menu, choosing the order in which we want the different operating systems that we have installed on our computer to appear, as well as the time this menu remains, which by default is 30 seconds. We can also skip the boot menu or wait for user selection.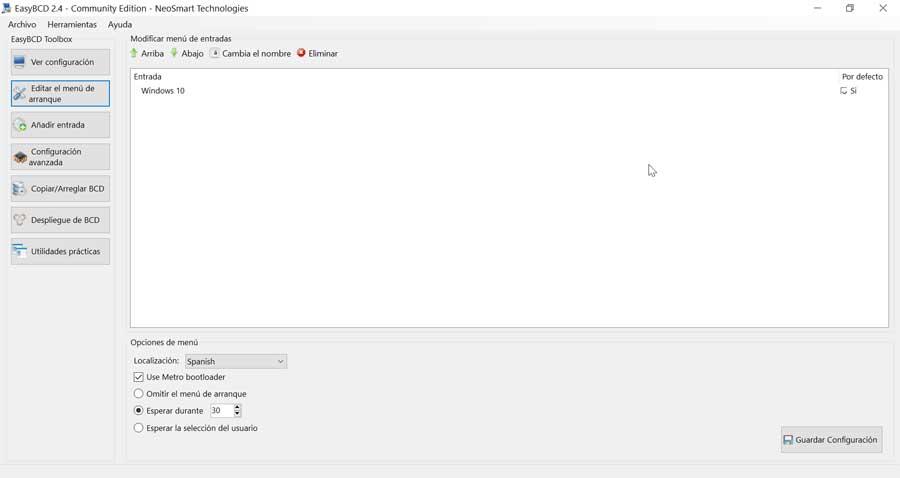 Add entry
From this section, as its name indicates, we can add new entries to this menu, indicating the priority of the different added systems. It can be Windows, Linux / BSD, Mac, and NeoGrub, with their different tabs at the top. In the upper part it allows us to add the entry from a portable or external medium, such as a disk image, ISO, WinPE, Floppy or BIOS Extension.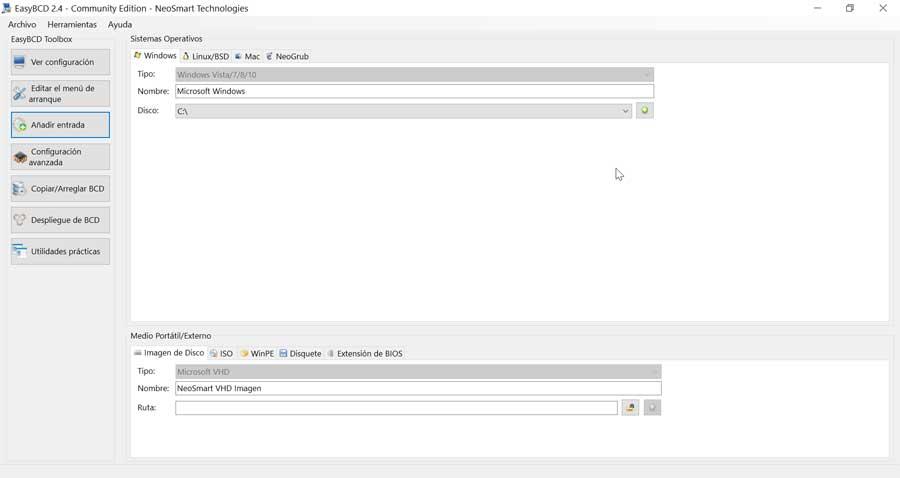 Advanced configuration
From this entry we can select an operating system from the list to adjust. Although, we have to take into account that some configurations of it may not be available depending on the system that we want to modify. From here we can configure safe mode, PAE and NoExecute support, as well as the possibility of allowing the use of unsigned drivers in 64-bit Windows. We can also run Windows in recovery mode, run in SOS / Verbose-Boost Mode and activate Hyper-V support.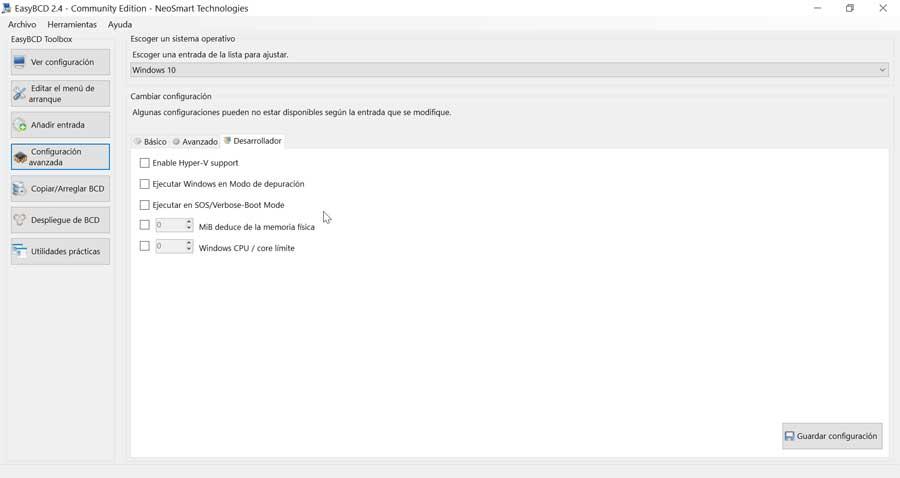 Copy / Arrange BCD
In this section we will find various options for managing BCD (Boot Configuration Data), such as restarting its configuration, creating and fixing boot files and changing the boot disk. It also allows us to select a path where we can make a copy and restore of the bootloader configuration.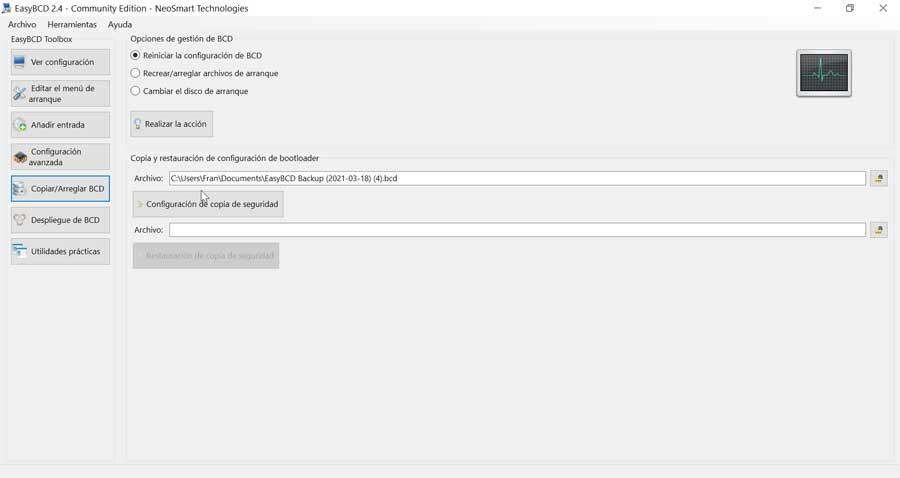 BCD deployment
With this program it is possible to automate the process of creating bootable media, for which it will only be necessary to choose a partition to start. It also has different MBR configuration options, with the possibility of installing the BCD / bootmgr bootloader for Windows Vista +, as well as installing the NTLDR bootloader for Windows XP.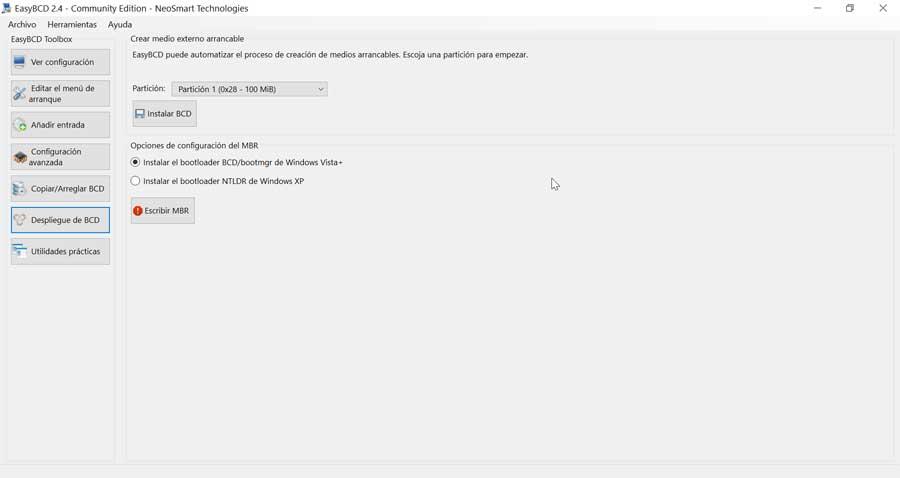 Conclusions: is EasyBCD for me?
In summary, we can say that EasyBCD is an application that allows its users to take full control over the computer's start menu, as well as customize a good number of startup options. It can be used without problems to repair Windows installations, as well as to backup the boot loader. All this in a completely free utility, which, as we can guess, is aimed at users with advanced knowledge of their PC and the operations that can be carried out.
Download EasyBCD for free
If we want to use EasyBCD to manage our dual boot in Windows we can download it for free from its website, as long as it is for home use . It is compatible with Windows XP, Vista, 7, 8 and 10 in both 32-bit and 64-bit versions. In the case of needing the application for professional use, we must acquire your Commercial for a price of $ 29.95. This version works with business and professional editions of Windows and has automatic updates for new versions, as well as priority technical support.
Alternatives to EasyBCD
If we want to change the boot order of our computer, we propose a couple of alternatives to using EaxyBCD.
PloP
It is a bootloader with which we can boot systems from a physical drive such as CD or DVD or removable drives even when the BIOS does not support it. In addition, it has a menu from where we can manage the partitions present on the disk. We can download it from this link .
Boot manager in Windows 10
Windows 10 incorporates its own boot manager from where we can change the boot order from the advanced system configuration itself. From there we can select which is the default operating system with which we want to start, as well as change the waiting time until loading it by default.