software
Bring desktop gadgets back to windows 10 with 8gadgetpack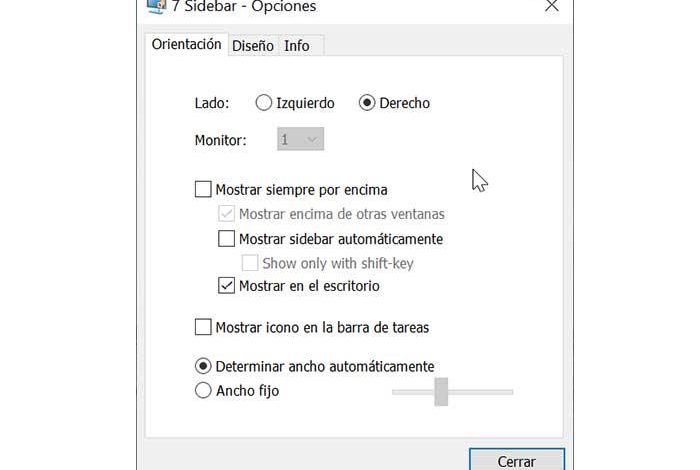 Windows 7 users will surely remember its interface characterized by those gadgets that we could include on the desktop and with which we could access certain types of information, such as the weather, the clock, the calendar or even the performance of the CPU. These widgets were later removed in Windows 8 and were not included in the current Windows 10. It is now possible to recover and reuse them with the 8GadgetPack .
Advantages of using widgets in Windows 10
As we mentioned before, these elements were quite important as well as popular in older versions of Windows. However, there came a time when Microsoft itself decided to stop implementing them, although that did not mean that they would disappear forever. What happens is that now we have to install them ourselves by hand, instead of having them by default in the system . This is precisely what we are going to show you next with the case of 8GadgetPack.
But first of all, what we must know is that in certain circumstances, these elements that we include on the system's desktop will be of enormous use to us. And it is that just by installing them, we will have at our disposal and always in view a good amount of additional information of interest. So we can see first-hand the time of the zone, the use of CPU and RAM memory , write our own notes, have a clock, a radio tuner, a countdown, a timer, etc. All this also with customizable designs that do not clash at all.
Up to 45 standalone gadgets with 8GadgetPack
If you are one of those users who used Windows 7 gadgets on a regular basis and currently miss their usefulness in Windows 10, you know that you can enjoy them again. For this you have the 8GadgetPack gadget pack.
It is a complete pack of 45 different widgets, originally created for Windows 8 but which is also perfectly compatible with Windows 10. It includes some that were developed by Microsoft itself, such as the famous analog clock or the CPU meter. We will even have the sidebar that we can configure to always have our favorite gadgets visible and well at hand.
Download and install to have the gadgets again
To download this complete package of widgets we have to access its website . Here on the right side of the screen we must click on the Download v31.0 button, which is the latest version available. It has a weight of 27 MB and dates from 10-18-2019.
Once the executable is downloaded, we will proceed to its installation. When we execute it, the classic sidebar will appear where we can add the different gadgets, being able to drag them to the desktop simply by double clicking on them or dragging them to the desktop. If we click on the wrench icon we can open the options menu from which we can access its configuration, where we can edit them, change their size, reset or disable them.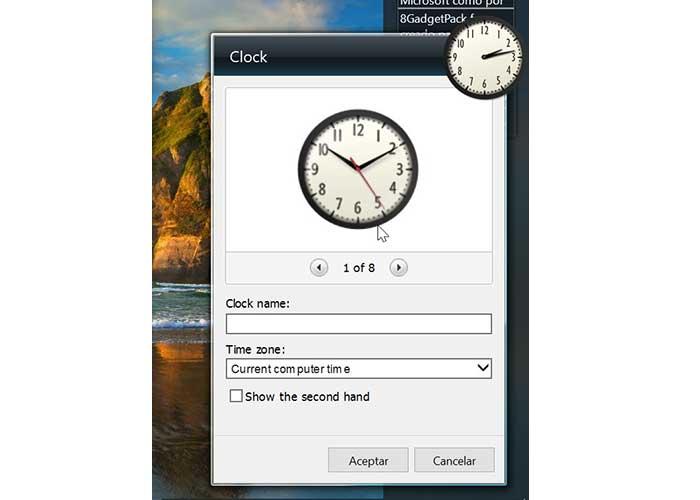 If we click on the plus symbol (+) located in the upper right part of the bar, a new menu will open where we can see all the available gadgets . We can add them to the bar with just a double click on each one or we can insert them to the desktop, simply dragging them and placing them in the place we choose. To eliminate them, it is as easy as clicking on the x (x) that appears on the right side. From this menu we can also obtain in some cases a brief description of them if we click on the "Show details" button.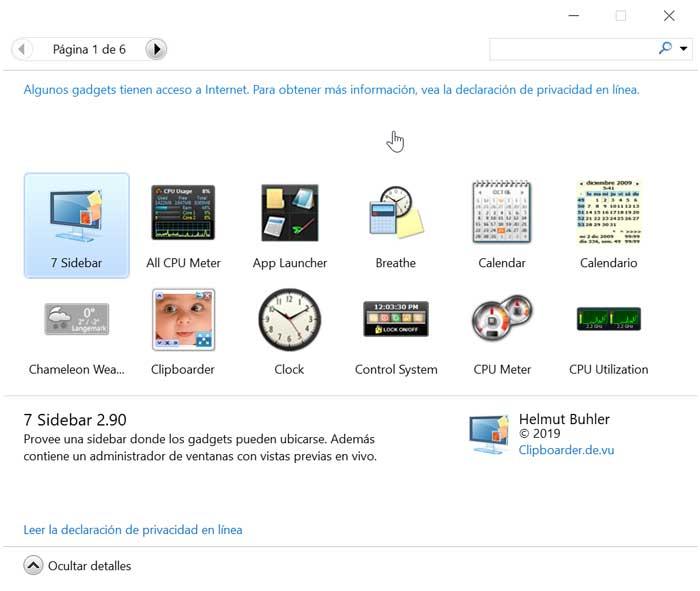 The sidebar also offers some customization options and we can even close it if we don't like it. To do this, double click on the right button and we can close the bar or also access a menu of options . From here we can place the bar on the left or right side of the screen or keep it always visible to have the gadgets always in view.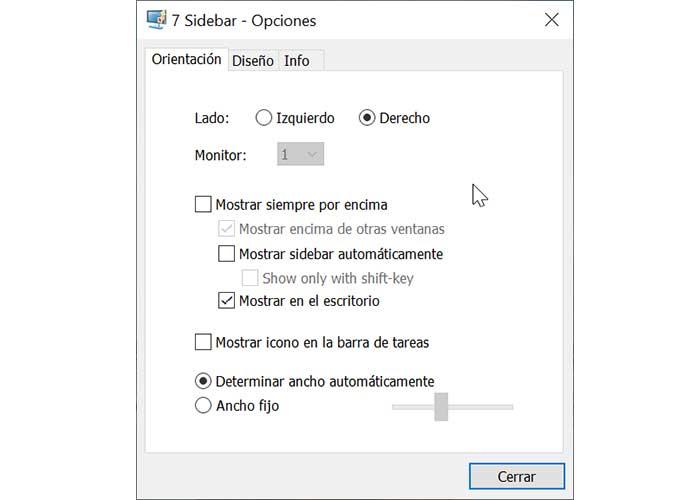 Different types of gadgets available in 8GadgetPack
In the 8GadgetPack pack we find up to 45 gadgets. Of all of them we can highlight some such as:
Clock : the classic analog clock. It has 8 different spheres so that we can choose the ones we like the most, as well as configure the time zone of any place in the world.
Countdown : gives us the ability to set a date for an event and count down from that date.
DriveInfo : this gadget is in charge of showing us information about the storage unit that we select. It will show us both the total disk space and the percentage occupied.
Desktop Calculator : it is a calculator that we can always have at hand both on the bar and on the desktop, with which we can perform basic operations. It can be configured with different colors.
iBattery : it is an icon of a battery that will show us the status of its capacity clearly and visibly. It also shows your capacity in percent. Very useful if we have a laptop.
MiniRadio : with this gadget we can tune in through the Internet with a wide selection of online radios. We can edit your interface with different designs and colors.
My Weather : the typical weather application where we can choose our city and it will show us whether it is sunny or raining, as well as the maximum and minimum temperature. It has some basic configurations the type of icon or colors.
Sticky Notes : it is the typical note gadget that we can always have on hand on our desk for when we need to take a quick note. We can configure the color, the font and the font size.
Turn off PC : it is a useful shortcut to be able to turn off, restart or suspend our computer after the period of time that we select.
And many more!
Alternatives to 8GadgetPack
If we want to bring gadgets back to the Windows 10 desktop, we propose some alternatives to 8GadgetPack that we must take into consideration:
Windows Desktop Gadgets
If we want an alternative to the 8GadgetPack gadget pack, we can opt for Windows Desktop Gadget. Both the interface and the gadgets are available in Spanish so it will be very easy to use. Once downloaded, we can start adding all the gadgets it offers to our desktop by simply dragging or double-clicking on them. All available widgets will be displayed in the Windows management window from where we can install them on our computer. It has widgets such as the calendar, clock, notes, Google Translate or monitor the CPU and temperature, among others. We can download it from this link.
Rainmeter
Possibly the most popular, open source, and free Windows customization tool. It is characterized by having a wide variety of skins, with which we can enter all kinds of elements on our desktop, as well as choose where we want to place it. We can also change the appearance of these skins and all with a fairly low memory consumption. Among the type of content that we can add are notes, tasks, weather stations, performance meters, multimedia players, etc. We can download Rainmeter from its website .
Gadgets Revived, includes original Microsoft gadgets
This application will allow us to reinstall gadgets on the desktop of our Windows 10 computer, respecting at all times, the appearance and operation of the Microsoft operating system. It has a wide variety of elements that we can add to our desktop to customize it to the maximum. It has a calendar, time applications, unit converter, clock, CPU meter, etc. We can do all this in a simple way, without the need to carry out complex configuration operations. Gadgets Revived is that it is a free application that we can download from the developer's website .