software
Block windows programs that you do not want others to use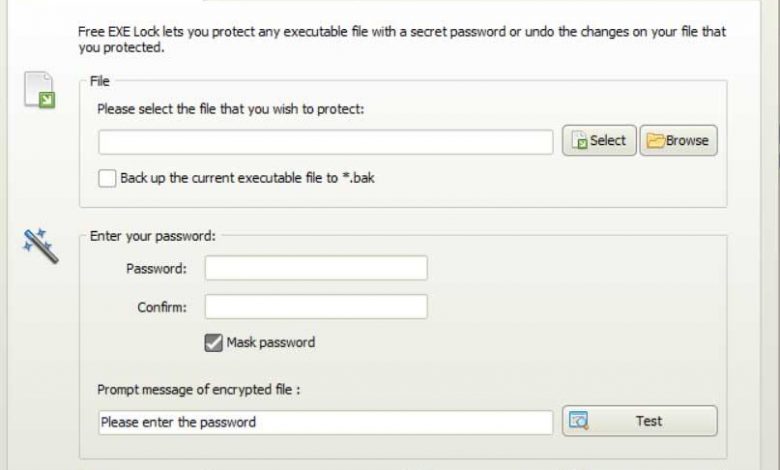 When installing Windows 10 from scratch, the operating system itself includes a series of pre-installed applications to start working. But the truth is that these do not have a great acceptance as a general rule. That is why most tend to install their favorite programs in Windows to be able to work comfortably.
We could say that today we fill our Windows PC with third-party applications to use in all kinds of environments. Whether they are related to work or for our leisure moments, we use an increasing number of software. As we say, these can be of the most diverse nature, hence some work with more private or sensitive data than others. The problem here can occur when the same PC is used by several users, for example, a whole family.
Normally, everyone has their own account on the PC, but with everything and with it, many of the installed applications are shared between them. That is why if we want to block its use by other accounts, we should have specified it at the time of installation. Thus, in the event that we want to reinstall it, we can always use alternative third-party solutions
Their role is focused on blocking certain applications in Windows 10 that we do not want other people to use on the PC. At the same time, by only restricting the use of these programs, we prevent other users of our same account from opening them. This, as you can imagine, can present us with multiple advantages in a multitude of environments and types of use.
Block applications from the Windows registry
Of course, first of all it is important to know that, although with a somewhat more cumbersome method, we can do the same from the Windows registry . To do this, we access it using the regedit command that we type in the system search box.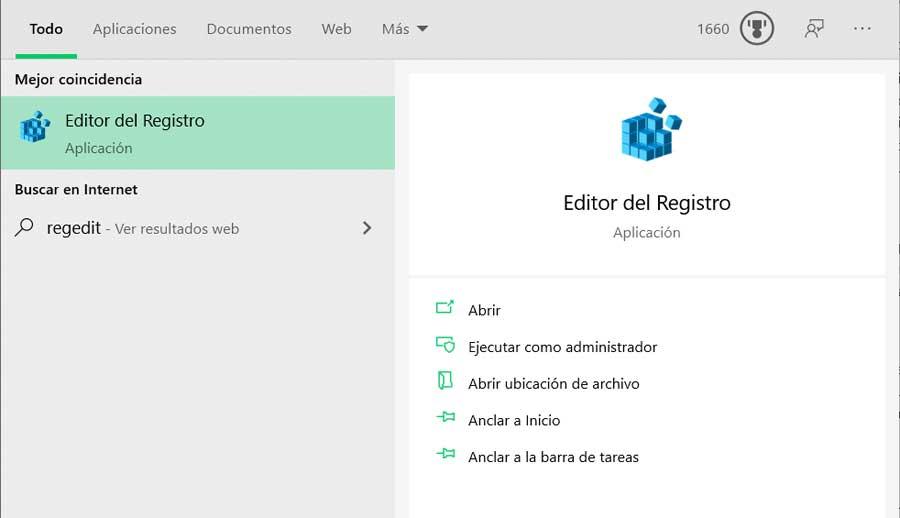 Once we have this section on the screen, we have to go to the path HKEY_CURRENT_USERSoftwareMicrosoftWindowsCurrentVersionPoliciesExplorer. Thus, in this same path, under Explorer, we create a new key called DisallowRun. Next we will find ourselves in it, since it is a new list of blocked programs in which we can add applications for it.
So, what we have left to do is a new string value within the DisallowRun with the name 1. After that, to block applications, we double click on this value and in the Value information field we write the name of the application executable we want to block. Say that we can repeat this as many times as we want assigning names such as 2, 3, 4, etc .; and its corresponding executable.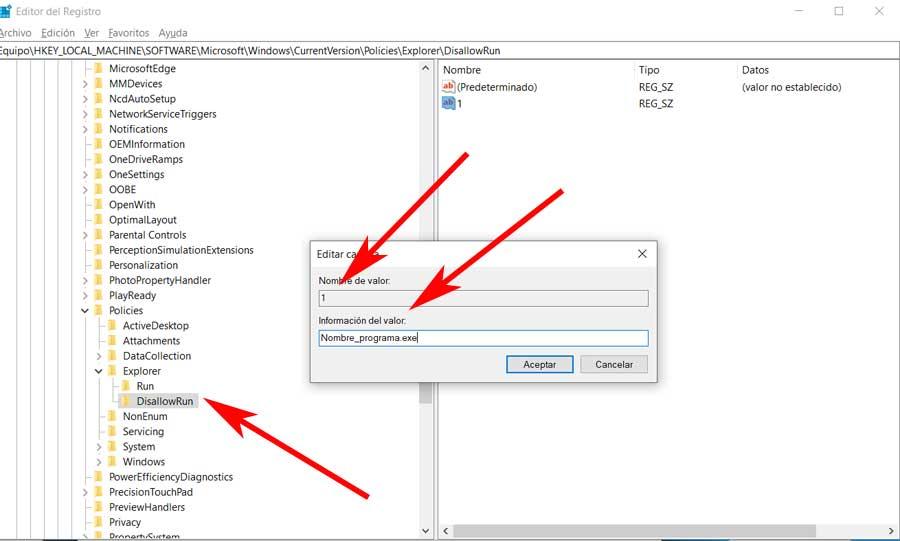 Programs to block Windows applications
Gilsoft EXE Lock
To begin with, we are going to talk about a solution of this type that is commercial, has a price of 29.95 euros, but that presents us a trial version. It is an application that you can download from this link and that has a clear disadvantage compared to other proposals that we will see, and that is that it is paid. However, it should be noted that it has a very attractive and intuitive interface.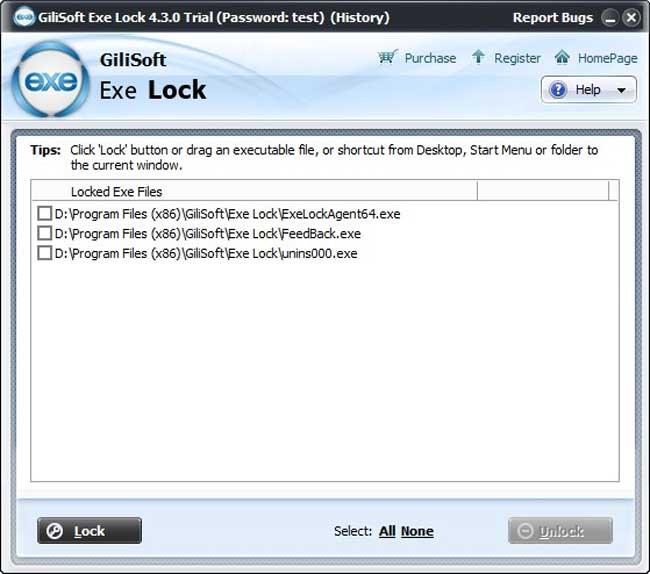 At the same time, it is worth knowing that to facilitate its use, it is enough that we directly drag the executables to be blocked in the program's interface. There they will be visible so that we can also quickly unlock them whenever we want by pressing a button.
AskAdmin
On the contrary, in this case we find a free proposal that we can download from this same link . It is one of the best known alternatives in this sense that will help us block applications of our choice. To do this, simply add executable files directly to the program interface.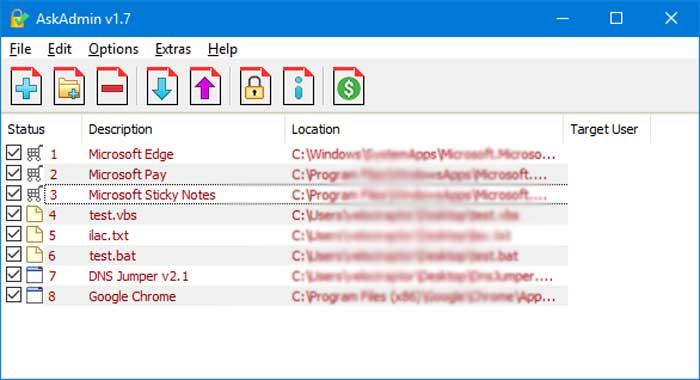 By doing this, the program takes care of automatically blocking each attempt to execute them. Another point in favor of this proposal is that it has its own function to export the list of installed applications in case we have several similar computers, for example in the same local network.
Kaka ExeLock-Password Protect
This is another alternative of this type that, as in the previous case, is also free, which allows us not to spend a euro for these tasks. To begin we will tell you that you can download it from this link .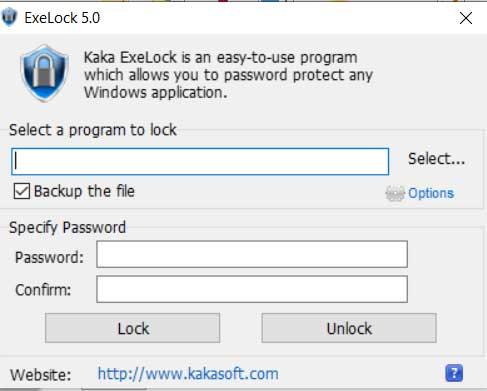 If we have to highlight something about this application that we are talking about, it is that as it lets us glimpse its name, we can use an access password. This is an additional protection method to prevent the applications that we have previously blocked from running. What's more, we tell you that the program executes an algorithm that modifies the executable so that it is only functional after using the corresponding specified password.
IM Lock
Next we will talk about a program that will also be very helpful when it comes to blocking unwanted programs. It is about the program called IM Lock that in the first instance we can download from this link . Once we know this, to say that we are facing an interesting proposal of this type that will help us when blocking web pages and applications that we do not want others to access. To say that this software alone is responsible for blocking some of the main instant messaging programs, in addition to chat web pages, or web-based games.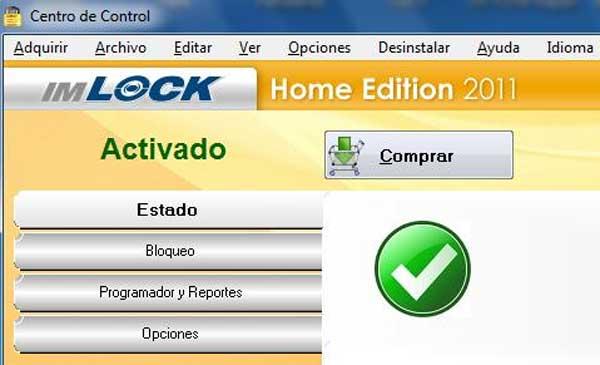 Similarly, it does not allow access to some of the main online mail managers such as Hotmail or Gmail, among others. On the other hand, say that it also blocks pages like YouTube, and various programs installed on the computer . Of course, all this is something that we can customize depending on the needs of each one.
Simple Run Blocker
Continuing in the same vein, now we will talk about another alternative similar to those already exposed, which presents us with the advantage of being equally free. We can download it from this link, and when we run it on the screen we will see an intuitive user interface.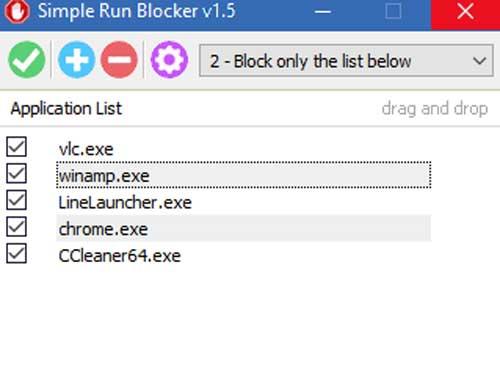 Unlike other programs that we find in these same lines, Simple Run Blocker allows us to generate, on the one hand, a white list of applications, and on the other a black list. Both will be useful when defining which programs we want to be executed by other users, and which ones are not. To say that another of the advantages that this proposal presents us and that we can highlight, is that it allows us to block hard drives in their entirety. This will be very helpful to safeguard our data, in addition to the applications installed in Windows.
Task Blocker
This is one of the easiest-to-use alternatives that we are going to find in this list. We can download it from here, and it also presents us with an interface through which we have the possibility of adding applications to block in Windows.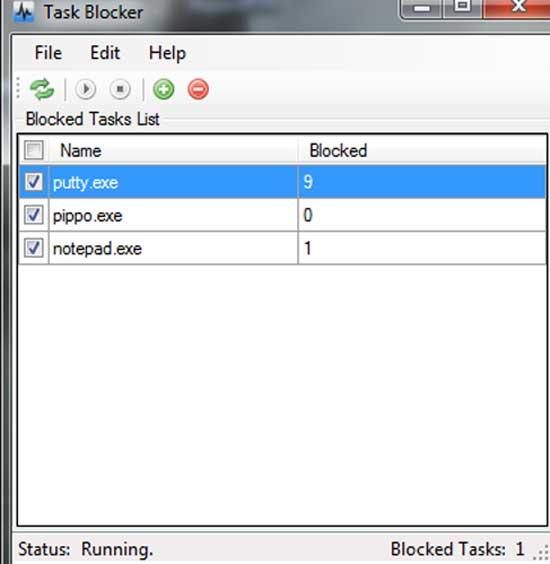 Of course, if we look for a differentiating point here and that can be very interesting on certain occasions, it is that Task Blocker shows us the number of times that each of the blocked entries have been tried to execute.
Free EXE Lock
And we are going to finish with this selection of programs to block applications in Windows, with Free EXE Lock. This is also a free solution that we can use from this link, which, as we saw in the case of Kaka ExeLock-Password Protect, we also have the possibility of using an access password . This will serve as a passkey to be able to execute those previously blocked programs.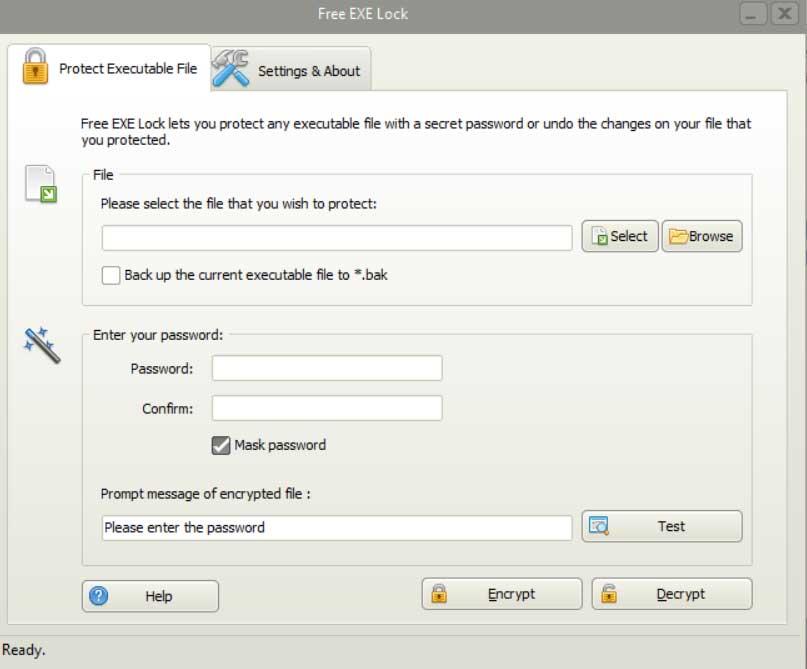 Of course, despite being free, you must be very careful in the installation process, since it also installs other unwanted programs such as Web Companion or Avast antivirus . In addition, this type of practice is surely not liked by most, which leaves much to be desired in terms of the image and reliability of this particular program. At this point many will prefer to try other application blockers like the ones reviewed above.