software
Back up your most important files and folders with uranium backup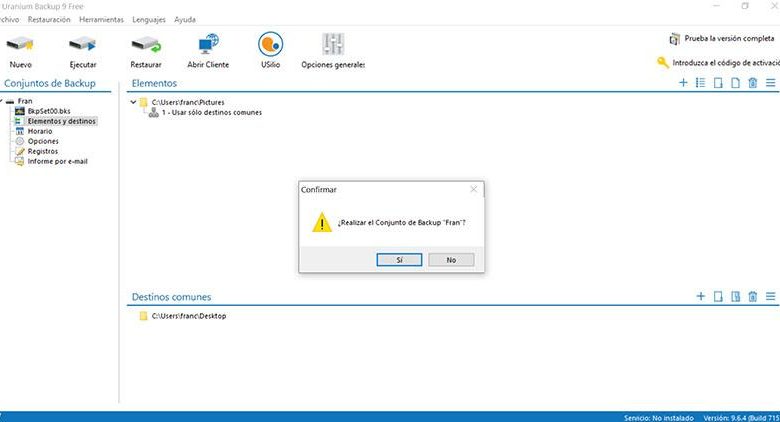 The hard drive of our computer is usually full of files that can be of great importance to us. Whether they are files for professional use or if we save personal photos and videos, surely the last thing we want is that any unforeseen event causes losses. We are all exposed to any human error, a software or hardware failure or a virus infection that could render these files useless. Therefore, nothing better to make a backup of our data, something with which Uranium Backup can help us.
Uranium Backup is data protection software, with which we can back up and restore files and folders, disk images, virtual machines and cloud storage. In this way, we can make a backup or PC with a recoverable disk image in case of any disaster that may occur, as well as backup data on the network. It also includes sync, FTP support, and cloud backup.
This complete application allows us to configure unlimited backups, as well as copy it to a wide variety of destinations such as an internal storage unit, external USB drives, Firewire, Thunderbolt, SATA, Ethernet, RDX drives, NAS servers, SAN, among other This program also allows you to compress files and folders through efficient Zip64 compression and thus save storage space. For greater privacy and security of our data, we may also encrypt the data using the secure AES 256-bit algorithm.
Uranium Backup, complete tool for your backups
Once we start Uranium Backup we find its main menu, with an interface in Spanish, with a pleasant and minimalist appearance with the functions tabs at the top and a toolbar with direct access to options such as «New», «Execute "," Restore "," Open Client "," User "and" General options ".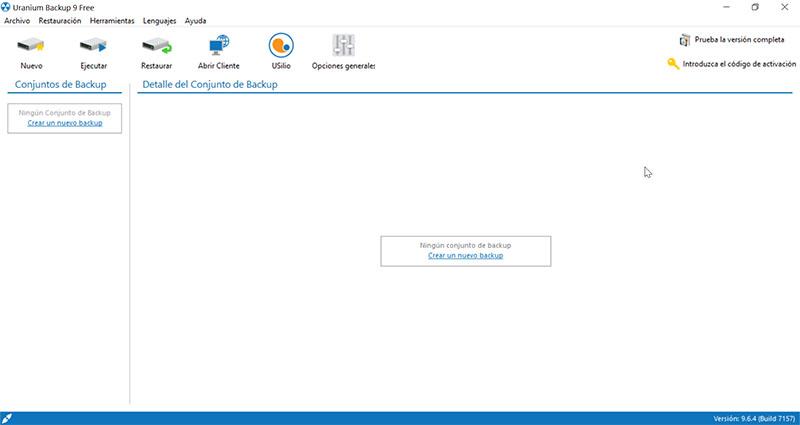 To create our backup we can click on the «New» button or on the «Create a new backup» button. Once we click, a window appears where we must indicate the name and description of the new copy and then click on «Apply». Once this is done, all the elements from which we can make our backup appear in the main menu, the most common destinations and some editing options in the bar on the left.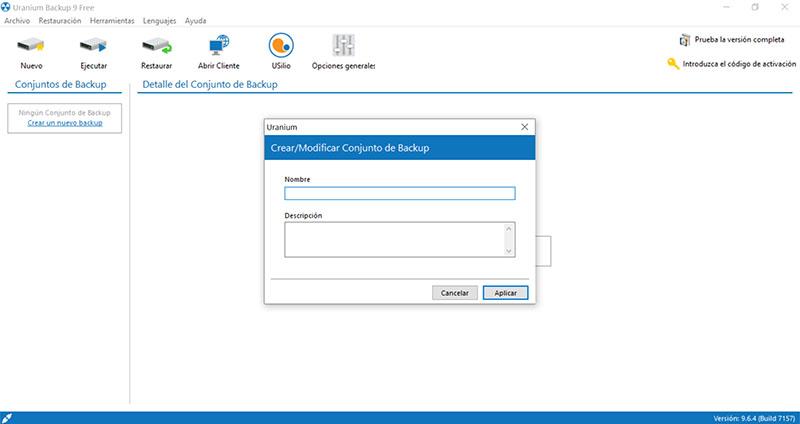 Choose the elements and the destination location
Within the "Elements" section we can select to add files and / or folders to the backup. Next, a window appears to select those files and folders that we want to back up and select Ok.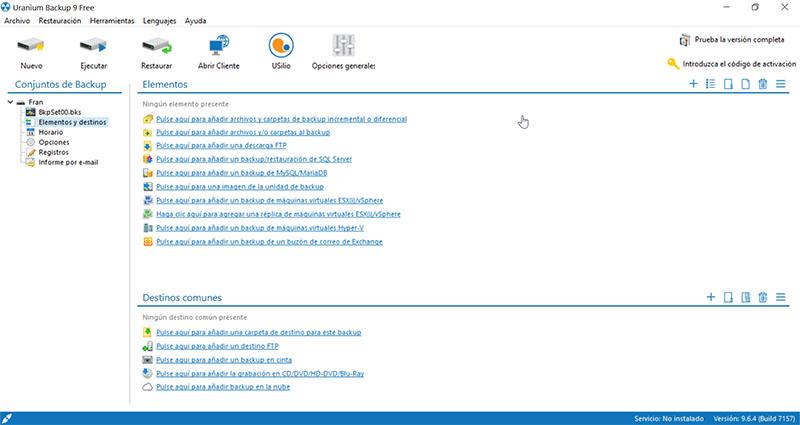 Subsequently, in the main menu in the "Common Destinations" section, we must choose where we want to host the backup. We have several options such as a folder on our hard drive, an FTP destination, a tape backup, recording on a physical disc such as CD / DVD / HD-DVD / Blu-Ray or in the cloud. If we select a destination folder, a window appears so that we can choose the location and click on «OK».
Once we have the elements chosen and the place to make the backup, in the left column we can select other tools from the "Backup Set" . For example, we have the "Schedule" tab that we can activate to schedule the copy to take place periodically. In this way we can establish days of the week, days of the month, each a specific time interval (days, hours, minutes) or a specific date and time.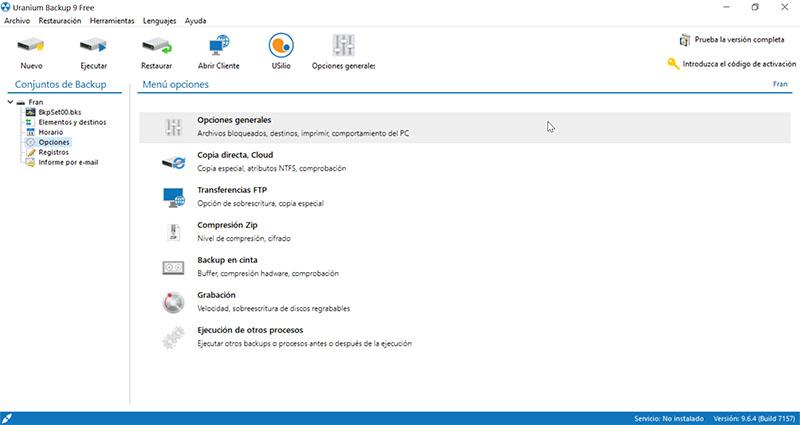 From the Options section we can configure our backup
Another interesting option in the "Options" section is found in the "Zip Comprehension", which allows us to configure the compression and encryption level of our copy. If we click on it we can set the compression level, protect the zip files with a password and use an encryption algorithm for greater security. We can also establish a filter of files and folders added to the zip file without decompressing and verify the number of files, making a comparison between the number of compressed files with the number of files that the zip file contains.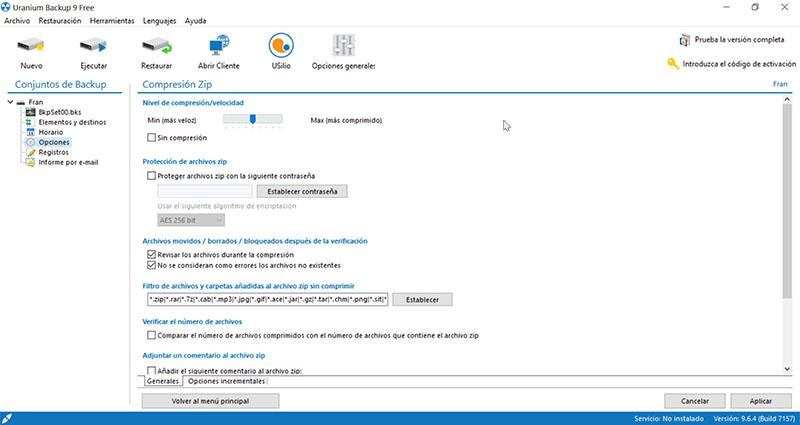 Once all the necessary adjustments have been made, we are ready to save our backup. To do this, click on the "Execute" button at the top and the program will begin the backup process, placing the file in the address we have chosen.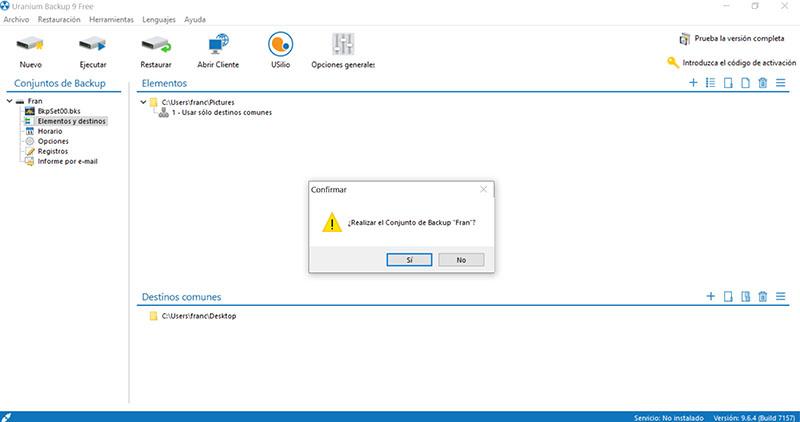 Download Uranium Backup
Uranium Backup has a free version that we can download directly from its website and other paid versions that have several exclusive functionalities. The application is compatible with all Windows operating systems, from XP to Windows 10. The latest version is 9.6.4.7157, which was released on July 15, 2020, which reflects an optimal support and updates policy. by the developer.
This application has different versions to choose from:
Free : has unlimited backups, zup compression and AS 256-BIT cryptography, advanced scheduler and email notifications.
Base : it has all the features of the Free version, plus synchronization, backup encryption, CD / DVD recording, FTP backup, disk images and copy to the cloud. Its price is 80 euros.
Pro Tape: it has all the features of the base version and also allows you to bakcup on tape. Its price is 150 euros.
Pro DB : It has all the features that are included in the Base version and also adds support for MySQL, MariaDB, MS SQL and Exchange. Its price is 150 euros
Pro Shadow : This version adds support for Snapshot (VSS) along with all the features of the Base version. Its price is 150 uros
Pro Virtual : to all the features of the Base version is added the Snapshot (VSS) options and the possibility of backing up ESXi – Hyper-V. Its price is 229 euros.
Gold : it is the most complete version since it has all the features included in all previous versions. Its price is 290 euros.
Download Uranium Backup
If we are looking for a program with which to make our backup copies, we also propose a couple of interesting alternatives to Uranium Backup.
AOMEI Backupper
This data protection software allows us to make backup copies of our files, disks and partitions. We can also clone partitions and disks, as well as create bootable drives on DVD, CD or USB. AOMEI Backupper has a free and functional version, which can be downloaded from its website . Additionally, it has paid versions with more functions.
EaseUS Todo Backup
This program allows us to make backups of all our files, disks and the entire system among other options, being a highly recommended option. It has a free version that we can download from here with which to perform the most basic operations. It also has a Professional version that we can buy for $ 39.95.