software
Are you having problems with your office license key? So you can remove it
When we need to carry out office work of some kind, one of the first solutions that comes to mind is Microsoft's. We refer to the popular Office of the firm, a suite that offers us everything we need for this type of work in particular. Therefore, below we are going to talk about how to delete the Office key on your computers.
First of all we must know that the suite is made up of a series of programs that millions of users around the world use every day. This is the case of Word, Excel, or PowerPoint, among others. These are programs that surely most of you are more than familiar, largely due to their widespread use. And it is necessary to bear in mind that this is the most used office suite in the world. It helps us to write documents of all kinds, to manage mail, or to create spreadsheets .
It is used both domestically by the end user, and in corporate environments, most companies make use of it. But of course, as with the operating system of the same firm, this is a suite that needs a product key to work. This can be purchased in many places, starting with the official website of Redmond. But you also have to know that they are not exactly cheap. Thus, sometimes we can find the case that we need to replace that Office product key, for example.
Delete the Office 2016, 2019 and 365 key
This is something that can become a problem, we refer to the replacement of these in the computers of a network, or in our own. That is why in these same lines we are going to show you the easiest way to eliminate the Office license to replace it with another. This is something that will also be very helpful to solve an error with it that does not stop bothering us when working with programs such as Word or Excel.
First of all we are going to show you the way to achieve this that we are commenting on, it is the case that you have the most current versions of Office. Here we refer specifically to the 2016, 2019 and Office 365 versions. This is something that we will have to carry out ourselves by hand, as we will see. In the event that you have older versions, that is something that we will show you later.
Open a command prompt or CMD window in Windows
For these current versions, the first thing we do then is go to the Windows search box to type the CMD command and access it with administrator permissions.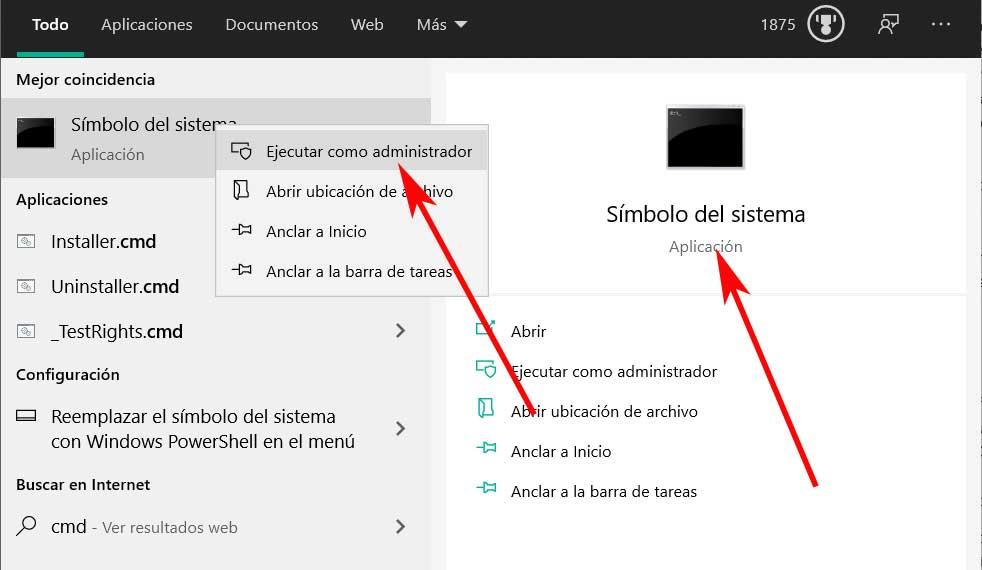 This will lead us to a command prompt window. Well, once in this, depending on whether we have a 32-bit or a 64- bit Office, we will have to locate ourselves in a disk path, or in another. In the first case, 32 bits, we are located in the following path: C: / Program Files (x86) / Microsoft Office / Office16. On the contrary, if we have the suite with 64-bit architecture, we go to C: / Program Files / Microsoft Office / Office16.

Clear the key for modern versions of Office
So the first thing we are going to do here is get some details of the license such as the name of the license and the key as such. For this we have to type the command cscript ospp.vbs / dstatus.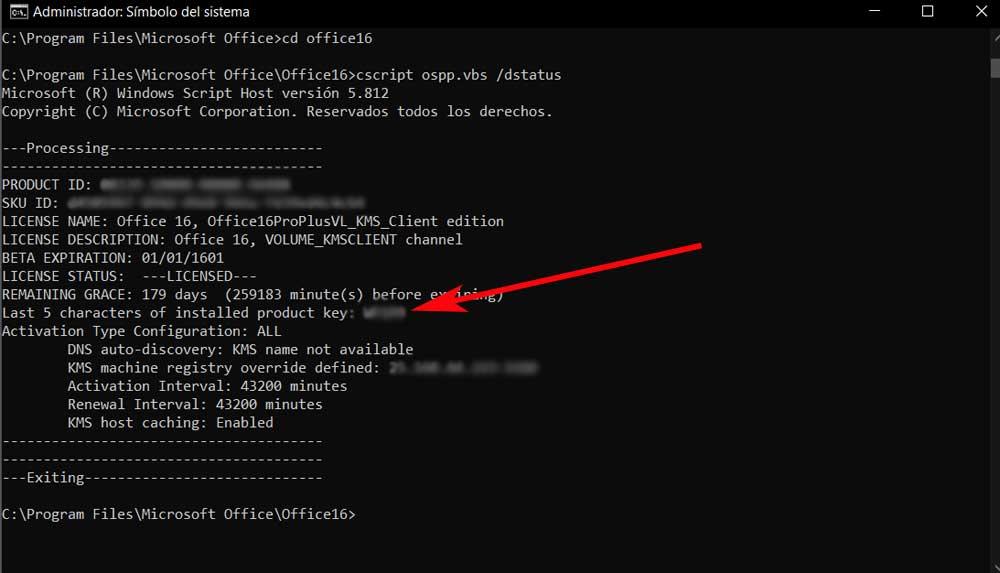 At that moment and after a few seconds, we find, as we have told you, a series of data related to the Office password that we have told you about. Here is a set with the last 5 characters of it, in the Last 5 characters of installed product key field. Well, this is what really interests us in this case. Therefore, at this point we will tell you that in order to remove the Office product key from this computer, we have to write the following command: cscript ospp.vbs / unpkey: XXXXX.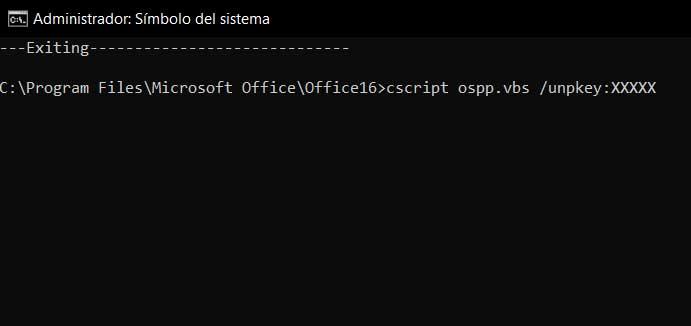 As you can imagine, in the 5 X you will have to specify the five characters collected in the previous step. In this way, once the command is executed successfully, Office will be in an unlicensed state, at least until we add a new one, which is what we are looking for here.
Delete the Office key in old versions
As we mentioned before, it may also be the case that at the moment you are still working with an older version of the Microsoft suite . There are still many users around the world who have these on their computers, so we are also going to help you. In fact here, to remove the Office key in these older versions, the process is even simpler.
The main reason for this is that in this specific case we have the possibility of using a third-party program that will be very helpful. We refer to the application called Office Key Remover that you can download from this link .
Actually it is a simple, very light free software solution but it will be very useful when it comes to removing the Office key from the system. This, as in the previous case, for example, will give us the opportunity to change it if we need it. Therefore, once we have downloaded Office Key Remover, we must know that to work in Windows all we need is to have the .NET Framework.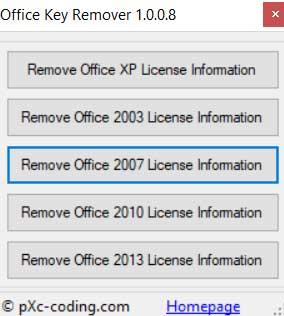 After its installation we execute it like any other program, with which we find an interface that shows the compatible versions of Office supported here. As we will see, these range from the old Office XP, to the 2013 version. Therefore, at this point, we only have to select the version we have, to remove the Office key immediately.