safety
You do not like windows defender? Protect your pc with comodo firewall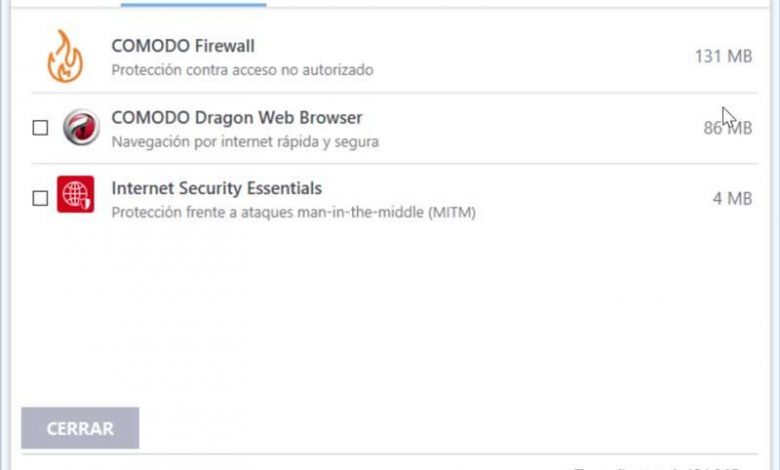 The use of the Internet as an almost indispensable part of our lives has been a great advance when it comes to working or having fun with our computer. But not everything on the Internet is beautiful since it has also increased the ability of malicious people to access our PC. For this Windows has its own security tools. We also find strictly dedicated applications with improved features. One of these programs is COMODO Firewall, about which we are going to talk to you.
COMODO Firewall is a firewall for Windows, whose main mission is to monitor the entry and exit through ports, of everything that passes through them, prohibiting or allowing access according to each case. In this way, it allows us to secure our system against all kinds of Trojans, viruses, hacker attacks or malicious software. It has both a basic version aimed at more inexperienced users and an advanced version aimed at more expert users who can configure the application completely to their liking.
This firewall facilitates the exact specification to which applications can connect to the Internet and warns us immediately, when it finds any suspicious activity. To do this, it monitors data traffic in real time, setting the computer's ports in invisible mode together with a system of updates that are carried out automatically.
The main features of COMODO Firewall are:
Attractive graphical interface, easy to use and in Spanish.
DDP-based security keeps you informed and our PC protected.
No need to require complex configurations, so it is suitable for all types of users.
Quickly learn the behavior of each user to provide us with personalized protection.
It incorporates many configuration options for the most expert users.
COMODO Firewall, the protection you need for your PC
Once the firewall is running, it remains active in the background, being able to access its menu from the system bar or through its direct access. The program has an intuitive and easy-to-use graphical interface, helped by being in Spanish, a language that we can select during its installation. In it we will see a summary of the status of our protection. If it is green, we are perfectly protected.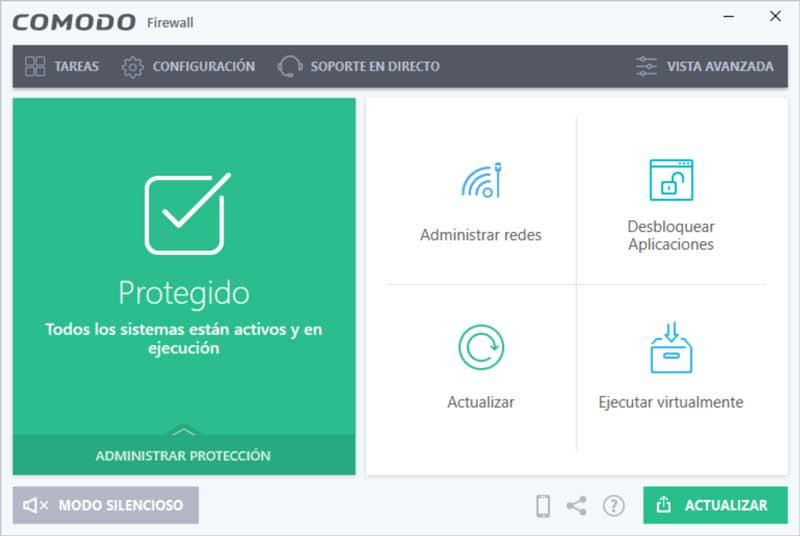 From the Protection Manager we can see different add-ons and modules
If we click on the «Protection Manager» we can see all the add-ons and modules that we can activate or deactivate to our liking. From the "Configuration" tab we can configure the behavior of all these modules, although unless we are expert users, the default configuration is perfectly valid. Thus we will find elements such as:
Firewall : main module of the firewall
Automatic Containment – Allows running applications in sandboxes of the system
HIPS : offers protection against exploits
VirusScope : is responsible for saving activity logs and allows to revert changes made by malware.
Website Filter – Provides protection against web pages containing malicious malware.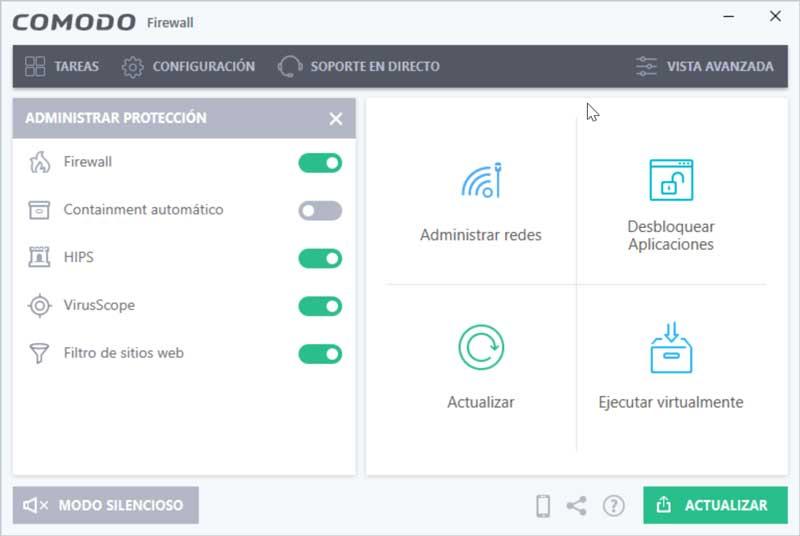 If we are users with more advanced knowledge, we also have a tab called "Advanced View", which is located in the upper right part, showing us a much more complete interface, with all kinds of detailed information about the modules, processes and locks of the firewall. In it we see incoming and outgoing packets, possible network intrusions and blocked applications.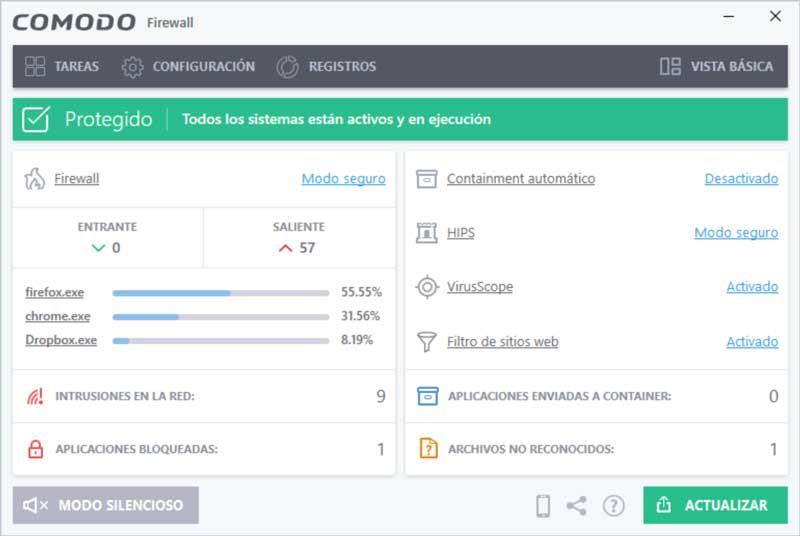 Additional functions that we can find in the Tasks section
Another section to take into account is Tasks, located in the upper left, where we can find additional tasks that will help us to obtain greater customization and security.
General Tools
From here we can analyze our computer for viruses and spyware, update the program, unblock applications that we have previously blocked and obtain live support for the application.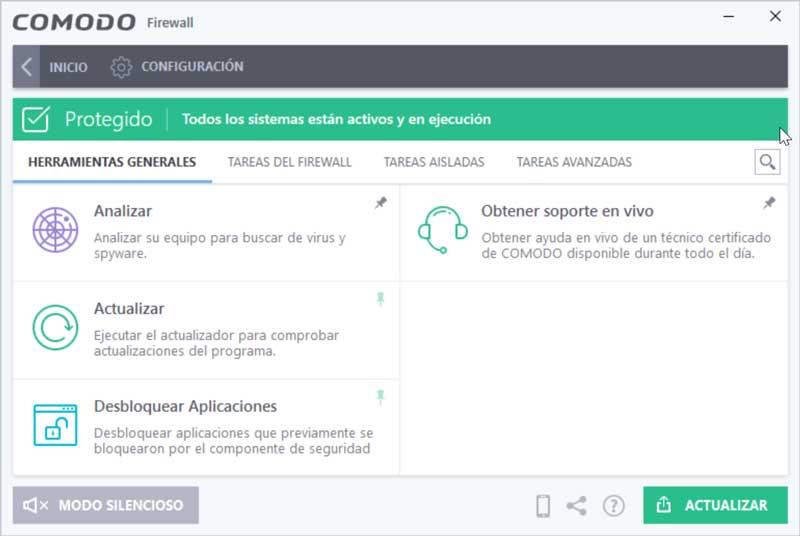 Firewall Tasks
From this section we can create and manage the firewall rules. We can allow an application to connect to the Internet, block an application, manage hidden ports, manage networks to allow or block connections from other computers, stop network activity and see the connections that are connected to the Internet.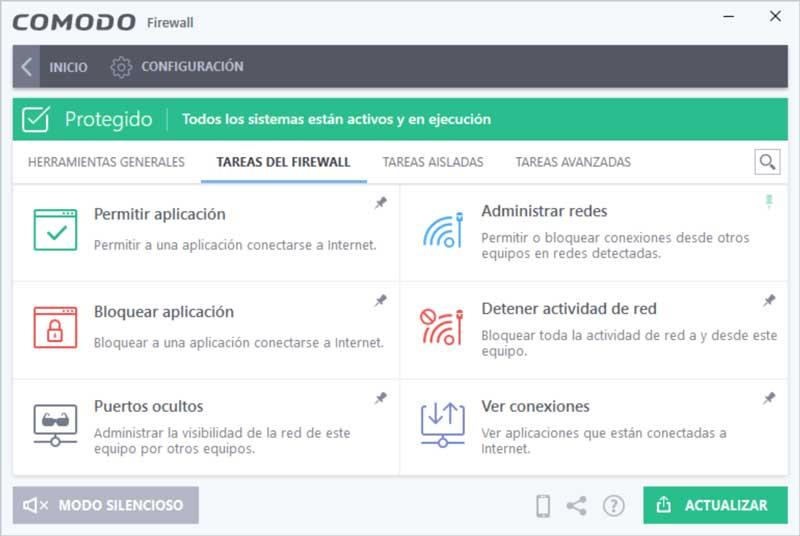 Isolated tasks
It allows us to access advanced tools, such as running applications in isolation, cleaning Container data, seeing all the details of the active processes of our team, opening a shared space between real and virtual applications, controlling advanced processes and running a desktop virtual safe.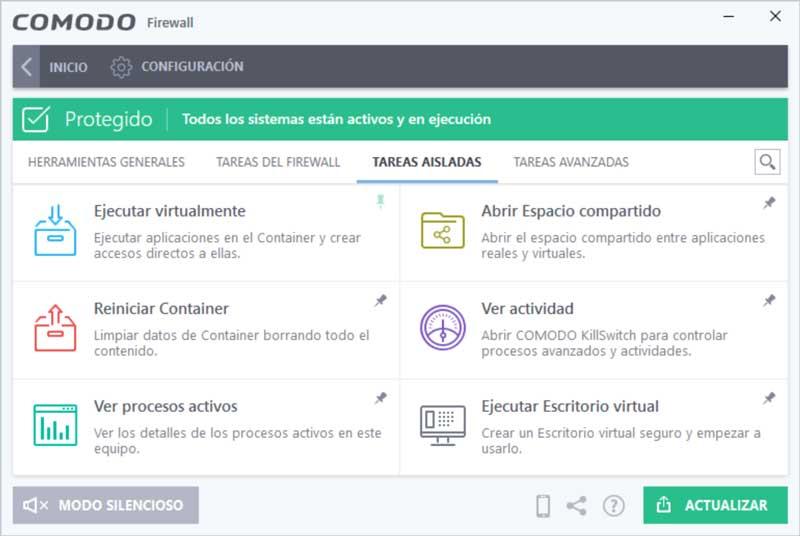 Advanced tasks
It provides us with a series of more complex tools, allowing us to create a bootable CD or USB to clean computers, open the task manager to see security tasks in progress, view a security event log, clean persistent infections, view and manage threats quarantined by viruses and submit files to COMODO for analysis.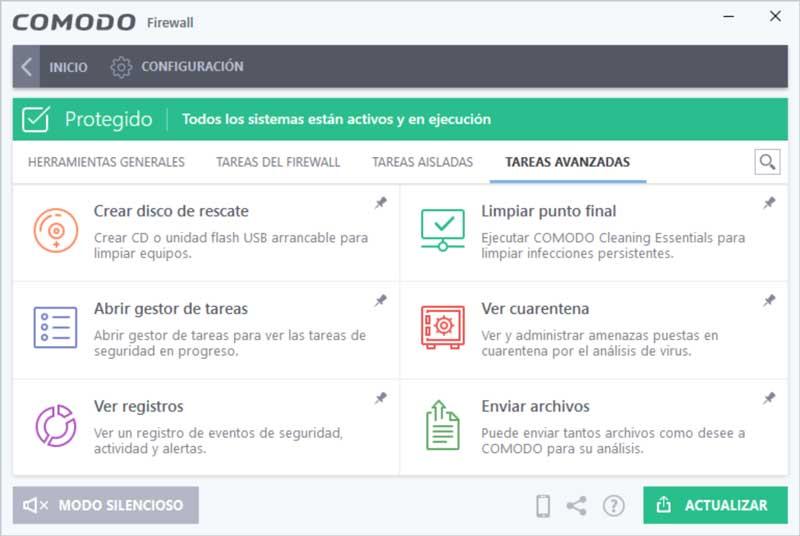 Conclusions: is COMODO Firewall worth using?
As we have seen, COMODO Firewall is a great option for all types of users, regardless of their knowledge of computer security. And it is that this application already has a base with various automatic and intelligent protection functions that allows us to not worry about any additional configuration. It also has advanced tasks that will be very useful so that more expert users can take full advantage of this firewall and configure it to their liking. And all this for free, without having to pay any type of license or subscriptions.
COMODO Firewall free download
COMODO Firewall is a free firewall that we can download directly from its website . It is shareable with the Windows operating system in its versions of XP 32 bits, Vista, Win7, Win8, Win 8.1, Win10 and offers support for 32 or 64 bit systems. Its system requirements are minimal since it only needs 150 MB of RAM and 400 MB available on our hard disk to work.
Before starting the installation of this firewall, we can optionally choose the installation of other components. We found "COMFORTABLE Dragon Web Browser", for fast and secure Internet browsing, as well as "Internet Security Essentials", which offers protection against MITM attacks. Once the installation is finished, we must restart the computer to start working normally.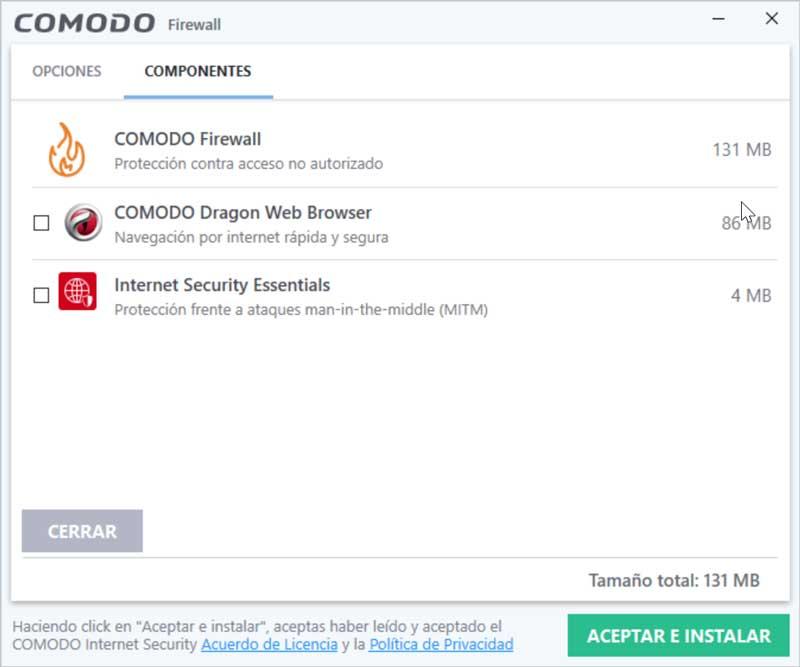 Together with COMODO Firewall it is possible to purchase the complete antivirus for greater protection. For this we must pay $ 29.99 for a license, or purchase three licenses for 3 PCs for $ 39.99 .
Alternatives to COMODO Firewall
If we are concerned about security and privacy on the internet, we suggest some alternatives to COMODO Firewall to take into account:
ZoneAlarm Free Firewall
It is an application that allows us to control all the activity of the programs that we have installed on our computer to avoid and warn us in case any suspicious behavior occurs. In addition, it offers us tools to protect ourselves in case we use insecure networks. We can download ZoneAlarm Free Firewall for free from this link .
Glasswire
We are facing a firewall that stands out for having a very attractive and attractive interface. Through its use we can see all the activity of our traffic, detecting any suspicious activity and notifying us immediately. In addition, it shows detailed statistics of network use so that we can always be well informed. We can download GlassWire for free from here .