safety
Stop windows defender from sending viruses to microsoft without your permission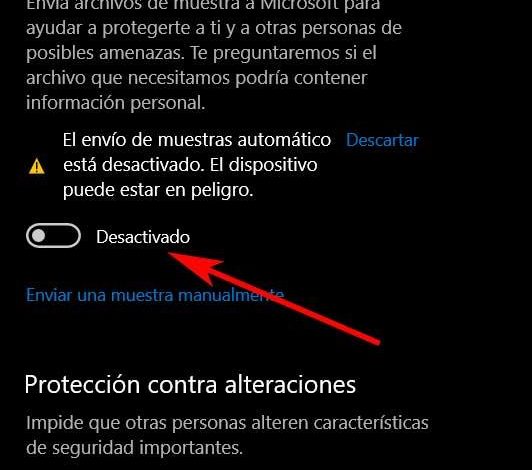 Security, as well as privacy, are two areas that most users are concerned about at the moment when working with Windows. For this, the operating system offers us its own solution in the form of Windows Defender, an antivirus that does not stop growing and improving over the years.
While in previous versions of Windows, Redmond offered us security solutions that left much to be desired, now things have changed a lot. Take the case of Microsoft Security Essentials that we had in Windows 7, something unreliable. But as we told you, after the arrival of Windows Defender, this is a section that has greatly improved.
In fact, it could be said that this is one of the great bets of the Redmond in everything related to security. This is precisely why it constantly sends updates to Windows Defender so that it gradually improves over time. Despite all the functions that it presents, some users prefer to use third-party antivirus. These belong to security companies of those of a lifetime that give them more confidence. There are also many others who prefer to disable some of the built-in Microsoft antivirus functions. One of the reasons for this, for example, is that they consider that they violate part of the privacy that the operating system itself should provide.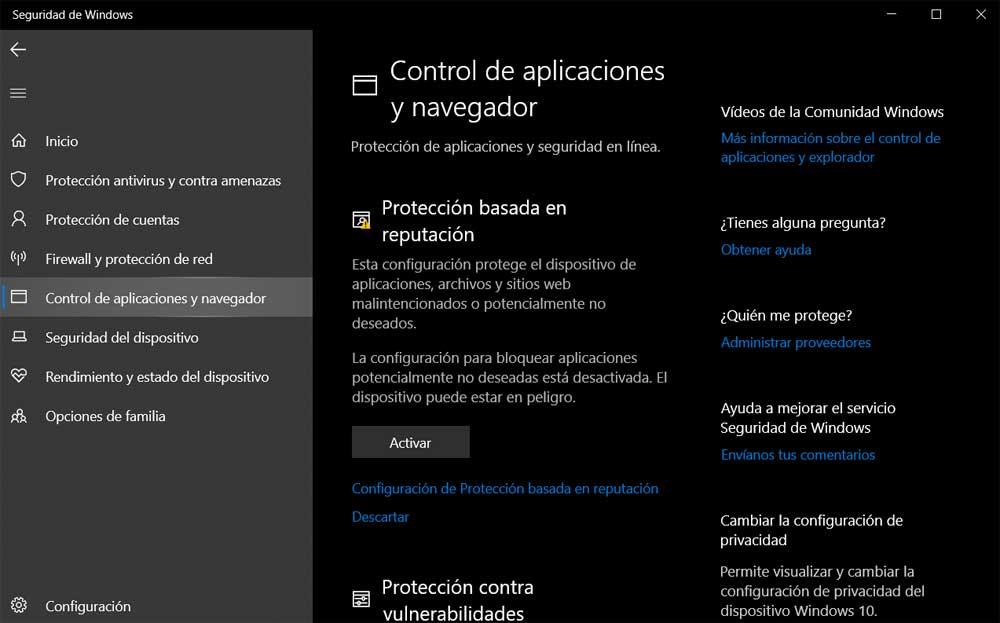 That is precisely what we want to talk about in these same lines. And is that something we should know is that by default, Windows 10's integrated antivirus automatically sends samples of suspicious files from our computer to Microsoft .
Why is Windows Defender sending my files to Microsoft
It is true that initially this could help increase the security of the system, but it is something that not everyone likes. Therefore we can choose to deactivate this option if we wish. This is precisely what we will talk about here. Specifically, we will show you how to deactivate this option on your PC.
It is worth mentioning that the aforementioned antivirus that is integrated into Windows 10, Windows Defender, sends suspicious files to Microsoft. It does this on its own and in an automated manner, all so that the Redmond company can learn about new viruses and other threats to better protect its users.
We must also bear in mind that these sample files sent from your computer help Microsoft to improve its antivirus with new virus definitions. This way, the next time this malware is found on someone's PC, the Windows 10 antivirus will be able to block that file immediately. Therefore and as you can imagine, from the point of view of the company itself, all are advantages for users. It is somewhat similar to what happens with telemetry built into the same operating system.
In parallel, something we should know is that Microsoft tries not to include any personal information in these sent files . If there is a file that probably contains some personal information, such as a Word document with a suspicious macro, Windows asks us for permission before sending the file. But with everything and with it, we are going to show you how to completely deactivate the functionality.
Turn off automatic file submission to Microsoft
In order to prevent Windows 10 antivirus from sending files to Microsoft if you do not feel comfortable with this function, it is something that is activated by default. But as we mentioned before, this is something that we can change and customize, as is the case with many other sections of this operating system . Well, for this, as is easy to imagine, the first thing we must do is access the antivirus itself as such, specifically its configuration parameters.
Open Windows Defender from Settings
Well, at first we have to open the Windows Configuration application, a section that increasingly houses more system parameters to customize it. While in the past the protagonist of this was the Control Panel, now that prominence is gradually being taken over by the Settings application that we mentioned.
To enter this section, we can do it in several ways, although the most effective is through the Win + I key combination . Once here, we opted for the Update and security option.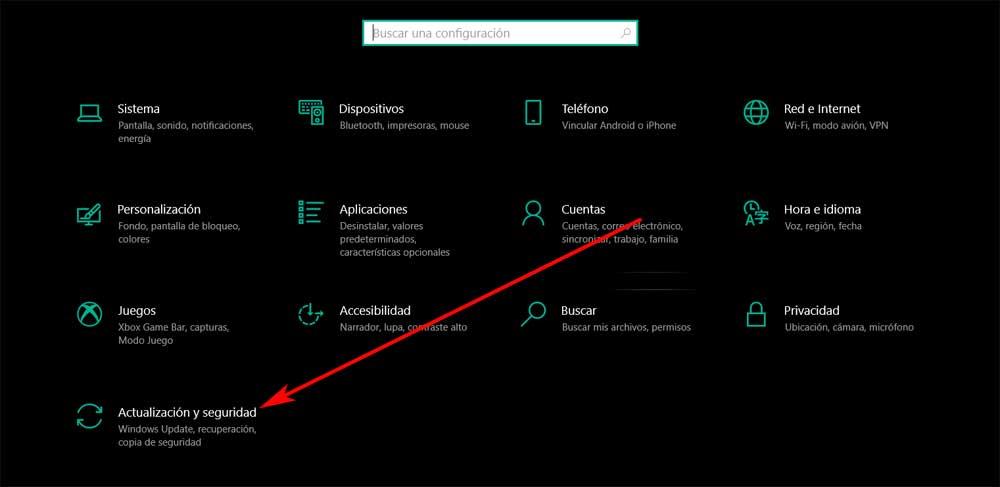 In the right part of the new window, we click on the Windows Security section, which allows us to access the antivirus as such by clicking on Open Windows security.
Prevent submission of virus samples in Windows Defender
This will give us way to a new window full of functions and features, all of them related to Windows Defender, which is what we are interested in here. Well, in the case that concerns us in these lines, we opted for the section on Protection against viruses and threats.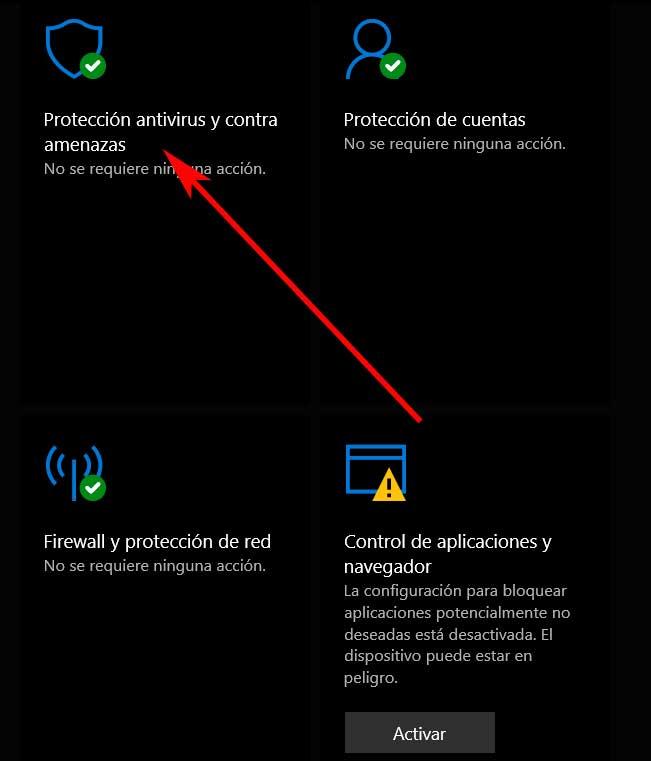 Here we will have to scroll down in order to locate the section called Antivirus Configuration and Threat Protection. Well, once we have it on the screen, we just have to click on the Manage settings link .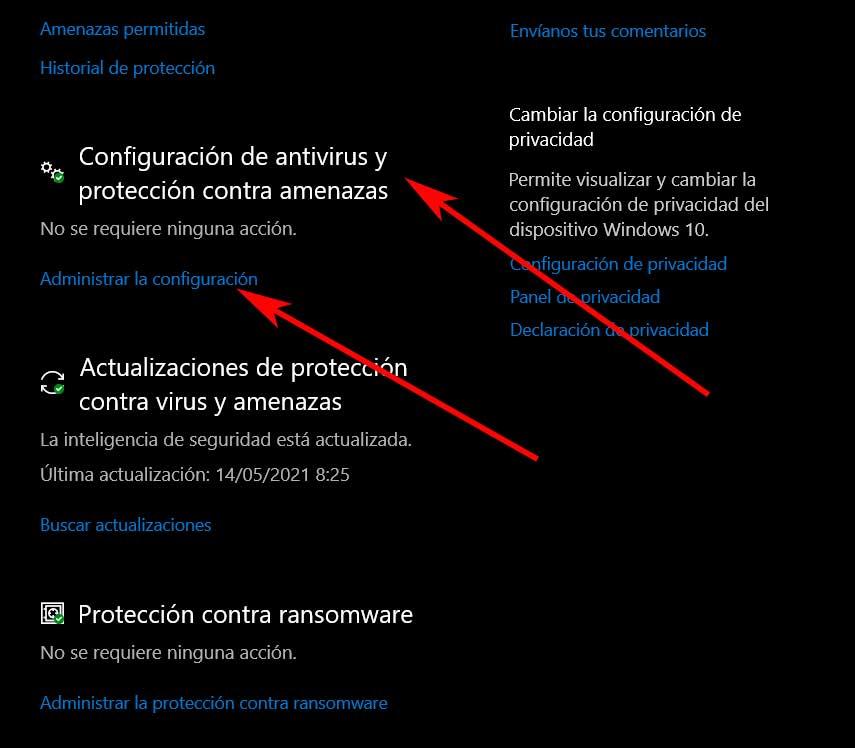 Thus, to disable the automatic sending of samples to Microsoft from Windows Defender, here we just have to look for the option called Automatic sending of samples. Now we only have to change the state of the selector to deactivate the functionality.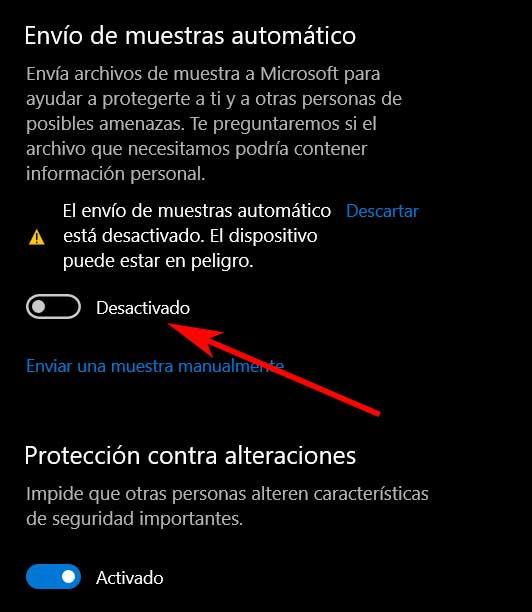 What we need to keep in mind here is that even though automatic file submission is disabled, we can still submit samples manually. This is an option that we also find in this same section, which allows us to upload suspicious files for analysis by the Redmond firm. This is just one of many additional features that Microsoft has implemented here over time. The best of all this is that those that do not convince us, at least most, we can deactivate in a simple way, as we have seen.