safety
Recuva: Manual to recover deleted files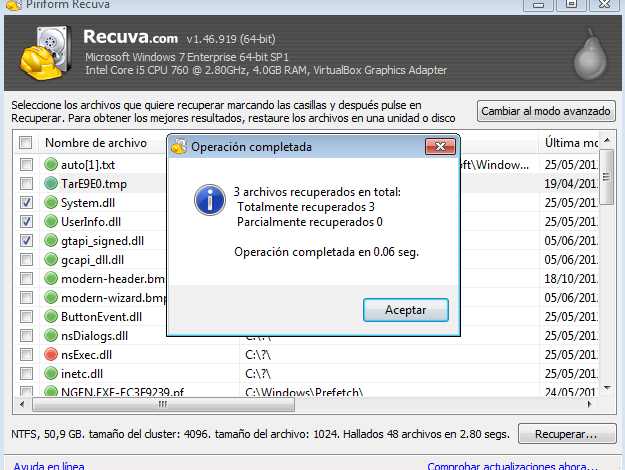 Recuva is a totally free program to recover deleted or deleted files on our Windows PC, this program has been created by the programmers of the popular and successful CCleaner to clean our PC's cache, cookies and temporary files. The main feature of Recuva is that it will allow us to recover files and folders deleted from our computer, regardless if it is due to an accidental deletion, if the physical disk has been damaged or if we have formatted our pendrive. Do you want to know everything about Recuve and what it can do for us?
Recuva features and what it is for
The main characteristics of this Recuva file recovery program is that it will allow us to quickly recover folders and files from our computer with Windows operating system. This program allows us to recover files from disks that are formatted or damaged, in addition, it will also allow us to recover information from a pendrive that was formatted by accident. Recuve is capable of recovering any type of file, be it .exe, tablets, photographs, music, videos, ISO images, and is even capable of recovering emails from the popular Outlook email client among many other features of this environment-oriented program. home to retrieve as much information as possible.
This program is very easy to use, it has a configuration wizard that greatly simplifies the file recovery process, in addition, it is capable of performing a deep analysis for a more exhaustive search of the data, finally, it also allows us to perform secure erasure of data to prevent recovery. This last function will allow us to completely erase hard drives or SSDs, overwriting all the information that there is multiple times, in this way, the possibilities of recovering the information with programs such as Recuva or more advanced are close to zero, and the worst thing we can do is To do when recovering a file is to overwrite it, in this way, if you are interested in deleting a file and that it can never be recovered, it is best to overwrite it multiple times.
Recuva is only available for Windows operating systems, from Windows XP to Windows 10. The application is fully translated into more than 35 languages. Recuva has a free version, a home version for most users that has technical assistance that will help you recover, and a business version that must be purchased if this application is used in a business. In the same way, this latest version has a more professional advanced support.
Installation and commissioning
We can download Recuva from the latest version that is available on its website. Once downloaded, we install it in our Windows in a similar way to Ccleaner, following the installation wizard by clicking on «Next» until the end of the wizard.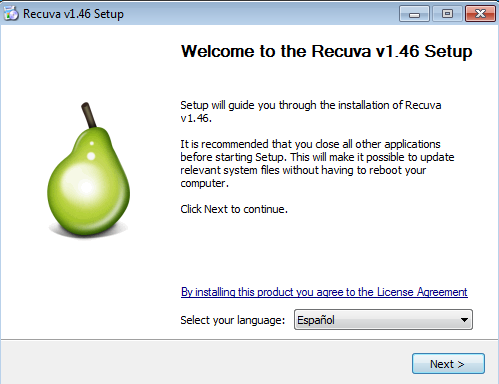 Once the installation is complete, we run the application we just installed to start recovering our most valuable files and folders.
The first thing we will see is a small Recuva file and folder recovery wizard, this wizard is ideal for those users who have never used a file recovery program. If we do not want it to guide us through this wizard, we will be able to click on "Cancel" to go directly to the advanced recovery menu and not use this easy-to-understand wizard.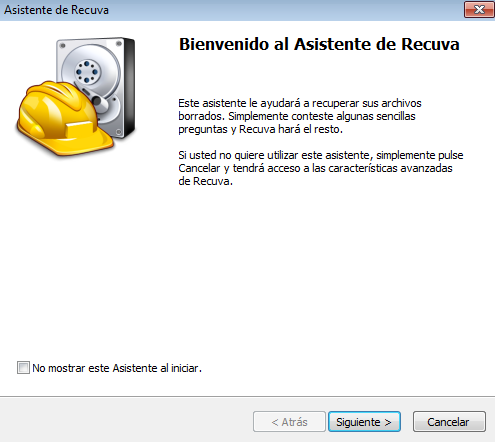 Click on next to continue and it will show us a list in which we must select the type of file that we want to recover. If you know what type of file you want to recover, you will have to indicate it here, the list of file types are as follows:
All Files : all files that can be recovered
Images : they will only be displayed to later recover image files with typical formats such as JPG, PNG, GIF and others.
Music : they will only be displayed to later recover music files with typical formats such as MP3, WAV and more.
Documents : they will only be displayed to later recover the document files Word, Excel, PowerPoint and more.
Video : they will only be shown to later recover the video files with the typical formats such as MP4, MKV and more.
Compressed : all files compressed in .ZIP, .RAR and more will be displayed with the aim of trying to recover them.
Email : Only email messages from Thunderbird, Outlook and Windows Mail will be displayed.
For example, we will select all files so that the program will show us all the possible files to recover. We press next to continue.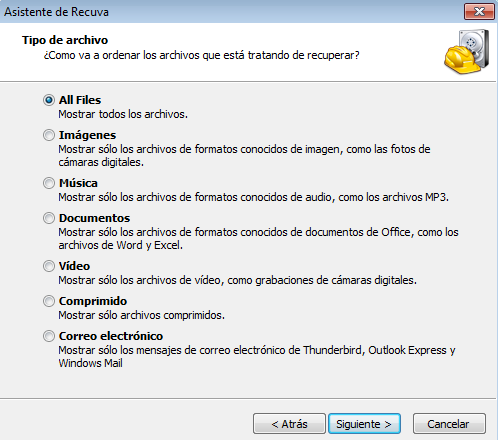 Next, we must specify the directory where we want the program to look for the files. We can choose whether to search the files on the entire computer or, on the contrary, specify a directory, a drive, the trash, etc. We press next to continue. We have different options in this section:
I'm not sure : search the entire PC
On my memory card or iPod : Search removable drives via USB.
In "My Documents" : search the user's folders
In "Recycle Bin" : Look for deleted files in the Recycle Bin.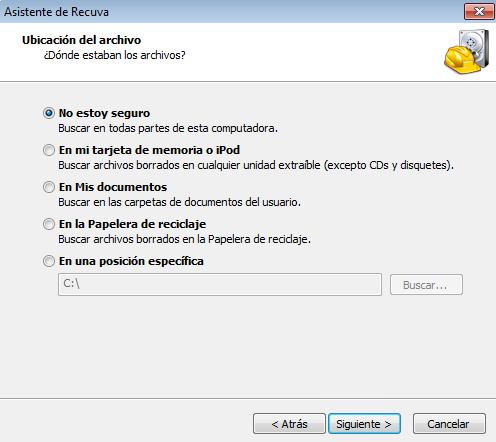 The wizard shows us a window in which it will indicate that it is ready to start. We can select here if we want to activate (or not) deep analysis.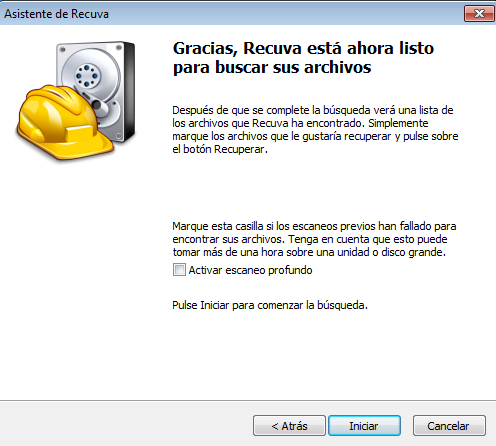 Click on start and the search for deleted files will begin.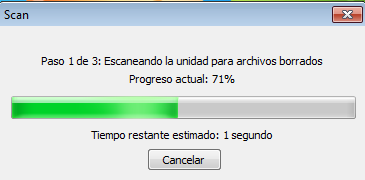 Once the search is finished we will be able to see the results that Recuva offers us.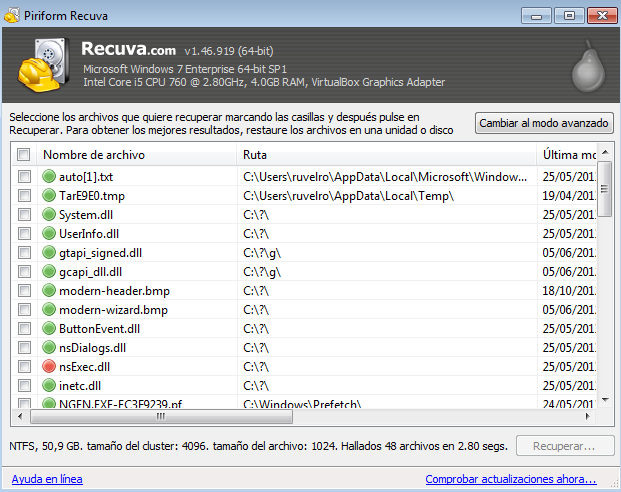 The circles that it shows next to the file name indicate its status. A green circle indicates that it can be recovered without problems. An orange circle indicates that the file is corrupt but can be recovered although it is probably inaccessible. A red circle indicates that the file is completely damaged and cannot be recovered. Now it is enough to select the files that we want to recover by marking their corresponding tick and click on the "recover" button. The program will ask us for the directory where we are going to recover the files. We select the destination for these and we will have the recovered files.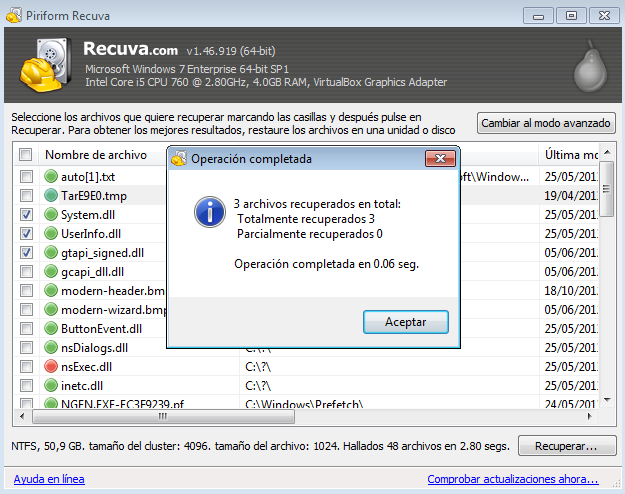 As a free alternative to data recovery, Recuva gets a 10. In many cases, you can recover files without any problem, but there may be cases where advanced options are needed that only paid applications offer.