safety
Protect your windows pc from viruses and trojans with zonealarm antivirus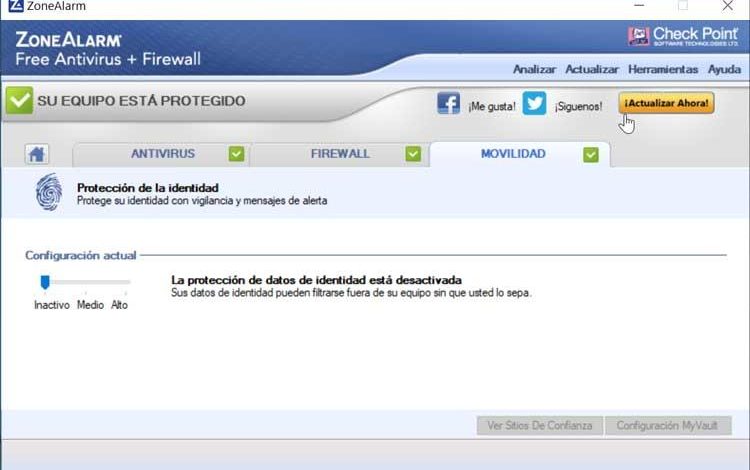 When using our computer to browse the Internet, one of the main concerns that we usually have is related to security. That is why the presence of an antivirus is usually essential on our PC, so that it takes care of protecting us from possible viruses or computer attacks that could endanger both our security and privacy. If we do not want to spend money when installing an antivirus, we can choose an alternative such as ZoneAlarm Antivirus, which we will talk about below.
ZoneAlarm Antivirus is a utility that will help us safeguard our privacy and security on the Internet, protecting us from viruses, malware, Trojans, spyware and other types of threats that may arise against our computer. It also has a Firewall that offers us additional security against hackers, allowing us to instantly deactivate any malicious program with Internet access. In addition, it includes five security services : full protection, Internet blocking, firewalls, as well as dynamically assigned security levels and zones.
This powerful antivirus has several additional advanced security layers for better protection. It has wireless network protection to automatically protect our wireless networks through the firewall. Its customizable analysis modes allow us to control security settings, safeguarding our operating system. It also incorporates a game mode, through which we can temporarily suspend analyzes, updates and alerts while we play. In addition, it has real-time updates to guarantee complete protection.
Features that ZoneAlarm Antivirus has
ZoneAlarm Antivirus in its free version presents an interface that is in Spanish and that will be easy to use. We can make many customizations in it, so that we can adjust the software execution parameters to our liking. In the central panel it shows us three large columns for "Antivirus", "Firewall" and "Mobility", where it will inform us what type of protection each one provides us and a View details tab for its configuration.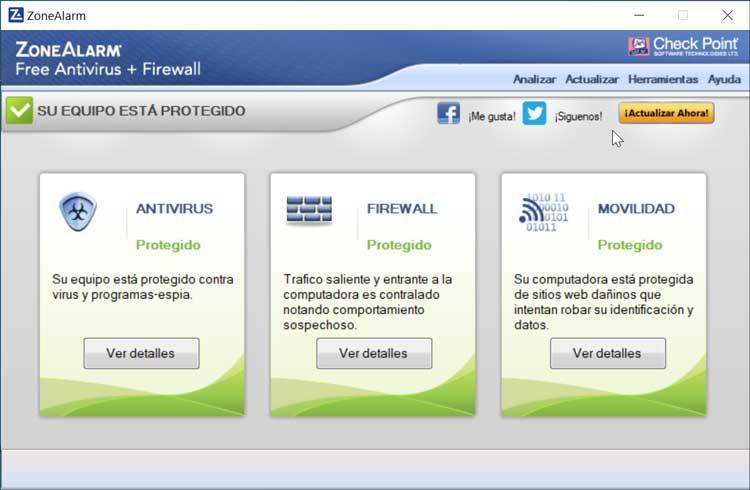 Antivirus
Within this section, it informs us if we have real-time protection activated and allows us to scan for viruses. This scan can be configured to be done on the fly in three different ways: fast, complete, and complete with compressed files. If we choose the quick scan, it will be done in just a few minutes, while the full scans take longer, depending on the size of the disk and the number of files we have stored. It also shows us the date of the last update and the possibility of updating now.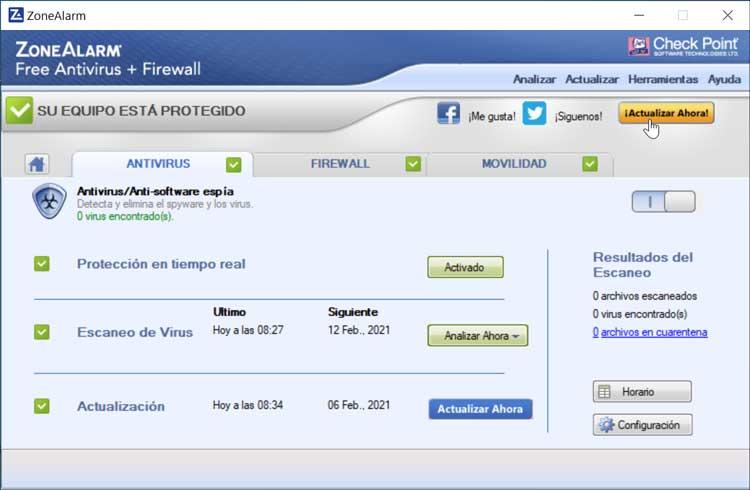 At the time of carrying out the analyzes it is possible programmed these are carried out on the entire system. They work as a reinforcement of the analysis at the time of access that always monitor all the files. With it we can program what day and time we want the scans to be carried out, as well as by period of time. This option is only available in its paid versions.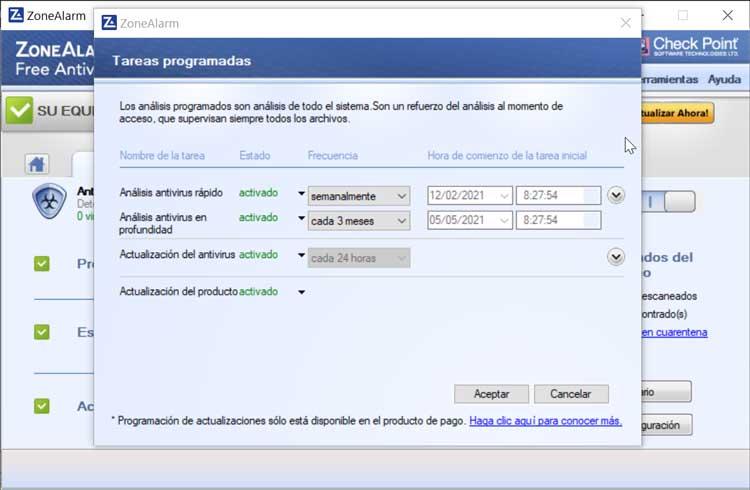 Firewall
Within this section we find a "Basic Firewall" that is responsible for blocking invasions and activities of hackers, showing us blocked access attempts. If we click on these "blocked access attempts" it shows us the log viewer with the type of attempt, the date and time, the action carried out and the IP of origin. It also allows us to keep track of registration and events on which to receive alerts.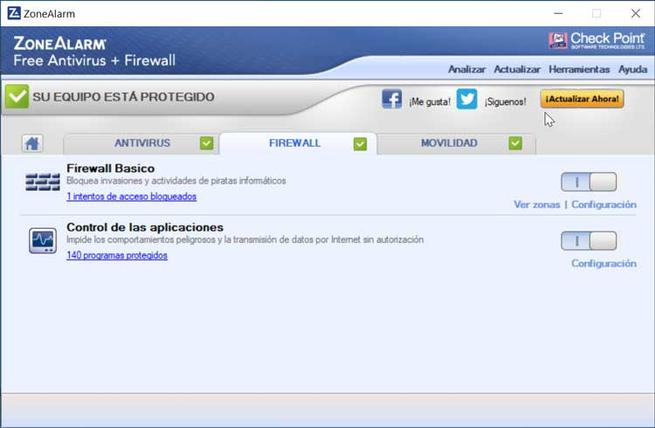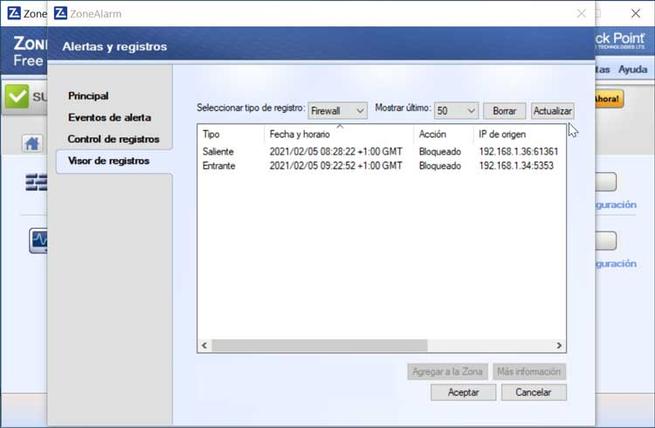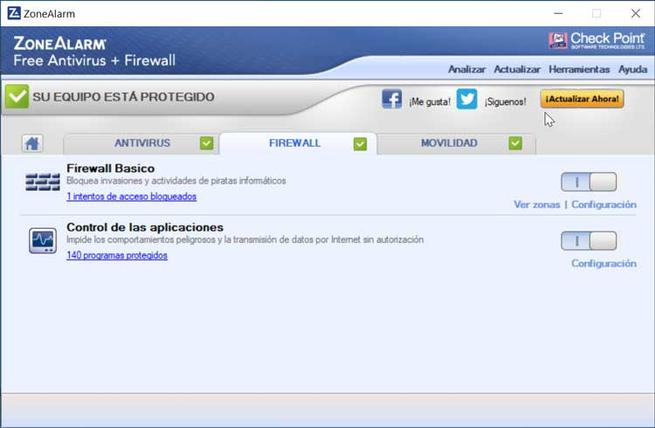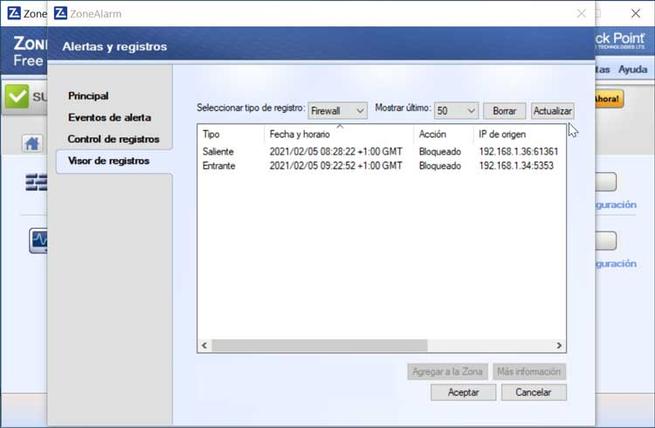 We can also find an "Application Control", which is responsible for preventing dangerous behavior and the transmission of data over the Internet without authorization. In it you show us the protected programs, the configuration of the operating system's firewall and an application control.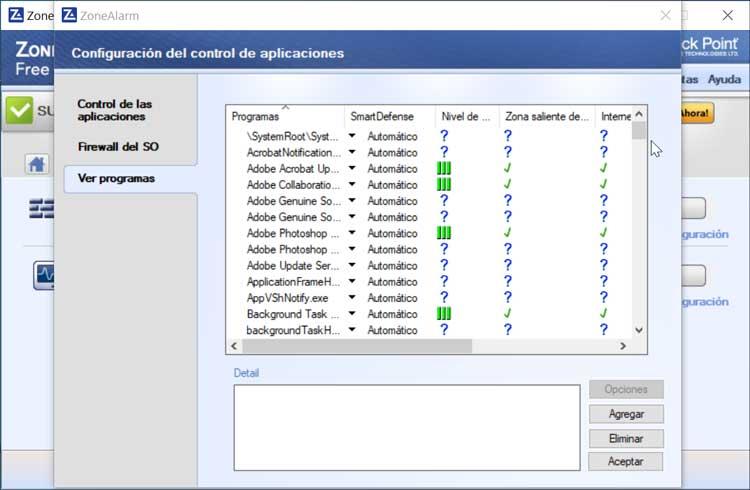 Mobility
This includes "Identity Protection", which helps us to protect our identity through surveillance and alert messages that we can configure since by default it is disabled, so our identity data can be filtered outside our equipment without us knowing.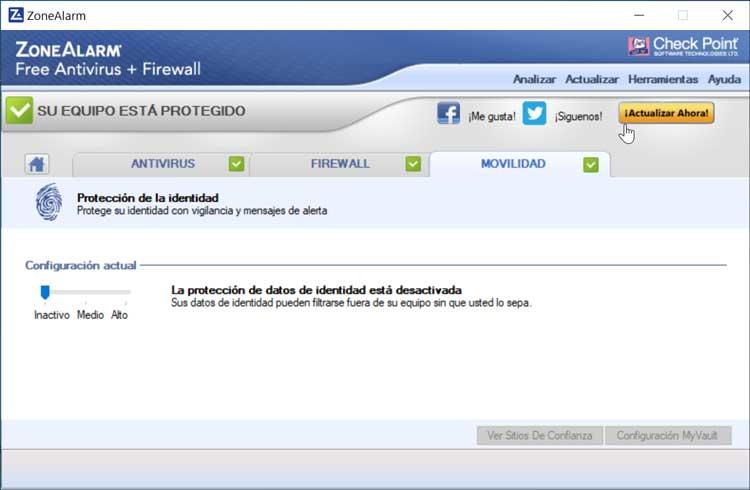 If we set the protection level to «Medium», the antivirus will notify us when our identity information is about to be sent to unauthorized destinations, and we can define the information from the «My Vault Settings» button. With the setting to "High", we prevent our identity information from being directed to destinations that are not authorized, being recommended to use it on shared computers.
ZoneAlarm Antivirus free download
ZoneAlarm Antivirus is a software to protect our PC that has a free version that we can download from its website . It can be used on computers with Windows 7, 8 and 10 operating systems, offering compatibility with Windows Defender and not being compatible with any other antivirus. That is why it is important that before installing it, we proceed to uninstall any other antivirus software that we have installed. Otherwise, we could have stability problems in the operating system, as well as in the performance of our PC.
Differences between its different versions
ZoneAlarm Free Antivirus : the free version offers us antivirus and antispyware, advanced firewall, bidirectional firewall, identity protection, game mode, Web Monitor, Antiphishing, threat extraction and security in the cloud in real time.
ZoneAlarm Pro + Firewall : this version adds to the features of the free version, Web Monitor, Antiphishing, threat extraction and security in the cloud in real time. Its price is 31.95 euros for one year, being able to install up to 5 devices.
ZoneAlarm Extreme Security : offers the most complete protection, adding to the features of the Pro version Anti-Ransomware protection, mobile security, threat emulation and Anti-Keylogger. Its price is 39.95 euros for a year and with installation in up to 5 devices.
System Requirements
Windows 7 SP1, 8, 8.1, 10 (all versions).
32 or 64 bits, 2 GB of RAM.
2 GHz processor or higher.
1.5 GB of available hard disk space.
Microsoft .NET framework 3.5 or higher (if a compatible version is not installed, it will be installed with ZoneAlarm).
Antivirus as alternatives to ZoneAlarm
If we are looking for an antivirus to protect our computer, we suggest some alternatives to ZoneAlarm:
Kaspersky Anti-Virus
It is one of the most popular antivirus programs with which we can block all types of viruses, ransomware, and spyware from our computer. In this way we get our PC to work better than expected by simplifying our security management. It can be purchased from 29.95 euros a year from here .
Avast Free Antivirus
Another well-known antivirus that is responsible for offering us free protection against viruses in the cloud. It performs real-time protection by analyzing how many unknown files it finds before we can use them. We can download it from this link . It also has a Premium version with additional functions that we can purchase from 69.99 euros per year.
Adaware Antivirus
This antivirus is responsible for detecting and eliminating any type of virus, malware, Trojan horse or spyware in real time, offering its users an automated security experience. Adaware Antivirus has a free version that we can download from its website . It also has two payment versions that start at 36 euros.