safety
Protect your pc and all its data in real time with sophos hitmanpro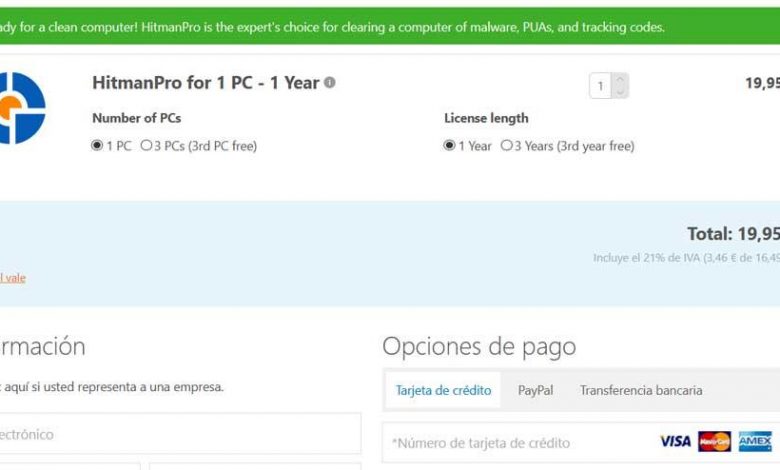 At this time and from our PC, whether at home or in the office, we work with a huge amount of personal data. These, on many occasions, are delicate and important, so we want them to leak or be damaged. To do this, among other solutions, we can use a powerful antivirus, as in the case of Sophos HitmanPro .
It is true that today we have the possibility of using a good number of security solutions of this type that will be very helpful when it comes to protecting ourselves. In addition, these types of programs in particular do not stop improving over time. One of the main reasons for all this is that the same happens with the potential attacks to which we expose ourselves. Keep in mind that the most used operating system for desktops , Windows 10, already has its own integrated antivirus .
In particular we refer to Windows Defender, although it has not yet managed to gain the trust of everyone. That is why many users prefer to put the protection of their equipment in the hands of other external firms specialized in it. They present their own software solutions, as is the case we are talking about now. The truth is that in this sense we can use a multitude of programs of all kinds. There are free and paid ones, in addition to some simpler than others. Of course, we also have at hand some more advanced antivirus with a multitude of additional options .
Sophos HitmanPro startup
Well, in this case we find a payment proposal that offers us a free trial version. This allows us to get an idea of ​​what we are going to find to make the final decision, or not, to acquire the product. Keep in mind that no one thinks of connecting to the Internet at this time without having an antivirus installed on the PC.
At a minimum, we must ask these programs for a good engine capable of detecting all types of malware, in addition to a database updated periodically with the newest and most recent threats discovered beforehand. For all this we will talk about Sophos HitmanPro, a solution of this type that we can implement on our PC, available for 32 and 64-bit architectures.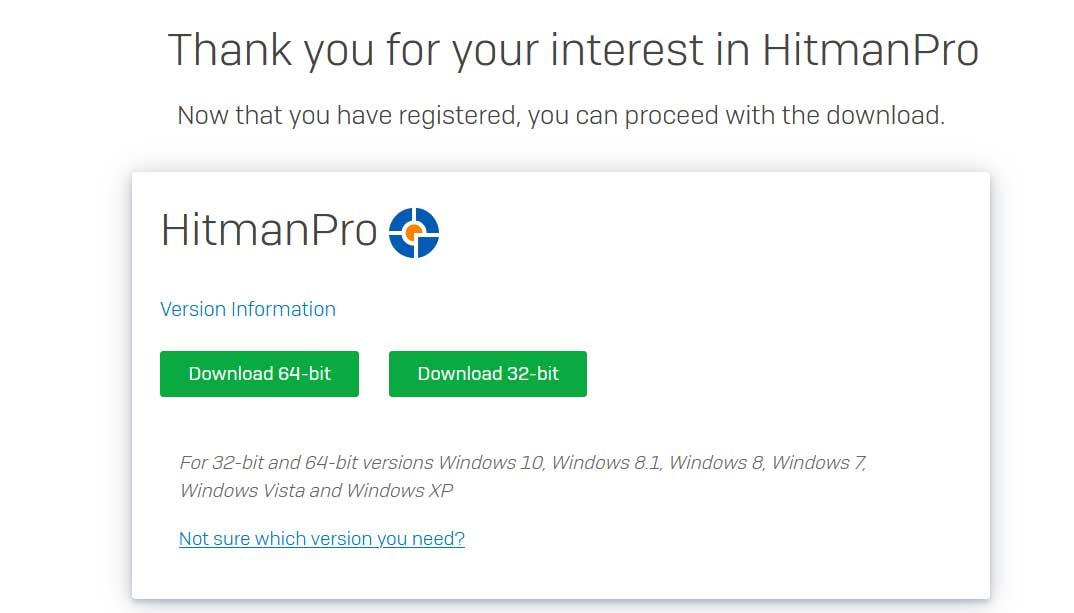 Thus, once we have installed the program on the computer, the first thing it proposes to us is to perform an analysis of the disk units . By default the application itself will perform a deep system scan, which takes a while. Therefore, if we want to speed up the process, we only have to click on the drop-down list of the Next button.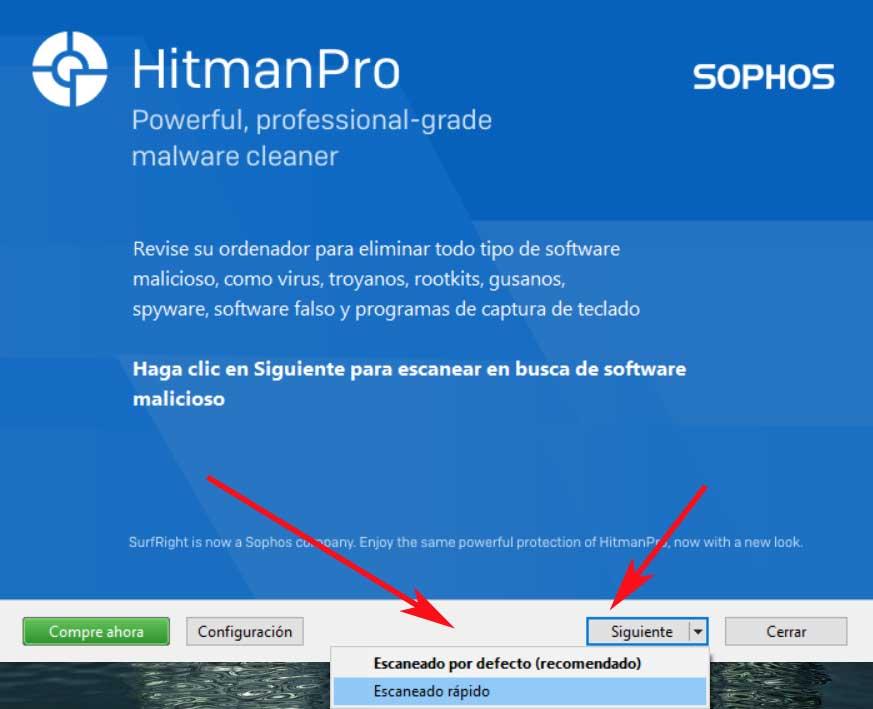 HitmanPro antivirus operating modes
It is worth mentioning that the application gives us the opportunity to work in two different ways. This will be very useful depending on the circumstances of each case. We tell you this because, once we have specified the type of analysis we want to carry out, a new window appears. From there we have the opportunity to specify HitmanPro how we want it to work in Windows . On the one hand, we have the possibility that it only performs an analysis of the PC once, and then closes it. It is evident that beforehand it will show us the results obtained, and the solutions.
At the same time we can configure the antivirus to carry out this commented analysis, and then it stays running in the background.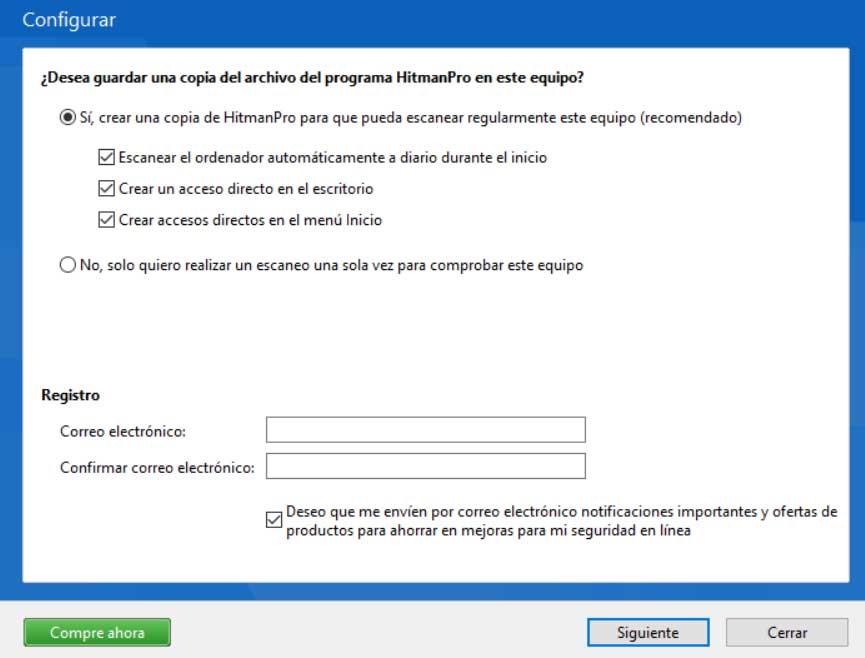 In addition, it will start automatically when we start the computer, and will perform periodic scans for malware. In the event that we opt for this option, we will see the icon that the program creates on the system's task bar.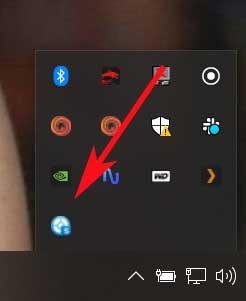 Configure the antivirus to adapt it to our needs
As we can see, the general operation of this proposal to protect our PC and its data is very simple. Therefore, users who are not very experienced or who do not want to complicate themselves, find here a more than acceptable option. However, for all those who want to go one step further, they can also make use of certain customizable parameters.
Here we will have the possibility to use the protection systems in the cloud, customize the restore points, or the default analysis mode. For all this and much more, in the configuration window we find several tabs to quickly locate what we are looking for. Here we will also see the items of equipment that were quarantined, or configure a proxy for greater protection of it. It should be noted that this software also allows us to use the VirusTotal platform from here.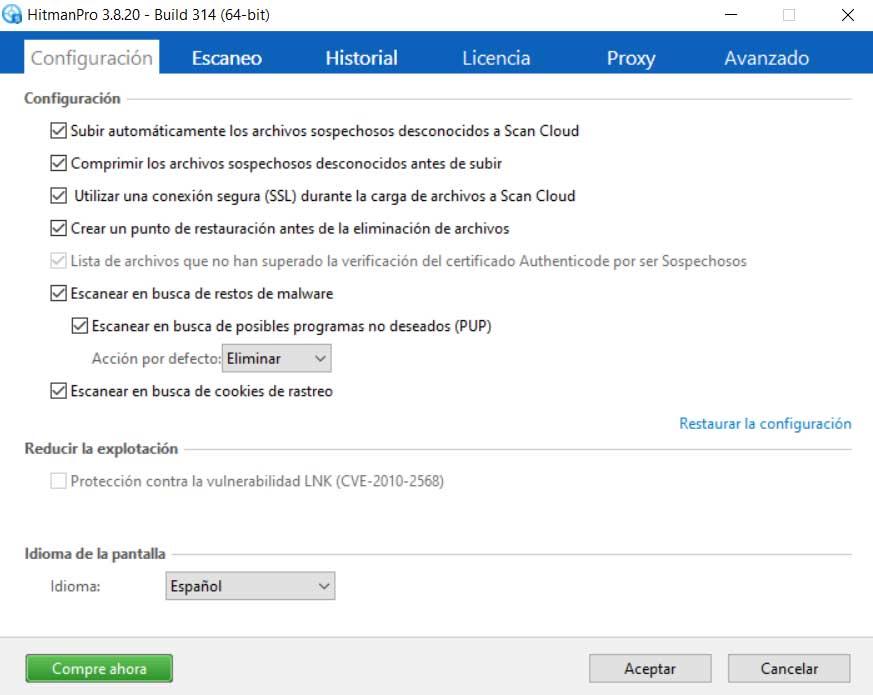 How to download Sophos HitmanPro to your computer
As we mentioned at the beginning, this is a payment security solution that we can use temporarily for free . In fact, its developer offers us a trial period of one month, after which we will have, if we wish, to acquire the final version of the antivirus. To test it, you can download the application from this link .
In the event that we want to acquire a HitmanPro license valid for one year and for a PC, the price of it is 19.95 euros.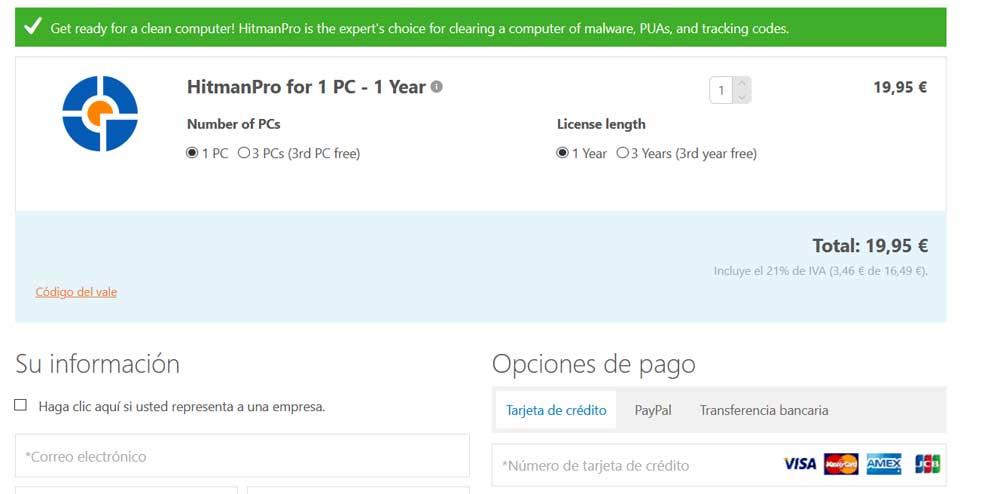 Alternatives to HitmanPro to protect the PC
Windows Defender
As we have mentioned before, this is the alternative that is included in Windows 10. It is a Microsoft antivirus that does not stop growing and improving over time and that offers good protection. It has an engine capable of detecting all kinds of threats and its own firewall.
Kaspersky Free and Security Cloud Free
This is one of the best-known antivirus programs that have been around for a long time and that implements a powerful engine to protect us from viruses, Trojans and worms . All this is carried out in real time and its database is updated periodically for greater protection. We can test all this from this link .
Avast Antivirus
This other alternative has also gained its popularity over time and offers us complete protection against malware and other threats. It has its own engine that analyzes and protects in real time and also presents us with a very easy-to-use user interface. If you want to take a look at this antivirus, you can do it from here .
Bitdefender Total Security
This is a paid antivirus that is best known in the industry and has earned the trust of many users around the world. It is worth mentioning that it has a good number of functions such as protection against ransomware, tracking blocking, prevention of web attacks, secure purchases, password manager, etc. All this that we tell you you can try from this link .