safety
Protect your malware, trojans and virus equipment with sophos home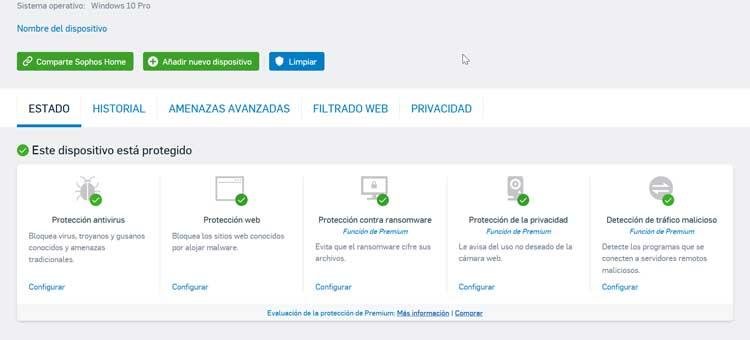 Security and privacy are two of the elements that most concern us when connecting to the Internet. And it is increasingly prone to being the victims of hacker attacks or being infected by a malicious virus or malware. That is why it is advisable to have a security solution, such as an antivirus. This is where Sophos Home comes in , about which we will talk next.
Sophos Home is an antivirus capable of protecting our computers with Windows and macOS, as well as mobile devices with iOS and Android. This software stands out for taking the issue of cybersecurity much further than a traditional antivirus . It has a combination of antimalware detection with its artificial intelligence system, powerful exploit prevention and protection against ransomware, so that we can feel safe against any type of threat.
This powerful antivirus has a deep scanning and cleaning system for our PC that allows us to eradicate any type of malware, virus, Trojans, rootkits, spyware, and other malicious programs that may be hidden in our system, being able to protect us even from those that no one knows yet. It also allows us to protect our personal files and photos against encryption and hijacking for a ransom, blocking ransomware and reverting any affected files to their previous state.
With Sophos Home we can protect all our devices, since it allows us to protect up to 10 Windows and Mac computers, as well as an unlimited number of devices with iOs and Android. In addition, so that we can navigate safely, it blocks malicious websites, adding a layer of security to the browser and simultaneously scans all our downloads.
Control the security of your devices with Sophos Home
Once we run the program, its main menu appears in Spanish, with a minimalist user interface. In the left column we find its control panel with two interactive functions such as the "Scan" button and "Control Panel". Therefore, this antivirus proves that it can be completely accessible to all types of users, regardless of their computer skills.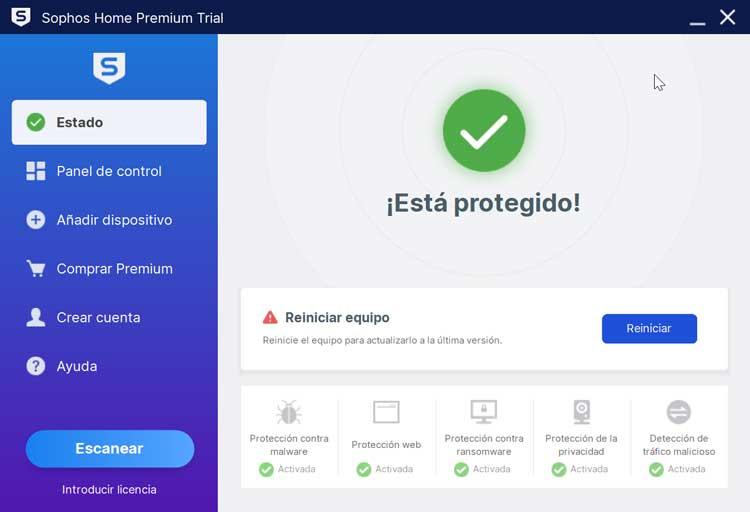 If we click on the "Scan" button, the antivirus will begin to perform a complete scan throughout our system . A new window appears where we can see the percentage elapsed until it ends. In the panel, any anomalies that you find will appear as follow-up cookies that can compromise our security, threats found, etc. Once finished, it will give us the option to clean what was found or if it considers it dangerous, it will directly proceed to its elimination.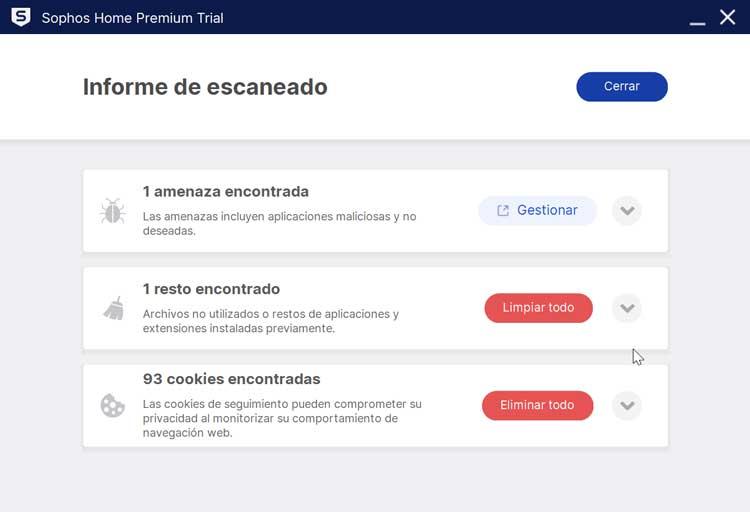 If we click on the "Control Panel" button we can access it through our web browser. This can help us to customize some parameters related to the security of our equipment, such as toggling protection modules, choosing between allowing or cleaning threats, blocking websites according to our profile and adding exceptions. In addition, it allows us to see a history of threats detected on our computer, as well as a list of actions that we carry out since we installed the application.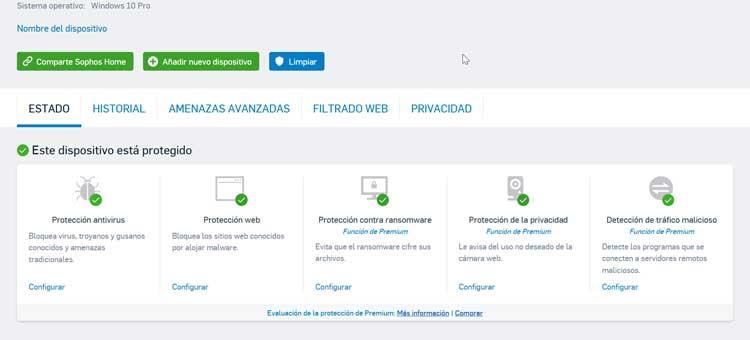 Another option available is the possibility of controlling the security of several computers simultaneously by installing Sophos Home on them, either computers or mobile devices. This will allow us to track certain aspects such as the security status and the number of alerts. To add devices, you need to be registered and perform the operation through the online control panel.
Download Sophos Home
Sophos Home is an antivirus that has both a free and a paid version, which we can download from its website . It is compatible with Windows and macOS operating systems for computers, as well as Android and iOS for mobile devices. We must download a fairly heavy installation file of 293 MB. Its installation is quite simple as it does not require any additional configuration while configuring
Differences between the Free version and the Premium version
Free : With the free version of Sophos Home we get features such as predictive artificial intelligence threat detection, real-time antivirus, parental website filtering, protection to block dangerous websites and remote management to protect up to 3 Windows and Mac computers from the same interface. During the first 30 days of this version we will also have access to the Premium functions to be able to test them.
Premium : this version adds to the advantages of the Free account other series of functionalities such as greater protection against new and developing malware and viruses. It also offers security against ransomware by preventing it from infecting and encrypting our files. It offers advanced web protection, blocking phishing sites so that we can navigate safely. It has bank data and credit card protection, blocks unwanted access to our webcam and prevents malware from stealing usernames and passwords. What's more. It has support to protect up to 10 devices. It can be contracted for periods of 1 year, 2 years and 3 years, at a price of 37.46 euros, 67.46 euros and 86.21 euros respectively.
As we can see with the free account, we can obtain a basic protection that may be sufficient for a home user. The paid version can be mainly intended for companies that want to protect their security as much as possible with all kinds of options. Its main disadvantage is that it does not admit a single payment, but we must contract the service for years.
Alternatives to Sophos Home
If we are looking for an antivirus to protect our computer, we propose some options as alternatives to Sophons Home:
Avast Free Antivirus
It is one of the most popular antiviruses, based on the cloud, that offers free and real-time protection, analyzing any type of unknown file that could be harmful. We can download it from here . It also has an Ultimate version that can also manage mobile devices and can be purchased from 59.99 euros per year.
Kaspersky Anti-Virus
Another well-known antivirus that allows us to block all types of spyware, ransomware and viruses from our computer, simplifying security management. It is possible to download a free trial version from this link . We can buy it from 29.95 euros a year.
Panda antivirus
It is one of the longest-lived antivirus that offers the possibility of protecting us from all types of viruses. It allows us to carry out an analysis of critical areas, in depth or personalized according to our needs. It has a free version that we can download from its website . If we are looking for more complete solutions, it has paid versions that start at 26.24 euros per year.