safety
Protect your computer and all your data from viruses and malware with pcprotect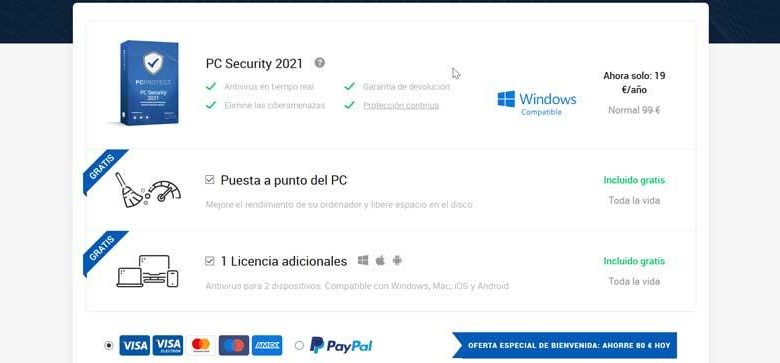 One of the dangers that we encounter when browsing the Internet is the dangers that we are exposed to, such as viruses or malware, which can infect and damage our computer. For this, it is important to install a security system that can protect us on the network. This is something that PCProtect promises , which we will talk about below.
PCProtect is a fast and powerful antivirus protection with which to obtain the best security on the Internet. It has been developed by the company SS Protect Unlimited, the same company as other antivirus such as TotalAV and Scanguard, with which it shares practically all its similarities, which makes them practically identical tools in terms of content.
This antivirus will take care of the removal of all types of malware, viruses, spyware and adware. It also has anti-rootkit, anti-spam, anti-phishing and email protection. In addition, it has a VPN to browse the Internet anonymously and essential tools to optimize and improve the performance of our system.
Another feature of PCProtect is that it requires few system resources to function with minimal RAM memory consumption. Therefore it can be installed on older computers. We will only notice a little more impact when carrying out full scans, without increasing consumption too much.
PCProtect, a Swiss army knife for security
Once the application starts, it will carry out a first scan and it will show us its interface, which is characterized by being minimalist with an attractive black background. In it, the classic tare bar is dispensed with by tabs at the top, being able to access all its functions from the left column. Here we find from top to bottom with: Anti-malware protection, Internet security, System tuning, Password store, family accounts and Settings. It should be noted that it is striking that both the aesthetics of the interface and all its functions are identical to those of Scanguard, with whom it shares the same development company.
Anti malware protection to protect the PC
In this first section, the program offers us the possibility of activating the protection in real time. With it we can block all kinds of ransomware, viruses, Trojans, adware and other threats that can infect our computer. This function is not included in the free version so we must purchase PCProtect Pro to activate it.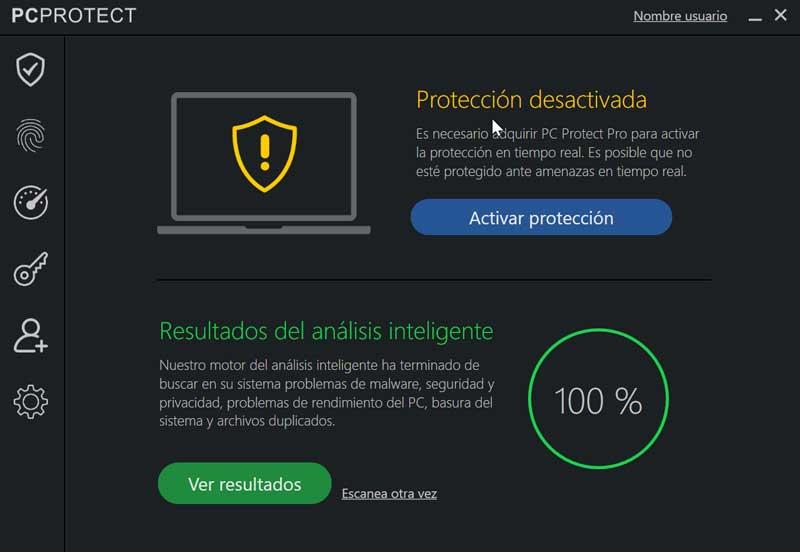 From here we can also see the results of intelligent analysis, which is responsible for searching our systems for any problems related to malware, security and privacy, PC performance problems, system garbage and duplicate files. Each of the actions has its own drop-down menu where we can take the actions that we consider appropriate. For example, we can eliminate tracking cookies, junk files that take up space on the hard drive, deactivate programs that open automatically when the computer is turned on, or delete busy files (if we want, we can delete them all, we cannot manually choose which ones we want to delete).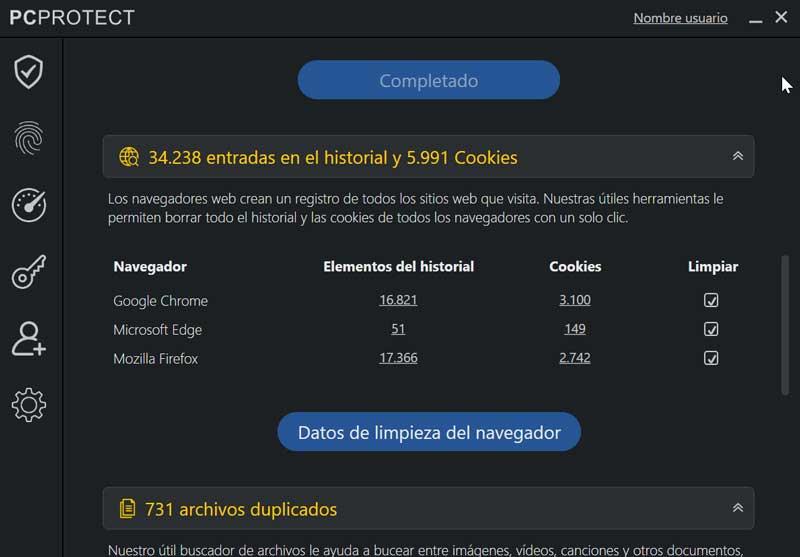 Internet security using VPN
In this section on security we can activate your integrated and functional VPN service that will allow us to hide our IP location while keeping our identity and browsing history private. We will have access to 43 countries around the world, including some such as Brazil, South Africa, Chicle, Croatia, among others. When using it, the connection speed tends to drop, even on the closest servers. Please say that it offers AES 256-bit encryption to ensure that our data will be secure during our online sessions.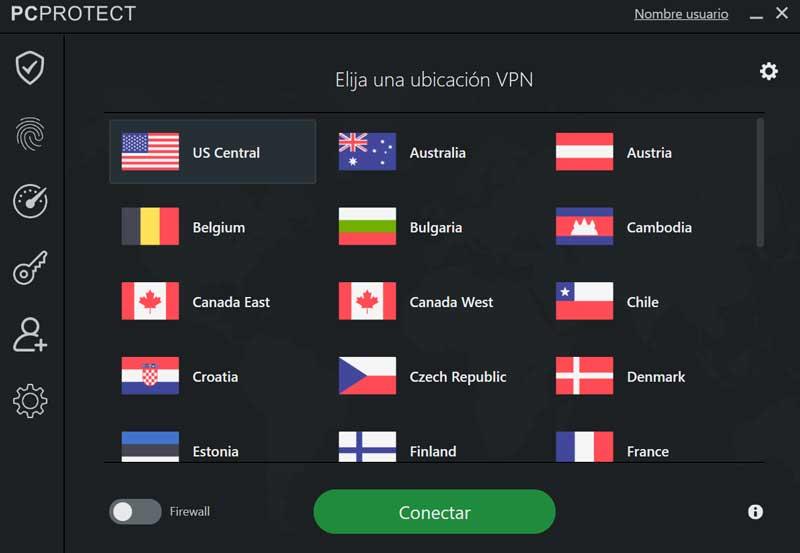 System tuning to clean all accumulated garbage
We now turn to a section where we can clean all the garbage that we have accumulated on our hard drive and that only serves to occupy space unnecessarily. For this we can access the junk file cleaner, search and eliminate duplicate files, which from this section if we can eliminate manually, showing us a preview in the case of photos. We also find an Application Uninstaller, which is responsible for analyzing all the software installed on our system to eliminate all duplicate or unwanted applications.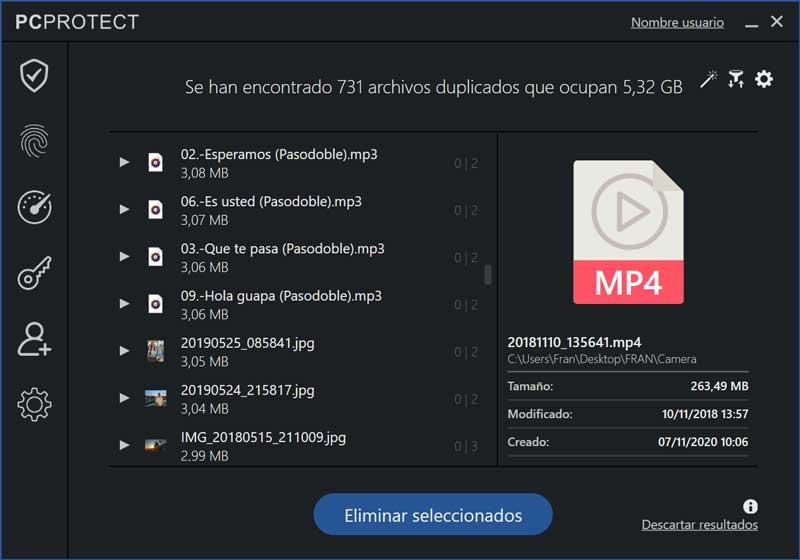 Password store so you don't have to remember
Another function that this program has is the possibility of storing our passwords completely encrypted. We can only access them by using a master password chosen by us. This password store is fully integrated with our Chrome or Firefox browser, through the use of an extension, which will allow us to log in directly from the browser.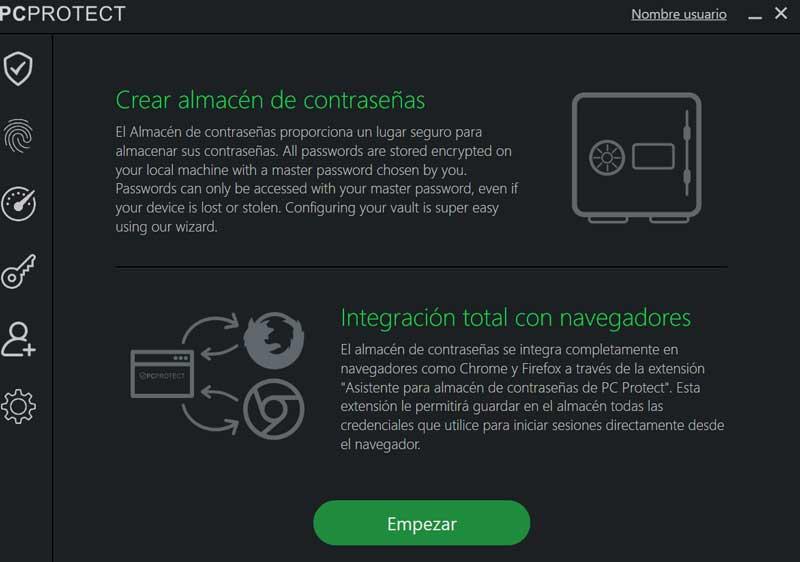 Conclusions
PCProtect is an antivirus that not only wants to offer protection against viruses and malware but also has some additional system optimization tools so that we do not have to use other programs to do so. Its main drawback is its amazing similarity to other programs from the same company such as Scanguard, with which it shares all its features, including its high price. A very high price for which we will have a great discount for the first year through constant bombardment in its free version.
Download PCProtect
PCProtect is an antivirus compatible with Windows and macOS, as well as with mobile devices with Android and iOS, which we can download directly from its website . This free version has some limitations, but it can help us to test the product. If we want to have all its functionalities, we must pay for its license, whose official price is 99 euros per year. If we want to get something cheaper, the program constantly shows us different advertising windows . In them it offers us discounts of up to 80% during the first year to focus our attention, being able to get it for 19.99 euros. For successive years, in principle, continue paying 99 euros per year.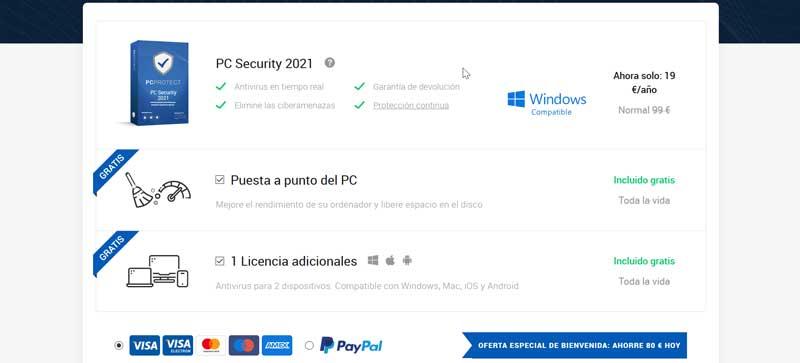 Alternatives to PCProtect
If we are looking for an antivirus to protect ourselves from all the threats to which we are exposed when browsing the Internet, we propose some alternatives to PCProtect to take into account:
Adaware Antivirus
It is a powerful antivirus that will detect and eliminate any type of virus, malware, spyware or Trojan horse from our computer. It performs tasks in real time and with great efficiency, offering users a great automated security experience. It offers various types of on-demand scans such as quick, full, or custom mode. Furthermore, it incorporates additional modules such as Safe Browsing and Download Protection. It has a free version that we can download from this link .
Trojan Remover
This program has been developed to help us eliminate all types of malware such as worms, Trojans, adware, spyware, etc. It has an extensive database capable of covering all kinds of malicious software capable of attacking our system, being a perfect complement to our antivirus. We can download a free trial version of Trojan Remover from here.