safety
Problems with viruses and malware? Eliminate them with scanguard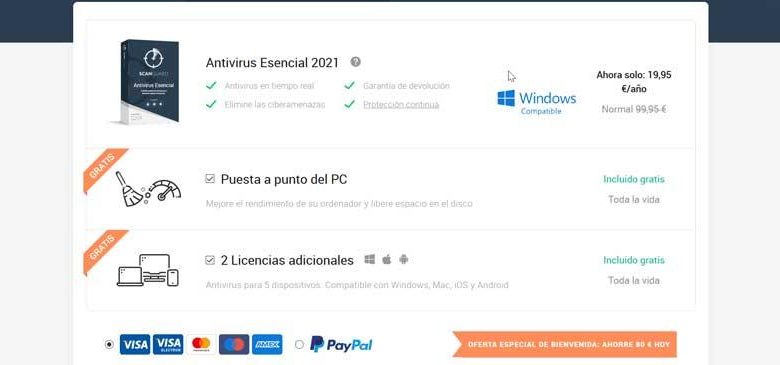 An almost fundamental element that cannot be missing from any computer is an antivirus. Although Microsoft's operating system already has its own firewall and antivirus system called Windows Defender, there are users who find it insufficient. By luck in the market we can find wide alternatives to eliminate all types of viruses and malware. One of the last options to appear has been Scanguard, about which we will talk next.
Scanguard is an antivirus developed by the British company SS Protect Limited, and is specialized in malware and has security functions that are in charge of fighting the most advanced cyberattacks. In case of detecting any danger, it is in charge of quarantining the threats before they can have access to our system and damage it. It also offers us protection against phishing, which are pages that pretend to be real websites to steal our data
It also has a data leak protection tool, which prevents hackers from taking control of our personal data that may have been exposed by a data leak. Another of its functions is to offer a cleaner for junk files that take up unnecessary space on our hard drive, as well as a browser cleaner that will allow us to improve the speed and security of our device. In addition, it is responsible for eliminating tracking cookies, preventing advertisers from sending unauthorized advertising and tracking cookies.
Scanguard, all-in-one security system
Once we run the application, its main menu appears, which is characterized by having an attractive and minimalist interface, with a black background. Its aesthetics can surely be very similar to other programs. On the left side we find a column where the icons of its different functions are found, regardless of the classic toolbar at the top. Its functions are: Anti-malware protection, Internet security, System tuning, Password store, family accounts and Settings.
Anti malware protection
In this first section we find Anti-malware protection one of the key points of a security program. Here we can see the status of the protection that by default is deactivated and that we can activate in case of having the Pro version. It also allows us to carry out an intelligent analysis, which is responsible for searching our system for malware problems, security and privacy, performance issues, etc.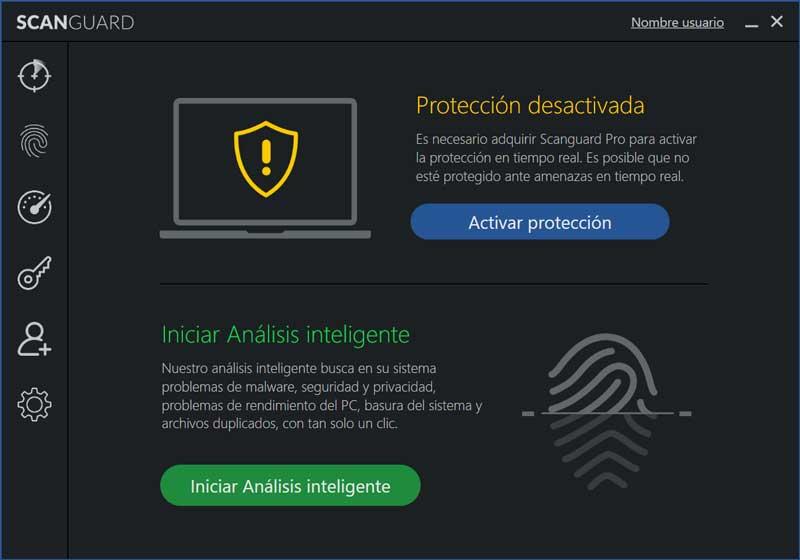 The analysis process takes time and on the screen we can see all the files analyzed, folders found, as well as possible threats. Once the analysis is finished, it will show us a summary with the malware threats found, tracking cookies, junk files, active automatic execution programs, duplicate files, security recommendations and potentially unwanted programs.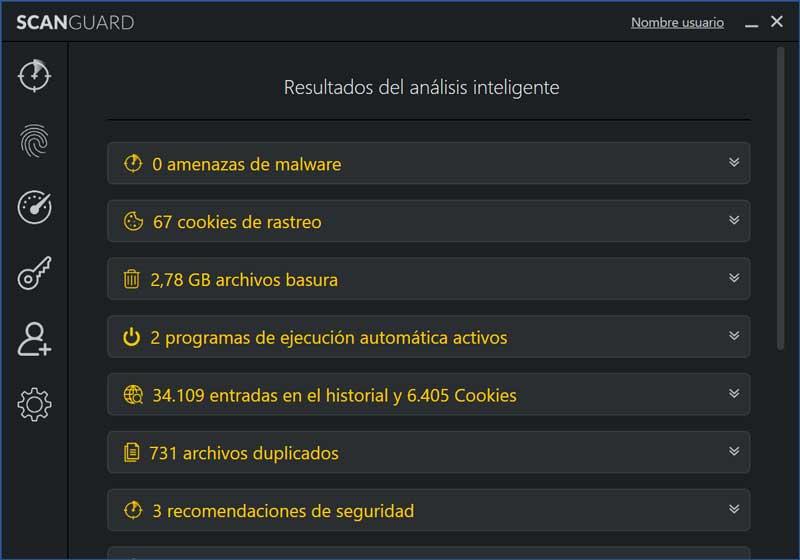 If we click on each section we can unfold it to be able to perform certain actions such as eliminating tracking cookies, cleaning junk files and deactivating activated automatic execution programs. We can also clean browser data such as history items or cookies. Of course, we can manage the files that are duplicated and that end up using an important part of our hard drive and some recommendations regarding security.
Internet security
From this section it offers us the possibility of connecting to a VPN location. Also with a web shield that blocks access to dangerous websites that may try to obtain personal data or install malware on our computer. This section can be configured to be able to activate or deactivate it to our liking, being able to block crypto mining URLs, allowing to establish exceptions and report any website that we may consider suspicious.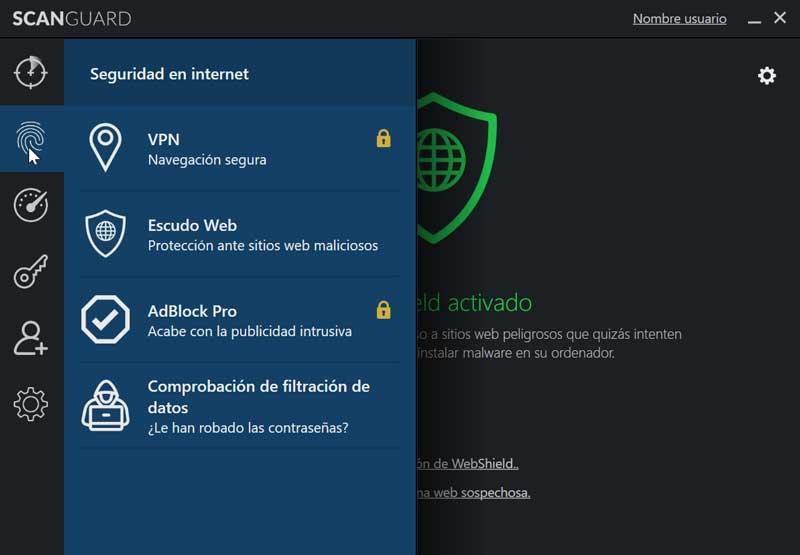 System tuning
This section, as we can imagine from its name, adds tools to clean and optimize the system to improve its performance. From here, we will find the Junk File Cleaner that is responsible for eliminating everything that we do not need and that is unnecessarily taking up space. It also incorporates the Duplicate File Finder to find and eliminate those double files that we don't need. There is also an application uninstaller, which will allow us to eliminate unwanted applications. Finally, we find the Boot Manager, which will allow us to optimize the loading time of the system.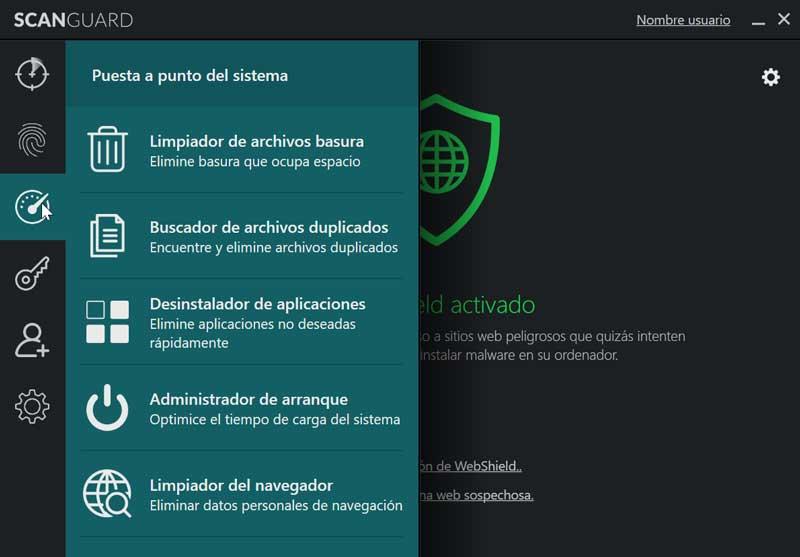 Password store
In this section we will be able to store all our passwords safely. All passwords will be stored in an encrypted form on our computer with a master password chosen by us. This feature has full integration with Chrome and Firefox browsers through an extension. In this way we can have our credentials available and stored to use them directly from the browser.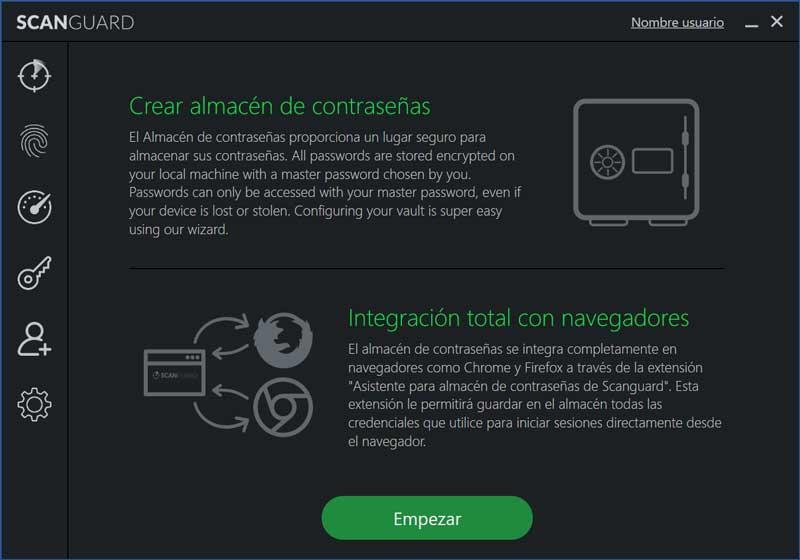 Conclusions: is Scanguard worth betting on?
As we have seen, Scanguard is a tool focused on protection against viruses and malware, but it also wants to be a bit like a Swiss army knife since it has a system optimizer and a password store. Although it has a free version, this is a bit limited, which will hardly be useful for testing the product. In a negative way, we must highlight the constant bombardment of advertising so that we access the Pro version, with a discount of up to 80% during the first year. And it is that its price is very high, since it officially costs 99.95 euros per year. So much advertising message becomes quite tiring and annoying. Having other free options on the market we must be very clear if Scanguard is what we really need given its price.
Download Scanguard
Scanguard is an antivirus that offers us a solution against malware and virus problems, which has a free version that we can download from its website. It is compatible with Windows and macOS operating systems , as well as Android mobile devices. This free version is somewhat limited and can help us to test the product. If we want to access all its functionalities we must pay for its license. For this, the software makes a constant display of advertising so that we can migrate to the Pro version, for a fee.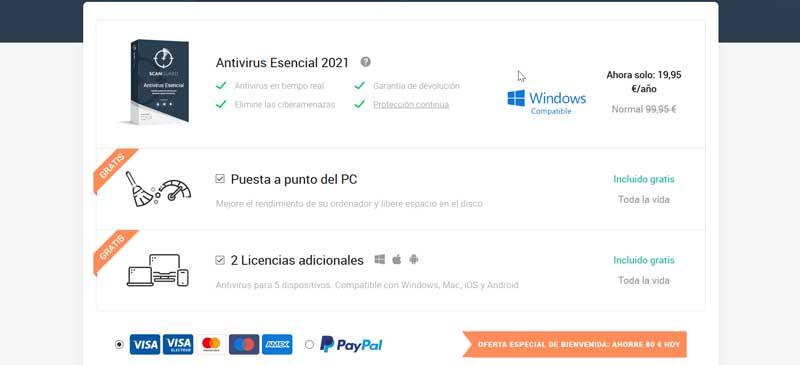 Although its price is 99.95 euros per year, when performing the installation it offers us an offer where we can buy it for 19.95 euros during the first year, which includes a set-up for the PC and two additional licenses, being able to install the antivirus on up to 5 devices.
Alternatives to Scanguard
If we are looking for an antivirus capable of detecting and eliminating both malware and viruses, we suggest some alternatives to Scanguard to consider:
SUPERAntiSpyware
It is a powerful software that allows us to detect and eliminate both viruses and malware. It will also do the same for suspicious spyware, adware, Trojans or cookies and blocking known and emerging threats. For this, it will be in charge of analyzing both the memory, the registry and the units that we choose. In addition, its database is updated 2 to 4 times a day and it has the most comprehensive scanning and removal tools for the entire system. We can download its free version from this link .
GridinSoft Anti-Malware
We are facing a tool developed to end all types of malware. It is responsible for making reports of all the results. Subsequently, it informs us of the system logs, type of virus found and the path where it is hosted. It can be purchased through a paid subscription from $ 29.95 that lasts for six months. It also has a free 15-day trial version that we can download from here.