safety
Keep your computer spyware and malware free with spybot search & destroy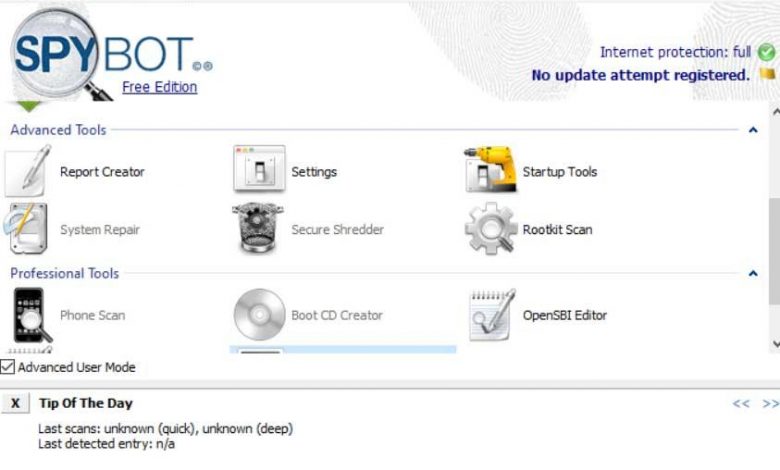 Everything related to the privacy and security of our Windows computers, in these times has acquired a capital importance. This is something that is largely due to the fact that we are increasingly working with personal and sensitive data. That is why we must use software that helps us protect ourselves, such as Spybot Search & Destroy.
The truth is that at the same time we can find a good number of programs that are responsible for helping us maintain that security we are talking about. One of them, and one that has also been around for a good number of years, is Spybot Search & Destroy . Surely many of you at some point have heard of this powerful application that helps us keep our computer safe.
This is how Spybot Search & Destroy helps us on the PC
To begin with, we will tell you that this is one of the pioneering programs in the antispyware sector, which is why it accumulates a great experience when it comes to protecting our computers . At the same time and over the years and versions, it has evolved, spreading to other fields and types of malicious code . It is worth mentioning that it has some commercial paid versions, but we also have a free one for end users.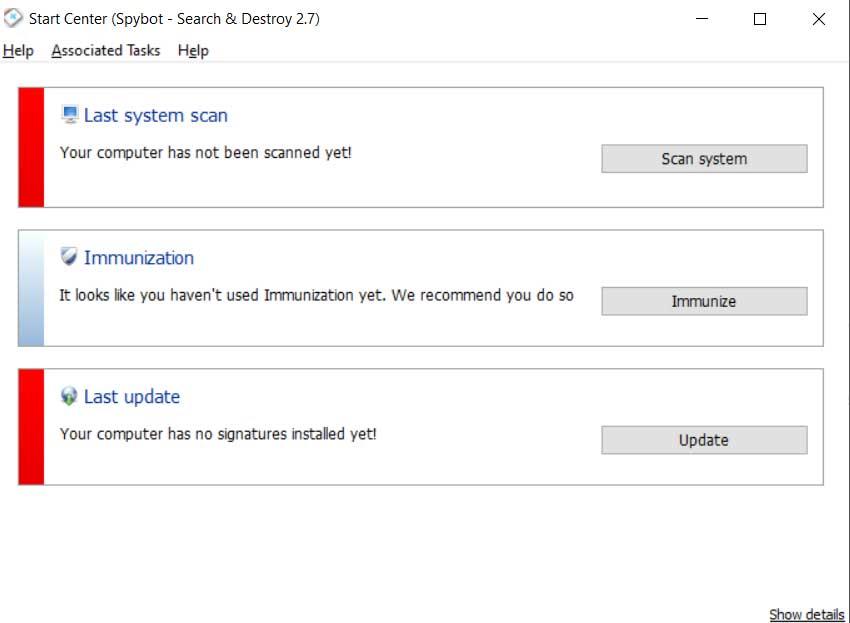 This is security software that is updated periodically in order to protect ourselves against the most current malware. In this way, it is currently fully capable of detecting and eliminating thousands of codes such as spyware, adware, Trojans, etc. For all this, the program to which we refer here, makes use of a technology that allows it to locate at the same time as it eliminates all kinds of spyware.
Here are some variants such as adware and tracking software, as well as those programs that are responsible for recording our keystrokes. All this through an intuitive user interface that, as soon as the program is installed, performs the first analysis at the outset. The truth is that the program's interface as such is somewhat outdated, but the important thing here is its operational efficiency.
At the same time through this we can make use of several functions that will be of great help to keep our equipment, system and data, safe at all times. To access the full interface, we recommend you click on Show Details in the lower right corner. We must bear in mind that everything related to security on the PC, in these times does not stop growing. This is largely due to the arrival and continued use of the Internet. In addition, we are increasingly working with our own more sensitive information, so we are not interested in having any of that leaked.
What it is and why we should protect ourselves against spyware
As we told you, here we find one of those programs that have been with us for a good number of years and that is responsible for protecting us from all spyware. This is a specific type of malware that tries to sneak into our computers in order to get personal data from the PC without our being aware of it. In this way we will be more protected, since the program can also work in parallel with the antivirus without any problem.
But that is not all, but also, another of the functions that is very valuable, is that this application cleans all the information that is left in the system when browsing the web. This is something that will be extremely useful in the event that the computer is shared by several people. All this is carried out in real time, something very welcome when we talk about malicious code of the spyware type. At the same time with all this we avoid, among other things, changes in the Windows registry as well as the installation of harmful files on our PC.
Initial configuration of the security program
When we put it into operation for the first time, we will have to configure it, or at least it is recommended. For this we also have an assistant that will help us, among other things, to update the application. Here we will be offered the option to make a copy of the Windows registry, for safety . But taking into account that what we want to do is disinfect our computer from spyware that inserts keys into the registry is not very useful in principle. Of course, once we have done a cleaning of the PC, this function will be very useful.
On the other hand, when configuring this security solution, we will have to update the internal database with the latest available updates . This ensures protection against the most recent outlets of malware on the Internet, something that of course we must do from time to time.
Program operating modes
As we say, we find several protection systems here, among which we can highlight Immunization. This is a method that actively protects the system against all types of attacks. It does this by blocking access to sites known to deliver malicious software to the PC . At the same time it blocks tracking cookies and browser add-ons that contain malware.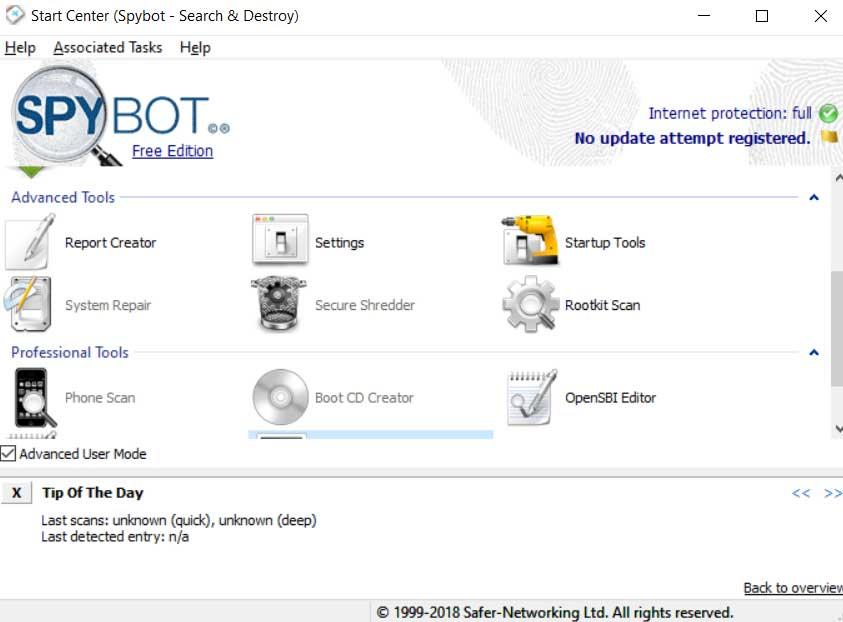 How could it be otherwise, Spybot Search & Destroy is also capable of carrying out a scan for viruses of all kinds, including rootkits . Say that this particular malware is capable of hiding itself from security programs . Therefore, not everyone is trained to scan and detect this format, but Spybot Search & Destroy has a mode of operation for it.
Spybot Search & Destroy Free Download and Installation
To download the program that we have talked about, say that we have versions for professional paid environments, although there is also a free version. Therefore, to download and install this security software on our computer, it is something that we achieve from this link .
Thus, once Spybot – Search & Destroy has been downloaded from its official website, we double-click on the program's executable. Next we find a screen that asks us the language in which we want the program interface to be displayed. This leads to the wizard in charge of installing the program as such after accepting the license agreement. This allows us to specify the folder where Spybot – Search & Destroy will be installed, although we usually leave the one that comes by default.
Now we can choose the type of installation we want to carry out, although at this point we recommend leaving the one that comes by default, which completes it. In this way we will be able to enjoy all the functionalities that this software solution presents to us. What we also recommend is that if you want to have greater protection with this program, allow it to run in the background. In this way, what we really get is a real-time protection system , although on older PCs we may experience some kind of system slowdown. In this way we will ensure that both our PC, the operating system or the data we handle, are safe from possible external attacks.