safety
How to recover my hacked Facebook account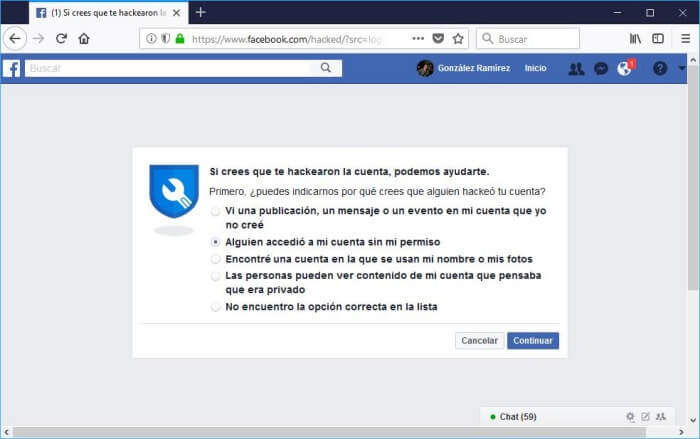 If suddenly you cannot access your account, the most likely thing is that your Facebook user is hacked. The first thing is not to despair, since you still have the possibility of recovering the account. If you want to know how to recover a hacked Facebook account, then I will try to help you.
Don't feel bad, hacking Facebook password is easier than you think. Therefore you should try to be cautious. But luckily, recovering a hacked Facebook account is quite possible. Facebook provides a procedure to report or report a compromised account and eventually get it back.
To achieve this, simply follow the steps below and you should have a little patience. The process of recovering your account could take more than 24 hours, depending on the purpose or what the person who stole it did.
Recover a hacked Facebook account
Below I show you the step-by-step procedure to recover the hacked Facebook. Later I will show you how you can protect your account to avoid hacking. Just follow these simple steps:
The first step to take is to report or report the compromised Facebook account through fa.
Then click the button My account is compromised.
On the next screen you must enter your email or the phone number associated with the account and click on the Search button .
Then you must enter the password you had at the time of the hack or an old one that you remember.
The wizard to report compromised account will validate if the password entered is valid for the process. If so, you must click the Protect my account button .
Then it will allow you to Change the password to regain access to your account, and you will have three options:
Login with your email account to change it quickly,
Receive a verification code to your mailbox,
Have the code sent to you by SMS message to your phone number.
In my case, I chose to have a message sent to my phone number, but select the most convenient option for you, and click Continue.
The next window will ask you to enter the security code received, write it down and click Continue.
If the code you entered is correct, it will allow you to choose a new password. Enter your new password and click Continue.
Now Facebook will show you an assistant in which it will help you protect your account so that you will not be hacked again. Just follow the steps to correct any distortion caused by the intruder with your username.
With this you will have regained access to your account, as long as the hacker has not changed the email, phone number, etc. In this case, the process could be different, longer, a little difficult and time consuming.
How to know if my Facebook account was hacked?
If you suspect that your Facebook has been hacked, to confirm it you must observe the following conditions:
You cannot enter your account with your credentials, because they have been changed,
You encounter unusual activity, such as posts you haven't made, updates you don't recognize,
If a friend contacts you about messages that you have not sent, etc.
This and many others are obvious signs that your Facebook is hacked. In any case, the most important thing is to act quickly to regain access and control.
What to do when your Facebook is hacked?
As quickly as you notice unusual activity or cannot access it, you should act as quickly as possible. You must report a compromised Facebook account or take action on your own to protect your information and avoid greater evils.
If you don't have access to your account, the first thing you should do is report it to Facebook. The process will guide you through a series of steps so that you can recover your Facebook account if it was stolen. You just have to follow the steps to validate your identity as the owner of it.
Due to the security features of the social network, these steps can vary greatly depending on the circumstances. But if you really own the account, you can find it and get it back.
How to protect my Facebook account from hacking?
You need to take some important security measures to protect your Facebook account and prevent it from being hacked, and these include:
Enable 2-Step Verification
Change your password periodically
Use a good antivirus on your computer
Do not accept friend requests from strangers
Do not log into Facebook from public devices or networks
Disable automatic login on your computer
Always check that the Facebook URL begins with "https: // www."
Enable Login Alerts
Do not enter strange links even if your friends send it
Do not use applications from which you do not know their origin.
Although perhaps in your case the damage has already been done, it is never too late to prevent. If you have already recovered your account or created a new one, then it is time to avoid going through this process again. It is advisable to prevent your account from being hacked again.
This is all about getting back a hacked Facebook account and also taking some security measures to avoid hacking. I hope this information has been useful for you to recover your Facebook account and to make it more secure.