safety
Detects any malware capable of skipping your antivirus with rkill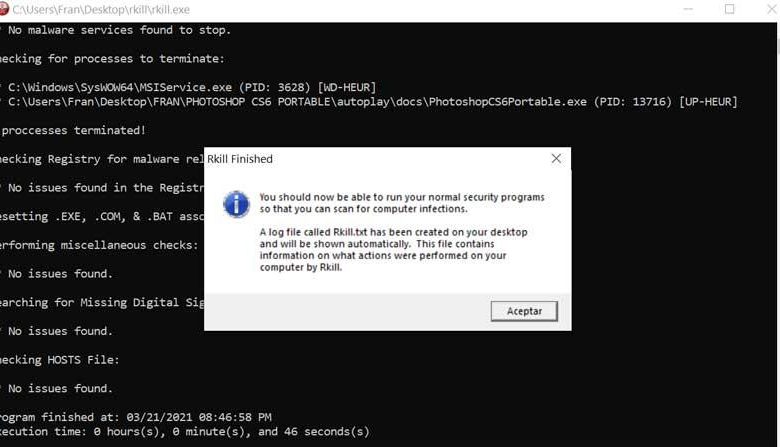 One of the most serious problems we encounter when using the Internet is being attacked by viruses and malware. These threats have many ways to sneak into our computer. Although we have an antivirus, there are situations where they are unable to bypass the blocks imposed by malware once they have managed to infect us. To solve them, we can use a free application like RKill, about which we will talk.
RKill is a software developed by BleepingComputer, which is in charge of detecting and stopping any malware process that is in charge of blocking our antivirus processes to disinfect the system. And it is that the self-protection technique is very common within malware. This e can be camouflaged as if it were a normal system process to avoid being detected by antivirus. That is why it is always good to have tools capable of stopping these processes.
It is also responsible for scanning the system registry for entries that may prevent the execution of infected programs and applications. This can include malicious image file execution objects, DsallowRuns entries, executable file infection, and any actions that may affect different Windows utilities.
This program will take care of stopping any process executed with malware, eliminating incorrect executable associations and correcting the policies that prevent us from using certain tools. Once the task is finished, it will be in charge of displaying a log file showing the processes that the program ended during its execution.
We must be clear about the function that RKill performs is to end any program execution process that may contain malware. In no case is it responsible for deleting the file, something that we must do later with our antivirus, once it is able to detect it, so that it can be removed correctly.
Simple and straightforward, it scans and detects any malware
Rkill doesn't require us to install anything, as double-clicking the executable file starts the scanning process automatically. A window will appear, similar to that of the Windows Command Prompt, where the application will begin to scan our system in search of any malware that is hidden within a file. It is recommended before its execution to disable our antivirus or create an exception so that RKill can run without problems.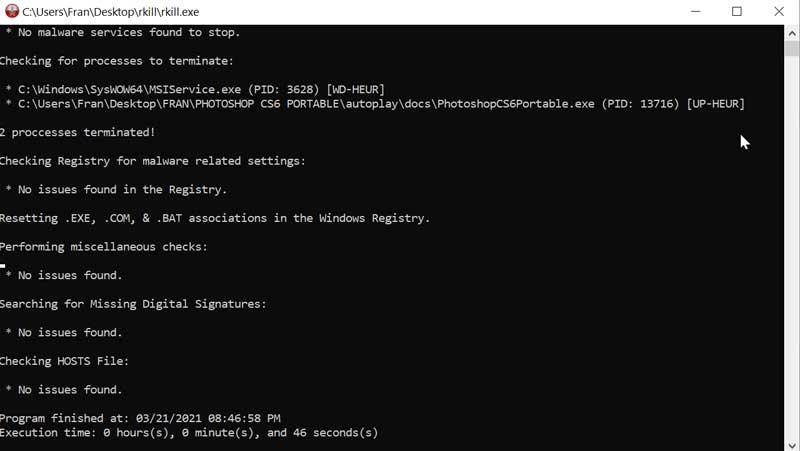 Once the scan is finished, it will show us the results obtained on the screen. It will also create a TXT file where we can see all the information. In our case the process has been quite fast as it took just 46 seconds and it has not recognized any hidden malware.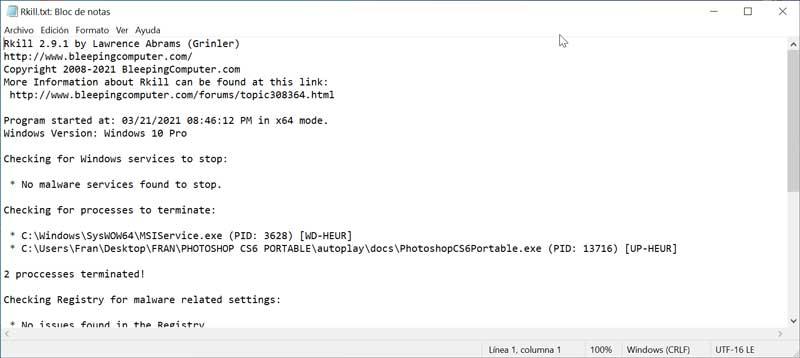 It is important to bear in mind that we should not restart our PC at the end of the scan in case it has found any malware. This is because the malware is configured to start automatically at system startup. Therefore, what we must do is pass our antivirus. As RKill has stopped the malware process, it is visible that our antivirus detects it. In this way the malware will not start up again and can be eliminated. Once disinfected we can restart normally.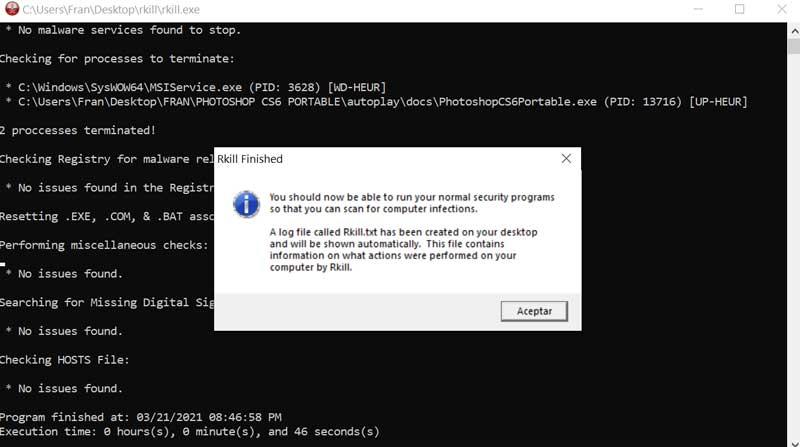 Conclusions: is RKill worth using?
RKill is quite interesting software with a clear and concise mission. Detect and stop the execution process of any malware that is lodged in files within our system. It is a light and efficient application whose impact on the system is quite low since it hardly consumes resources during its execution. It is portable so it does not require installation for its use, it has a good capacity to detect malware, creating a log file with the results of the malware.
On the contrary, we miss a user interface from where we can interact with the program and tell it, for example, to analyze a certain folder, file or disk. In addition, it is only responsible for stopping malware, but it does not eliminate it, so it must be used together with antivirus in a complementary way. Despite all this, it is a good utility that is recommended to try, especially if we feel that the computer is not running very fine and we think that it may have hidden malware.
Download RKill for free
RKill is a tool that allows us to unlock any file that has hidden malware, and that we can download for free from the developer's website . The file occupies only 1.72 MB and is compatible with Windows XP, Vista, 7, 8 and 10 in both 32-bit and 64-bit versions. In addition, it is portable software, so it does not require installation or make modifications to the Windows Registry. It can be run on any PC from an external storage device such as a pendrive, a hard drive or a memory card.
Its latest available version is 2.9.1.0 corresponding to November 15, 2018. This means that it has not been updated for a couple of years by its developers. That it is not updated does not cause its proper functioning. Of course, your database may not be updated with the new malware that appear every day, so it can lose effectiveness.
Alternatives to RKill
If we are looking for a tool to help us fight malware, here are some alternatives to RKill to consider.
Farbar Recovery  Scan Tool 
It is a portable diagnostic tool that incorporates the ability to run different solutions against files infected by malware. It has the possibility of working both in normal and safe mode, even in the event that our computer has startup problems. We can download it from this link.
RogueKiller
It is a malware removal tool, which has an anti-rootkit module that allows us to detect threats that other malware removal tools are not capable of. It is capable of detecting and removing rootkits, spyware, adware, junkware, PUPs, Trojans, worms, malicious autorun entries, DLLs, infected, etc. We can download it from here .