multimedia
You do not need programs: so you can watch tv for free from your browser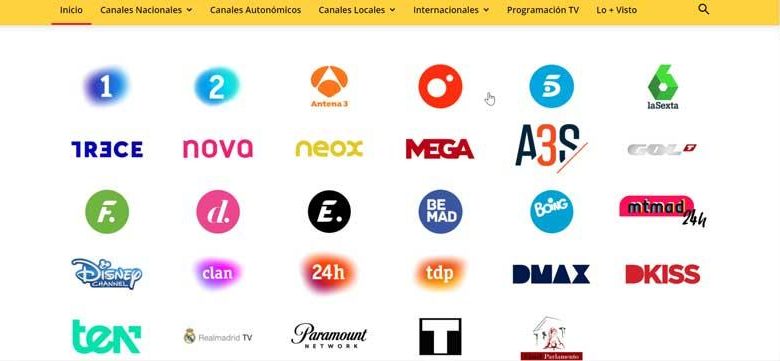 Watching television is one of the leisure activities that we most often do and enjoy given the wide range of existing channels, both free and paid. The arrival of the Internet and new technologies have made it possible that to watch any television channel it is not strictly necessary to have a television. For this we can access all kinds of pages to view their content online and free of charge.
That is why we can enjoy online television from our own browser and not only on our computer, but we can also use it from a mobile phone or tablet. Just by having an Internet connection it will be possible to access all kinds of series, movies, cartoons, news or various sports. That is why today we are going to see which are the best websites you can access to watch TV online for free.
Websites of online TV channels
If we want to watch the classic TV channels belonging to RTVE, Atresmedia or Mediaset using our Internet connection, we can use their different platforms. Most have their content free with ads or the ability to pay a fee for additional content
RTVE, with live television and on demand from its channels
The Radio Televisión Española website allows us to enjoy the programming of its different channels over the Internet. In this way we can see all the content of channels such as La 1, La 2, Canal 24 Horas, Clan TVE and Teledeporte . We will have your programming available, watch live TV or the letter. In this way we can see programs that have already been broadcast and we have not been able to see it at the time or we want to relive them. In addition, we will have access to all his series such as Acacias 38, Anillos de oro, El comisario, Mercado central, among others.
To be able to access all RTVE content for free, simply access its website .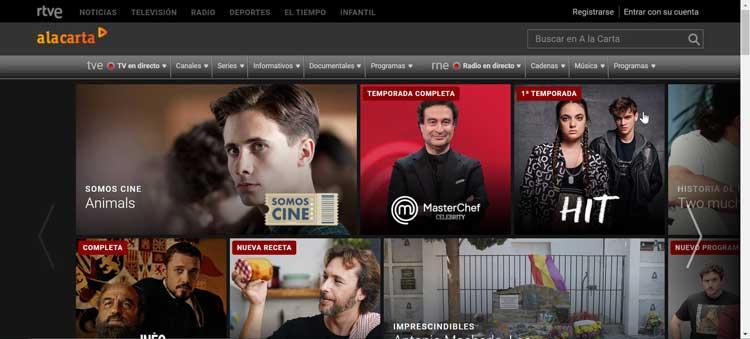 ATRESplayer, all the content of Atresmedia for free
From the ATRESplayer website we can access all the content offered by the channels belonging to Atresmedia . In this way we can access the channels of Antena 3, Neox, Nova, La Sexta, Mega and A3Series . The website allows us to view live broadcasts of all channels, as well as series, programs, news, soap operas, documentaries, snacks, movies and children's content. Thus, it will not be necessary to see any program live, so we can see it again in delayed mode. For this, it will be necessary for us to create a free account.
To see all the free content that ATRESplayer offers, just go to its official website . In the same way, the website allows us to contract ATRESplayer Premium, offering a series of advantages such as digital content, previews, offline downloads, last 7 days, 4K quality, without advertising or commitment to stay. Its price is 2.99 euros per month and the first week is free.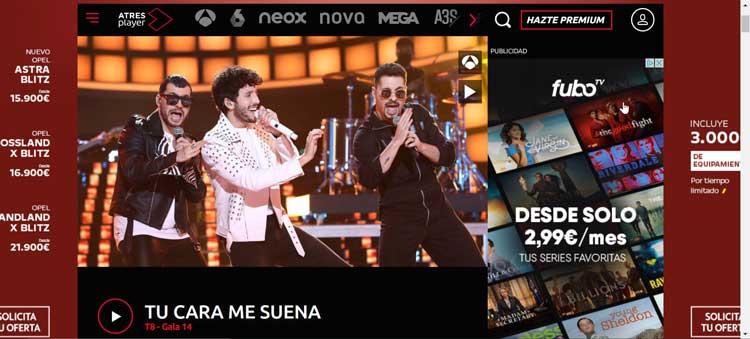 MiTele, the web option to watch Mediaset channels
Following all Mediaset content from the Internet using any browser is possible thanks to MiTele. From here we will have access to the channels of Cuatro, Telecinco, FDF, Divinity, Boing, Energy and Be Mad . We can enjoy both live broadcasts and old programs completely free, although we will have to endure the advertisements. From the "A la carte" section we can view programs, soap operas, series, sports, miniseries and cinema (renting movies).
To enjoy the content of MiTele for free, just go to its website . It also has the Plus option , a paid subscription that we can hire from 3 euros per month and that allows us to see all the content without advertising, offline downloads and channels in HD quality.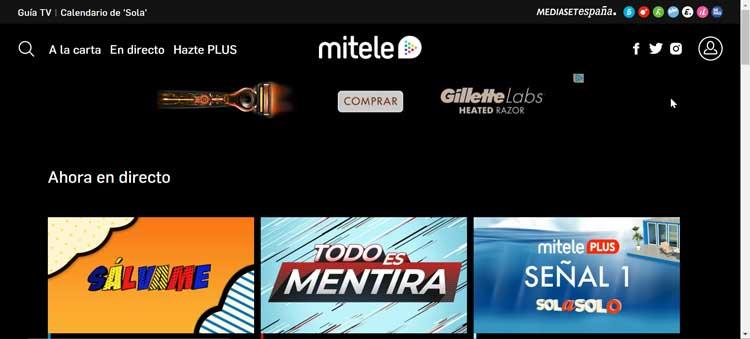 Websites to watch DTT online
Here we are going to find web pages that are going to offer us direct links to all DTT TV broadcasting over the Internet. Without a doubt, it is the most comfortable way to have access to all online content.
Photocall.tv, the website to watch the most popular DTT online
It is an online platform that we can access from the browser, both on the computer and from the mobile phone and in which we can view a wide variety and quantity of DTT channels. It has more than 240 national channels and almost 400 international channels, in addition to 230 radio stations and 14 links to programming guides. As we access the web, the logos of all the available channels that we can access by just clicking on each of them appear on its interface. Perhaps its interface is a bit cluttered and chaotic since the channels are not organized by categories, regardless of whether they are national or international. In addition, to know which channel is, it will be necessary to move the mouse icon over each logo.
To enjoy all the content that Photocall.TV offers for free, just access this link .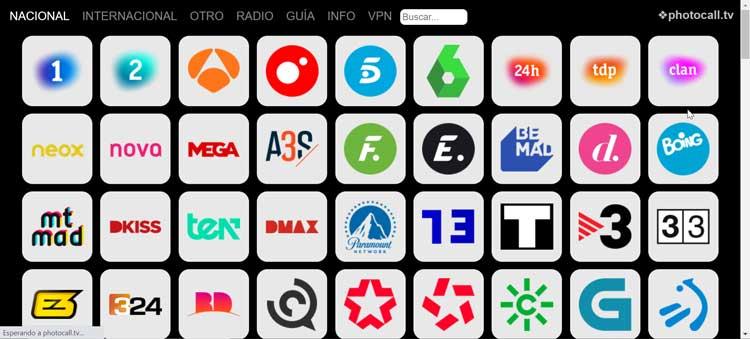 Teleonline.org, all kinds of content for free
It is another online platform with a wide variety of channels and a clean and comfortable interface to use. It includes all the Spanish, regional and adult channels, as well as international channels. It has a search engine from which to search for the channel we want and we can all view them without leaving its website, so it is not responsible for forwarding us to other pages. The channels are played quickly and without ads. Once we begin to visualize a channel, at the bottom it offers us information about the content, a brief description and the expected start and end time.
To enjoy all the content of DTT with teleonline.org, it is enough to access its website, without the need for registration or any type of payment.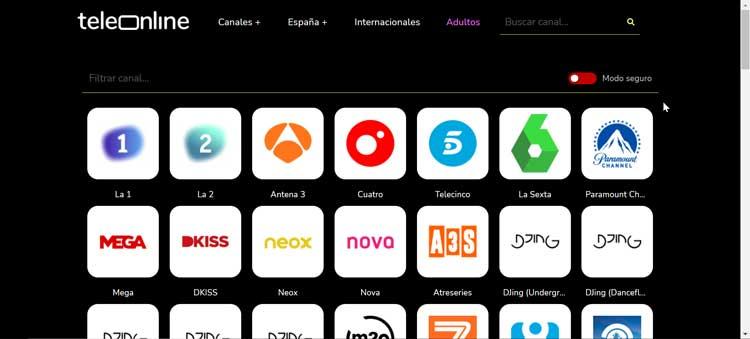 Teledirecto.es, visualizes all kinds of national and foreign channels
It is a completely legal and open website that is responsible for providing us with direct links to different televisions that broadcast online. All channels are organized by categories such as General, News, Children, Sports and Regional. All you have to do is click on the desired channel to open a window that will link you directly to the web that is broadcasting, viewing it in a matter of seconds. In addition to national channels, we can also access international channels such as CNN or the BBC.
To view all DTT content for free through Teledirecto.es, simply access its website by clicking on this link .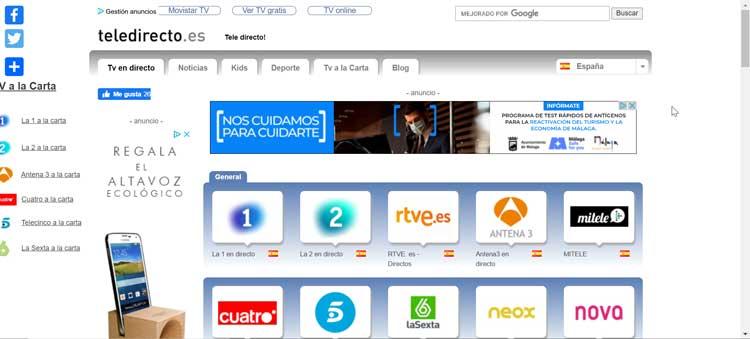 See Free DTT, series and movies without ads and free
It is a portal from which we can have access to all DTT channels for free and without the need for advertisements and with a good viewing quality. We can follow all the programs, series and movies that are broadcast from any browser and with a single click. All you have to do is click on the desired channel for a window to appear where we will begin to watch the broadcast from the official television website, since the Ver DTT Gratis website does not store any type of content on its servers . The channels are organized by categories (General, Informative, Sports, Regional and Children's).
If you want to use See Free DTT to watch television from the comfort of your computer's browser, just access its website by clicking here. It does not require registration or payments.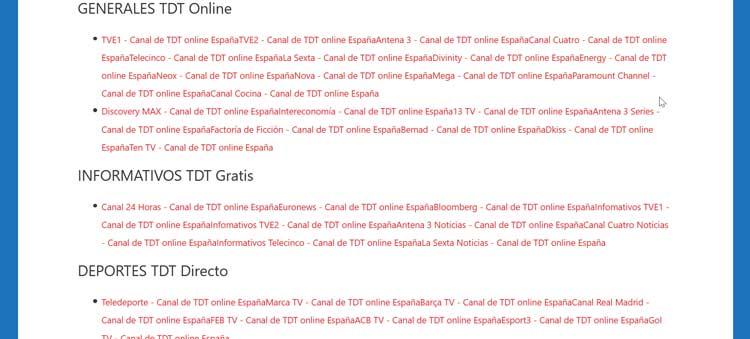 TDTChannels, all online television with great image quality
This online platform also offers us the possibility of watching all DTT broadcasts legally and free of charge . Its use is as simple as clicking on the channel icon so that the reproduction appears with a more than remarkable quality. It also allows you to filter the list of channels by Generalist, Informative, Sports, Children's, Eventual and by Autonomous Community. Below each broadcast that we are reproducing, the space we are watching, its duration and a brief description will appear. In addition, we have a search engine, so that we can quickly find the channel we want to see.
If we want to use TDTChannels to see all the free DTT content, just access its website by clicking on this link .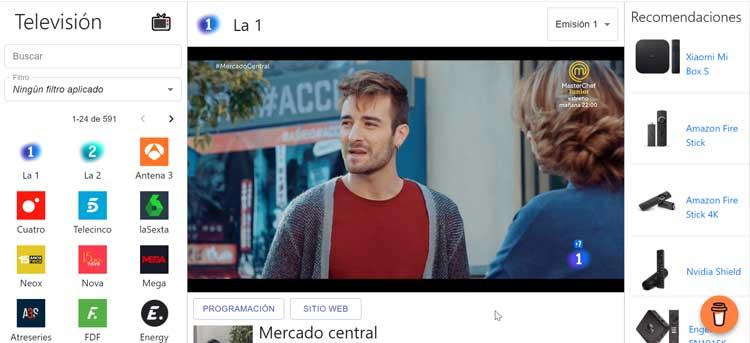 Tell him
This website is in charge of compiling the links of all the broadcasts that are made from DTT in Spain. It has various categories such as: National channels, Regional channels, Local channels, International, TV programming and Lo + seen. All this legally and free of charge. It will only be necessary to access the desired category and click on the channel we want to see and another window will appear where the broadcast will begin. On the web, only programs with rights to be broadcast over the internet are broadcast online, since some of the programming is exclusively available in its DTT broadcast, so it will not be possible to view it through this platform. In addition, it has a search engine to be able to quickly access the television channel that we want to see at any time.
We can access Diretele for free from this link.