multimedia
View, process and convert photos quickly and for free with nomacs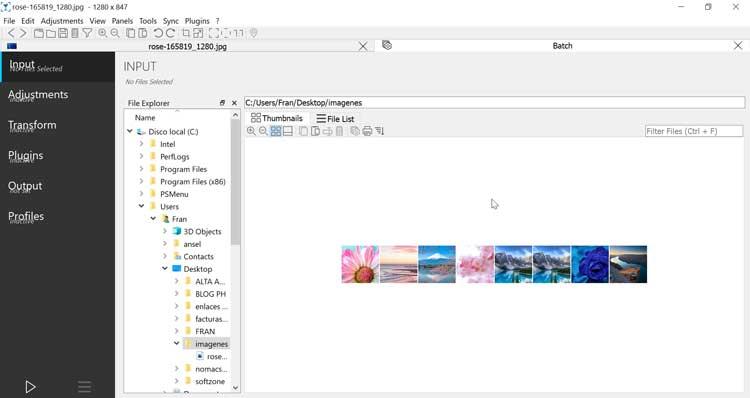 Among the functions that we grant to our computer, is to store all kinds of images to be able to view them comfortably at any time. For this we will need a suitable program, such as Photos that is incorporated by default in Windows 10, but which is not usually well valued by users due to its slowness. That is why it is interesting to look for a fast and light third-party alternative such as Nomacs, which we will talk about below.
There are many users who only require a program to view images and edit them easily. And for that we don't need any heavy editing tools. Usually what we are looking for is an application that is lightweight and as fast as possible, with some additional features that can give it greater value and functionality for sporadic situations. These are the key features of the program that we are going to describe.
Nomacs, simple viewer with additional tools
Nomacs is a free and open source image viewer that can be used on Windows, Mac OS and Linux. It supports the most common image formats, including RAW and PSD formats . The application has semi-transparent widgets that will allow us to display additional information about the photograph such as thumbnails, metadata or histograms. Also, it allows you to search for images housed inside archives compressed in zip or in documents of Microsoft Office that can be extracted to a directory. In addition, it includes a file navigation panel that does not allow to switch between folders.
Within any directory that we open with Nomacs we can perform file filtering, so that it only shows us the images of certain names or file formats. Having a cache activation will allow us to instantly switch between the different images. We will also have a basic editor with which we can adjust the brightness, saturation, contrast, tone, range and exposure of the images. In addition, it has a unique feature such as synchronization between multiple instances, which allows you to easily compare two images by just zooming or overlaying them with a different opacity.
View and edit your photos quickly and comfortably
Once we run Nomacs, its main menu appears with an interface that reminds us at first glance of other image viewers, although it is completely in English . This is something that will put many users back. When inserting, we can drag and drop images or folders within its interface or use the "File" tab or use the icons on the toolbar.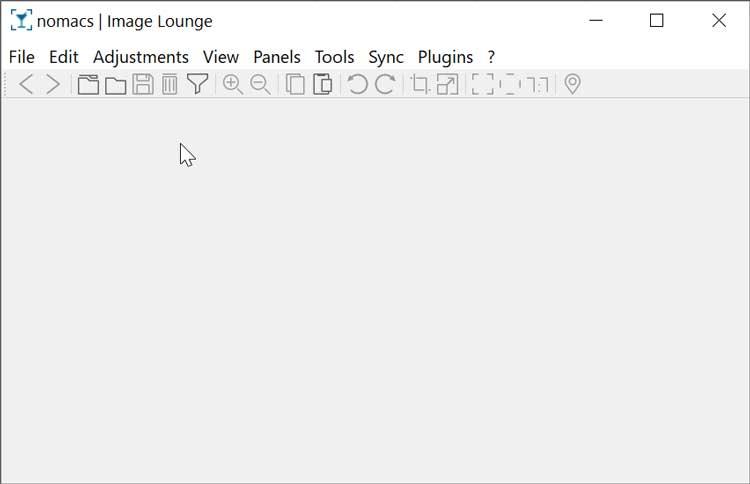 To navigate between the different images we can use the keyboard or the mouse, being able to customize the keyboard shortcuts since it has many options in this regard. Navigation is fast even between large photos. Perhaps we can detect a slight delay between charges, but it is hardly noticeable since we will only be able to notice it if we pay close attention to it.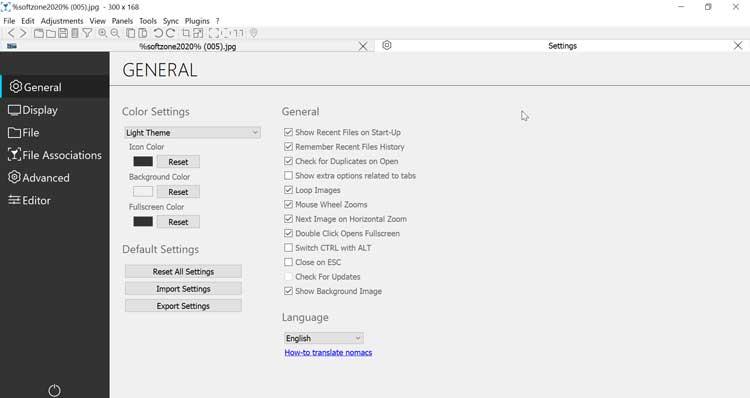 Within the "Edit" tab we can configure small adjustments such as copy, paste, delete, rotate 90 degrees clockwise or counter-clockwise, undo and redo. It also has the "Keyboard Shortscuts" tool, which will allow us to configure different keyboard shortcuts. In addition, it has a settings menu (setting) from which we can make color adjustments and apply different configuration options.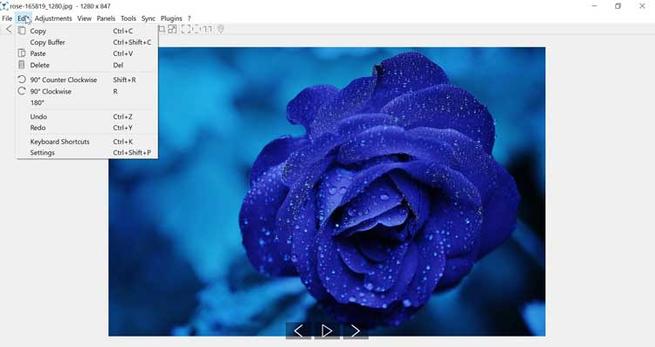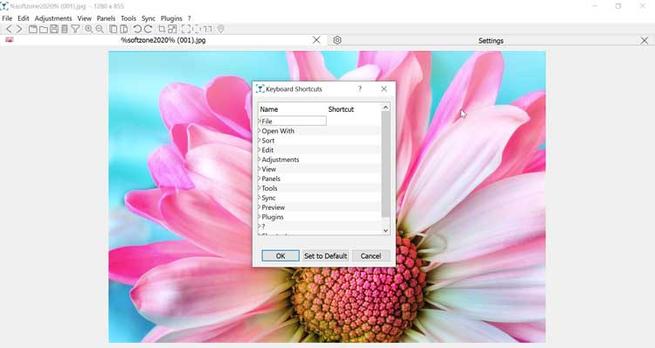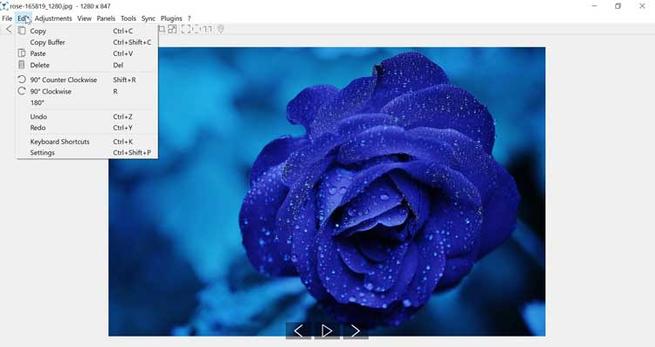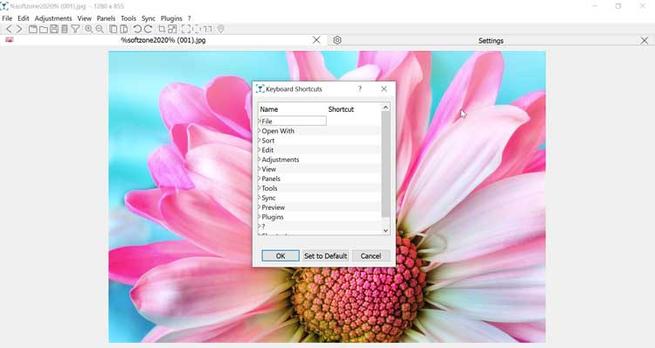 Make adjustments to photos
From the «Adjustments» section, Nomacs offers us the possibility to perform an automatic adjustment of the image, invert it, flip it or rotate it. We can also resize it, change the threshold, background color, hue and saturation, exposure, change the lineage size, crop an image, among other functions. Within the «View» tab we can see the images in full screen, zoom in to adjust, zoom in or out of the image, change or toggle the opacity, lock the window, and so on.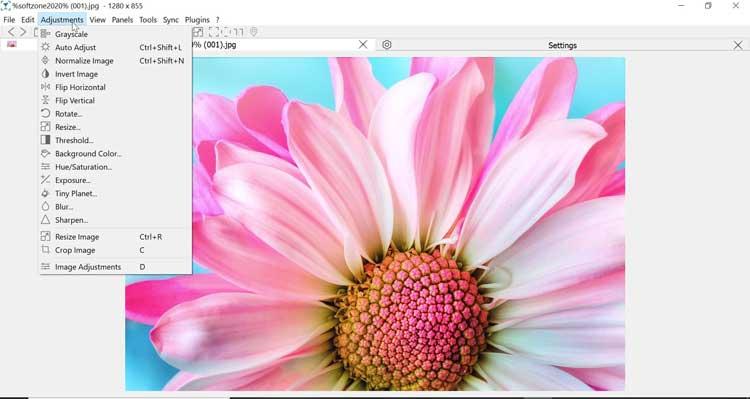 The possibility of synchronization is another of the most interesting features of Nomacs, since it allows us to control multiple instances of the program simultaneously. Basically, what it allows us is to compare two images side by side. This allows is that any action that we carry out in one is also carried out automatically in the other. In this way we can zoom, scroll or load different files using this function.
Inside the «Tools» folder we will find other additional features that Nomacs incorporates. Among them,  batch processing can be very useful . We can use this function to change the size of all selected images, rotate or flip them, crop them, change the file name by adding text or numbers and convert the format to another type of image.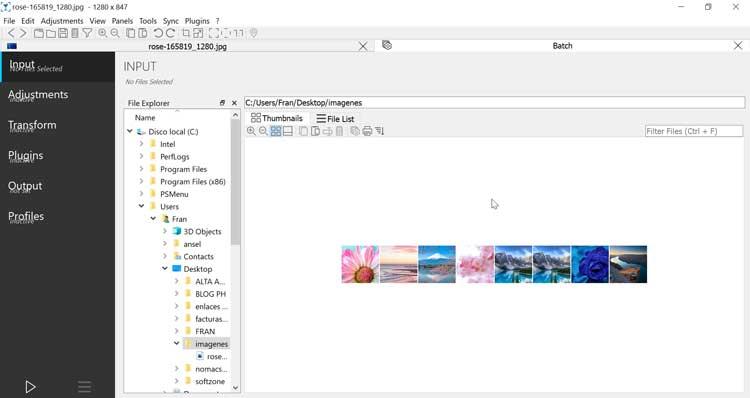 Conclusions
Nomacs is a fast and fluid image viewer that has a nice set of additional features that make it stand out from other similar viewers. Although they are not enough to switch to it if we already use a fast photo viewer, it can be a good option to consider if until now we only used Photos as the default photo viewer. Since, with this program we will gain in speed and additional options that may be useful at certain times.
Download Nomacs for free
Nomacs is an open source program under the GNU license, so it is completely free and can be downloaded directly from its website . It has both an installation and portable version . This allows us to run it from any external storage device such as a pendrive without having to install it on the computer. In addition, it is compatible with Windows in its versions of XP, Vista, 2000, 7, 8 and 10 for both 32-bit and 64-bit systems.
The latest version available for Nomacs is 3.16 corresponding to July 17, 2020, so it has a good update policy and support from its developers.
Alternatives to Nomacs
If we are looking for a light, fast and free image viewer, we propose a couple of alternatives to Nomacs to take into account.
IrfanView
This program stands out for being a complete light and fast image viewer that has compatibility with more than 90 image formats. It also has support for drag and drop, TWAIN, automatic photo sliding, format converter and full directory viewing. In addition, it allows you to convert images to formats other than the original, being highly customizable thanks to the amount and variety of plugins available. We can download IrfanView for free from the developer's website.
Apowersoft Photo Viewer
This tool stands out for being compatible with popular formats such as JPG, PNG, BMP, PSD, CRD, RAW, among others. It also offers compatibility with the HEIC format and allows us to perform small editing functions. In addition, it has the ability to open PDF files, so we will not need another additional program to view it. Apowersoft Photo Viewer is a free image viewer that we can download from its website .