multimedia
View and edit images for free on your pc with picview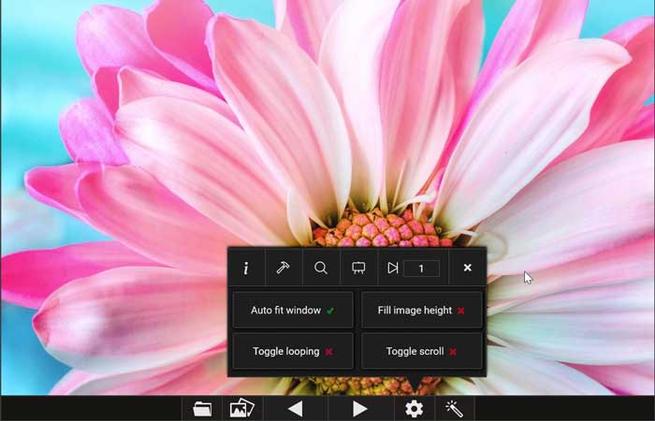 One of the fundamental elements that we must have on our Windows computer is undoubtedly a good photo viewer. Although Microsoft's operating system incorporates its own viewer called Photos, this is not usually liked by a large number of users due to its slowness and because it is quite limited. As an alternative, we can use an application called PicView, which we are going to talk about next.
PicView, fast viewer with configurable interface
PicView is a free and open source program for Windows with which we can quickly view all our photos . Its features include the ability to view images, even if they are compressed, it supports comic book formats, image files as popular as BMP, JPG, PCX, RGA, WMF and RAW, among others.
Another aspect to take into account of this photo viewer is its ability to edit basic aspects of our images, so that it is not necessary to have to resort to other programs. In this way, we will have available the ability to perform freehand, fill, text and pencil functions, flip, crop, along with undo and redo. It also allows us to zoom in and out, switch to full screen mode, create a slideshow, enable thumbnail mode or make a crop in a selection make the alternative image view keep the EXIF ​​/ IPTC information.
PicView Compatible Formats
Compressed files : 7z, 7Zip, ZIP, TAR, ISO, CAB, WIM, BZzip2 and RAR.
Image format : JPG, JPEG, JPE, PNG, BMP, TIF, TIFF, GIF, ICO, WDP, JFIF, KTX, WEBP, WBMP, PSD, PSB, SVG, 3FR, ARW, CR2, CRW, DCR, DNG, ERF, KDC, MDC, MEF, MOS, MRW, NEF, NRW, ORF, PEF, PGM, PPM, RAF, RAW, RW2, SRF, X3F, BPG, CUR, CUT, DIB, EMF, EXIF, EXR, PCX, TGA, WMF, WPG, XBM, XPM, HDR, HEIC.
Comics format: CBR, CB7, CBZ, CBT and XZ.
Simplicity and efficiency your main weapons
Once we run the program we find a compact interface, no frills, with a dark theme and a small toolbar at the bottom. The viewer is completely in English, without the possibility of translating it into Spanish, although most of its functions are very intuitive. Opening an image is as simple as dragging and dropping it directly onto its interface or clicking on the folder-shaped icon on the toolbar.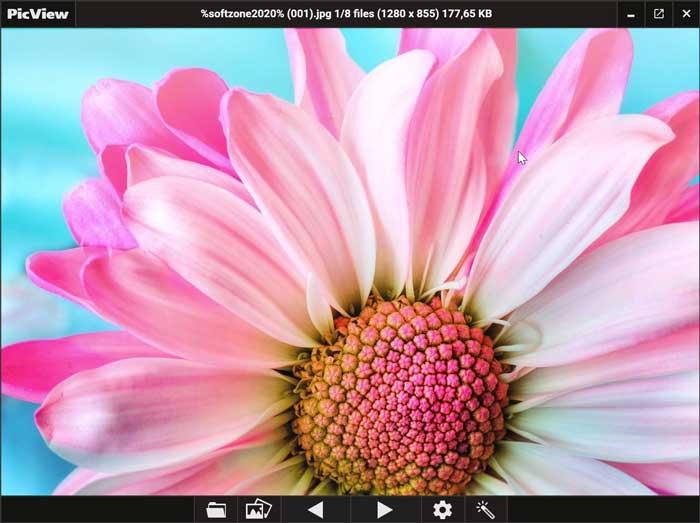 Once the image is open, the window will change its size dynamically, in order to adjust to the resolution of the image that we have opened. At the top, we find the title bar of the image viewer where we can see how the file name appears, as well as its resolution and size. If we use the arrow-shaped buttons on the toolbar or the arrow keys on our keyboard, we will be able to navigate between all the images in the folder, although the image transition did not seem as fluid as we might expect.
Incorporates some editing tools
If we go back to the toolbar, the gallery icon allows us to show the images in full screen or in windowed mode as thumbnails. We also find an icon to create a slide show or perform image rotation and flip functions.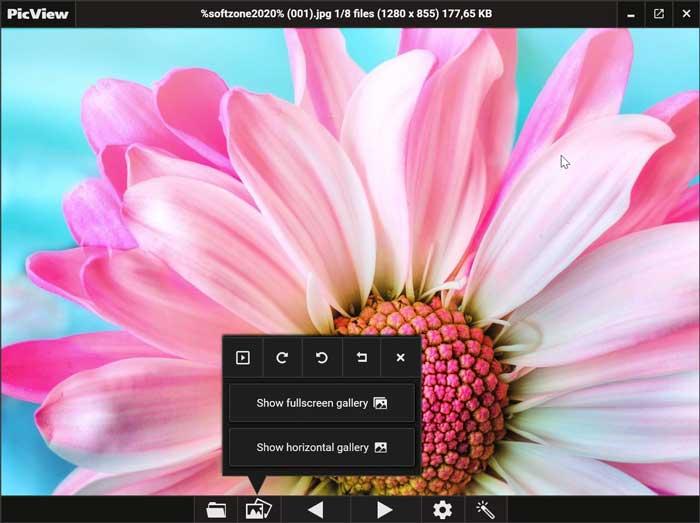 PicView also has a contextual menu available , which we can access by right-clicking on its interface. From this menu we can open or save images, view recent files, sort them by name, size, date, format or last access. From the configuration menu (settings) we can show or hide the interface and toggle with an automatic scrolling mode in a loop. Other options available are the possibility of setting an image as wallpaper, viewing the folder where the image is located, copying, pasting or deleting an image, as well as viewing its properties.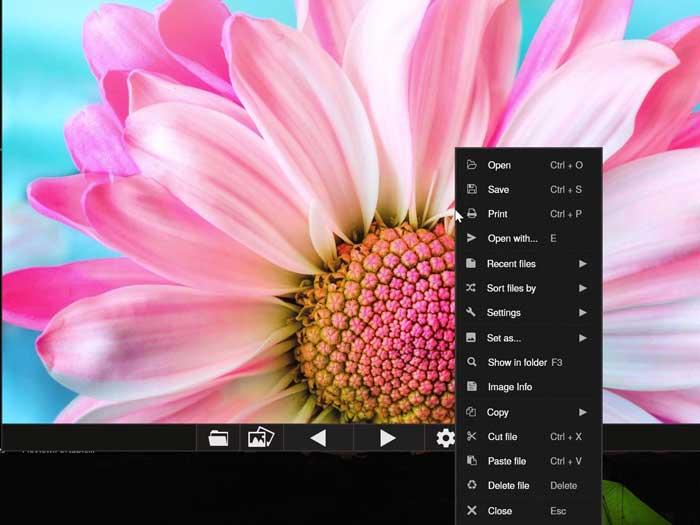 If we click on the gear icon in the toolbar, we can control the zoom speed, the slide timer and the behavior of the search tool. We can also configure the user interface, such as changing the theme between white and dark. Finally, the magic wand icon contains some editing functions, with the possibility to choose from 26 image filters.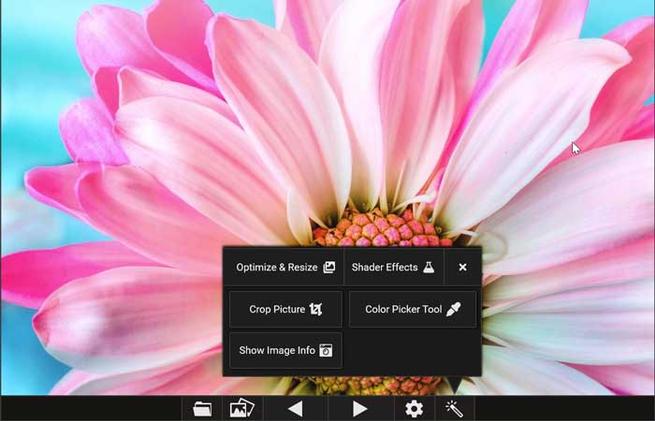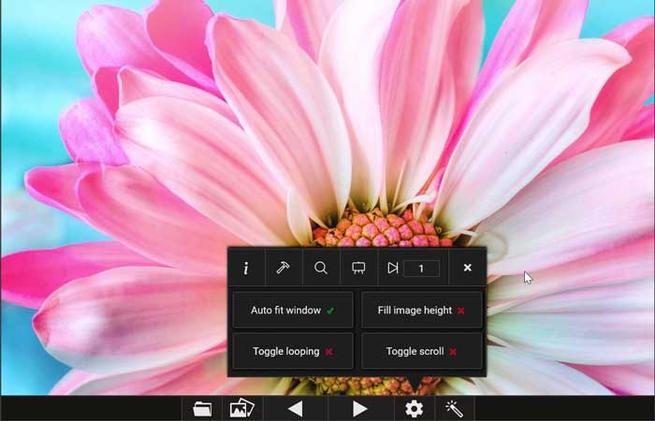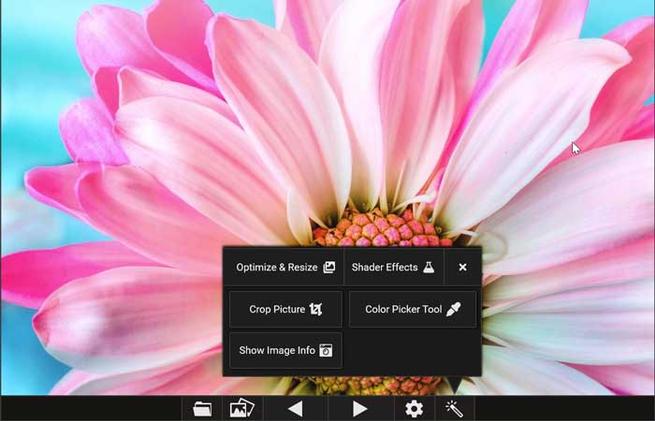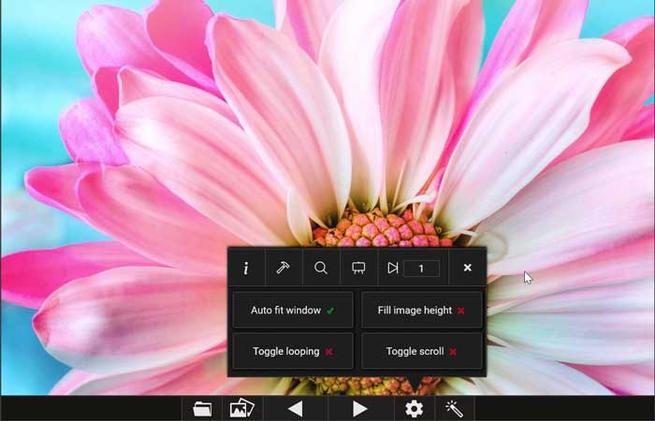 Download PicView for free
PicView is an open source program and therefore completely free that we can download from the GitHub page. The software is available in an installation and portable version . The latter allows us to run it without the need for installation from any external storage device such as a USB stick or memory card. Also, it does not produce changes in the Windows Registry.
Its latest version available to date is v.1.1 corresponding to October 12, 2020 . In addition, it has numerous previous versions in a short space of time, which speaks well of the policy of updates and improvements on the part of its developers.
Alternatives to PicView
If we are looking for a fast and free program with which to view our photos, we propose a couple of alternatives to PicView to take into account:
XnView
This program to view photos is one of the most popular and used. It stands out for having compatibility with more than 500 image formats, such as JPEG, PNG, TIFF, PSD, WEBP, JPEG2000, OpenEXR, RAW camera, HEIC, PDF, among others. It also has the ability to adjust the color, change the image size, edit the metadata (IPTC, XMP), crop the photo, etc. XnView is a completely free tool that we can download from its official website .
ImageGlass
It is an image viewer , which is characterized by being light, versatile and free, intended for Windows computers. It supports more than 70 compatible formats , among which GIF, SVG, HEIC, RAW or PSD stand out.It also includes an image converter, as well as the possibility of uploading photos to Facebook, changing the background color or setting the maximum size for a thumbnail file. ImageGlass is a completely free photo viewer that we can download from its website .