multimedia
Use vlc in a more fluid way by customizing its keyboard shortcuts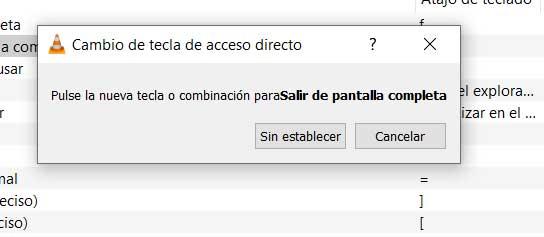 Despite the fact that a large number of users spend a good part of their working day sitting in front of a PC, then they come home and restart the computer. But the type of use here is very different, since they use it to play games, watch social networks like Instagram, or watch videos with VLC .
As many of you will already know first-hand, current PCs are, for the most part, trained for professional work, as well as for leisure moments. And we are not only referring to the hardware level, but the available software also accompanies a lot. We tell you all this because while we have powerful equipment, we can also use very interesting programs for both areas of use. But in these lines we want to focus on that moment in which, whatever it is, we need to use a multimedia player .
These are powerful programs that do not stop growing in importance and functionally improving. In fact, below we are going to talk about one of those that could be considered the most important in the sector, if not the most important. This is due to its enormous functionality and market penetration, among many other things. Here we can highlight several sections such as the stability of the program itself . To all this we add the enormous compatibility that it presents by default, or the configuration options that it presents.
Configure VLC to improve and adapt its operation
Keep in mind that today the vast majority of users have at least one software focused on multimedia playback on their PCs. This helps them to a great extent to watch videos or listen to music, since these programs are the most suitable for this type of task. As we mentioned, in the market we can find a multitude of alternatives of this type, the vast majority free. But with everything and with it, for some time now, the proposal that is having the greatest success around the world is the program called VLC Media Player .
In fact, this is a software that over the years has grown and improved substantially. There are many options and functions that allow us to adapt and customize so that it works based on the needs of each one. Most of these we will find in the Tools / Preferences menu option, where we find many of these parameters that we are talking about
For those of you who do not know, it is interesting to know that in this case we are talking about free software that is capable of reproducing almost anything in the multimedia sector. These refer to both the audio and the video of most of the current file formats that we find or send us by other users. But along these lines we want to focus on its use as such. And it is that its top managers present us with a complete user interface, at the same time as simple and also customizable. Likewise, this is something that we can carry out through the Tools / Customize interface menu option.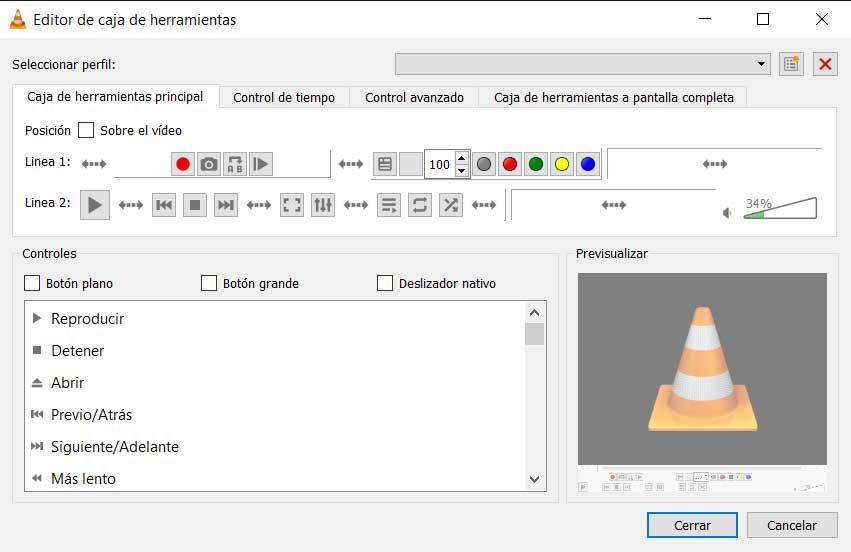 As you can imagine, with all this, what is intended is that the experience of using the program is the best possible in all cases and situations. It is for all this that in this case we are going to talk about a useful functionality that will surely be very interesting to most. It will allow us to greatly streamline the continued use of this program and save time navigating between endless menus.
What we really mean by this is that we are going to talk about the advantages that software keyboard shortcuts can bring us. What's more, we not only have these key combinations, but being able to make personalized use of them will be very useful in our day-to-day with VLC .
How to view keyboard shortcuts in the media player
Say that the program itself, once we download and install it, by default presents us with a series of keyboard shortcuts that we can use as input. As you can imagine, they help us to carry out certain daily actions in VLC directly and immediately.
Therefore, in order to be able to take a look at these keyboard shortcuts that are predefined by default, we do the following. The first thing is to open the program in a conventional way and go to the menu option mentioned before, Tools / Preferences.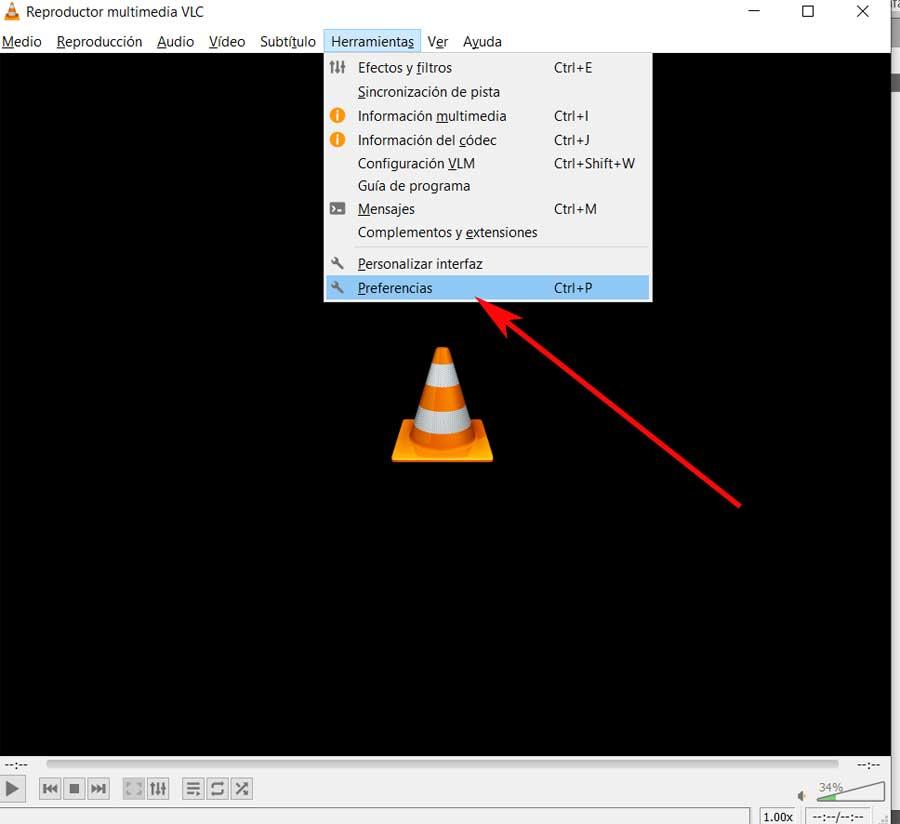 Once in this section that we comment, we only have to click on the tab called Keyboard shortcuts. We will see this in the upper right corner of the program's configuration window. At that time, a good number of shortcuts to program functions will appear on the screen . Therefore, the best thing we can do here is look at the ones that interest us or use them more frequently, to memorize them. This will allow us to use the program from now on in a much more fluid way.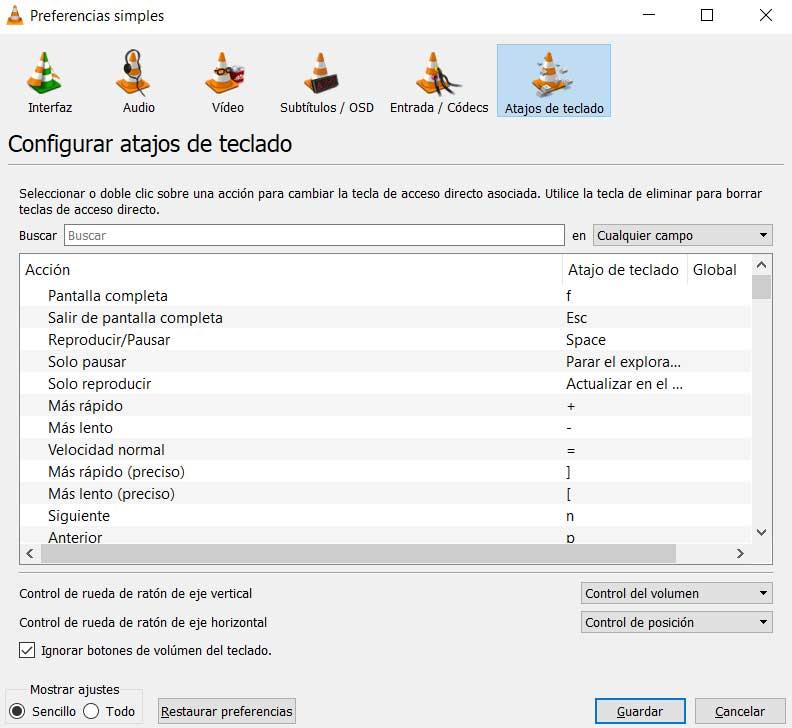 Therefore here we can see that we can do almost anything in the media player through these shortcuts. In addition, there are not few, which shows that its developers want us to make the use of the program easier, as we mentioned before. But that's not all in this regard, as they go one step further. With this what we want to tell you is that at the same time we will have the possibility of being able to change these predefined shortcuts and customize them based on our needs.
Customize VLC keyboard shortcuts
This is also something that we can carry out quickly and easily. All this from the window itself that shows the default key combinations . Therefore, if you want to customize this section, the first thing is to locate the function that we are interested in changing. Then we just have to click on it and its corresponding keyboard shortcut and assign the new key combination to it.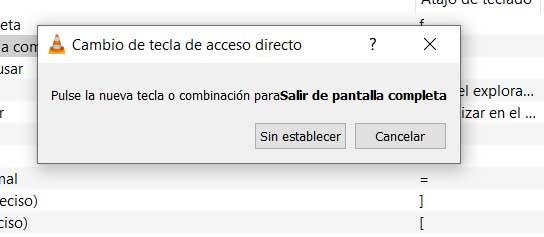 Of course, before the change itself is carried out, the program itself will ask us to confirm the new functionality . At the same time in the lower part of this same window, we will have the possibility to customize other shortcuts. These refer to some functions that we perform with the mouse, all of which is equally simple.