multimedia
Unprotect and make backup copies of your dvds and blu-ray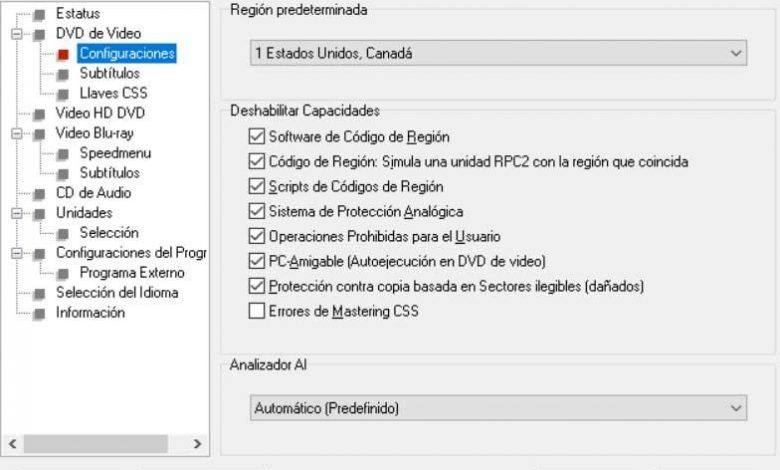 Many users today continue to use their DVD and Blu-ray collection to enjoy their favorite movies even from their PC. To do this, you can use a multitude of specialized programs, such as AnyDVD HD, which we will talk about here.
As a general rule, what we are going to use here are the usual video players that we use with other formats. In fact, most of the programs of this type that play video files are also suitable for our DVDs and Blu-ray. However, in these same lines we are going to talk about an application that tries to go one step further, as in the case of AnyDVD HD. It is possible that many of you already know it, since it has been with us for a good number of years.
With everything and with this it is still useful for many, since as we say, there are many users who continue to use their DVDs at leisure. It is for all this reason that below we will talk about how to use and configure this specific application.
Advantages and types of use of AnyDVD HD
To give you an idea of ​​what we are talking about here, say that AnyDVD HD is actually a software solution for Windows that by itself eliminates the restrictions of DVD and Blu-ray. With all this, what is achieved is that we can make our own backups in this regard. Thus, the same program can have read access to the contents of a movie in DVD or Blu-ray format .
At the same time, it is worth noting that the application is capable of supporting any DVD or Blu-ray that we have at home. For all this, what it does internally is deactivate the RPC region codes . All this is carried out internally in order to achieve that the region of the film is released and is visible in any player of this type of format.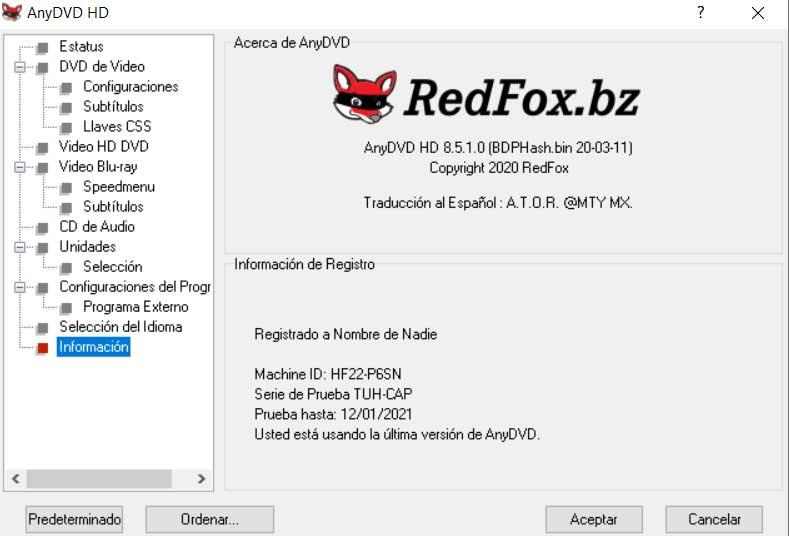 In this way, the program is able to deactivate some options that are integrated into the titles in question. Specifically with this we refer to subtitles, marks etc. With this, what we achieve is to be able to create a backup copy of the content, but much more personalized and own. In turn, AnyDVD allows us to make use of an external application to also deal with these contents that we are commenting on.
On the other hand, it is worth knowing that this is a software solution full of configurable options that will allow us to control it to the maximum. To give us an idea, we will have the possibility to control the rotation speed of the DVD drive, or to correct any errors that may occur.
How to download and install AnyDVD HD
Therefore, once we know how it works and what the application that we are going to talk about will be useful for, let's see how we can get hold of it. The first thing we must do if necessary is to access the official website of its developer from this same link (https://www.redfox.bz/es/anydvdhd.html). It is true that due to its popularity and the years it has been with us, this is a program that we can find on many third-party websites. However, to avoid scares or unwanted software, it is always preferable to use the official website.
In addition, this is a program that updates periodically, although its interface does not suffer too many changes. Therefore, by using the official website, we make sure to download and install the latest version officially released.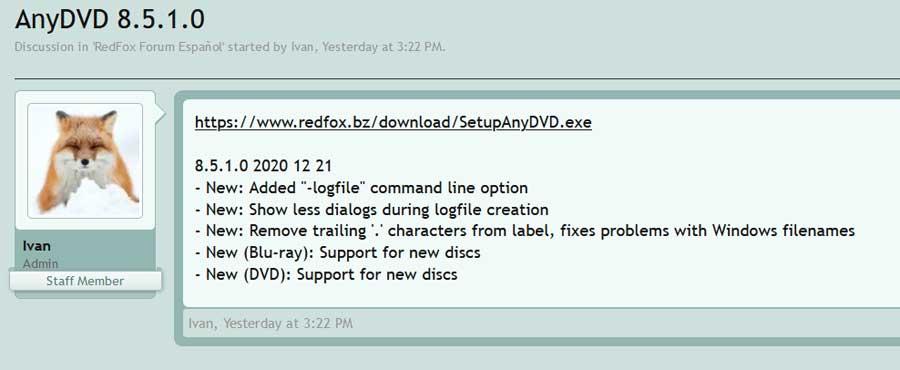 Once the file download is finished, we can install it on the computer like any other application. Of course, something that we must bear in mind is that AnyDVD HD is a paid software solution, although we can test it before for a total of 21 days. Once that time has passed, either we acquire the license, or the program stops working.
Installing the program
Well, as we mentioned, once we have it in our possession, we execute it so that the installation process begins. During the wizard that is running at that moment, we first come across a window in which we specify where the shortcuts to AnyDVD will be created.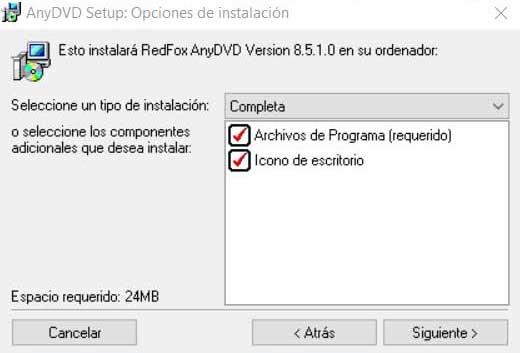 In the same way, we will have the possibility, before the process itself ends, to buy the license that we talked about before. However, if we first want to test the software for 21 days to verify its effectiveness, we only have to request a temporary license. Say that once we request it, it is activated automatically at that moment. That will allow us to start the program in order to start working with it.
How to set up the AnyDVD HD program
As we mentioned before, this is a program that offers us a multitude of parameters for the aforementioned backup and unprotection process. These will be very useful to us when adjusting the process and treatment of DVDs and Blu-ray, to our needs.
In fact, as we will see first-hand, the program's interface is divided into two distinct sections. In the left part of it we find the different categories that we have at our disposal here. On the other hand, as we position ourselves on each of them, the functions that we talked about before appear in the right panel to be able to adjust them one by one.
Something that may be striking to you is that contrary to what is usual in other programs, this one lacks menus at the top of its interface. In this way we have everything more at hand, since all these available options are located on the left side of the window, as we indicated.
DVD Video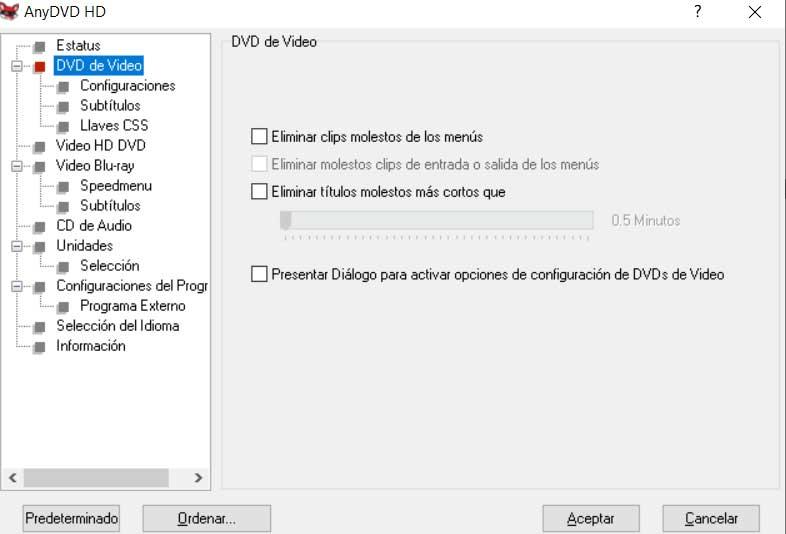 First of all, we find the section that allows us to configure, as its name indicates, the section on working with discs in DVD format . To do this, the first thing that the program proposes here is to eliminate both the clips from the menus and the titles that are shorter than a certain time. We can do all this in a specific way by simply marking the corresponding options that appear on the screen.
What's more, at the same time we will have the possibility of activating a dialog box to display the configuration options in the process.
Settings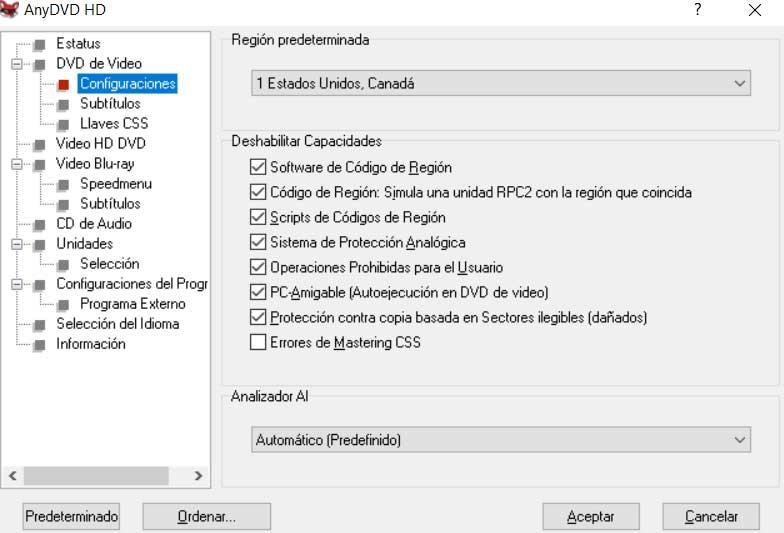 Here we are going to find another window in which a good number of configurable parameters are exposed. All this in order for AnyDVD HD to deactivate by itself various options that DVDs have implicitly. Therefore, in it, the first thing we do is choose the options regarding the capabilities that we can disable. Here we find parameters such as the region code software , scripts, operations prohibited for the user, etc.
On the other hand, the copy protection is also eliminated so that the backup can be carried out without any problem. On the other hand, in the subtitles section we will even have the possibility to customize their transparency if we include them.
HD DVD video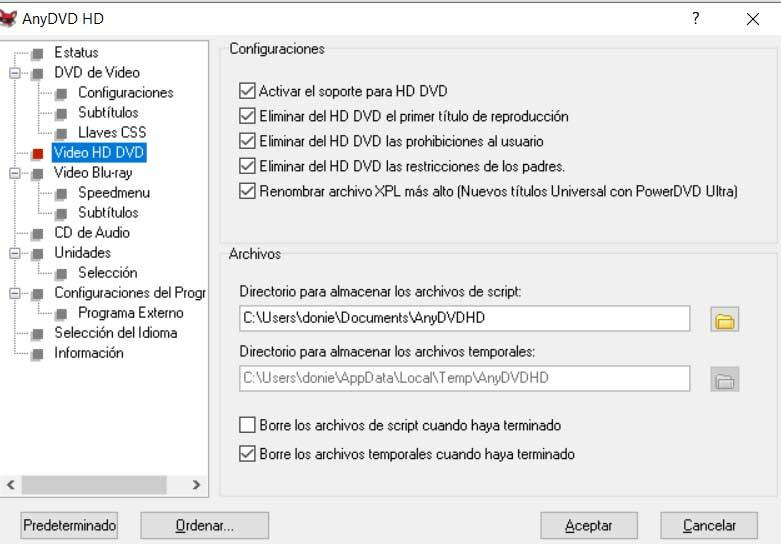 Next we find another useful window in this same sense that is also in charge of eliminating elements that in principle we could not. As an example, this section allows us to eliminate elements such as the first reproduction title, user prohibitions, or parental restrictions.
It must be taken into account that, both in this section and in the rest, the elements that we can eliminate to make the backup copy will depend on the needs of each one. And it may be the case that we want to integrate the DVD or Blu-ray menus, or that compatible subtitles are added , for example.
It is worth mentioning that in this same section we will have the possibility to determine the disk locations where we save the scripts or temporary files.
Blu-ray video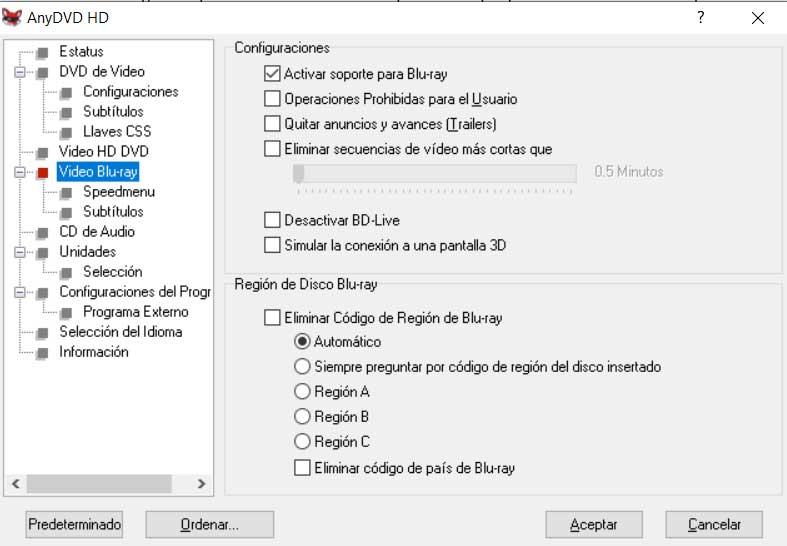 And now let's move on to everything related to Blu-ray disc media, something that we can also make backup copies of and unprotect. To do this, from this section the first thing we do is add support for these specific formats. At the same time, from this same window we can eliminate the ads and trailers that these usually include, as well as the short video sequences.
Likewise, the program we are talking about will allow us to deactivate the BD-Live of the discs or even simulate that we use a 3D screen . Of course, for this at the same time from this window we will have the opportunity to eliminate the region code, or choose a default one. This will allow us to work with Blu-ray discs from all over the world without any problem and without geographical restrictions. Say that from the Speedmenu subsection, we can also fully customize the menus that the new content we are generating will offer.
For all this, the program offers us a series of predefined designs in advance, or we can choose others and download them if we wish.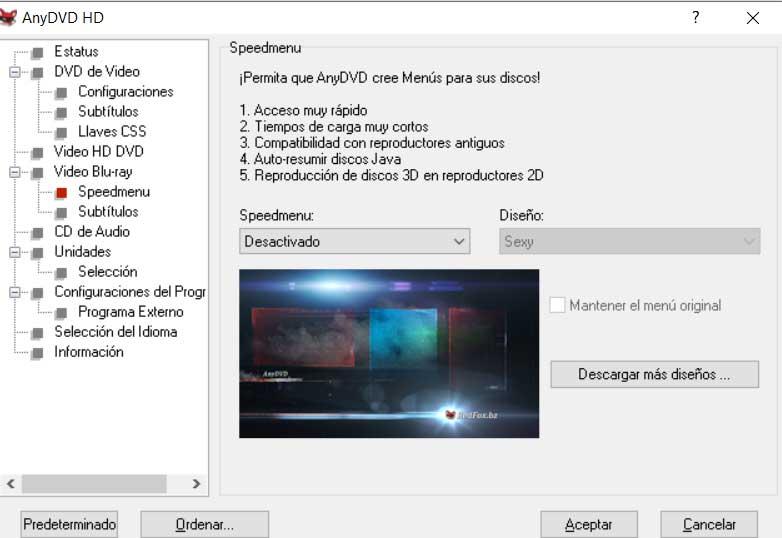 Audio CD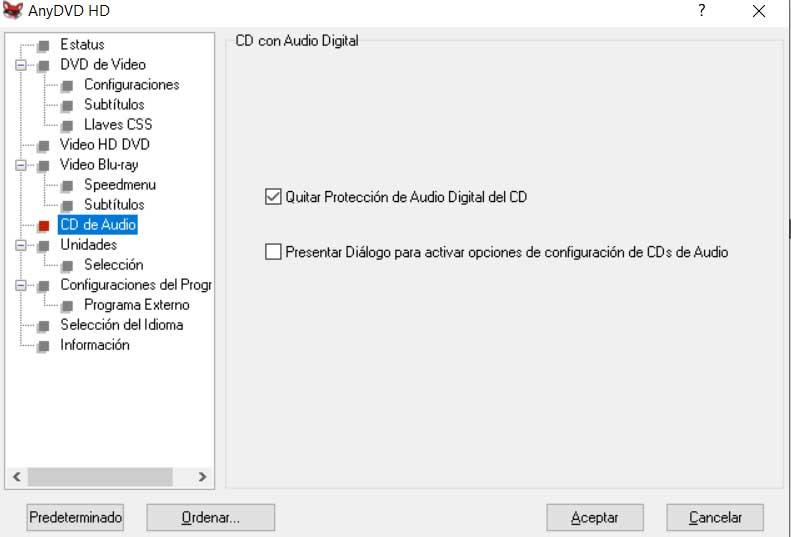 Keep in mind that despite the fact that until now we have focused on video content, this program does not stop there. We tell you this because at the same time we have the possibility of dealing, as with a DVD or a Blu-ray, with a music CD of the many that we can keep at home. In fact, preparing to make a backup is very simple.
All we have to do is go to the audio CD option and check the Remove Digital Audio CD protection box. We can also show a table with the options to achieve greater customization.
Units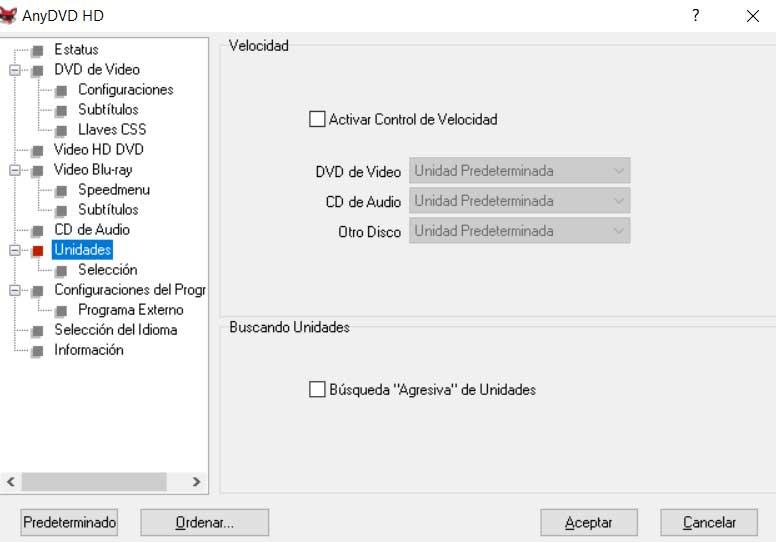 It may be the case that we work on a team with several reading units for these discs, something not too common today. But the program also allows us to choose which of them will be the default for each type of content in particular. This is something that we carry out in a simple way through a series of drop-down lists that we find in this section.
Program settings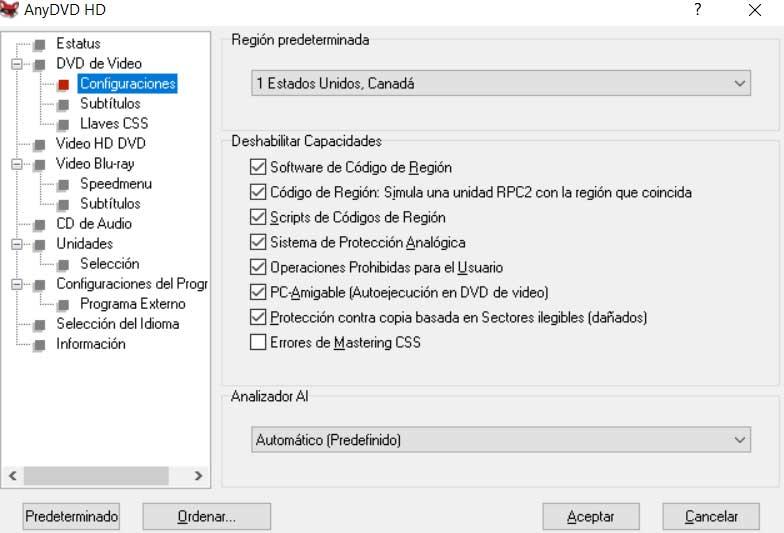 To finish we will tell you that this is a program that also has some useful more generic configuration options. To be able to take a look at them, we just have to go to the Settings section of the program . Here we find a good number of selectors so that we can mark or unmark these parameters . Among these we can highlight the possibility of activating the application autostart, hiding its icon, seeing warning messages, eliminating watermarks, or displaying information windows.