multimedia
Try stremio, the best alternative to kodi a a multimedia center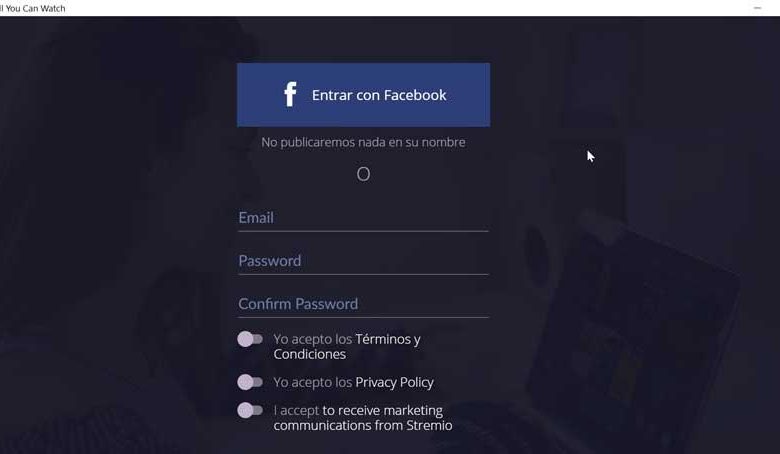 We usually give our computer all kinds of uses. Beyond studying or working, there is nothing like enjoying the best multimedia content. For this there are a wide variety of services and applications with streaming content that serves to satisfy our leisure needs. One of the most used multimedia centers is kodi, to which an increasingly popular competitor such as Stremio has emerged .
Stremio is a free, cross-platform, open source application. It works as a modern multimedia center that gives us the opportunity to watch everything we want: movies, TV shows, channels, web, sports, listen to podcasts and much more. With it we can see all kinds of content by streaming without consuming many resources of our system. As with Kodi, the application makes use of addons or add-ons with which to access a wide variety of audiovisual content.
With this multimedia center we can view the content in the different accounts we have (Movistar, Netflix, Amazon Prime Video, YouTube, etc.), so that we have it available from the same environment that is easier to control. In addition, we can receive notifications when new episodes, videos or movies that may interest us come out, as well as content recommendations based on our tastes.
Although its differential section with respect to other multimedia centers is that it supports addons. Some of these add-ons are developed by Stremio itself and are hosted on its own servers, thus guaranteeing maximum security. On the other hand, it also supports addons that have been created by members of the community, which should be reviewed well before installing them as they may contain some harmful content. In this way we can add new content from different origins using its plugins.
The application does not have ads, banners or any type of advertising . It is compatible with Chromecast so we can stream our content to view it on our television. It offers HD video quality as well as subtitles.
Enjoy your movies and series with Stremio
Once we run the application we find a visually attractive interface, completely in Spanish, on which it is very easy to navigate. We will only have to scroll the screen from top to bottom and it will show us all the available content in the form of movies, series, sports, etc.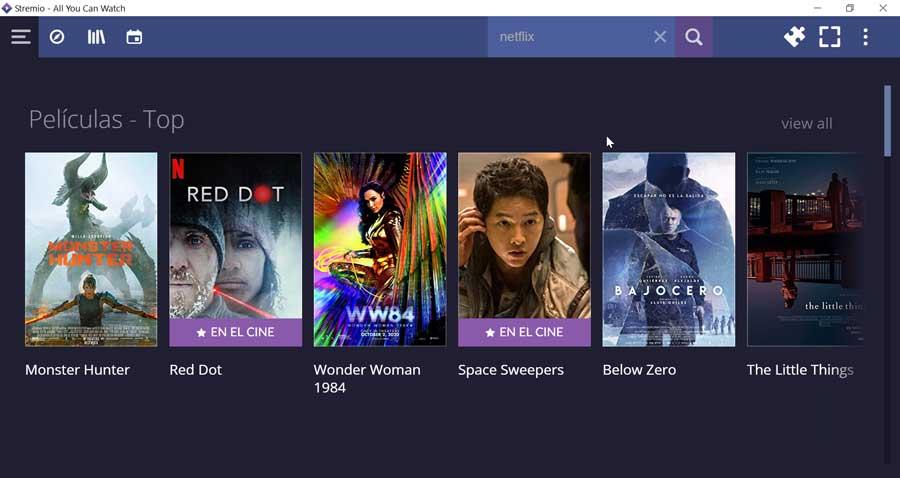 Add official or community plugins
The most important thing when starting is to go to the "Accessories" section that we find in the upper right. From here we can download addons corresponding to both those developed by Stremio, and others developed by third parties. All of them are integrated into the program's interface.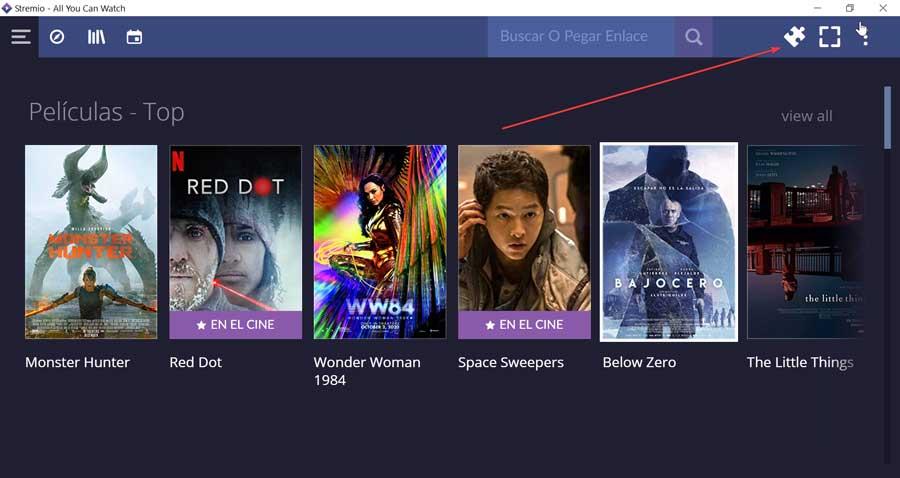 Within the accessories section we will have the official accessories and the community accessories. We can also search for content such as movies, series, sports, YouTube, etc. or that they show us all the addons available. Adding an add-on is as simple as searching for the one you want and clicking on its "Install" button and we will have it available in a matter of seconds.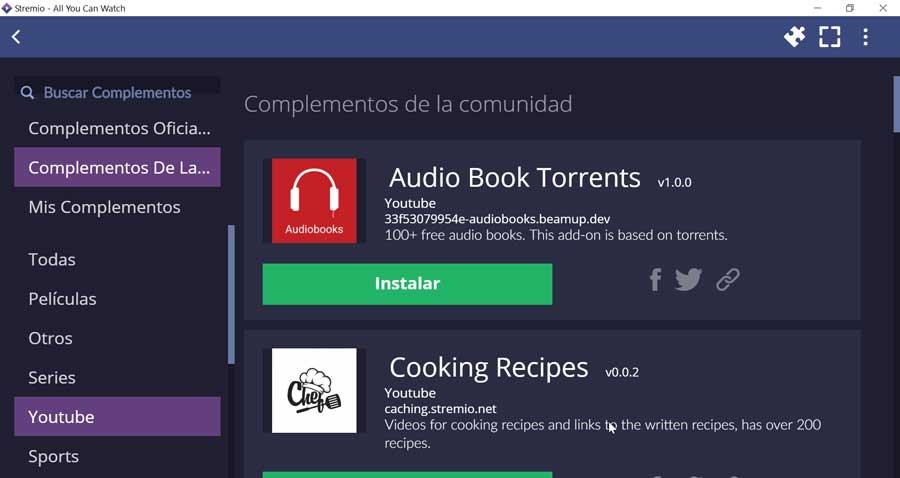 Of course, we must bear in mind that only official accessories are safe and legal, while those of the community may contain illegal products. In general, when installing it, it will notify you that its use is subject to the responsibility and government law, as well as the jurisdiction of where we are. As official add-ons we find «WatchHub» (includes compatibility with Netflix, HBO, Amazon…), «YouTube» and «Open substitles».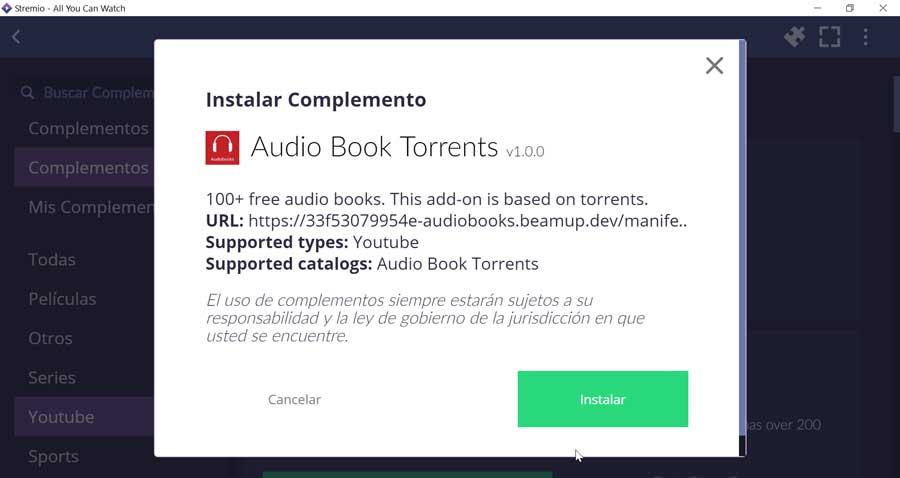 Add your subscription accounts and view their content
From the main menu we can access a wide content catalog . We can search for all kinds of movies and series, organized by categories. Once we have found the content that we want to view, we just have to click on it and the different platforms through which we can see it appear. Therefore, we only have to click on the one we are subscribed to in order to view it. In addition, we can add all the content to our library to have everything more at hand.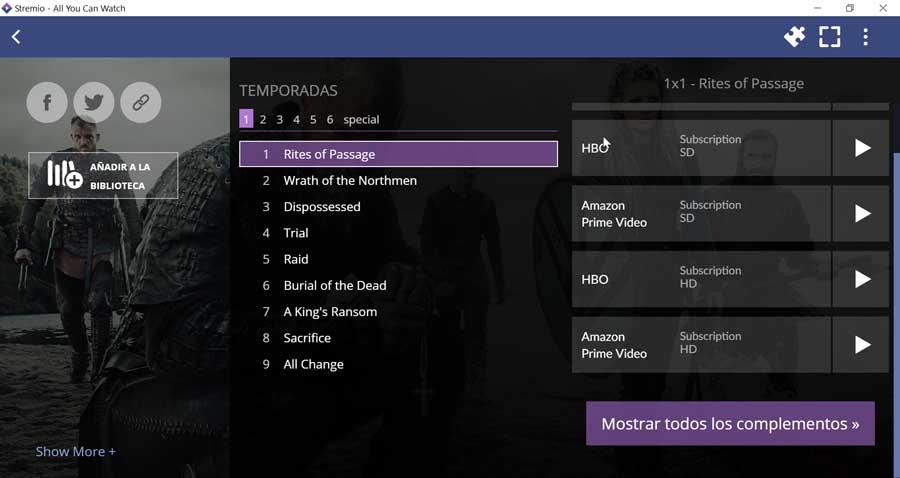 Conclusions
Stremio is a multimedia center in constant expansion where you can access a wide catalog of streaming content. It has an attractive interface, consumes few resources, is free and multi-system . In addition, it has a wide collection of addons to download. But not everything is perfect, especially when we talk about third-party plugins since they do not always work as well as they should, with small jumps and stops. For the rest, it is an application that deserves that we give it an opportunity to enjoy all the content that it offers us.
Download Stremio
Stremio is a multimedia center that is characterized by being free code so we can download it for free from its website . In addition, it is completely cross-platform, so it offers compatibility with Windows, macOS and Linux, as well as mobile devices with Android and iOS. In addition, it allows all devices to be synchronized even when they work on different operating systems. To access it will only be necessary to register a new account or access with our Facebook username and password.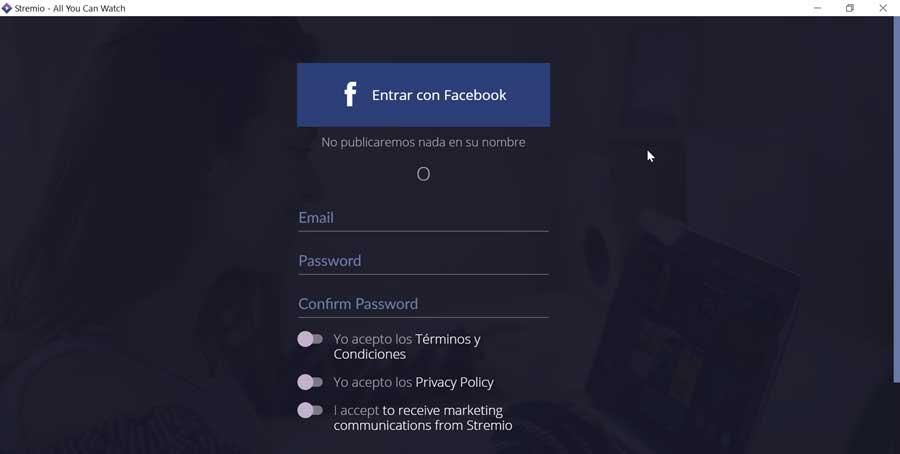 Alternatives to Stremio
If we are looking for an application from which to enjoy all our multimedia content, we propose some alternatives to Stremio.
MediaPortal
It is a free and open source multimedia center. With it we can play videos, DVD and Bluray, as well as listen to music and radio or view images. It allows to transmit media, radio and TV to any HTPC / PC connected to the network. In addition, it allows you to access news and check the weather among other options. We can download MediaPortal from this link .
Kodi
It is the most popular multimedia center used by millions of people around the world. We can play videos, music and images from any medium that we have stored. It stands out for its large number of add-ons available with which to increase its content that we can customize to our liking. We can download it for free from their website .
Plex
It is an application specialized in organizing our collection of music, images, videos, allowing to synchronize media with Dropbox, Google Drive and Box cloud storage. It also allows us to create multiple user accounts and restrict all content that we deem appropriate. We can download it from here .