multimedia
Trim unwanted parts of your videos for free with losselesscut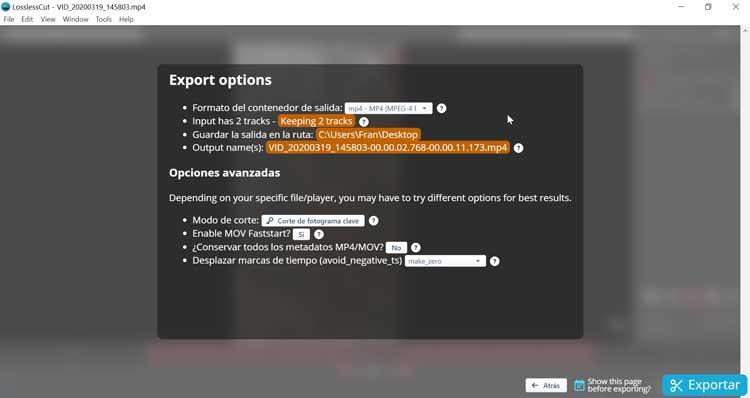 It is becoming more and more frequent for home users to edit our own audio and video files. Something that was once exclusive to professional publishing studios has now become quite common. And it is that it never hurts to have the possibility of making cuts in our creations, being able to cut some unwanted parts, to obtain a perfect result. For this we will need an editor to help us with this work, for which we can choose LosselessCut, about which we will talk next.
There are many audio and video editing programs on the market of various types and prices. But if we only require a program with which we want to cut certain parts of a video, we do not need a professional tool for this. For this, there are applications, programs that are much simpler and even free, with which to carry out this work with great efficiency.
LosselessCut is open source and multiplatform software that has been developed to be able to perform fast operations without loss of quality in both audio, video and other related multimedia systems. Its main quality is the cutting without loss of quality of any audio or video file that we have been able to take with our mobile, GoPro, etc. To do this, use FFMpeg to perform the cropping functions, which will allow us to do all the work quickly.
The main features of this program are:
Compatibility with the most popular audio and video formats such as: MP4, MOV, WebM, MKV, OGG, WAV, MP3, AAC, H264, Theora, VP8 and VP9, ​​where we can make cuts without loss.
Lossless merge of arbitrary files using identical codecs.
Lossless merger in the segments we select.
Lossless extraction of parts of video, audio, subtitles or other files.
Capture the videos in JPEG / PNG format.
Allows you to remove an audio track, apply a time shift, and include early audio and video streams in all streams.
Possibility of rotating videos without re-encoding the video.
LosselessCut, remove unnecessary parts of videos and audios
Once we execute the application, its main menu appears with an interface that is not particularly striking . We can add any video by simply dragging and dropping it on its interface or manually, through the Open tab or by pressing the keyboard shortcut «Ctrl + O». Of course, we must bear in mind that, when selecting our file, the program is not capable of filtering those files that are compatible.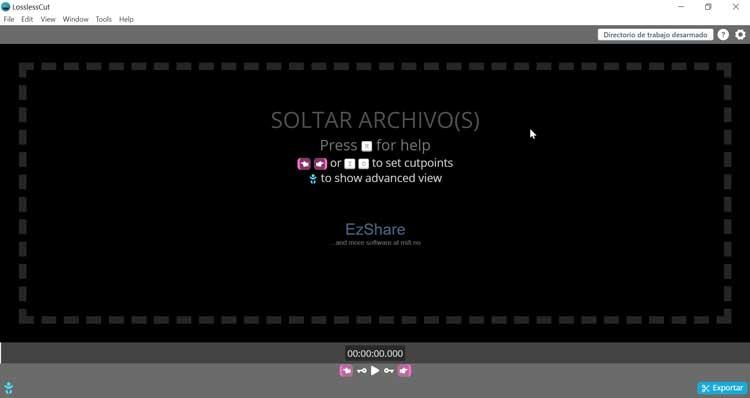 The LosselessCut interface appears entirely in English, although if we go to its settings we can change the language and select Spanish. Unfortunately, the translation is quite incomplete and all the functions found within the tabs of its top toolbar remain in English. In the settings section it also allows us to configure some additional options such as the possibility of merging the files or exporting them separately, choosing the format of the captures (JPEG or PNG), among other options.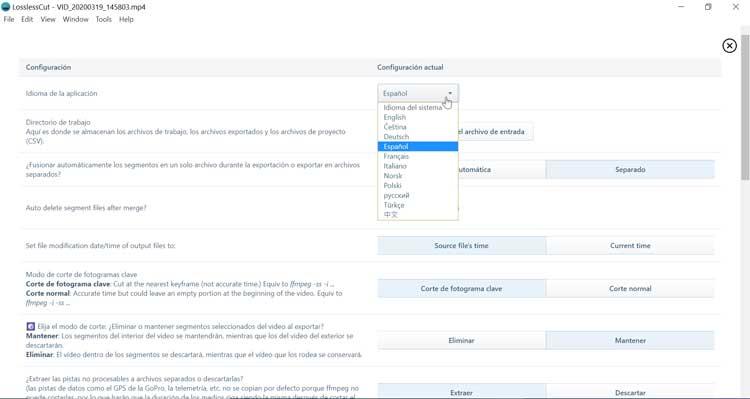 Once we have added our file, performing the cutting tasks is very simple. It will only be necessary to set the start and end positions, which are marked in the progress bar at the bottom of the playback. We can also rotate the video in 90º, 180º, 270º, as well as take captures of a frame. The selection is exported instantly as pressing the "Eject" button found in the lower right.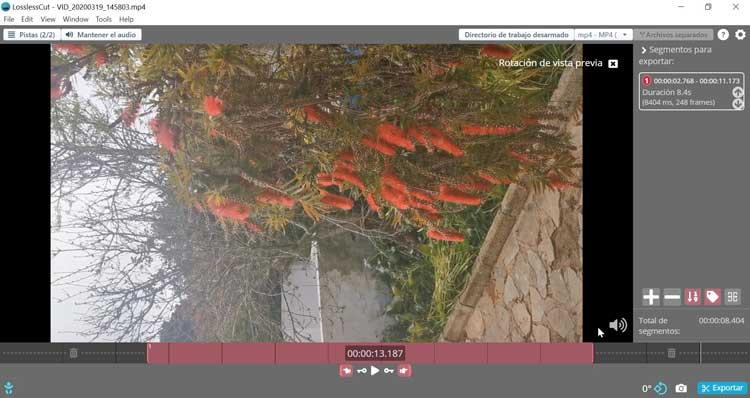 The portion that we have cut is saved in the same location as the main video in MP4 format, although it is possible to select the desired output format from a wide list of compatible formats, including MOV, MKV, AVI, etc. We can also choose the output path where the file will be saved, as well as give it a new name. In addition, depending on the chosen format, we can choose some advanced options such as the possibility of saving the metadata.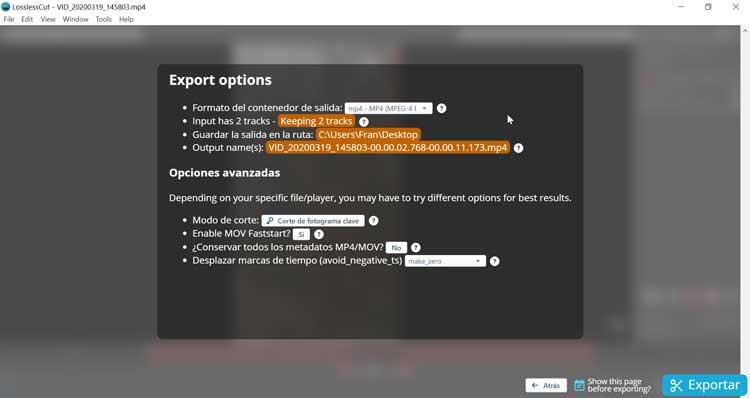 LosselessCut free download
LosselessCut is an open source, free and multiplatform program, which is why it has versions for Linux (snap, Appimage or binary), macOS and Windows. We can download it from this link . It is portable, so it does not need installation to function, it does not leave traces in the Windows Registry and it can be run from any external storage system such as a hard drive or pendrive on any computer.
Its latest version available so far is 3.33.1 corresponding to February 19, 2021, being the third update that it has suffered so far this year. This demonstrates a great maintenance policy on the part of its developers, as well as its own community of users, which causes these very regular updates.
Alternatives to LosselessCut
If we are looking for a tool with which to make cuts in our videos, we propose some alternatives to LosselessCut to take into account:
MP4Tools
This is a free and open source program that allows us to cut and join videos very easily, being compatible with Windows, macOS and Linux. This tool will allow us to do the work in just a few clicks from a fairly simple interface. It supports the most popular video formats like MP4, AVI, MOV, etc. We can download it directly from its website .
TunesKit Video Cutter
Another interesting program with which we can both cut videos and join several parts in one. It is compatible with a good number of formats and we will be able to carry out the operation without loss of quality. In this case, we are talking about a paid program of which we can download a trial version to check if it meets our expectations. Its price is $ 29.95.
Windows Photos
In case we do not want to download any software to our computer, we must know that through the Windows Photos application we can carry out simple editing tasks with which we can modify our videos, among which we will find the possibility of dividing our clips into several parts.