multimedia
The best programs to watch dvd and blu-ray in windows 10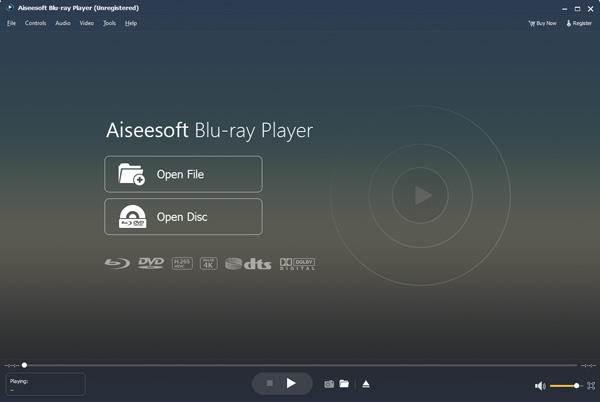 A computer is not only for working or surfing the Internet, but it is also a complete leisure and entertainment center. In addition to being able to play the thousands of titles available for the computer, another of the most common uses of a PC is to watch series and movies. Apart from watching series and movies in streaming with HBO and Netflix, we can also use the computer to play original DVDs and Blu-Rays that we have in our house. And in order to fully enjoy these, it is necessary to have a good multimedia player.
Windows 10 brings us by default two multimedia players. On the one hand we have the classic Windows Media Player, Microsoft's quintessential player that has been with us for so many years. And on the other hand we have the "Movies and TV" application that allows us to reproduce all kinds of content without the need to use additional software.
However, as always, Microsoft programs are often limited in functionality and features. For example, setting and controlling subtitles is often quite complicated. In addition, it is common to have problems with the codecs when playing some videos. Even some formats can be paid and to reproduce them we will have to buy the corresponding codec.
Luckily, there are alternatives that allow us to watch DVDs and Blu-Ray on our computer without problems. Next we will see which are the best, both free and paid.
Free DVD and Blu-Ray Players
On the net we can find a large number of free multimedia players. These usually offer everything that any average user needs. However, except for a specific program, in order to play some formats we will have to manually install and configure the codecs on our computer.
VLC, the OpenSource multimedia player par excellence
When we talk about media players, the best known and used around the world is VLC. This multimedia player is free and open source and its main feature is that it brings with it all kinds of codecs to avoid problems when playing any type of content.
VLC is designed to play local files that we have saved on our computer. However, we can also use it to play DVDs, Blu-Rays and all kinds of optical drives thanks to the "Open disc" option.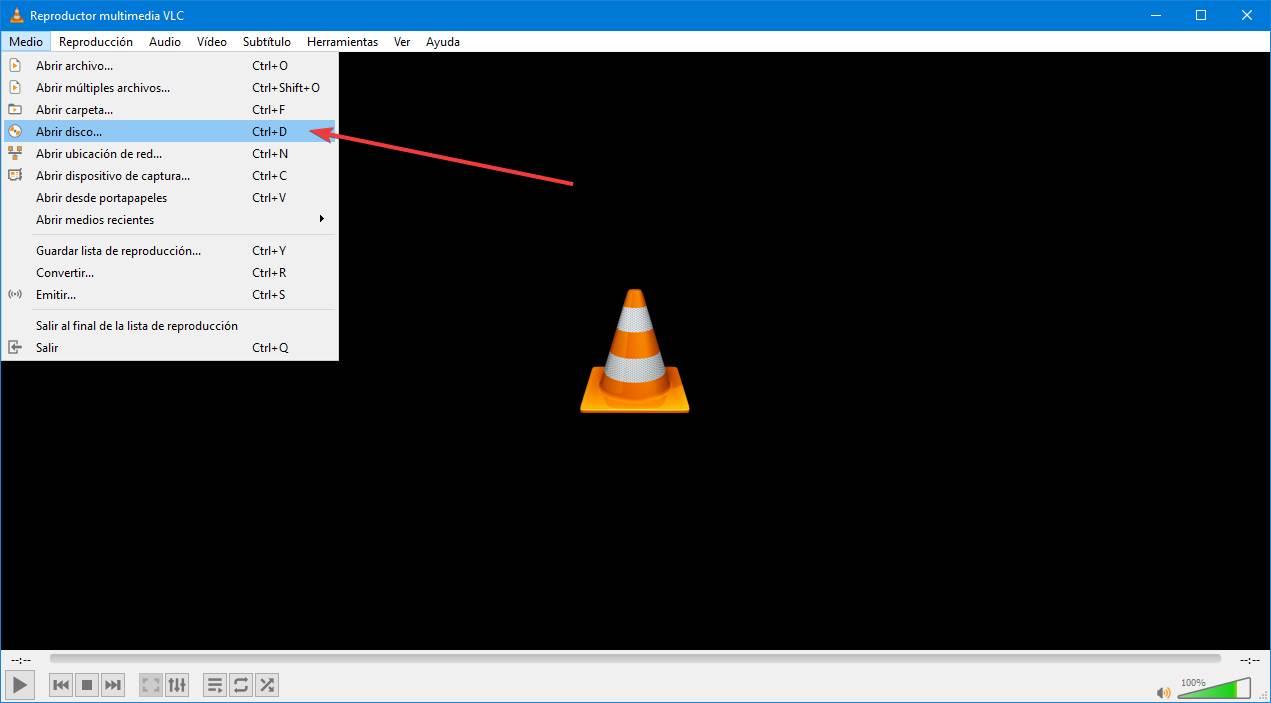 We can  download VLC for free from the following link .
MPC-HC, the faithful successor to Media Player Classic
Another well-known option for playing all kinds of multimedia content is Media Player Classic – Home Cinema. This player is also free and open source, and for many users it is superior to VLC in many ways. For example, MPC-HC is characterized by being much lighter and easier to use than the VideoLAN player and has a large number of customization options.
Although the original project was abandoned some time ago, to this day it is still maintained by one of its original developers. And although it does not receive major changes or news, the codecs and other content included in the browser is still supported.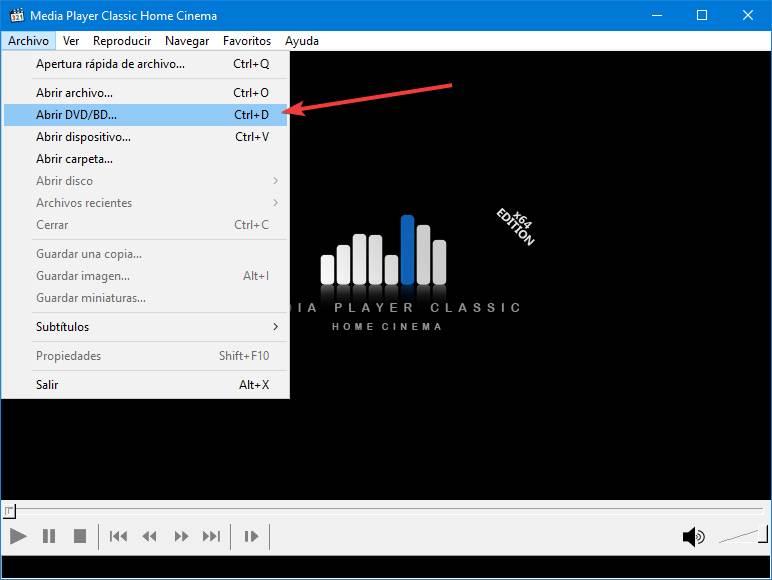 We can download MPC-HC for free from the following link .
GOM Media Player, a complete free player
GOM is another popular free multimedia player that we can install in Windows 10 and that will allow us to play all kinds of files. This is mainly characterized by its simplicity, as well as by bringing a large collection of codecs that, although not as complete as VLC, will allow us to reproduce most of the most popular formats without problem.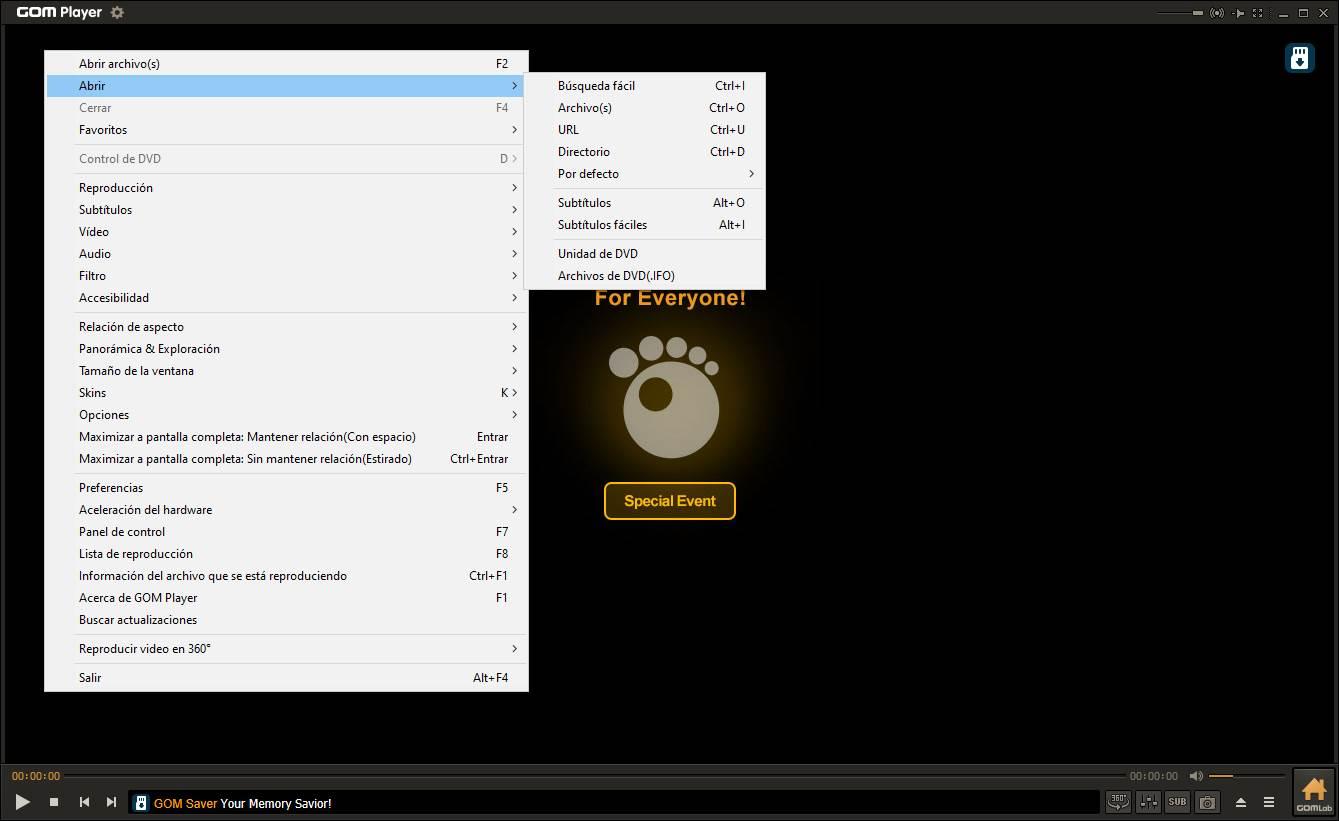 Another advantage of this player is that it works without problems even in the oldest versions of Windows, such as XP. We can download GOM Media Player from the following link .
SMPlayer, playing DVDs has never been so easy
Another more free alternative that we can find to play DVDs and Blu-Ray in Windows 10 is SMPlayer. This program is also open source and it is specifically a frontend for MPV, an excellent player that does not have a graphical interface and that runs from the command line.
This multimedia player is compatible with all the audio and video formats that we can find, it is highly customizable and has advanced functions, such as filters, improvements and even the possibility of searching and downloading subtitles for our videos.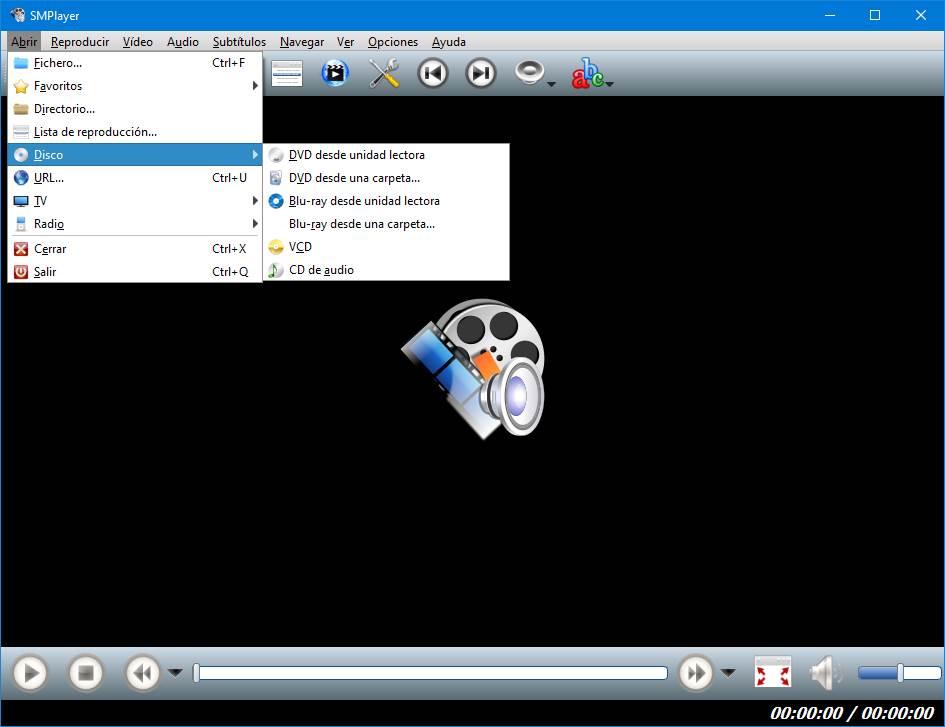 We can download SMPlayer from the following link .
DAPlayer, now known as 5KPlayer
If we are already looking for options much more focused on the reproduction of DVDs and Blu-Rays, then we must give DAPlayer, currently known as 5KPlayer, a try .
This multimedia player is characterized by being compatible even with the latest security measures used by companies to prevent copying of movies, even with the controversial AACS.
This player allows us to play any movie with just a couple of clicks and it is also compatible with 320 video formats and 120 audio formats. Its low resource expenditure makes it a great alternative for users with relatively old computers.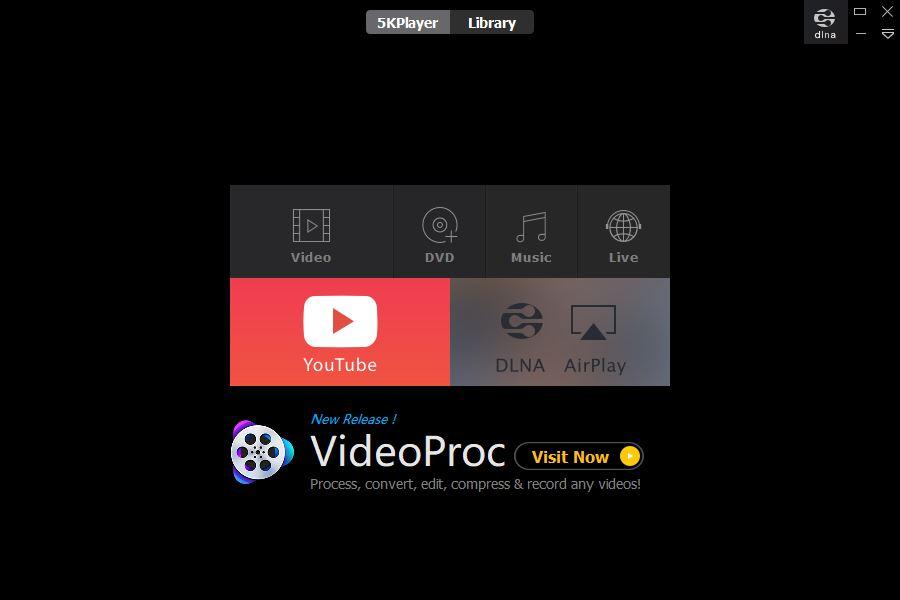 We can download DAPlayer from the following link .
Potplayer, the simple alternative to watch DVDs
In this case we find a generic video content player that is characterized by its ease of use in Windows. But at the same time it is regarded as a powerful software due to its wide compatibility and additional functions. That is why little by little the world is gaining followers. It should be noted that it has compatibility with all current file formats. At the same time it is capable of reproducing both local and online content, and of course to be able to watch our DVD and Blu-Ray discs .
One of the functions that attracts the attention of many users is that the program natively has a hardware acceleration function. This allows that we do not experience cuts in the reproduction of video files in high definition. It is also worth knowing that it even offers support for 3D videos or 360-degree videos. For all this, this becomes an excellent alternative for all those who, when watching their DVDs or any other video format, do not want complications. Of course, in addition this simplicity should not be at odds with the functionality and stability of the program .
To finish we will tell you that you can download and test this application from its official website .
Leawo Blu-ray Player, one more alternative to play DVD and Blu-Ray
Finally, within the free applications to play DVDs and Blu-Rays, we are going to talk about Leawo Blu-ray Player. This is one more free player, and it has the same features and functions as the previous alternatives. Its main strength is that it does not give any problem with DVD or Blu-Rays in ISO format, being able to read them automatically or when they are mounted on a virtual drive.
It supports the latest 4K UHD HDR) image formats and the latest video formats. It also has a large number of options, functions and additional tools so that users can make the most of the playback of their favorite movies and series.
We can download Leawo Blu-ray Player from the following link .
BlazeDVD Free, little known but just as effective
This DVD player may not be well known to the general public, but for this reason it does not offer good features for DVD playback. It stands out for offering stereo audio quality and smooth video playback for DVD, CD, VCD and SVCD. It also offers support for SD quality video, 1080p, and audio playback with easy-to-use playback navigation.
To obtain a better user experience, we have full control of playback, as well as several advanced functions that allow us to play with images such as the slide show, and manage playlists. It features a 10-band preset equalizer value, parental control, power saving schemes, and multi-language support.
We can download BlazeDVD Free from its website .
Paid DVD and Blu-Ray players
In addition to the above alternatives, we can also find a large number of paid Blu-Ray players. We often say that free applications can easily replace paid programs. However, in this case we must admit that paid players tend to be more complete and offer better performance and quality than free ones.
This is because payment options often include commercial codecs by default. This allows users to have a seamless out-of-the-box experience in terms of quality and performance, even with the most complex codecs and in 4K. However, for this we have to pay the corresponding license of the program. License that is not usually exactly cheap.
CyberLink PowerDVD, the most complete paid DVD player
PowerDVD is one of the most popular paid media players. This usually comes installed as part of the bloatware in many computers and laptops that we buy, and with it we will be able to reproduce all kinds of files and drives.
This multimedia player is specially designed to allow us to play DVD and Blu-Ray on our Windows computer. It supports all types of audio and video formats (including DTS-HD and 4K and 8K video) without the need to configure, buy or pay more and also plays all types of content with improved quality.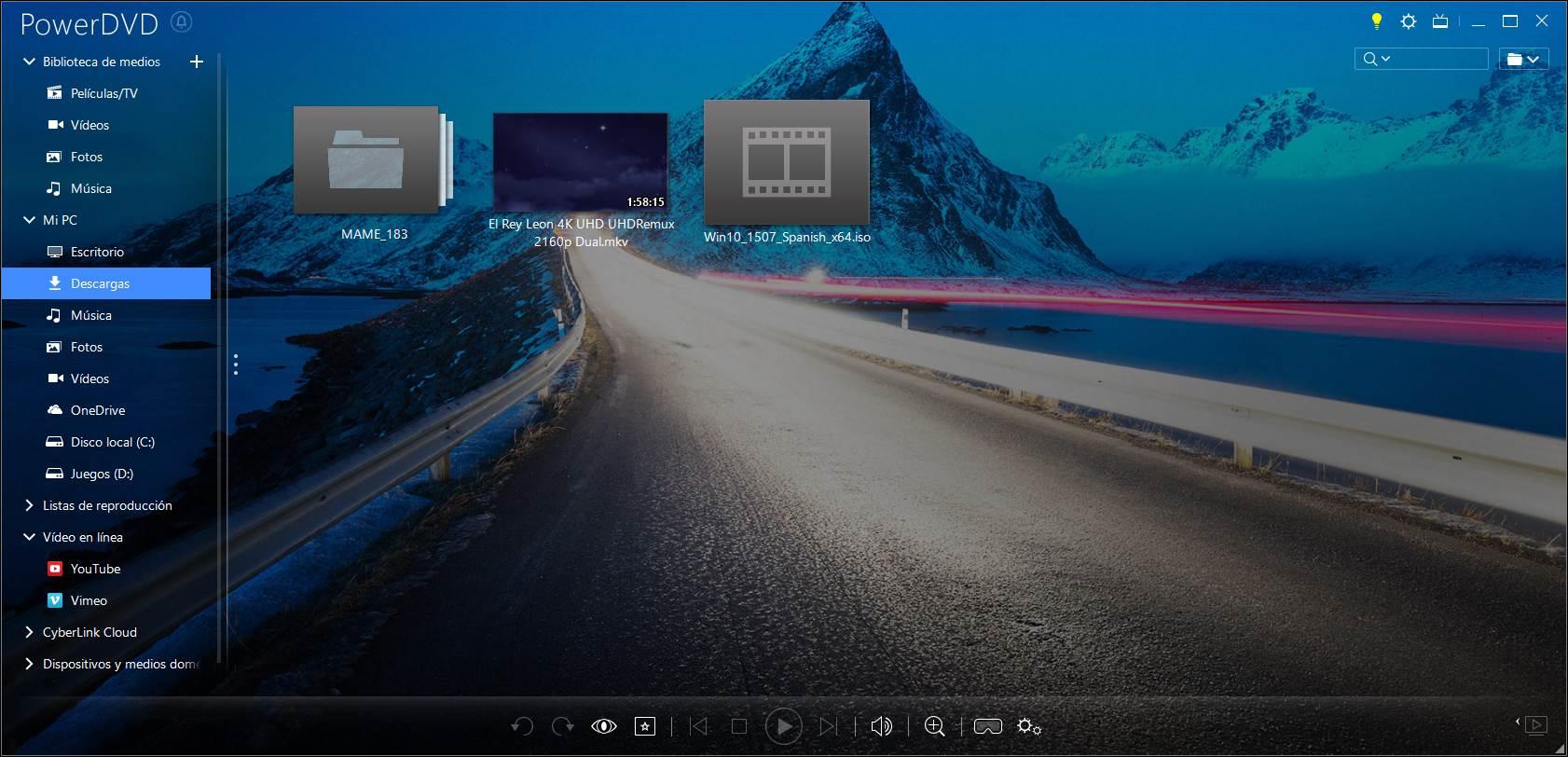 We can buy CyberLink PowerDVD from the link below . The most complete version (Ultra) of the program is priced at $ 69.99. And we will also have the "Standard" and "Pro" options, cheaper.
Corel WinDVD Pro, an alternative for those looking for something simpler
WinDVD Pro is another of the most popular paid multimedia players for Windows 10. Thanks to it we will be able to see our original Blu-Rays are the best possible quality. This media player supports resolutions up to 4K, and the latest audio formats, without the need to install or configure anything else.
Among its main features we can find smart functions to improve the quality of SD reproductions, correct color and light and optimize 3D modes. It also allows us to automatically convert any 2D movie into a 3D one.
It has a very easy-to-use interface, has playlists and favorites, and is fully compatible with all Dolby and DTS formats.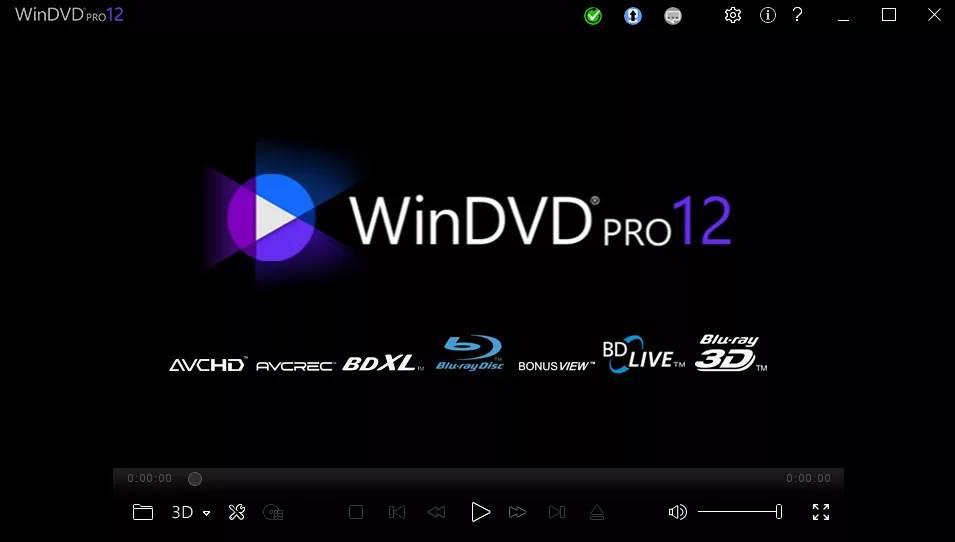 We can  buy Corel WinDVD Pro from the following link . The price of the latest full version is 48.99 euros.
DVDFab Player, for those who do not want complications
This media player is similar to the previous ones. Being a paid software, it seeks to offer the best out-of-the-box experience for all users. It is compatible with all audio and video formats on the market and also has the latest technology. It allows us to play DVDs and Blu-Rays at the highest quality, is compatible with Ultra HD Blu-Rays and is even compatible with the HDR10 image format.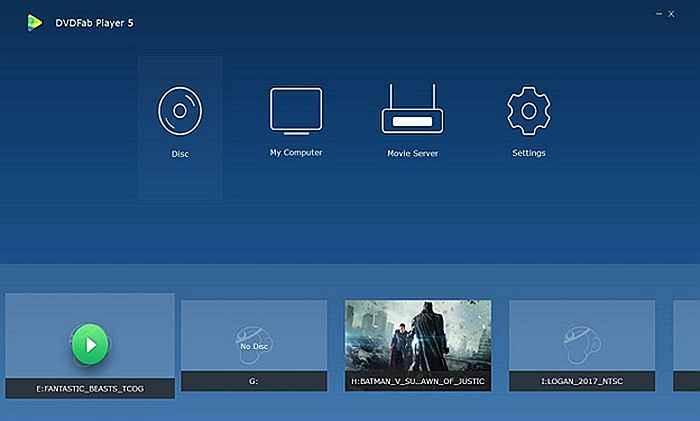 We can buy DVDFab Player from the following link . The price of this player is $ 99 in its most complete version. Although we can also buy the Standard version for $ 59.
Aiseesoft Blu-ray Player, versatility at a great price
The Aiseesoft player is not as well known as the previous ones, but it is an excellent alternative that we must take into account. This multimedia player allows us to play any type of commercial DVD or Blu-Ray from any region. It supports the latest picture and sound technologies (including DTS 7.1 and 4K HDR) and requires no additional codecs or settings.
We can buy Aiseesoft Blu-ray Player from the following link . The price of this media player (lifetime license for 1 PC) is $ 31.50. Quite cheaper than the previous options considering the large number of possibilities it offers.
We can also find cheaper one-year licenses, or lifetime licenses for several PCs.