multimedia
The best extensions to get the most out of the aimp player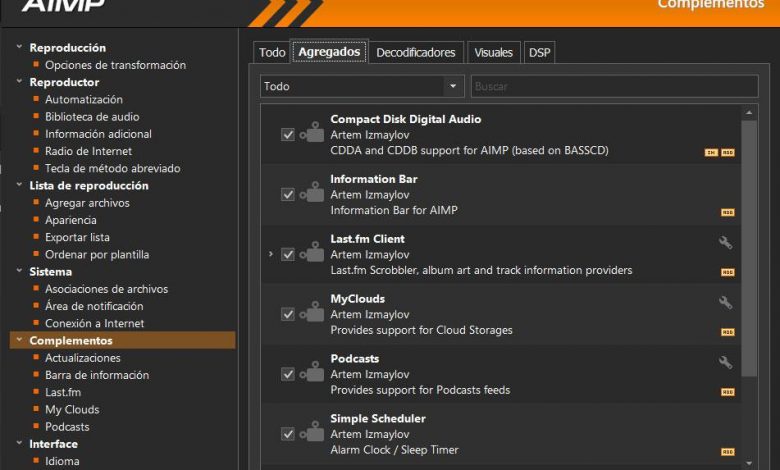 When it comes to playing multimedia content, there are several options that we can use, so choosing the best software is basic. Among the most popular options we can find VLC, Kodi, or the one that we are going to show you now, AIMP Player.
In fact, the latter, at the same time as the other two options discussed, is one of the players with the most installations and users in the world. That is why its use has been extended to a great extent thanks to all the functions it offers us. It is true that in this case its use is focused on the reproduction of music content, not on videos as it happens with Kodi or VLC.
Advantages of using AIMP over other multimedia players
It must be taken into account that at the moment the use of multimedia content such as video, audio or photo files is constantly growing. For all this, how could it be otherwise, we have at our disposal a good number of solutions in the form of software . Among the most popular we find the aforementioned Kodi or VLC. However, despite the widespread use of these programs, over the years AIMP maintains many faithful and followers.
Well, the main reason for all this is clear, and is that this program is aimed especially at music lovers. While other players are considered more multipurpose, AIMP wants to focus on audio files, and therefore music. That is why we find special accessories, a design more adapted to it, extended compatibility for audio, etc.
It is evident that for all this, its developers offer us everything necessary for this to work. Thus, the program presents us with a good number of functions so that we can get the most out of it, in addition to being compatible with most of the current formats . It also has a modular design that allows users to get the most out of their musical content .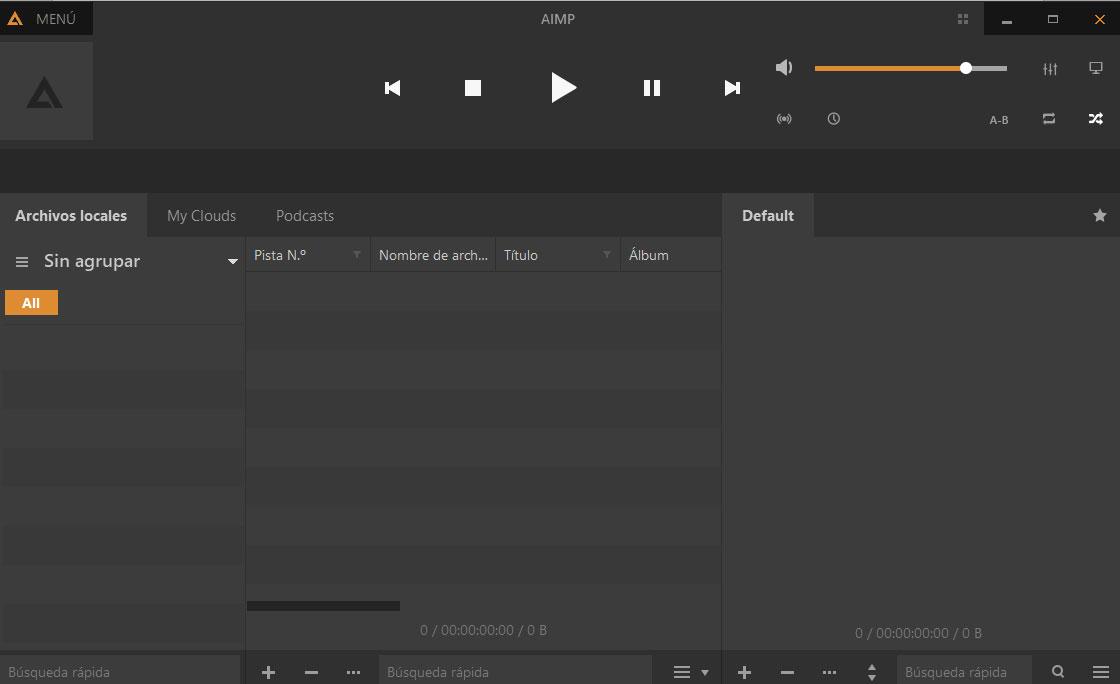 It is for all this that, over time, this proposal has been gaining followers substantially, all also thanks to the updates it has received. And we are not talking about a new proposal, but it is an application that has been around for a good number of years. In this way, its developers have not stopped gaining experience in this field in order to make use of it in the most recent versions of the program.
Get the most out of the AIMP Player media player
At the same time, we must also bear in mind that the program we are talking about is characterized by its customization and adaptation possibilities . This will allow the app to adapt as much as possible to the demands of the users, whatever its mode of use. At the same time, in the event that we see that the program has some shortcomings, we can always make use of the so-called extensions that this application supports.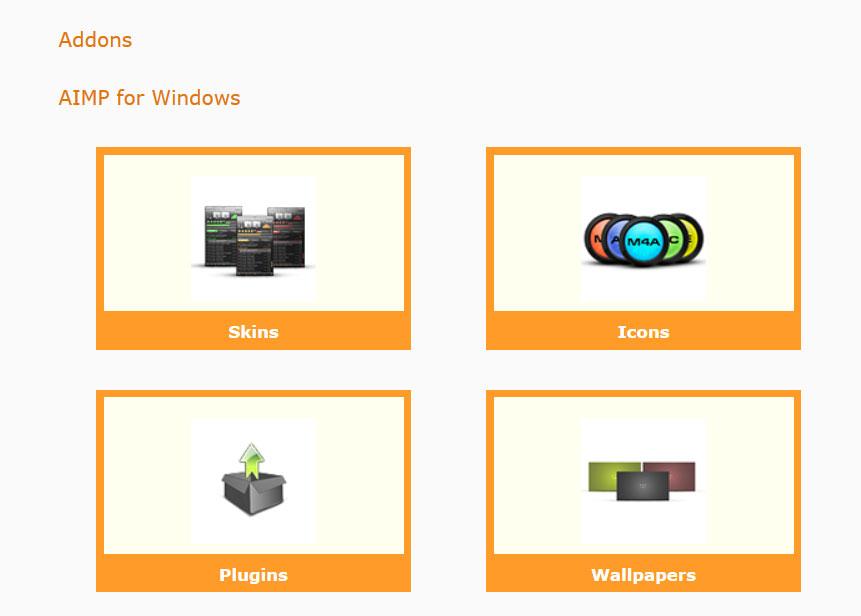 As soon as you download the application from this link, which corresponds to its official website, we will see that we have two alternatives. On the one hand, we have a portable installation of the application, or a conventional installation in the operating system . In the event that we already know it and are going to use it regularly, we recommend using the second option. Therefore, if what we later want is to expand the functionality of the program as such, we are going to show you how to install the aforementioned extensions supported here.
For this, the process is quite simple, although these can be downloaded independently, for which we have to use the browser again . Therefore, also from the official website, we will have the possibility of installing these add-ons that we are talking about. As we can see, these come in the form of new skins for AIMP, icons for the same program, or plugins that will increase its functionality. Thus, thanks to all these elements that we mention, we immediately realize how open the program we are talking about in these lines is.
How to install and access the extensions that we can use in AIMP
It is worth mentioning that when we download any of them, what we download is a compressed file in ZIP format with several files in the form of .dll libraries . Once we have downloaded the aforementioned file, so that it can be integrated into the program, what we have to do is unzip the file in the disk path where the program is usually installed, which is "C: Program Files (x86 ) AIMPPlugins ". Once we have copied these files, we reopen the player so that the changes are implemented, and the extensions are integrated into it.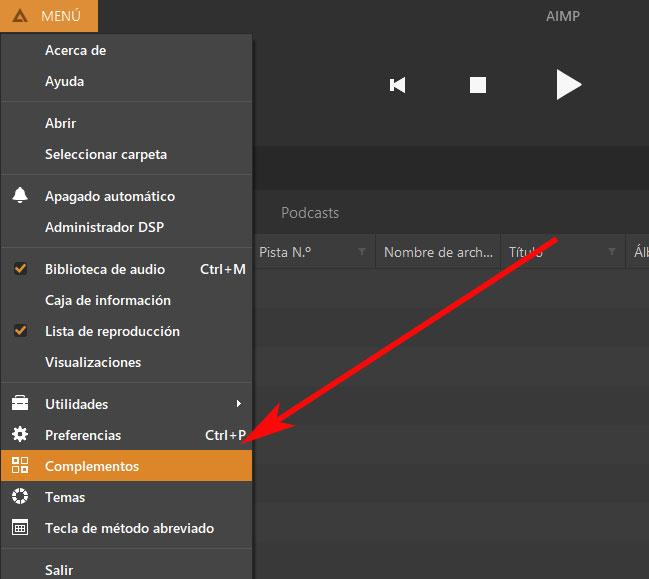 With everything and with this, it is also important to know that the software itself already integrates a few additional plugins that we can download or not, all depending on the needs we have. To access these we will have to click on the program menu button that is located in the upper right corner of the main interface .
In the list that appears we will have to opt for the option called "Add-ons" to open their new window. Here we can see the list of extensions that are currently working in the player. In the right panel we will see a series of tabs that refer to all extensions, decoders, visual add-ons, etc.
Next to each of them we will see a signal that we can mark or unmark so that that specific extension is downloaded. Once we have selected the ones that interest us, we click on the "Download" button that is located at the bottom of the interface. Keep in mind that if we want to have access to even more of these elements, just click on "Get more add-ons", which will take us to the previously specified website. As for example happens with popular Internet browsers with their extensions, these add-ons open up a wide range of possibilities.
And it is necessary to bear in mind that thanks to them we have the possibility, directly and without risks, of increasing the capabilities of the program. This is also comparable to what we can also carry out on Kodi with its add-ons.
Some of the best extensions that we can use in this software
It is worth mentioning, something that we must bear in mind, that next to some of these extensions of the program, specifically on the right, there is an icon in the shape of a wrench. This will help us to access the customizable options of this add-on . For example, this will not serve to set various parameters of the same, or to authenticate us in case that action is necessary. In fact, it is more than advisable to take a look at them if we have the possibility. This is because they will be very useful in some cases when it comes to adapting the program even more to our needs.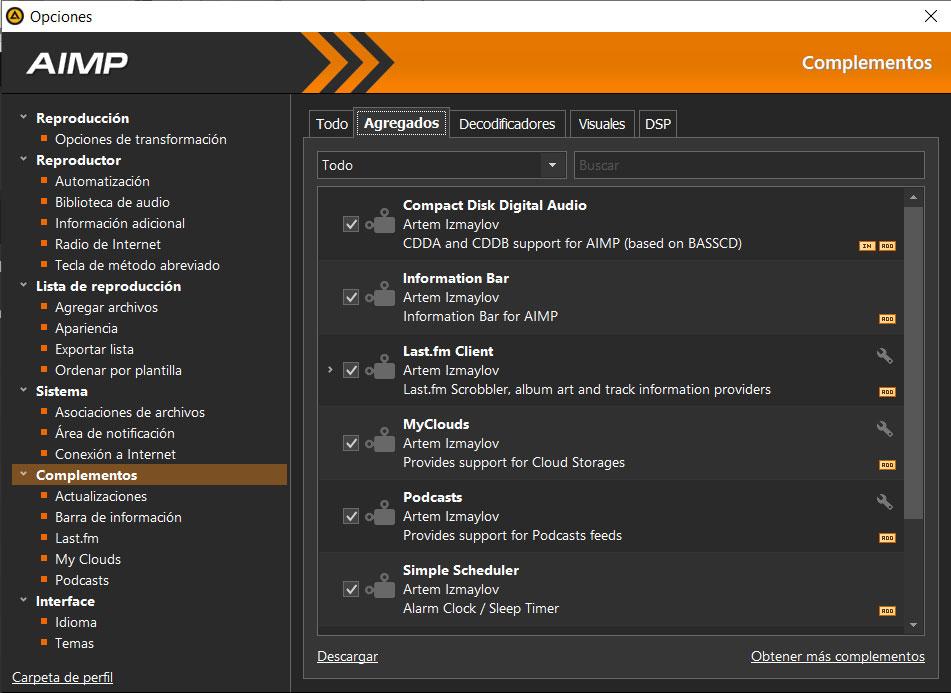 Once we know how to cope without problems, these are the extensions that we are talking about, let's see some of the most useful that we can use right now. It is worth mentioning that these of which we speak here, are integrated into the application itself, so its integration is extremely simple. Also here we find online music platforms, a multitude of decoders and other very useful utilities for AIMP.
Last.FM: as its name suggests, this plugin refers to the popular online music service, so we will have access to it from here.
Podcast: this is a complement that will be of great help to us to be able to access our podcast services directly from AIMP .
Windows 10 Media Control: this is a plug-in that helps us integrate the program we are talking about with the multimedia control of Windows 10 . In this way, what we will achieve is to be able to handle the reproduction of multimedia files in a much more comfortable way.
AIMP YouTube-DL v1.0.1: as you can imagine, this plugin will allow us to play the audio from well-known websites such as Youtube, Soundcloud, MixCloud, etc.
YouTube plugin: yes, in case we want to focus on Google's streaming website, we recommend installing this other alternative, since it is more complete.
AIMP DLNA v2.4.0.0: in this case we are talking about a plugin for DLNA that we integrate in AIMP Player. This will allow us to play multimedia content on other DLNA-enabled devices on our home network .
Spectralyzer: this addition provides us with the ability to create the musical spectrum of the track we are playing, everything from the current playlist or from an individual file.
AIMP WebLyrics: as its name indicates, this extension will give us the opportunity to search and download the lyrics of the songs added automatically from the Internet.
SoundCloud: as you can imagine, this is what it is going to give us is direct access to the online music service, SoundCloud .
Apple lowless Audio Codec: add libraries of the signature of the bitten apple so that we do not have problems with the audio files of it.
Compact Disk Digital Audio: integrates CDDA and CDDB support into the multimedia player we have talked about.
Dolby Digital AC3: Adds support for this particular audio standard to the program to listen to music in the best possible way.
Information Bar: adds a new bar to the program that provides us with additional information about the content we are currently playing.
SkipTrack: and to finish we show you a plugin that offers the possibility of playing songs randomly from the currently loaded playlist .