multimedia
Set up and rip your dvs, music cds or blu-ray discs in vlc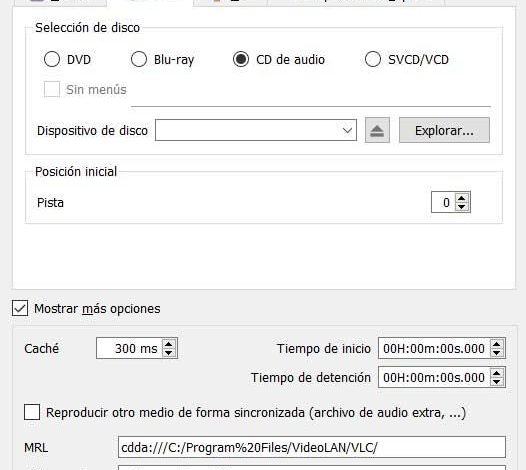 When it comes to multimedia content, they are a type of file that is increasingly on the agenda in these times. In this sector we refer specifically to sections such as video, audio, photos, etc. In addition, for this we have a growing number of programs and platforms, such as the one that we are going to talk about here, VLC.
It is true that the availability of software solutions that we can use right now in multimedia environments are many. But most opt ​​for the aforementioned VLC, either for one type of use or another. And we must bear in mind that in this specific case we are referring to a program known and used by most users. In fact this, as it happens with Chrome or Word, we find it in most of the installed computers.
There are several reasons for all this, from its wide availability in operating systems and devices, to because it allows practically any multimedia content to be played. Similarly, although some are unaware of it, the player has some other interesting added functions.
Advantages of using VLC on your computer
As many of you may already know first-hand, this is a program that has gained a lot of popularity over the years. This extends to a large part of the globe and at the same time has earned the trust of millions of users. To give us an idea, say that we refer in this specific case to a powerful multimedia player with support for almost all current audio and video files. At the same time it is being updated so that this compatibility increases.
To all the aforementioned we can add the fact that it also has enormous stability and reliability in its operation. In this way or we will have to endure the cuts in the reproduction or the unexpected closures that we see in other alternatives of this type. With the work of its developers, VLC has managed to unseat many other proposals of the same type over the years. In fact, in these moments it could be considered as the sector leader at a global level.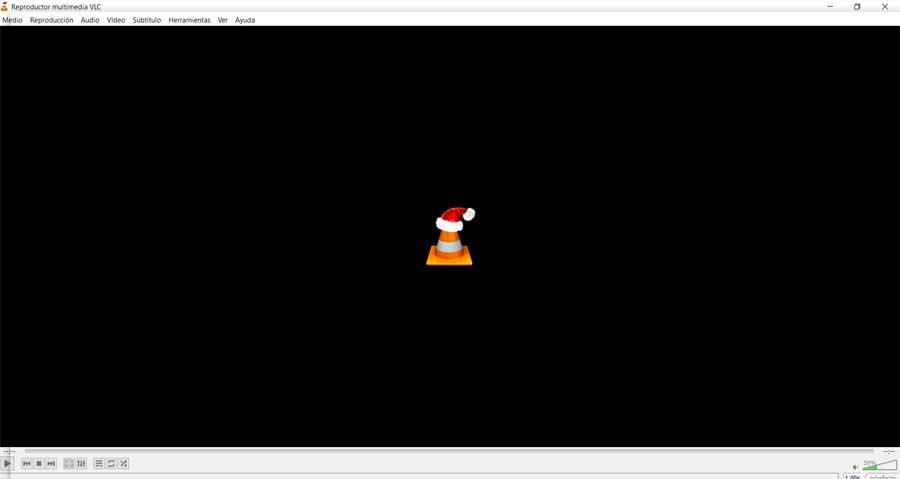 And that is not all to what it owes its popularity, and that in addition to all this we must add the enormous amount of functional possibilities that it offers us. All of this is found distributed among its menus and configuration parameters . Thus, it allows the reproduction of both local and streaming content or the integration of subtitles in addition to applying a multitude of effects. However, along these same lines, we are going to focus on one of those characteristics that is somewhat more specific.
How to access the function of ripping optical discs in VLC
Specifically, here we refer to the possibility that VLC offers us to rip our video DVDs, Blu-ray or music CDs. This is something that we can carry out extremely easily without the need to use any other more specific program for it. In addition, all this will help us to have a digital backup of our movies on DVD, Blu-ray or music CDs.
But of course, in order to be able to benefit from this that we are commenting on, the first thing will be to have the program as such. We can download it from this link and get the most up-to-date version of the program. Then, if we don't have it yet, just install VLC on our computer and run it in a conventional way.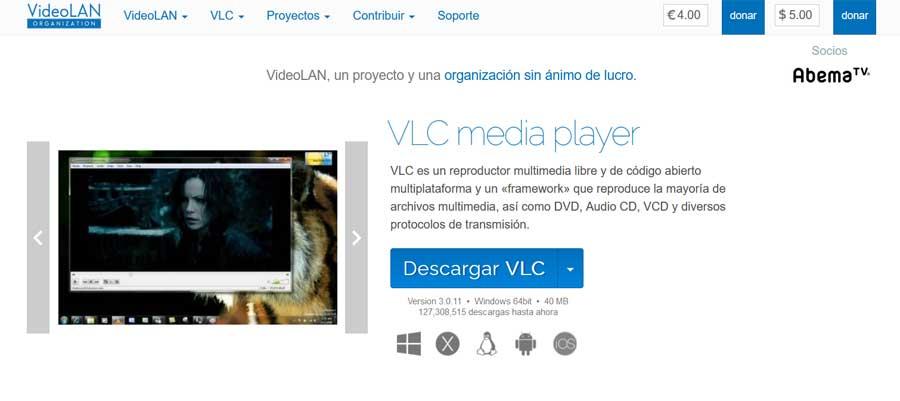 As you know, for something as simple as the reproduction of a video or a musical theme, for example, we only have to drag the file to the interface. However, the task that interests us in this particular case is found in the menu called Medium, where we are located.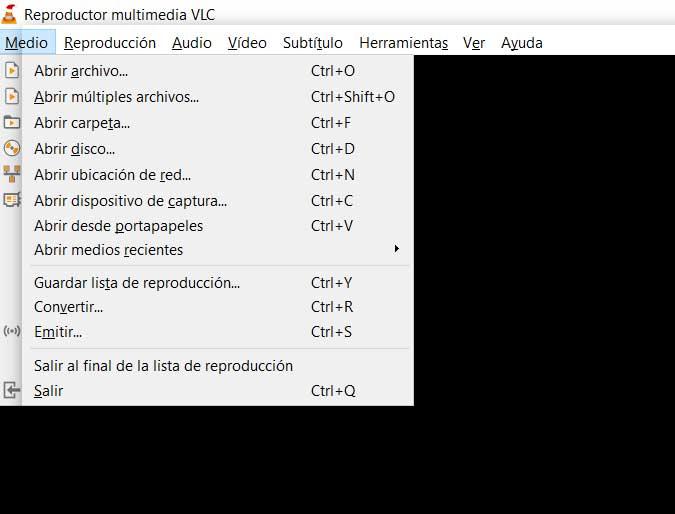 In it, we observe a series of options that refer to the way in which we can open and treat all types of files from here. The option that interests us in this case we are talking about is Open disc.
Rip DVD, CD and BluRay content with VLC
As we have commented, with VLC we have the possibility of being able to extract the content of optical discs such as DVD, Blu-ray and audio CD. In this way we can enjoy its content on our computer and play it on other devices. The process to perform this function is extremely simple and we will just need to use a few simple steps.
Rip a video DVD
With this movement a new window opens that places us directly in the tab of the same name, Disk. Well, in it we find a series of options that are the types of content that we can make backup copies of or rip. Therefore, in this first case that concerns us, we will have to opt for the DVD option, which we mark.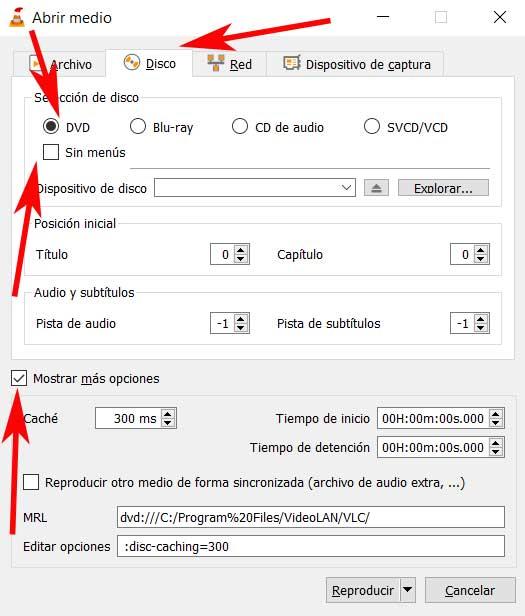 Here we are going to find a series of configurable options, once we have selected the content as such in Disk Device. Of course, we recommend activating the Show more options box at the top of the window. This will allow us to have more control over the task that we have to carry out from VLC. Therefore, as we can see first-hand, the program allows us to specify whether or not we want to add the DVD menus .
On the other hand, we must also take into consideration that we can specify both the initial position of the digital copy and the chapters to deal with. The same happens with the audio tracks and the subtitle channels that we want to integrate in the ripping as such. Of course, by clicking on Show more options, as we mentioned before, we will be able to control the process much more. Thus, we will have the opportunity to specify up to the second, both the start and end time of the video project .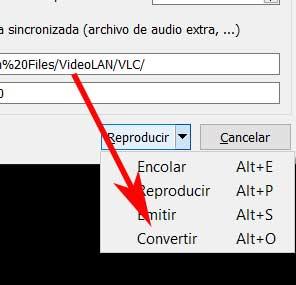 Once we have all this according to our needs, instead of clicking on the Play button in the lower right corner, we display the list with the arrow. Therefore, in it, we opted for the Convert option that appears on the screen. This brings us to a new configuration window . From there we can configure other parameters to end this process. Thus, we will have the possibility of assigning a name to the new file that we are going to create with the digital copy of the ripping.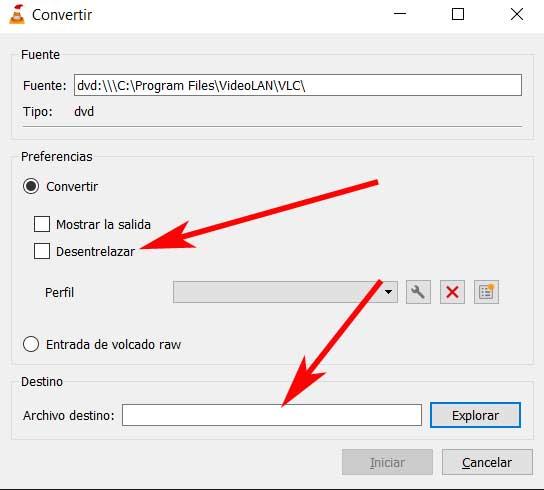 On the other hand, we have the option of being able to see the content playback in real time while ripping, or activate the Deinterlace mode . Say that this will be useful if the video itself is going to be played on a PC and not on a television. Once we finish with all this that we tell you, we can click on the Start button to start the video ripping.
How to rip a Blu-ray
On the assumption that what we need is to rip a Blu-ray from this same program, the process is very similar to the one already described. Thus, for this we go to the same menu option of the main VLC interface. That is, we click on Media / Open disc, however in the window that appears, in this case we opted to mark the Blu-ray option.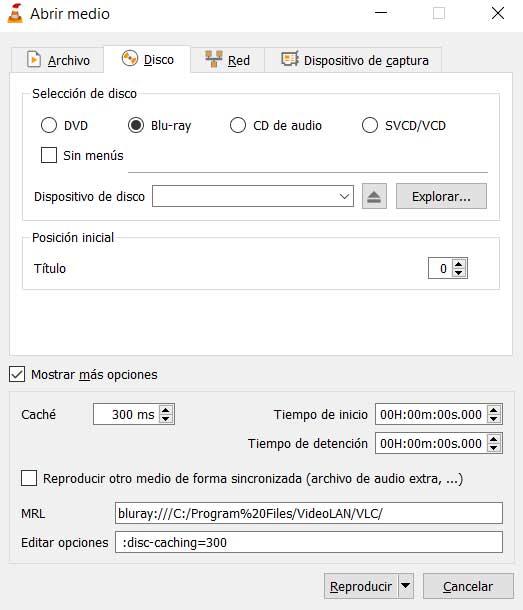 Here the configuration options are very similar, although more reduced. We say this because in this case we can only specify if we want to integrate the menus, or not, in the copy. We can also specify the exact starting and ending position of the process. From there, everything is the same as described in the case of DVDs.
Rip a music CD
And if we want to focus on music, that is, ripping a CD of our favorite band, here we also follow the same steps already described before. Therefore we go to the menu Media / Open disk of the main VLC interface. But of course, here we opted for the option that is indicated as Audio CD . Once we have loaded the original content, here we can choose the specific tracks of which we want a digital backup.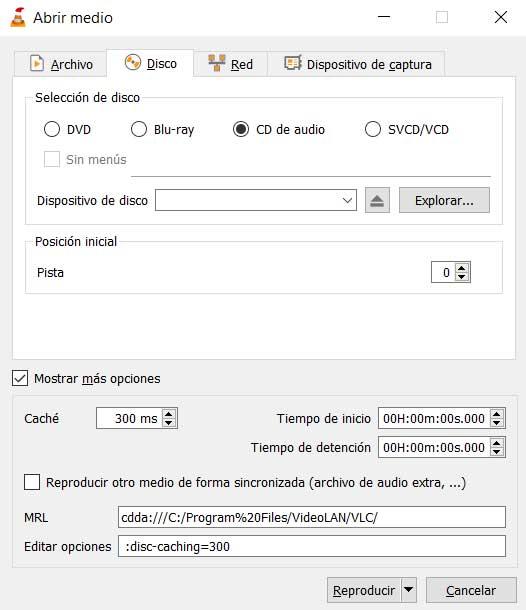 To finish we click again on the Convert option in the lower drop-down list, where we can indicate to VLC the output file that we are going to generate.
Other alternatives to VLC to rip DVD
In the event that VLC does not convince us to rip our discs, we can choose other types of applications specially developed for this mission and that can serve as alternatives to the popular multimedia player.
VidCoder
This program to rip DVDs, with which it is possible to convert them into MKV and MP4 formats, so that they can be played on all types of devices. It will also allow us to choose the size and quality of the image that we are going to extract. The higher the quality, the higher the space it will occupy later. In addition, we can include subtitles or extract only the audio directly from the video. The application is completely free, simple and intuitive interface. We can download by clicking on this link .
Handbrake
We are facing a very popular open source and free application with which we will be able to copy DVDs and Blu-rays to later convert them into videos that we can play both on the computer and on other compatible devices. This software also allows us to add subtitles and change the quality of the extracted file, as well as choose its format as MP4, H2.65 and H264. We can download Handbrake from here .