multimedia
Record your screen and edit video with the camtasia all-in-one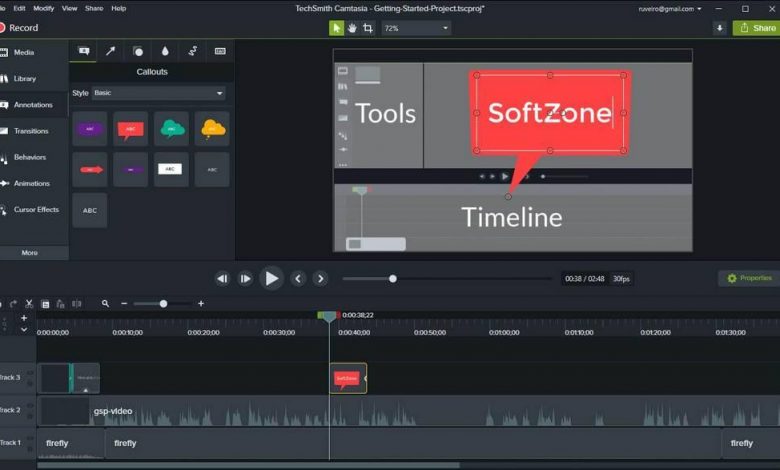 Windows, like all operating systems, allow us to easily take screenshots of what happens on our desktop or in any program. These screenshots can be useful on a number of occasions, as they are quick to make and very simple to implement. However, there are times when one, two or ten captures can fall short. And it is when we must turn to video recording, where Camtasia is one of the most complete solutions and one of the most veteran programs.
Camtasia is a program designed to allow us to record everything that happens on our computer screen and edit the video directly from it without having to resort to other programs.
This program is ideal for all types of recordings, although its specialty (due to the recording and editing functions it includes) are:
Create video tutorials.
Record business meetings.
Teach all kinds of video lessons.
Explain and comment on other videos.
Record and edit videos for YouTube and other social networks.
Record personal and presentation videos.
Do product demonstrations.
Camtasia main features
Camtasia is not a program packed with features and tools, it is focused on a very specific purpose and is kept both simple and light, so that anyone can learn to use it in a few seconds.
Camtasia allows us to  record the audio and video of our desktop, in addition to being able to use the webcam to give our recordings a personal touch. It allows you to personalize videos with music (both your own and from your royalty-free library) and add transitions when there are cuts in the videos.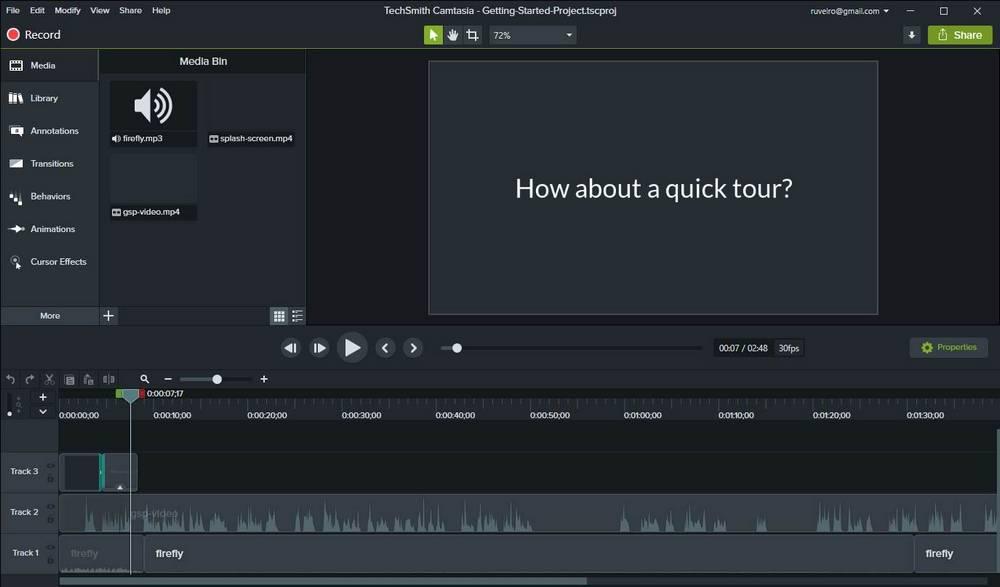 It also has a good number of  editing tools that allow us to easily add effects, zoom to certain parts of the screen and animate certain elements. It also allows you to add text boxes, annotations, and text bubbles.
Another very interesting feature of Camtasia is that it allows you to easily convert PowerPoint presentations into videos . We can import a presentation already created to go into editing mode, or record the screen while we play the presentation.
Share your knowledge in 3 steps
While other video editing and recording programs can be very complicated, especially for those without knowledge, Camtasia allows you to record, edit and share our videos in 3 easy steps.
The first of the steps is the recording. Using the program we can choose the video sources that we want to record and start the screen recording. In this way we can easily explain how to do something in Windows, record a web page, an operating system error, a video conference or a PowerPoint presentation.
Allows you to record the entire screen, or just a part of it.

Once we have the video already recorded, the next step is to edit it. Camtasia has a simple video editor that allows us to give a personal and much more practical touch to the recording. Let's not expect to find effects and a timeline like in Adobe Premiere. The Camtasia video editor is mainly focused on adding text, transitions, arrows and other visual effects that help us improve the final appearance of the video.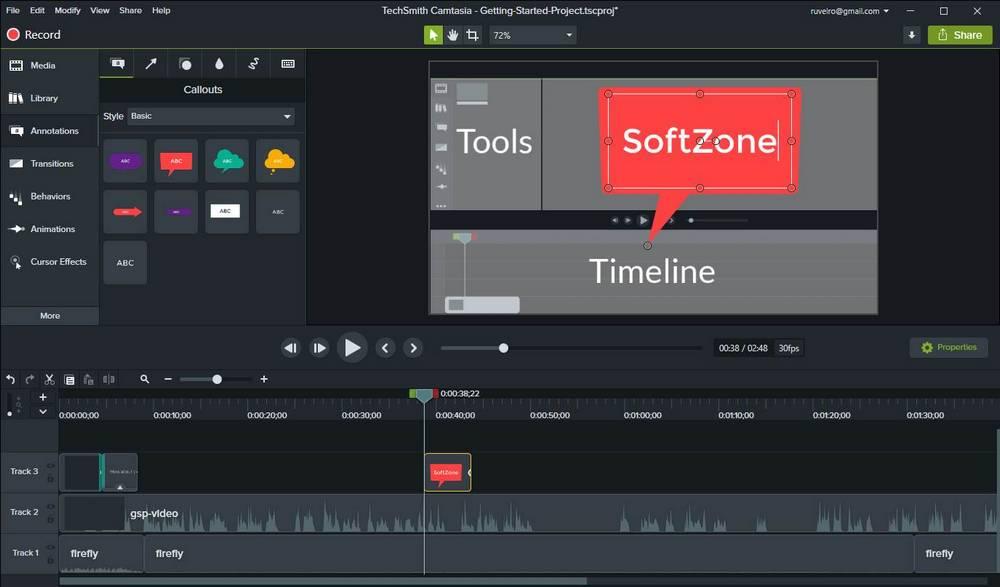 With our video already edited, the only thing left to do is export it. We can save the video on our computer, or upload it directly to some social networks such as YouTube, Vimeo or Screencast, among others.
How to download Camtasia
Camtasia is software that is available for Windows and for macOS. We can access its website to download it from the following link .
We can download a free 30-day trial version of this program, but if we really want to use the program in the long term we will have to pay for the license. This license has a cost of 269.05 euros, one-time payment. And it will only give us access to a specific version. When new versions come out, we can update the license to them by paying less (107 euros).
A license can be used without problems on two machines at the same time, regardless of whether they are Windows or macOS.
Alternatives to Camtasia
If we are looking for a program that allows us to record everything that happens on the PC screen with editing options, we propose some alternatives to Camtasia to take into account:
Wondershare Filmora
We are facing a program with which we can record the screen of everything that happens on our PC along with editing functions. It stands out for offering free updates for life, as well as many templates, resources and even an editing suite. We will have tools such as rotating, merging, cutting and dividing any video clip, as well as adding text, filters, effects and transitions. We can download Filmona for free from this link .
Icecream Screen Recorder
With this software we can record any part of our screen or save a capture of it as an image. It has tools for recording audio and video of applications and games, as well as for making live broadcasts. It also has an editor to be able to work with our recordings by making cuts. In addition, it allows you to hide desktop icons or the mouse pointer, as well as convert the format of the videos once recorded. This program has a free version that we can download from here.
ChrisPC Screen Recorder
This program allows us to record everything that happens on the screen of our PC. In addition to recording and capturing, it will also be possible to save video sequences. We will have recording both in full screen, through application windows or by selecting an area. There is also no lack of editing options to cut parts of the recorded clip, with the possibility of optimizing the quality of the video, the selection of the frames and the audio codecs. It has a free version that we can download from its official website .