multimedia
Record audio and improve the quality of your sound with avs audio editor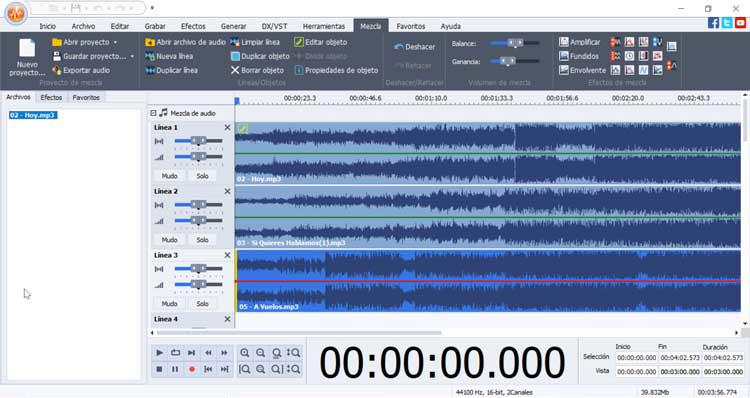 There are several occasions in which we may be faced with the need to want to edit audio from our computer with Windows. Whether it is to create our own music or record a podcast, the truth is that we may find ourselves in need of some type of audio editing software. If we don't want to pay for a professional program or because our knowledge is limited, we can opt for a tool like AVS Audio Editor, which we are going to talk about today.
Audio editors allow us to perform the most basic functions when creating or editing audio files, such as mixing, adding effects or removing parts of a file. They also allow us to record our voice and save the track in different formats. For this we can take the following program designed by AVS.
AVS Audio Editor, everything you need to edit audio
AVS Audio Editor is a program that will allow us to create and modify audio files in different formats, among which are some of the most popular such as MP3, FLAC, WAV, M4A, WMA, AAC, MP2, AMR, OGG, among others. . We can create a file by recording our own voice from an external source to the PC or music, using a microphone, vinyl records or other input lines to the sound card. Or, we can open a file to edit it. In this way we can cut, join, mix, delete parts, divide several files and add all kinds of filters and special effects with total freedom.
The program allows us to choose between its 20 integrated effects and filters, including delay, flanger, chorus, reverb, reverse and echo, among others. Thanks to these filters we can make our music sound like an old cassette tape or like an imposing theater, to give a few examples.
Audio Editor will also help us to improve the sound quality of our tracks, since it allows us to eliminate noises and sounds that can be annoying such as hiss, crackles, etc. It also allows us to change the sound transfer speed to the level we want, as well as use an equalizer to adjust the volume to our liking. In addition, we can use it to convert text to written to speech in a natural way with voice synthesis functions or to create tones for mobile phones.
Interface and functions for all types of users
Once we execute the program, its main menu appears with an intuitive interface to use, but with an appearance worthy of any professional program. In it we can load our audio files both using the drag and drop method and loading them directly from the "File"> "Open" section, being able to add as many files as we want.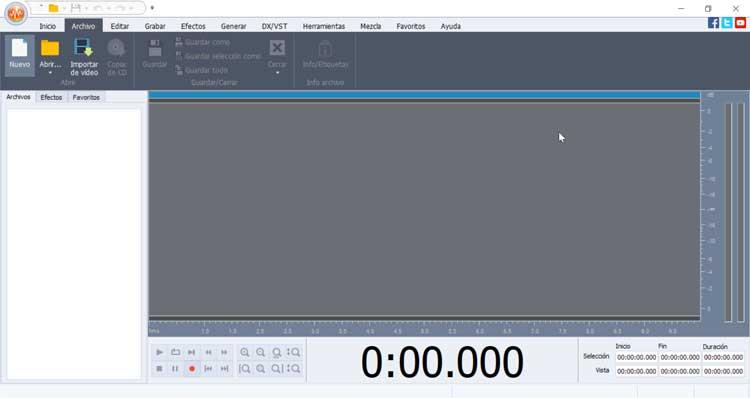 We can also import video tracks and capture audio from a CD, as well as toggle between waveform, spectral and surround display modes. If what we want is to create a new file, we must click on «New» and establish some initial parameters such as the sampling frequency, sample size, channels and we will give our file a name.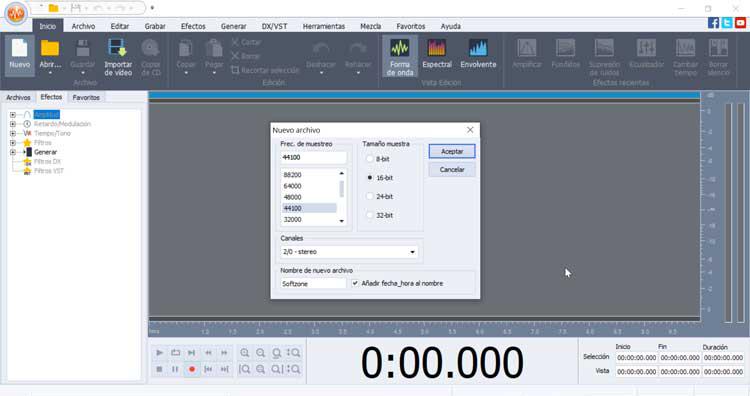 If we add an audio file to edit we can click on the "Effects" tab located in the left column. Here we can add «Amplitude» effects (Amplify, Invert, Envelope, Normalize, etc), «Delay and Modulation» effects (Echo, Alter voice, Chorus, etc), «Time and Tone» effects (Change time, Change pitch, Change speed, etc). We can also add "Filters" (Equalizer, Parametric Filters, FFT Filter, etc) and "Generate" (Silence, Noise, Signal, etc).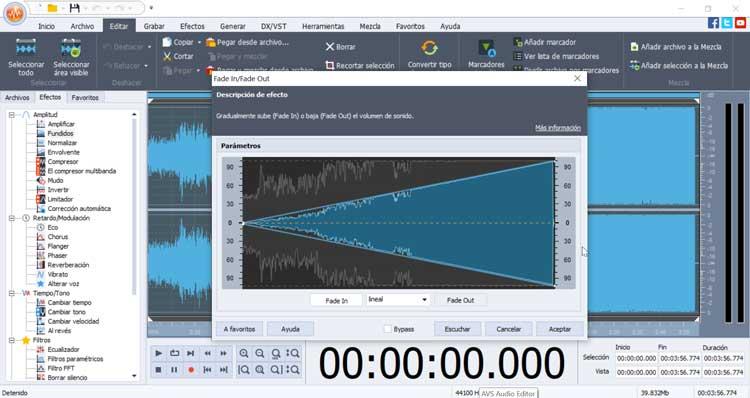 At the top we also find a toolbar with direct access to all the functions that we can find in this program. From the "Record" tab, we can record our music or voice from a microphone or other input source. The "Mix" tab will allow us to add up to three sound files and make different mixes between them, modifying the Balance and Gain, as well as adding effects to the mixes.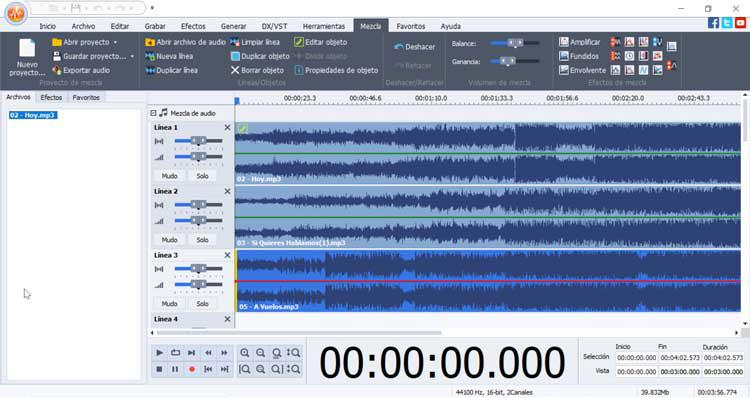 Conclusions
When looking for an audio editor, we can find many alternatives on the market, but AVS Audio Editor is one of those that is aimed at both inexperienced and advanced users. The program invites us to become fond of audio editing and spend an entertaining time experimenting with our files, since it has a wide variety of functions, editions, filters that, as soon as we delve a little into each other, we can achieve surprising results.
Download AVS Audio Editor
AVS Audio Editor is an audio editing program for computers with Windows operating system , compatible with its versions of XP, Vista, 7, 8, 8.1 and 10. It has a free version that we can download from its website . This version is fully functional, but has some limitations, as it adds a voice logo to the audio output files. In order to remove it, it will be necessary to purchase an AVS4YOU subscription and activate the software with the license key. This subscription gives access to 5 AVS4YOU programs for 39.90 euros a year , or purchase the limited license at a cost of 49.90 euros .
Minimum system requirements
Processor: Intel / AMD compatible 1.86 GHz or higher (Intel Core i4 series or AMD equivalent recommended).
RAM: 1 GB or higher (2 GB or higher recommended).
Sound: Windows compatible sound card.
CD burner: to import from CD.
DirectX: Microsoft DirectX 9.0 or later.
Alternatives to AVS Audio Editor
If we are looking for a program with which to create and edit our audios, we propose a couple of alternatives to AVS Audio Editor to consider:
Audacity
It is one of the most complete and advanced audio editing programs, and also free. It includes a host of professional-level recording and editing options. We can edit all kinds of audios, being able to join songs, add effects, import and export files. In addition, it is cross-platform, so it can be used on Windows, macOS and Linux. To use it, just download it from its official website .
Ocenaudio
If we need a free and easy-to-use audio editor, Ocenaudio is a great option to consider, since it is suitable for all types of users, having functions from the most basic to the most advanced. It allows working with two or more audios at the same time and the ability to record with a microphone. In addition, it offers all kinds of tools and filters, as well as a powerful equalizer. We can download Ocenaudio from this link .