multimedia
Quickly convert your photos before sharing them on the internet

In these times, most of us already have a series of computers that are of enormous help to us with all kinds of tasks. In addition, the most common operating system such as Windows itself, helps us greatly with all of this. Here we mean that we can already work with videos, audio or images in a simple way through programs such as Image Converter Plus .
And we must bear in mind that now we have the possibility of getting the most out of our teams both at work and at home. In addition, the applications that we install, although powerful and advanced, in many cases try to make things easier for us. With this, what we want to tell you is that despite the many functions that they present to us, the developers of these programs make them available to almost everyone. Thus, although we are somewhat inexperienced, we will have the possibility to edit photos and videos, convert all kinds of multimedia content, etc.
Well, once we are aware of all this that we are commenting on, say that in these lines we are going to focus on the images. The truth is that this type of files in particular is today one of the most used, both locally and on the Internet.
What advantages does the Image Converter Plus program offer us?
Here we find files of all types and formats. In addition, the qualities and resolutions vary greatly from the photo as such. But of course, due to its widespread use, we use these files in all kinds of sectors. So we can store them for the future, share them with others, use them in professional projects, make assemblies, etc. Depending on the mode of use that we need, we can opt for one format or another. Sometimes we will prioritize quality over size, or vice versa.
Be that as it may or the type of use that we are going to give it, the best thing in these cases is to use an image converter . In fact, that is precisely the case that we will talk about next. Specifically, we refer to a powerful program that focuses on facilitating the conversion of photographic files.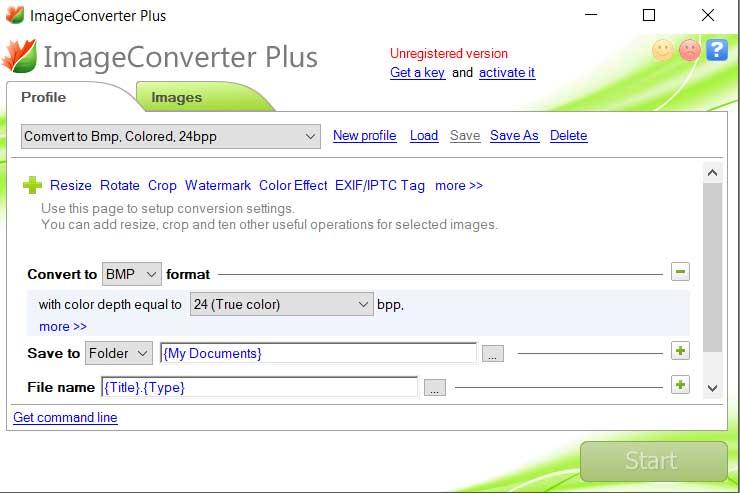 For this, it offers us a simple as well as intuitive user interface that will be very helpful. In this way, in the event that we have to work with a large number of images, with this program we can resize them to any other size, preserving the original format.
Conversion features offered by Image Converter Plus
This will be useful to us because we often save an image in an inappropriate format for later use. This is something that we can example happens with the BMP format that is uncompressed and therefore takes up a lot of space. Therefore, if necessary, it makes a lot of sense to convert the image to some other format with a more powerful compression and thus be able to share it on the Internet more quickly.
With these format conversions what we achieve is to substantially reduce the size of the original file on the hard drive. Thus, as soon as we install and open the program we are referring to, we see that its interface is divided into two tabs. On the one hand we find the so-called Profile, while on the other we find Images.
As you can imagine, the first one is where we are going to define the default output file that we want to use to convert the photos. So we have a complete drop-down list at the top of the window.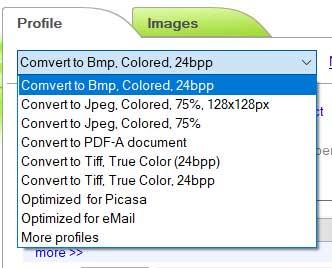 Here we are going to find some conversion modes predefined by the program itself. For example we see a 24bpp BMP format , TIFF True color, optimized for Picasa or to send by mail. But in case we want to be a bit more specific in the output format, a little further down we have the possibility to select the format in Convert to. Similarly, the program allows us to select the number of colors used by the outgoing file, which will give us greater control over the process .
In the same way, Image Converter Plus in this same tab allows us to adjust other interesting parameters such as the disk path in which to save the results . At the same time we can resize the photos to a specific size, add a watermark, apply effects, etc.

Supported formats in Image Converter Plus
How could it be otherwise, this is an application that presents us with a wide compatibility with photographic files . In fact, it is the least you can expect from an image converter. In addition to being able to work with the most common formats here, we have many more less known ones at our disposal. These are some of the most prominent:
ANI
ARW
BMP
CR2
DNG
EPS
GIF
IMG
Jpeg
MRW
PCX
PIC
RAW
Alternatives to the Image Converter Plus program
XnShell: this is a simple program that integrates into Windows Explorer and that allows us to perform various actions related to image processing. Among these we will have file conversion tasks, all for free. Thus, this is a proposal that we can test from this link .
Contenta Coverter: this is another similar proposal that is characterized by the huge number of photographic formats with which it is compatible. At the same time to say that it presents us with a pleasant user interface accessible to most users, even those with little experience in these topics. In order to download and install this other alternative that we are talking about, you can do it from this link .
Versions and how to download Image Converter Plus
Once we have told you the simple way with which we can convert images with this specific program, we will tell you that it has a free version and other paid versions . Therefore, to be able to test it first hand, you can do it from here .
Then we find two other versions, the so-called General and server that have a price of 49 and 199 dollars respectively. Comment that these are more directed towards a professional and more commercial use. They have free support and the second of them can work from the servers of a company.