multimedia
Play videos in 4k and wirelessly with cnx media player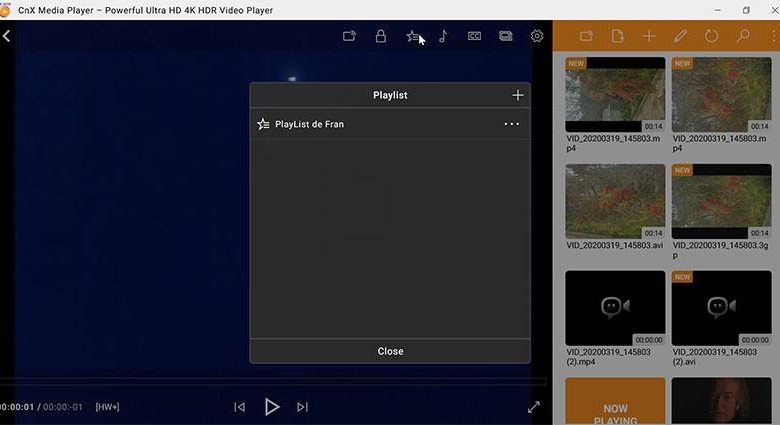 Our computer, in addition to being a fundamental tool for working, we can also use it to enjoy our favorite multimedia content, such as the reproduction of movies and series. If we have a 4K television, surely we may be interested in getting the most out of it, by playing 4K videos from our computer. For this we can use a tool like CnX Media Player, about which we are going to talk to you next.
CNX Media Player is a video player for Windows that has support for 4K resolution HDR 10 bits with the help decoding Intel – based hardware, is compatible with the codecs AV1, HEVC (H.265), H264 (AVC ) and VP9, ​​allowing completely smooth playback without skipping images.
This player is compatible with a wide variety of video formats, such as the popular MKV, TS, AVI, FLV, MP4, MOV, webm, among others. It should also be noted that it has algorithms designed to take care of the hardware of our computer while playing content in 4K, providing great visual quality, achieving great battery savings.
Among its features, we can mention the ability to create and manage playlists, adjust the video playback speed, as well as some settings such as saturation, contrast and brightness. Of course, it has support for subtitles in several languages, which can be added externally, as well as the possibility of switching between different audio tracks that are linked to the video.
This player is also compatible with devices such as Chromecast, Android TV and Apple AirPlay, so we can play our 4K content on the computer and send it wirelessly to our TV, without the need to duplicate the screen and without loss of image quality . In addition, it allows you to play the content in a mini player, in a multiple view mode or in a floating window format to increase our productivity.
Play videos in all formats with CnX Media Player
Once we run the program on our computer, its main menu does not appear from where we must add the folder where our video files are stored. Once the folder is added, its interface will appear with a column on the right where we find all the available videos. If we click on any of them, it will start playing.
Just above the column with the videos we find a toolbar with some functions that we can perform. For example, it has the «Connect to Casting Device» button, with which you can send the signal to an external device connected to your TV, such as a device with Android TV, a Google Chromecast, or Apple's AirPlay. It also has a button to insert subtitles both internally and externally. In addition to a "Settings" button from where you can define the size of the subtitles, their color and their position on the screen.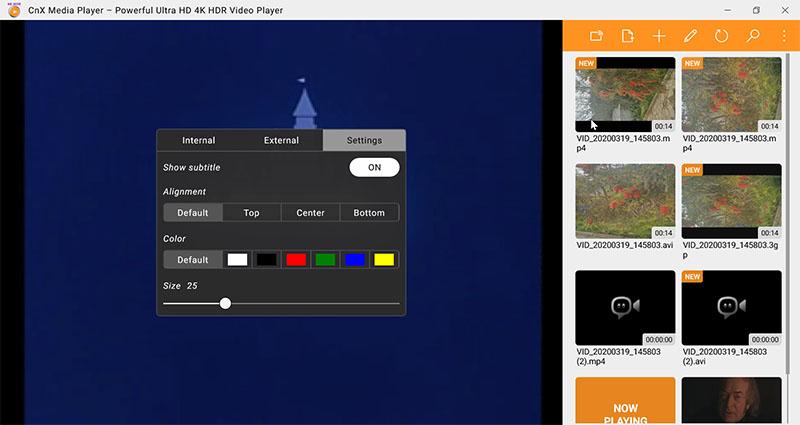 On the top bar we also find a gear-shaped button from where we can make some adjustments to the video . It has the "Loop" function in case we want to play one or more videos in a loop, the Resize button to adjust the screen size. From the «Playback Speed» function, we can control the playback speed, slow motion or fast motion (0.5x, 0.75x, 1x, 1.25x, 1.5x or 2x). From the «Video Decoder» section we can choose whether we want to opt for software or hardware decoding (recommended). If we use the «Audio Selection» option we can select any type of audio that the video has. In this way, if it is a film, we can choose to choose between the different languages ​​that it incorporates.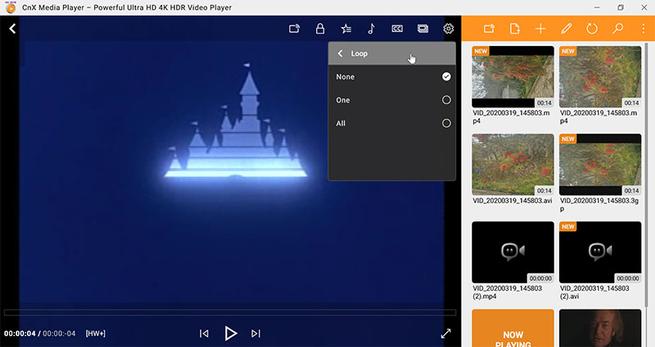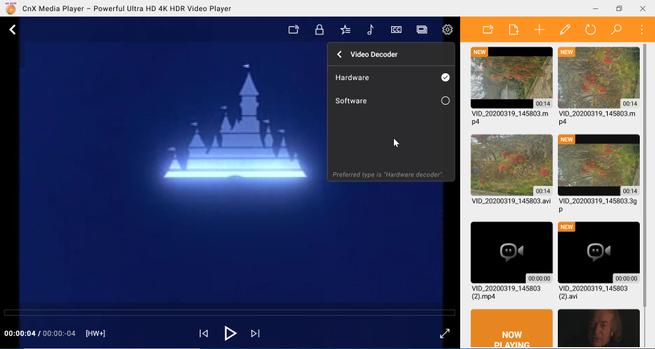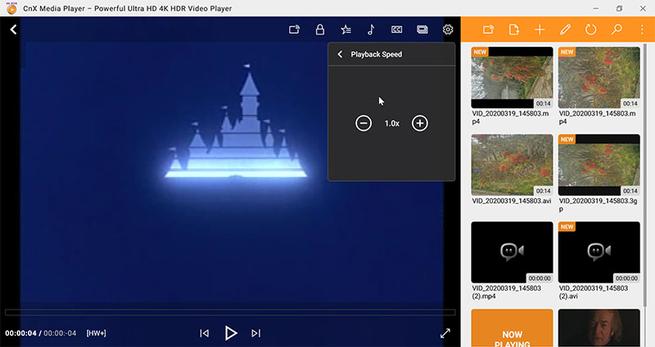 Create your playlists and play videos wirelessly
If we want to create our own video playlist, we can also do it from the Playlist button. Here we just have to click on the button with the plus symbol (+) to create a list and give it the name we want. There we can add all the videos so that they are played one after the other. It is an option that can be interesting if we have a series in several files by chapters and we want to reproduce them in an orderly way.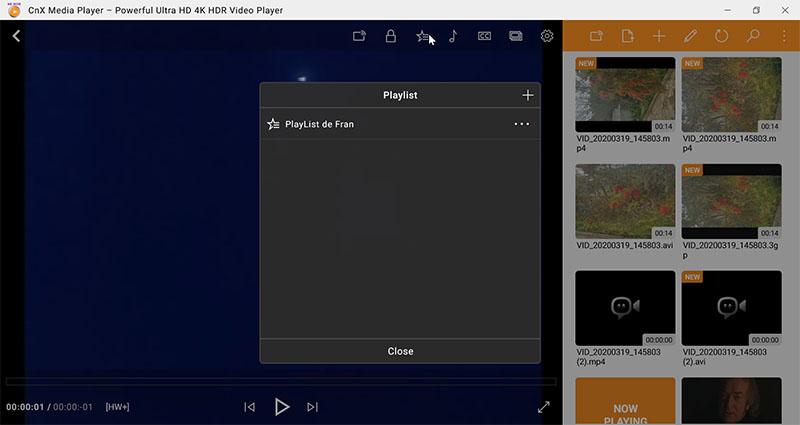 Finally, we are going to highlight a function that is as simple as it is interesting, such as the «Lock Playback Controls» button. If we click on it, the playback controls will be completely blocked, so in this way we avoid that we can mistakenly press the stop, pause or advance button. If we want to unlock it again, it will be as simple as clicking on the button with the padlock open that we will find in the upper left.
Download CnX Media Player
CnX Media Player is a completely free 4K video player for Windows that we can download directly from the Microsoft Store in a 100% secure way. Installation is quick and easy and the program once installed occupies around 100 MB. In addition, it has versions for mobile phones compatible with Android and iOS.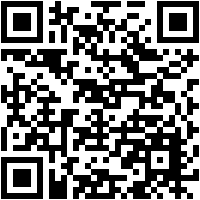 Developer: PATHWIN SOFTWARE PRIVATE LIMITED
Minimum requirements
Windows 10 (version 17134.0 or later).
Processor with X86 architecture.
DirectX version 9 (recommended version 11).
2 GB of RAM (4 GB recommended).
Alternatives to CnX Media Player
If we are looking for a video player capable of playing files in 4K, it is also convenient that you do not lose sight of this couple of alternatives to CnX Media Player:
VLC
It is undoubtedly the most popular multimedia player and among its many features it has the possibility of playing videos in 4K, being compatible with Chromecast to be able to play them on our television wirelessly. We can download VLC for free from its website .
5KPlayer
It is a complete player capable of playing DVD videos and high reproduction, as content in 4K and 5K, 1080p and 360 degrees HD. It is also compatible with the most popular music and video formats such as MKV, M2TS, MP4, AVI, WMV, FLV, MP3, AAC, APE, FLAC among others. Additionally, we can download videos for free in FullHD, 4K, 5K and 8K quality from all kinds of pages such as Facebook, Yahoo, among others. We can download 5KPlayer for free from this link .