multimedia
Play, record and convert audio files with jetaudio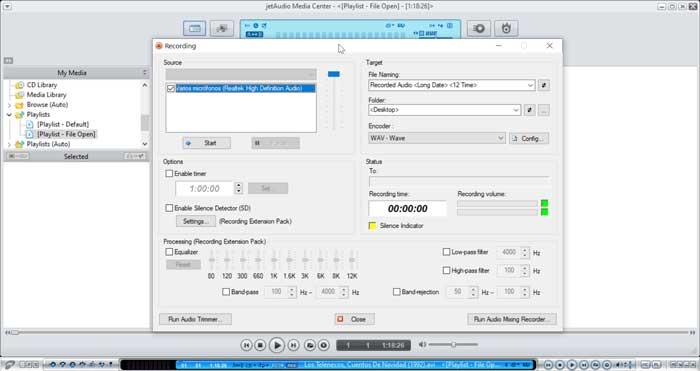 The multimedia section is a section of our computer that is completely essential if we want to use it for leisure time. If we like to listen to music or play videos, we need a compatible program that has wide codec support so that we don't have playback problems. In the market we find a wide variety of players, among which is jetAudio, about which we are going to talk next.
JetAudio is one of the oldest multimedia players that we can find for Windows, with a more visual aspect and an elegant interface, which can be customized through the use of skins. It also has new functions and features that make it a very complete player.
This player is characterized by having a wide support for everything for all types of multimedia file formats and with an equalizer that has various preset modes such as pop, rock, classical, jazz, etc., so that the reproduction of audio and music it is its most important and main point.
Another feature to highlight is the possibility of converting between audio files to formats such as MP3, WAV, mp3PRO, WMA, OGG, APE, RealMedia, etc. It also has a tool to extract audio CD tracks and convert them into audio format, as well as the ability to listen to Internet radio stations.
Beyond listening to music or watching videos with jetAudio, we can also control the playback speed and improve the audio quality by adding a series of effects such as extra bass, reverb and the possibility of mixing one song with the beginning of the next.
JetAudio, much more than a music player
As soon as we start the application for the first time, a settings window will appear from where we can choose the type of application design, being able to choose between several models so that we can select the one that best suits our tastes. Once selected we go to the main menu of the player completely in English.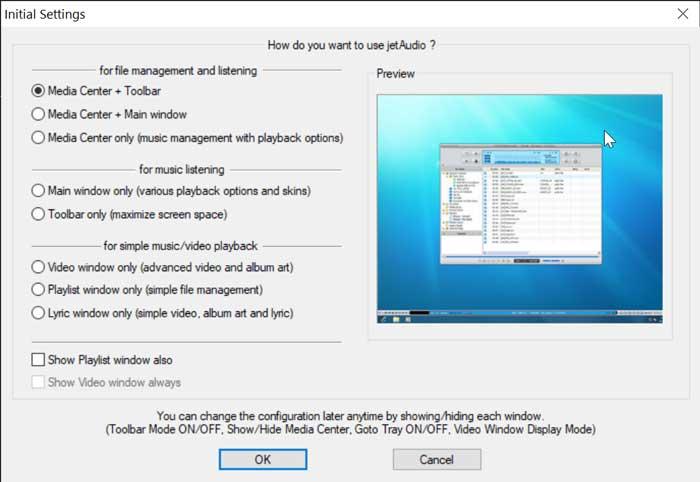 Although the program's interface may be beautiful and elegant, but at the same time it is somewhat complicated to use . It has too many functions within a small window represented only by icons, which makes it difficult to find the desired function at first, since the space is totally cluttered. We will have to go over each icon so that its function appears.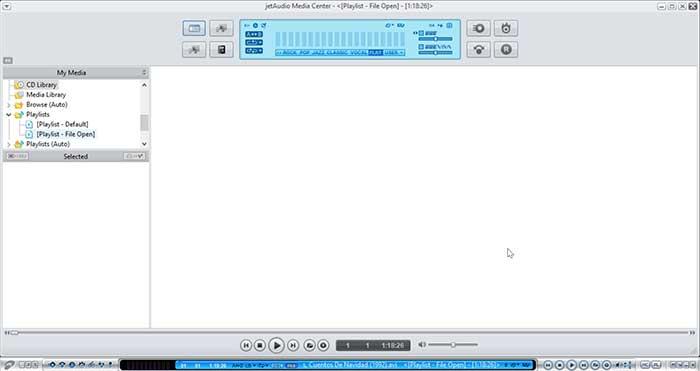 To be able to locate our music in a simple way, we must click on the «Show Hyde My computer» icon. In this way, all the folders on our hard drive appear at the bottom left to be able to find our entire list of audio and video files in a comfortable way.
Convert files between formats and record your own audio
In the upper right we find the functions of copying, converting, recording or transmitting. If we press the «Convert» button or its keyboard shortcut Ctrl + 2 and a window will open from where we can make conversions between different formats . It is as simple as adding the files we need to convert and selecting the output format between MP3, WAV, mp3PRO, WMA, OGG, APE, RealMedia, etc. We can also choose the destination folder where the conversion will be hosted.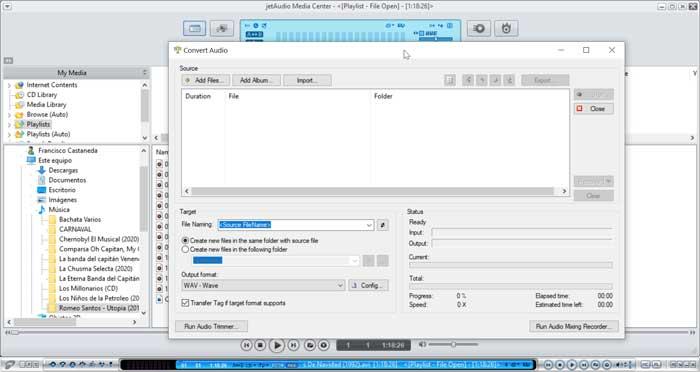 Another interesting function that we find in that upper right part is the «Record» that allows us to make recordings. If we click on it, a new window appears with different options to select the audio input, make adjustments with the equalizer, select the format in which we want to make the recording, the destination folder, among other configuration options. It is a very interesting option to record our own podcasts or even record our own songs in a simple way.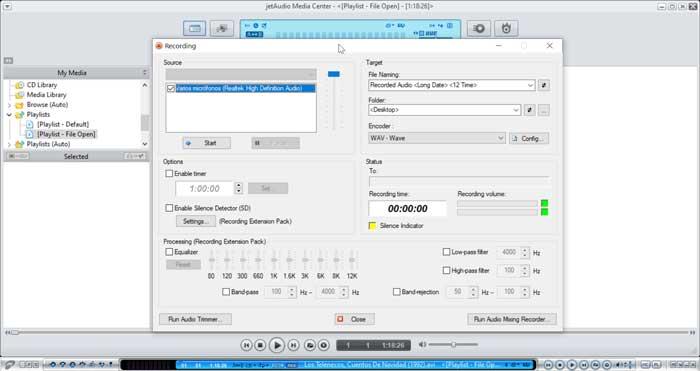 Download jetAudio
JetAudio is a program that has both a free version called "Basic" and a paid "Plus VX" version. We can download it directly from their website . Its latest available version is 8.1.8.20800 corresponding to August 6, 2020, so it has a good support and updates policy from its developer. It is compatible with Windows from XP to Windows 10.
Basic : with the free version we will have the possibility to extract audio from a CD, convert files, record from various analog sources such as microphone or line input, record audio CDs and convert digital video to other formats with a sequence limited to 30 seconds .
Plus VX : the features of the free version are joined by other features such as an MP3 encoding package, special sound effect packages (BBE), improved sound functions such as 32-bit output, DRC and dynamic limiter, recording functions Special tools such as silence detector, equalizer, band pass filters, bass / treble, as well as special tools such as Audio Trimmer, Audio Mixing Recorder provided with jetAudio. Its price is $ 29.
Alternatives to jetAudio
If you are looking for a multimedia file player and jetAudio does not convince you due to its complex interface, we propose a couple of alternatives to consider.
VLC
It is one of the most popular and used media players today. It has support for almost all audio files and above all, video. It also allows the reproduction of local content or via streaming over the Internet, or the integration of subtitles. In addition, it allows the sending of the video signal to other devices through Chromecast. All this makes it a guarantee of quality. VLC can be downloaded from its website and is completely free.
SMPlayer
This program is a player of all types of multimedia files, either from the hard disk or the CD / DVD drive. It supports subtitles and you can cast images to TV using Chromecast. It also has the ability to take screenshots and has an audio and video equalizer to improve its quality. In addition, it is compatible with the playback of YouTube videos and incorporates various skins and icon themes to change the appearance of the player. SMPlayer is a free and open source multimedia player, under the GPL license, that we can download directly from its website .