multimedia
Play internet webm files and links with vlc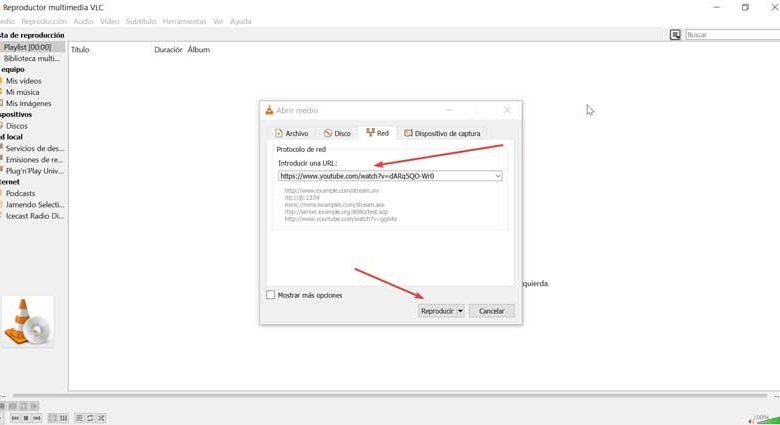 If we use VLC Media Player as our multimedia player, we will surely have verified that it is capable of playing all kinds of popular formats such as AVI, MKV, MP4, among others. Among these compatible formats we find WebM, a format supported by Google focused on video processing to be used in Internet-related environments. Today we are going to learn more about the WebM format and how we can reproduce it correctly with VLC .
Currently the MP4 format is considered one of the most popular and with the highest quality on the market, although the presence of the WebM format has emerged strongly in recent years, positioning itself as a great free and open source alternative. This format offers compatibility with the most used multimedia player such as VLC Media Player. Therefore, we will tell you more details about the WebM format and how we can reproduce it correctly through VLC.
What is the WebM format and what can we use them for?
WebM is a multimedia file format that was launched in 2010 to position itself as an open source alternative to MP 4, with the idea of ​​replacing it completely. And it is that, although the use of MP4 is free for users, the same does not happen for developers, who, in order to work with it, must pay for its license. On the other hand, WebM an open source project allows you to work with it without paying any type of license
This format is responsible for knowing the VP8 and VP9 video codecs , as well as the Vorvis and Opus audio codecs . It is designed to be used with HTML5. With it we get almost the same quality as MP4, but using half the file size. It also allows us to play it on almost any device, which currently makes it a very popular video format on the Internet. Hence, sites like YouTube take it upon themselves to use the WebM file format in all their videos. Regarding quality, it is capable of supporting resolutions from 360p to the highest ones such as 4K or 8K.
The development of the WebM format has had the support of large Internet companies such as Firefox, Opera or Chrome browsers, along with other software and hardware publishers that offer support for this format. For this reason, it is possible to reproduce it not only with the browser, but also with multimedia players such as Windows Media Classic or VLC Media Player and platforms such as Skype.
Advantages and disadvantages of the WebM format
Undoubtedly, the main advantage of the WebM format over its competitors, and especially MP4, is its open source character . This will allow us to be used for free by developers, manufacturers and the end user. And, if we are consumers of online video, we will be able to enjoy with this format an excellent performance when it comes to playing streaming videos with good quality, offering a much smaller file size . This makes it possible that online video does not need to be completely downloaded before playing, giving more fluidity to such popular video streaming today.
Its biggest disadvantage compared to its main competitor, the MP4 format, is the quality of the video. This, despite being good, its VP8 and VP9 codecs are not capable of reaching the level of H.264 and H.265 used by MP4. That is why it has managed to position itself as a leader in image quality in recent years.
How to Play It Correctly With VLC
VLC Media Player is a free and open source player, which has become one of the benchmarks when it comes to consuming multimedia. With it we can play all kinds of audio and video files on DVD, Blu-ray and 4K, with support for subtitles and labels. It also allows us to watch streaming videos, download YouTube videos, take screenshots and create a remote control web server, among others. If we don't have it yet, we can download it for free from this link .
At the time of installation, a very important detail must be taken into account. And it is that the wizard will offer us the opportunity to mark the components that we need to install, so we can choose with which file formats we want it to recognize. Here it will be important that we have checked the box corresponding to "webm", in order to be able to reproduce this file format.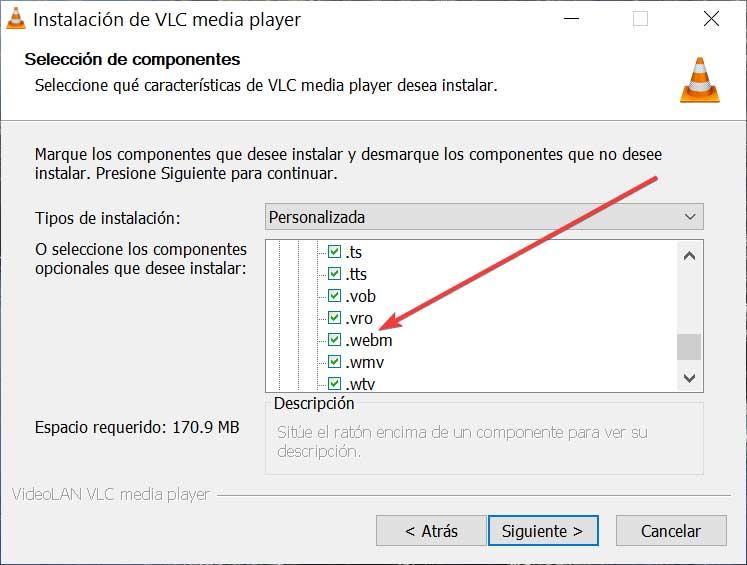 Once we open VLC, its interface appears, from where we can play content in WebM format. This is something that we can do by loading a file that we have on our hard drive in this format, or by inserting a file with a URL of a page with content in this format, such as YouTube.
Play from saved file
If we have a WebM file on our computer we can use VLC to reproduce it easily. To do this, from its interface, just click on the "Medium" button and choose the first option "Open file" or use its corresponding keyboard shortcut directly, in this case "Ctrl + O".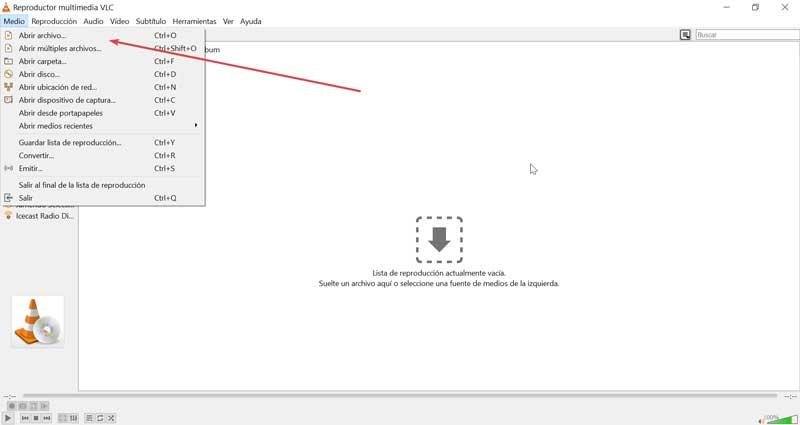 Once done, we will have to select the file that we are going to play, something that we will do with the help of the File Explorer. Once selected, click on "Open" and the file will begin to run and we must view it correctly on the screen.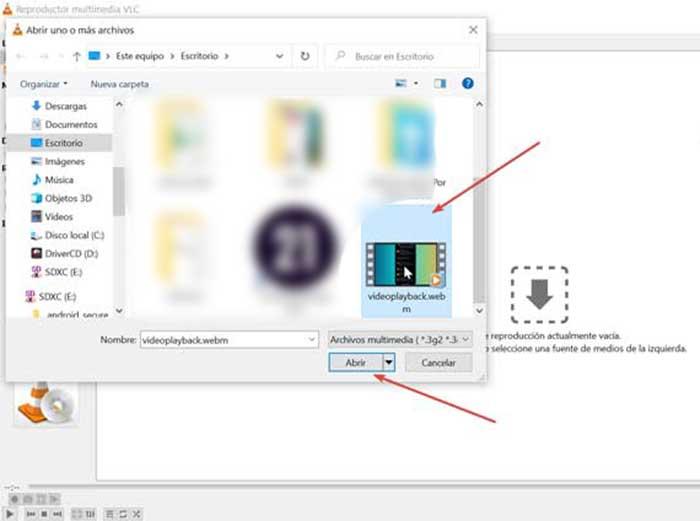 Likewise, VLC is compatible with drag and drop, so we can also add the file in this way. It will be enough to select the file from the folder where we have it saved and drag it directly to its interface so that it begins to play.
Play directly from a URL
VLC will also allow us to play WebM files that are hosted on video playback platforms such as YouTube and other similar sites, so we can play them simply by using the URL of the same.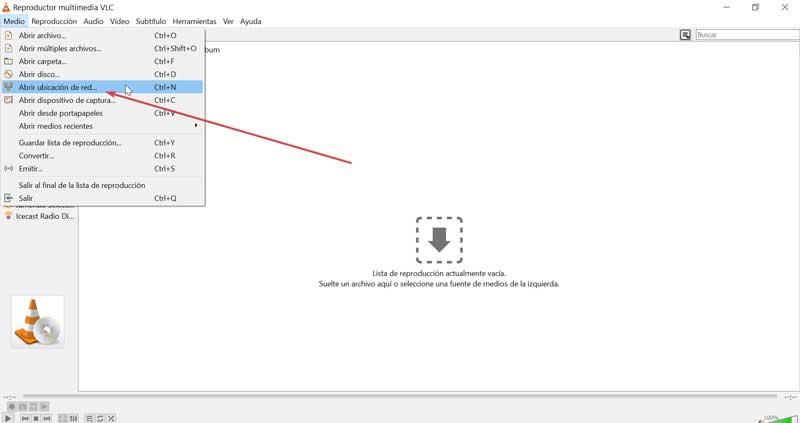 To do this, click on the "Media" tab, and from the list of options that appears, we choose "Open network location". Once here, we must copy the URL of the YouTube video that we want to see and click on the "Play" button. In this way the video will begin to play immediately on our screen.