multimedia
Play audio and free video in any format with umplayer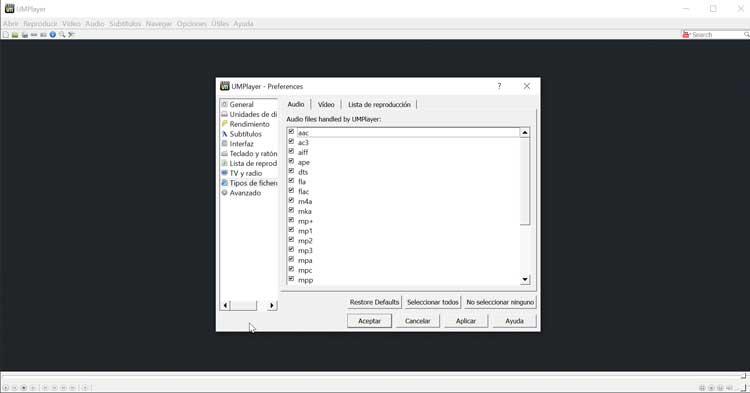 Our computer is not only a work tool, but it can also be used for our leisure time. That is why we can use it both to listen to our favorite music and to enjoy watching movies and series. This is something that we can do from a single multimedia application, so it must have the widest possible format compatibility. This is something that we will get with a program like UMPlayer that we are going to talk about today.
UMPlayer is an open source, free and lightweight multimedia player with which we can listen to music and watch videos since it has broad compatibility with more than 270 codecs, including well-known formats such as ACC, AC3, ASF, AVI, DIVX, FLV, H.263, MKV, MOV, MP3, MP4, OGG, MPEG, QT, RealMedia, VOB, Vorbis, WMA, WAV, XVID or WMV, among others. This will help us avoid having to search for and download codecs to be able to play certain formats, something essential if we want to enjoy our multimedia content without worries of any kind.
This player also has an integrated YouTube video search engine to view any video from this platform and listen to the radio through SHOUTcast . We can also open video, audio, DVD files and web addresses. Similarly, it will be possible to take screenshots of the videos that we view and download subtitles from the Internet. In addition, we will be able to visualize all the information of the file that we are reproducing such as its resolution, size, format or video codec. Therefore, we are facing a very complete player that can be a good alternative to other more known and popular
UMPlayer, the multimedia player you need
Once we have run the program, we find its main menu with a clean and simple interface, which we can customize to our liking through skins. At the top we find the classic toolbar that will help us to access most of the applications. In the same way, we can also right click inside the main window to have some additional options when playing our multimedia files.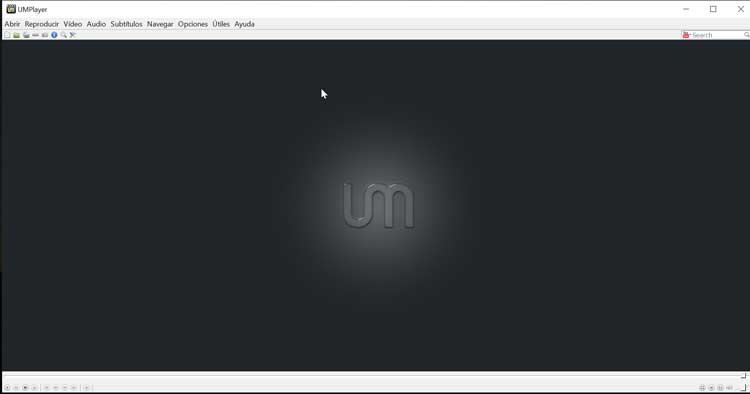 To start viewing a video or listening to a music file, simply drag and drop it to its interface or from the "Open" tab. Here we can open a file, a folder with several files, a DVD, an audio CD, a playlist, a URL, etc. In addition, we have access to a TV / Radio list, from where we can add, edit and order different channels that we add.
From the "Audio" and "Video" tabs we can adjust the subtitles, customize the video quality and preferences and modify the audio track. We will also have an equalizer and apply filters on the video that we are playing, rotate it, invert it (mirror mode), or change the aspect ratio. Of course it is capable of recognizing up to 5.1 surround sound ensembles. The subtitles tab allows us to upload or download subtitles and activate subtitles for the deaf. It is also worth mentioning its ability to search for subtitles in OpenSubtitles from within the player itself. In addition, we will have the possibility to advance or delay it a few seconds, move it up or down, change the size and font of the letter.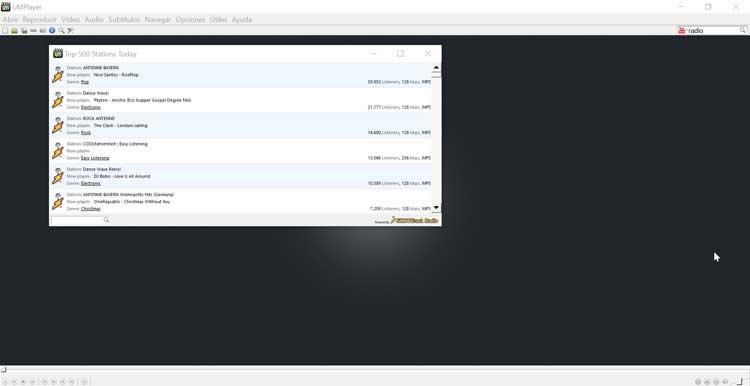 Lightweight, easy to use and with cool additional features
In the "Tools" tab we find the option to activate the search and playback of YouTube videos and radio channels through SHOUTcast. The quality of YouTube videos can be configured from the "Preferences" panel because by default the quality is 360p, which is only recommended if we use a data connection to connect to the Internet. From the "Options" tab, the "Skins" section stands out where we can customize our player with 5 skins or download others. In the "Preference" section we can configure different options related to the application in general, video, audio or subtitles.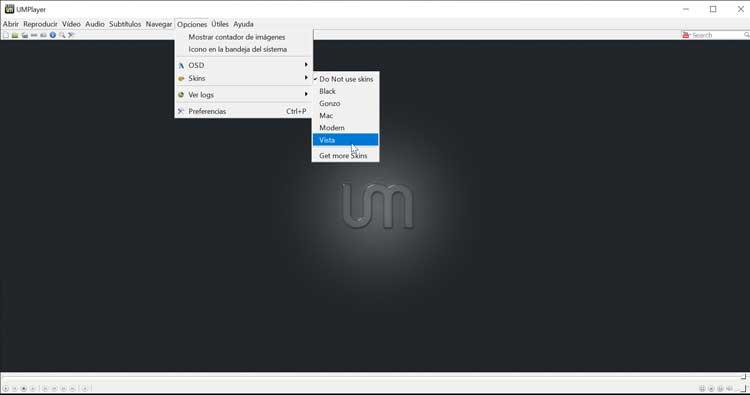 It is also possible to configure various keyboard and mouse shortcuts and functions for the mouse wheel, and we can even save the list to share them with other people or use them on another computer. From the "File types" section we can select those with which we want our player to be compatible, so it is advisable to select all of them so as not to have compatibility problems when playing.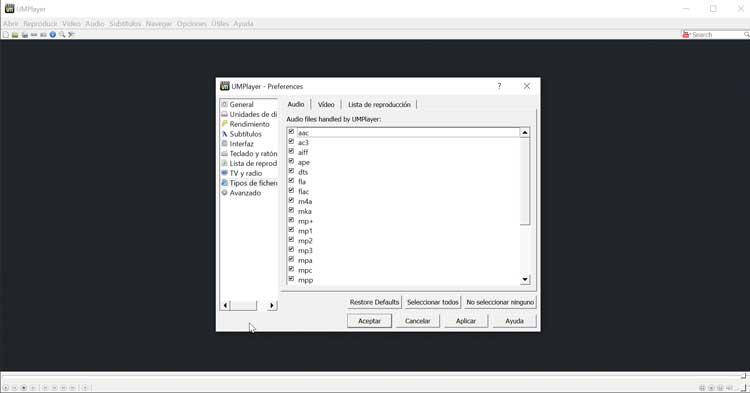 Download UMPlayer for free
UMPlayer is a program that we can download for free from its website . It is compatible with most versions of Windows such as XP, Vista, 7, 8 and 10, on 32 and 64 bit systems. The installation file that we download will help us to carry out the complete installation on our computer, something that we can do easily through its wizard. Also, at no time do you try to get us to install any unwanted third-party software. Once installed, it only takes up 44 MB, and is very light, consuming few resources, so it can be used even in old and not very powerful computers.
Alternatives to UMPlayer
If we are looking for a free multimedia player to watch videos or play music, we propose a couple of alternatives to UMPlayer to take into account:
SMPlayer
We are facing a multimedia player that is characterized by incorporating a large number of codecs, so that we will not have to look for them externally. This allows us to be able to reproduce practically any video and audio format that we need. It also has an audio and video equalizer, and includes a post-processing function, to improve the display of any video. SMPlayer is a free software that we can download directly from its website .
VLC
It is possibly the best known and most popular media player. It has support for almost all audio files and especially video. In addition, it allows us to reproduce local content or via streaming over the Internet, or the integration of subtitles in a simple way. Also noteworthy is its compatibility with Chromecast to send content to our television. VLC is a benchmark in the sector and it is also free, so if you still do not know it, you can download it from its official website .