multimedia
Play any video with these codecac packs for windows 10
One of the main reasons why we can have problems when playing multimedia files in Windows is due to the lack of codecs. If our player does not have the appropriate codecs, we may not see the video image, we may not hear the sound, or we may not be able to open it. Although we can research and download the required codecs manually, this is often quite complicated for many users. Therefore, the easiest way to forget about these problems is to resort to a codec pack for Windows, which is popularly known as the Codec Pack .
As its name indicates, a Codec Pack is a program within which we can find a complete collection with all, or almost all, the multimedia codecs that exist to install in Windows. Thanks to them we can forget about having to search and manually install any of them, since this pack will take care of copying all of them to the computer, configure us and leave them ready to be able to play any video or multimedia file without problems.
Although Windows 10 is capable of playing a large number of formats as standard, some DIVx or MKV files may show problems when playing. Therefore, below we are going to see which are the best codec packs that we can install on the PC.
Codec Pack issues
The first thing we will ask ourselves is, is it really necessary to install a codec pack on the computer? The truth is that codec packs made a lot more sense in the era of Windows Media Player, when each video used a different codec.
Today the most used codecs are usually available by default in most multimedia players, such as VLC or MPC. However, there are still codecs that are not usually that common, and this is where these video decoders come into play.
There is usually no problem installing codec packs on the computer. If the codecs are not needed they will not be used, and if they are needed we will have them available. However, we must be careful with these packs. Many choose to include adware within the installers, so if we do not pay attention, we may end up with unwanted software installed on the PC. In addition, they can also have very complicated settings that, if we configure wrong, we can lose quality when playing other videos, or generate new problems.
For this reason, we would recommend that, unless we really need these packs because we have problems, we do not need them. Today, with Windows 10, they have gone into the background.
Best Codec Packs for Windows 10
K-Lite Codec Pack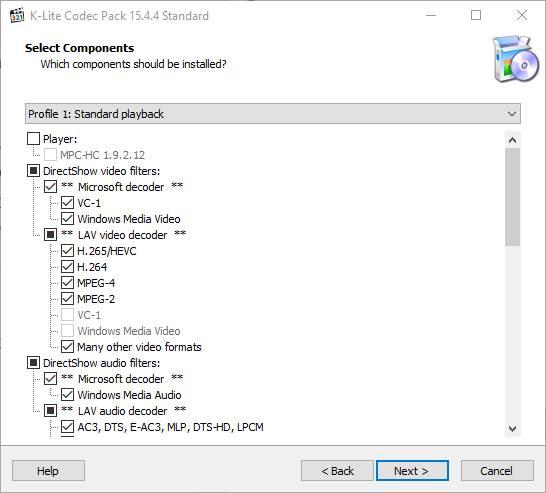 K-Lite has been, is and will be one of the most complete codec packs, known and used in the world. This pack has been solving codec problems since the Windows XP era and, until today, it continues to be one of the best alternatives that we can install on our computer.
This pack of codecs will allow us to play on Windows, whatever the player we use, any video without any problem. In addition, the quality offered by its codecs is very good, so, unlike what happens with others, we will not see pixelations or videos playing slowly when using this pack.
When installing K-Lite Codec Pack in Windows we can choose between the 4 packages that they offer us:
Basic: includes all the necessary codecs to play any type of multimedia file in most of the most popular audio and video formats:

AVI, MKV, MP4, FLV, MPEG, MOV, TS, M2TS, WMV, RM, RMVB, OGM, WebM
MP3, FLAC, M4A, AAC, OGG, 3GP, AMR, APE, MKA, Opus, Wavpack, Musepack
DVD and Blu-ray (after decryption)

Standard: the same as the Basic pack with some extras. For example, it includes the Media Player Classic Home Cinema player, the MadVR video renderer and the MediaInfo Lite tool to get all the multimedia data on any video clip. Estes is the recommended pack for most users.
Full: includes everything from the Standard pack, along with DC-Bass Source Mod, to decode audio in OptimFrog, and GraphStudioNext, to create DirectShow graphics.
Mega: Includes all of the above, plus a number of extras for video encoding and decoding, such as the ffdshow processor and decoder, and alternatives to LAV codecs.
We can also find an Update version, to update our codecs to the latest version without reinstalling anything, and a Beta version, to be up to date assuming possible failures.
We can download K-Lite from the following link .
X Codec Pack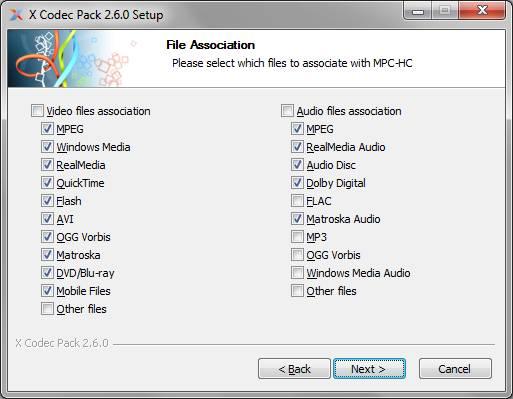 X Codec Pack, also known as XP Codec Pack, is another of the best known that we can install on the computer. Thanks to it, we will be able to reproduce without problems any audio and video file on our computer without having to install several multimedia players, all from the same place.
This pack is much lighter than K-Lite Codec Pack and has everything you need to be able to play practically any audio or video file on any player installed in Windows. In addition, it is much easier to install and configure than K-Lite, making it a perfect alternative for those users who do not want complications. This pack recommends also installing Media Player Classic Home Cinema so, along with its codecs, let's forget about the problems when opening multimedia files.
We can download X Codec Pack for free from its website .
Shark007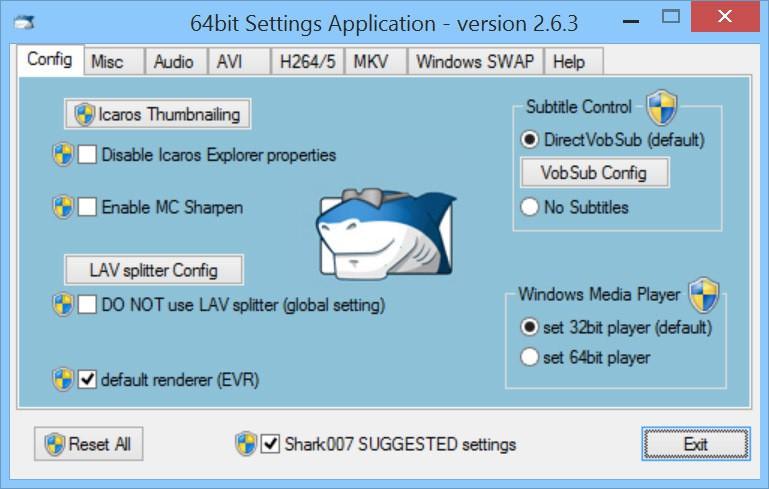 Another of the most popular codec packs that we can find for Windows 10. Like the previous two, this pack has a wizard that allows us to install the packs we want to use and configure our computer to be able to reproduce any type of file that is required. put ahead.
We can download two different versions of this program. The first one, the Standard, brings everything you need to play basic audio and video files, as well as the filters to open subtitles in LAV or VSFilter. And the second of them, Advanced, much more complete for those users who want to have complete control over their pack of codecs.
We can download Shakr007 for free from their website .
Combined Community Codec Pack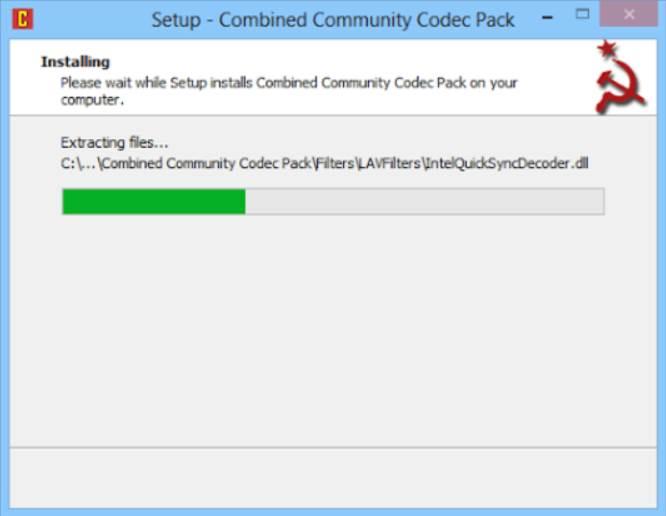 Also known as CCCP, this Russian-sourced codec pack was one of the best-performing codecs in the Windows 7 and Windows 8.1 era. Unlike other codec packs, CCCP aimed to be a stable, lightweight and problem-free pack. When installed, users could play videos without the problems that other codec packs caused. In addition, it contains the codecs most used by anime communities to encode and distribute the series.
Of course, Combined Community Codec Pack had a very small, fast and simple installer and, most importantly, a powerful uninstaller, which allowed us to delete the program without leaving a trace and without causing problems in Windows.
We can download the latest version of CCCP from the following link . Of course, it should be noted that the latest version dates from 2015, so it is a fairly abandoned pack.
Media Player Codec Pack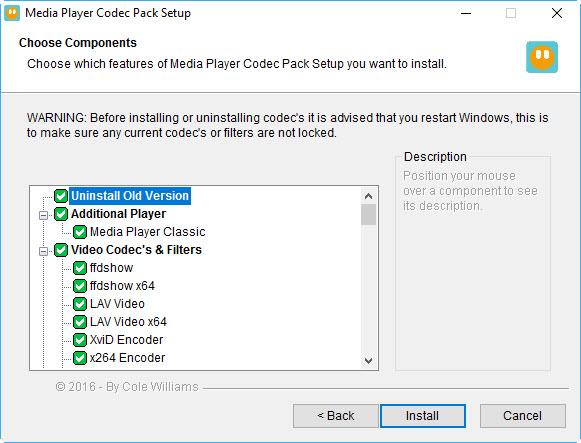 Another one that we could not forget is Media Player Codec Pack. This pack of codecs is also another of the most complete and easy to install, configure and use. In addition to its easy installation mode, it also has an expert mode that gives users much more comprehensive control of codec installation.
Initially it was designed to supply all the codec dependencies of the classic Windows Media Player, however, since today this player has almost fallen into disuse, its developers recommend that users use it together with other multimedia players, such as Media Player Classic HC or Real Player. Anyway, it is compatible with any DirectShow compatible player.
We can download the latest version of Media Player Codec Pack for free from its website .
ffdshow tryouts
ffdshow tryouts is a DirectShow codec for Windows that will allow us to play a large number of audio and video formats in Windows. In addition to the codecs, this pack also includes a good number of filters to improve video quality, as well as resize, deinterlace and display subtitles. We can also find specific filters for the audio that will allow us to carry out normalization improvements, up and down mixing and resampling.
We can download the ffdshow tryouts codecs from the following link .
Codecs for Movies and TV
Movies and TV is the default multimedia player that comes installed in Windows 10. This player is part of the UWP applications of the operating system. And therefore, despite its excellent performance and good compatibility, it is not compatible with the codecs that we can install through the previous packs. This means that if we try to play an unsupported file, we won't be able to do it by installing K-Lite or any of the previous packs.
However, Microsoft has provided its Movies and TV with the ability to support additional formats through plugins. These must be downloaded from the Microsoft Store by searching for, for example, " Web Multimedia Extensions " to add support for OGG, Vorbis, or Theora.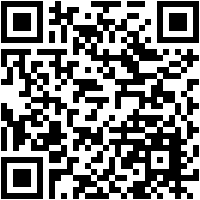 Developer: Microsoft Corporation
We can also find other codecs for the default Windows 10 player, such as for AV1, for HEVC or for MPEG-2. All of them are available in the Microsoft Store, and most should be free.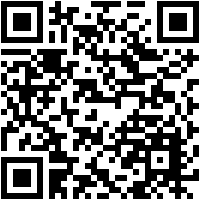 Developer: Microsoft Corporation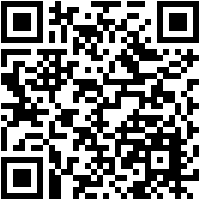 Developer: Microsoft Corporation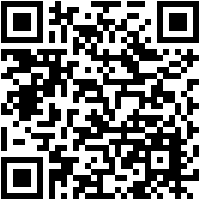 Developer: Microsoft Corporation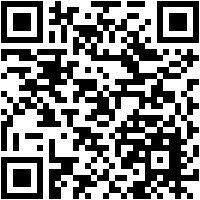 Developer: Microsoft Corporation
In any case, the Movies and TV app itself will warn us when a codec is missing when trying to play a video, it will take us to the Microsoft Store and allow us to download it directly without having to search for it. Therefore, if we have never had problems, we can forget about them.
What is the best Codec Pack for Windows 10
There are several alternatives that we have presented in these same lines, so that each one has the possibility of choosing the best set of codecs . To a large extent, all of this will depend on the needs of each user. Also here aspects such as the type of content that you use regularly will come into play. However, if from here we had to opt for one of the proposals presented, that would be the K-Lite Codec Pack .
The reasons for this is that it is actually one of the proposals of this type that has grown the most over the years. To all this is added that for a long time it has been considered one of the most complete and well-known in the sector, as we mentioned before. All this has led it to become the most widely used proposal of this type in much of the world. In large part thanks to all the components that it integrates inside and that it makes available to us, as we already detailed in its analysis. In addition, in a single set, it offers us everything we need at the moment to reproduce all the most common audio and video file formats, so we cannot ask for more.