multimedia
Play and organize all your favorite music for free with foobar2000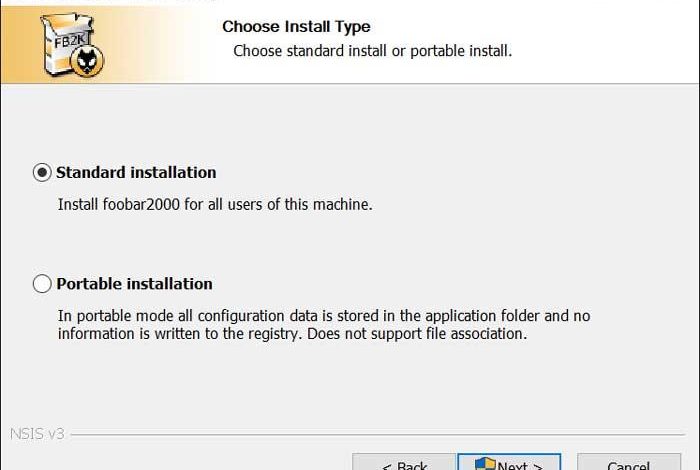 Our computer has become a tool that we can give all kinds of use. Whether for work or leisure reasons, it has become an almost indispensable element. If we are music lovers, surely we like to enjoy a good experience playing audio, for which we need a player that is capable of reading a wide variety of formats and may not cost us money. This is the case of Foobar2000, a free audio player for Windows about which we will talk next.
If we need a lightweight player that does not deplete our equipment and that, in addition, has very interesting additional functions for the most experts, as well as several customization options that we can take advantage of, this program can be a great option to consider .
Foobar2000, a player for demanding users
Foobar2000 is a versatile audio player developed by Peter Pawlowski, a former Nullsoft worker (company that developed the famous Winamp player). This player offers compatibility with a wide range of sound formats such as MP3, MP4, AAC, CD AUDIO, WMA, Vorbis, Opus, FLAC, WavPack, WAV, AIFF, Musepack, Speex, AU and SND. In addition, it allows you to additionally install up to 120 of these components from its website and burn audio CDs.
This application also includes full support for Unicode, allowing you to edit track names and tags. In addition, it incorporates tools to manage music libraries, advanced tagging functions and keyboard shortcuts from which to launch the various functions, such as play, stop, and raise or lower the volume. Nor does it lack the presence of an 18-band equalizer and the possibility of converting from mono to stereo and stereo conversion to 4 channels.
If Foobar2000 stands out for something, it is because it offers sound reproduction without skipping and incorporates a function called Replay Gain that is used to normalize the volume of the songs. This will be very useful when we have a list of songs where the volume is not homogeneous, which causes us to have to constantly adjust the volume. With the Replay Gain function, the player itself takes care of normalizing the volume of all the songs in the list.
Main features
Play and encode audio in various formats.
Burn CDs.
Allows you to edit tags.
Manage playlists efficiently.
Allows you to customize keyboard shortcuts.
Customizable interface.
Standard or portable installation
It supports the following formats: MP3, MP4, AAC, CD AUDIO, WMA, Vorbis, Opus, FLAC, WavPack, WAV, AIFF, Musepack, Speex, AU and SND.
Allows you to download up to 120 additional compatible formats.
Replay Gain function to normalize the volume of the songs.
Very light, it consumes few system resources.
A player for music lovers
Once we execute the application, its main menu appears, which is characterized by a very simple interface but which allows it to be personalized . It is possible to change the fonts and colors of the interface, as well as the position and size of the sectors. At the top there is a toolbar organized by tabs where we find the options for "File", "Edit", "View", "Playback", "Libray" and "Help".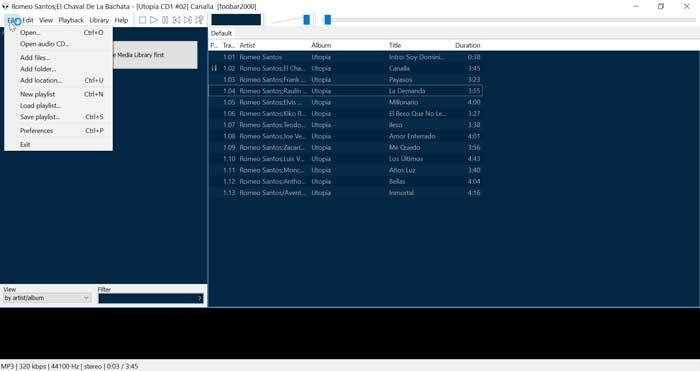 To start listening to our favorite music, we just have to click on the "File" button, from where we can add a file, folder or directory with our music. Once added, all the files appear ordered by Artist / Album, Track no, Title and Duration. These bars are customizable and allow us to order them in the order we want.
One of its most interesting sections is the "View", where we can find various options such as "Visualizations" from where we can have different functionalities that will make the most demanding users enjoy sound . That is why we will have an oscilloscope, a spectrum digitizer, a peak indicator, a digital level meter, an 18-band equalizer and a real-time spectrogram.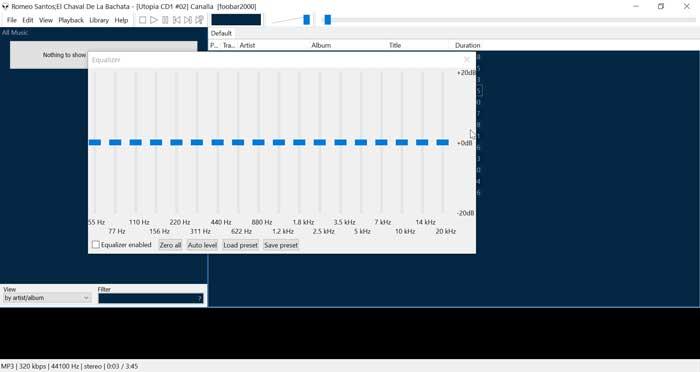 It also has a section called "Layout" (design) from where we can configure and customize the entire player interface . In this way we can set colors and organize the player with different preconfigured sections with a list of albums and properties, a playlist plus tabs, among others, so that we can choose the one that best suits our tastes, from the simplest to the most popular. more sophisticated.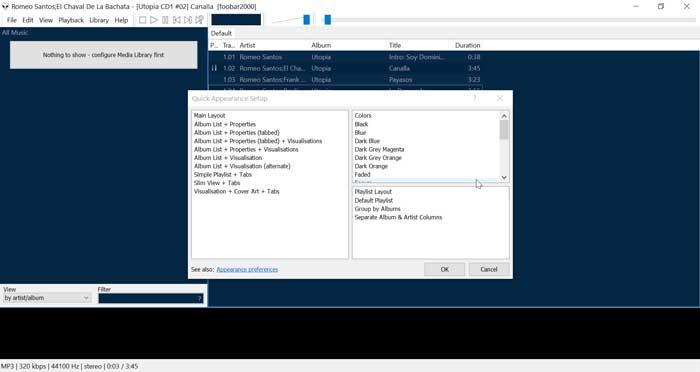 Download Foobar2000
Foobar2000 is a completely free application that we can download from its website . From there we download its installation file that has a weight of just over 4 MB. When executing the program, the wizard will give us two options to choose from, whether to proceed with its installation or to use it in portable mode . In this mode, all application configuration data is stored in the application folder and is not written to the registry information. In this way we can run the application from any external storage device such as a pendrive or a hard drive and launch it on any computer.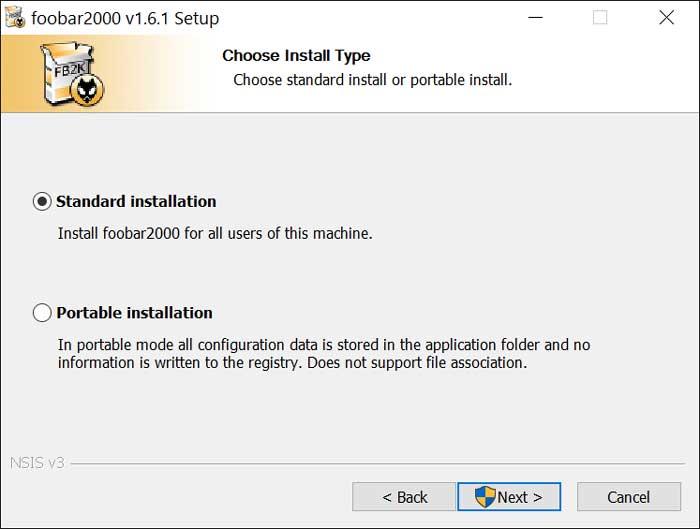 Its latest version currently available is v1.6.1 dated September 27, 2020, which shows a good support and updates policy on the part of the developer.
Alternatives to Foobar2000
If we are looking for an audio player and Foobar2000 does not convince us, we propose a couple of alternatives to consider.
VUPlayer
It is a multi-format audio player for Windows that is compatible with formats such as CD, MP3, WAV, OGG, WMA, AIFF, APE, MPC, MP, MO3, XM, S3M, MTM, MOD, IT, MIDI… In addition, It has speed control of the songs, as well as extract audio from the files. VUPlayer is a free, open source audio player that we can download from GitHub .
Vov Music Player
This is a tremendously simple and lightweight audio player capable of playing the most common audio formats so you don't have any problem listening to your favorite music. Its main virtue is that it runs in the background, so that it bothers us or consumes many system resources, so it is ideal if we are looking for a simple application to listen to music. We can download it for free from the developer's website .