multimedia
Play all kinds of multimedia files with avs media player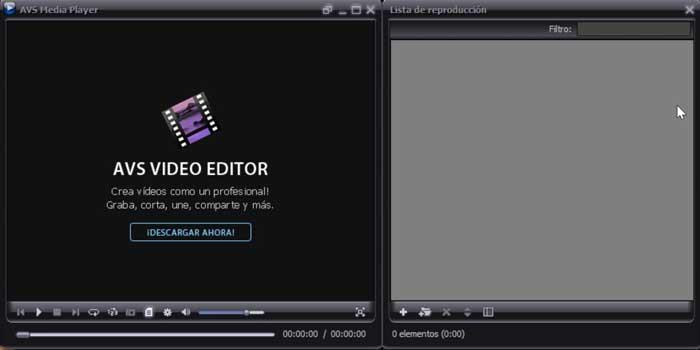 Our computer can be a useful tool both to carry out our work and to enjoy our leisure and free time. For this, nothing better than enjoying all our multimedia content, both audio and video. Therefore, we need a program that allows us to play all kinds of files, so that we only have to worry about enjoying ourselves. To do this, we can opt for a software such as AVS Media Player, which we will comment on.
AVS Media Player Features
We are facing a multimedia player, with which we can play all kinds of videos, audio and even images . It is compatible with a multitude of formats and its interface has certain similarities with a DVD player. It is capable of opening videos of almost any extension, and of course the most popular ones such as AVI, WMV, MPEG, MP4, DVR-MS, MKV, FLV, among others. Thanks to the built-in surround sound effect, you can increase the quality of stereo movies just by activating the multi-channel surround sound emulator.
In the same way we can reproduce all our audio files since it has support for such standardized formats as WAV, MP3, ALAC, FLAC, M4A, OGG, AAC, AMR, etc., allowing us to create playlists to our liking. Finally, it also has the ability to select images in JPEG, TIFF, PNG, GIF, etc., and view them as slides.
Supported formats
Read : AVI, IVF, DIV, DIVX, WMV, ASF, ASX, MPG, MPEG, MPE, M4V, MP4, MVV, M2V, M1V, MOD, QT, MOV, DV, DAT, 3GP, 3G2, 3GPP, 3GP2, MS-DVR, DVR-MS, GVI, OGM, OGG, OGV, MKV, FLV, F4V, F4P, TS, TP, TRP, M2TS, M2T, MTS, AMV, MTV, CDG, NSV, FLI, FLC, RM, RAM, RMVB, RV, IVR, WAV, MP3, MPEG3, CDA, MP2, M4A, WMA, OGG, AAC, MPC, MPP, MP +, AIF, AIFF, AIFC, AU, SND, AMR, AWB, APE, ALAC, FLAC, AC3, BMP, GIF, JPG, JPEG, JPE, JFIF, PNG, TIF, TIFF, PCX, RAS, PSD, TGA, WMF, EMF, WTV.
Main functions of this media player
Once we run the program, its main menu appears with a fairly simple interface, but it does not seem out of date for that. Being a tool characterized by its simplicity, in the main window we will only find a series of basic functions. To access the rest of the functions we will have to do it through the contextual menu. The interface shows us two windows, one with the playback controls and the other with the playlist, which we can close at any time.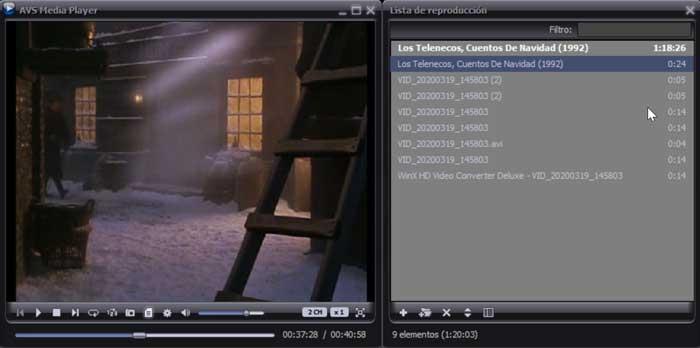 Regarding the playback controls, we can use pause, stop the track, fast forward or backward, adjust the volume to our liking and enable full screen mode, to fully enjoy the playback of our videos. In addition, it also supports subtitles and changing their aspect ratio.
Configure its options from the Preferences
From the section "Preferences" We can make different configurations audio display, configure and customize the speakers, make changes to the video and subtitle options, and configure all associated extensions. We can also indicate the directory in which our snapshots are saved, calibrate the environment of our speaker, among others. It is the most important section of the application, where it groups all its functionalities.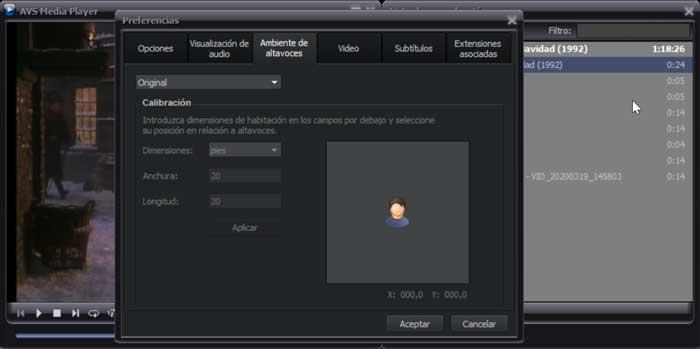 Regarding the sound section, it should be noted that it is compatible with different sound combinations . Whether we have a home theater system, a surround sound system or simply headphones, the application will take care of making optimal use of the available hardware to provide us with the best possible experience.
It stands out for including a set of standard effects for smooth playback, viewing angle selection, support for various video sources, the possibility of adjusting the aspect ratio automatically, switching to Full Screen mode with a single click, among others. That is why it is positioned as one of the best options for viewing multimedia content.
Points to improve
As negative points of this program we can mention its little customization since it is not possible to customize it with themes or skins, and the buttons of the main player window cannot be changed. It also has few advanced configuration options unlike other options from the competition. In addition, when we are not playing any video, sometimes ads for other programs from the same company may appear, which can be somewhat annoying.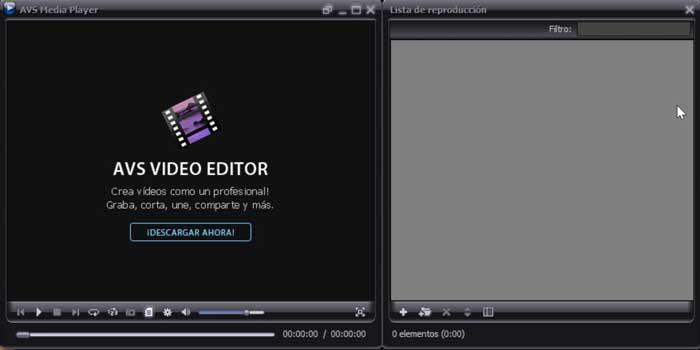 Download AVS Media Player
AVS Media Player is free software that we can download from the developer's website, being compatible with all versions of Windows from XP to Windows 10. Its latest version available is 5.2.3.141, whose installation file has a total weight of 105.24 MB . The installation is done through its wizard quickly, without at any time trying to get us to install other unwanted third-party programs.
Minimum system requirements
Processor: Intel / AMD or 1.86 GHz equivalent (2.4 GHz or higher recommended).
RAM: 1 GB (2 GB or higher recommended).
Video: Windows 7/8/10 compatible video card.
DirectX: Microsoft DirectX 9.0c or more updated.
Audio: Windows 7/8/10 compatible sound card.
Alternatives to AVS Media Player
If we are looking for a good multimedia player and AVS Media Player has not convinced you, we propose a couple of alternatives to take into account:
SMPlayer
It is a multimedia player that is characterized by incorporating its own codecs so that we do not have to search for them externally, being able to reproduce practically any video and audio format that we need. It also has an audio and video equalizer, and includes a post-processing function, to improve the video display. SMPlayer is a free software that we can download directly from its website .
Bomi player
This player for Windows is capable of playing all kinds of multimedia files and optical discs such as DVD and Blu Ray, as well as URLs of pages such as YouTube. It is capable of supporting various subtitle formats, and offers support for hardware-accelerated decoding via GPU. Bomi Player is a free player that you can download directly from its official website .