multimedia
Play 3d videos with this powerful alternative to vlc, potplayer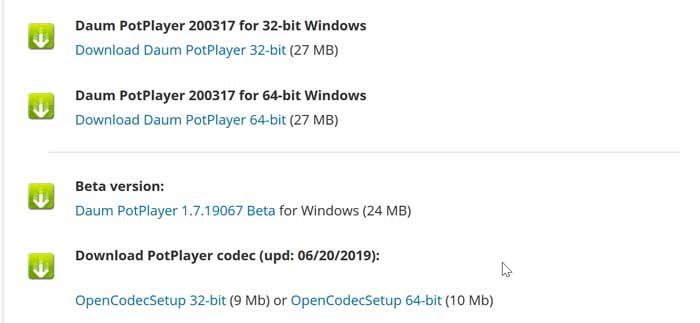 Our computer is much more than a work tool and surely we will also use it for leisure and there is nothing better than enjoying a good movie or series. If we want to play any type of video, we can choose a multimedia player that is capable of reading any of the most used formats, as well as DVD and Blu-ray. Here comes PotPlayer, a complete free video player with which we can watch all kinds of videos, including in 3D.
Everything that PotPlayer offers us for free
PotPlayer is a versatile multimedia player that provides maximum performance when viewing any type of video file, since it is capable of playing any type of file, regardless of its weight or quality, with great fluency. It is compatible with a wide variety of formats as it includes a complete codec package and also supports "OpenCodec" so that each user can add any type of codec they need.
In this way, this proposal becomes an interesting alternative to other more popular ones such as VLC from VideoLan. It also offers us a good number of additional and customizable functions in its interface.
Supported formats for use in the player
With this player we can play popular video formats such as AVI, MPEG, ASF, WMV, M2V, MTS, DPG, DivX or AMV. It also supports thousands of audio files including MP3, WAV, FLAC, MOD, WMA, OGG, M4A, AAC, and RA.
As if that were not enough, it also recognizes playlists that we have created with other players since it is compatible with formats such as PLS, ASX, M3U, CUE or WVX. We can also enjoy our videos that we have on physical media since it is compatible with DVD and Blu-ray.
Features that make this software very attractive
In addition, it has a rarely seen feature, such as the ability to play up to 1000 files . In case we have left half videos, the program is capable of memorizing and remembering the exact point where we are watching each one to be able to continue the reproduction from that same point. We can also play fragments of files that are broken or not fully downloaded.
If we are also passionate about three dimensions, with PotPlayer we can view all kinds of videos in 3D . It supports compatibility with various types of glasses (side by side, up and down, page turning) and different output formats so that we can get the best experience either from our 3D TV or computer.
For lovers of original version videos, PotPlayer incorporates support for text subtitles (SMI and SRT), DVD (Vobsub), Blu-ray subtitles, ASS / SSA animation subtitles and SMI Ruby tags, etc.
This is how PotPlayer works to play videos
Once we download and run PotPlayer we will have great control over its functions. The interface of this player is quite easy and intuitive, helped by being in perfect Spanish. We have buttons to add, delete or order our videos, even a magnifying glass in case we have a very extensive list added and we want to find a specific title.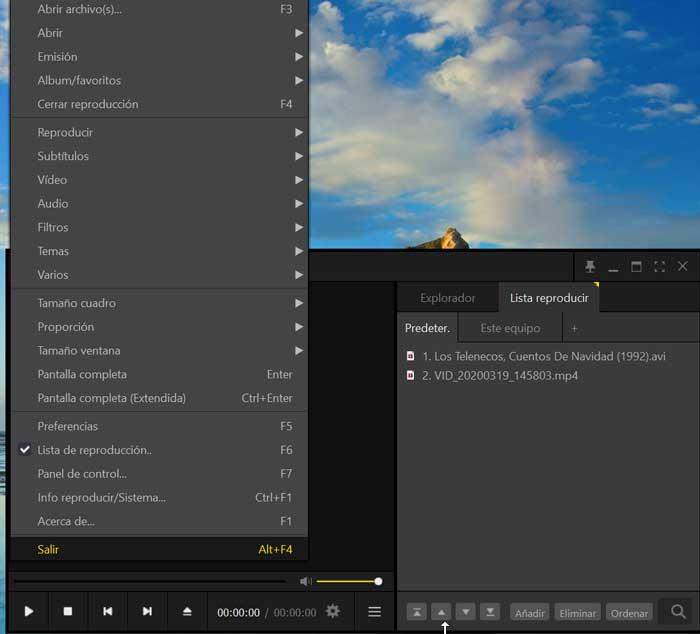 In the upper left part, if we click on the PotPlayer sign, a menu will be displayed where we will have all kinds of options. From here, we can modify the speed of the video, increase or decrease the contrast and brightness, change the playback speed or adjust the volume. From this we can always enjoy the best viewing of our videos. We can also adjust the size of the screen or the aspect ratio and even turn off our computer at a specific time, ideal for it to turn off once the film or series has finished.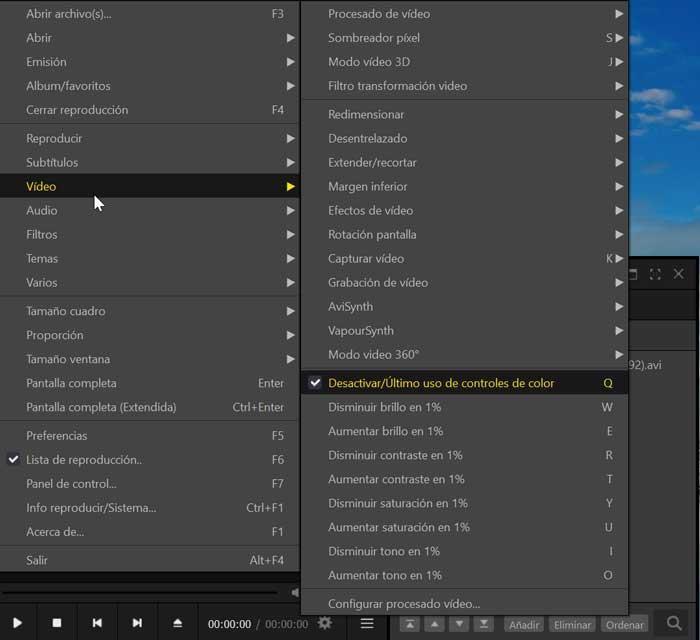 The configuration and customization possibilities that PotPlayer offers us are multiple, so it can be overwhelming for the most inexperienced users. Therefore, if we want to use some functions quickly, we have a Control Panel within the options menu. In this small panel, we can find all kinds of settings in an orderly way for sound, video, subtitles and playback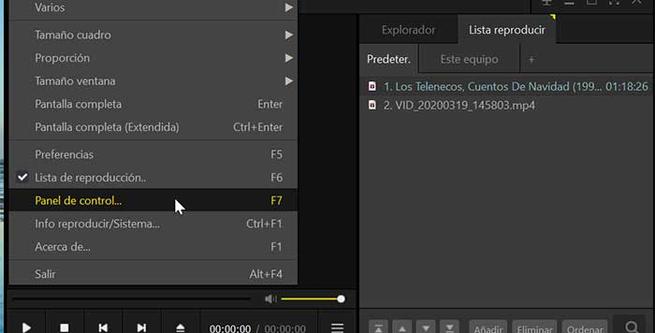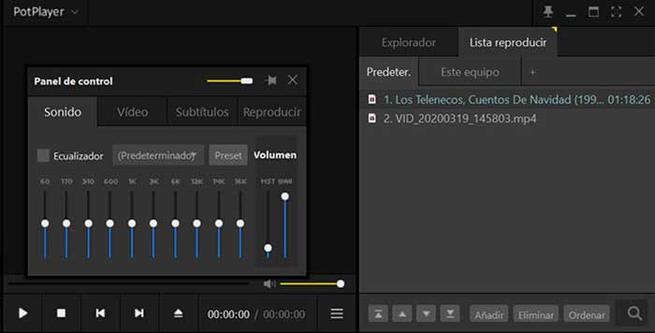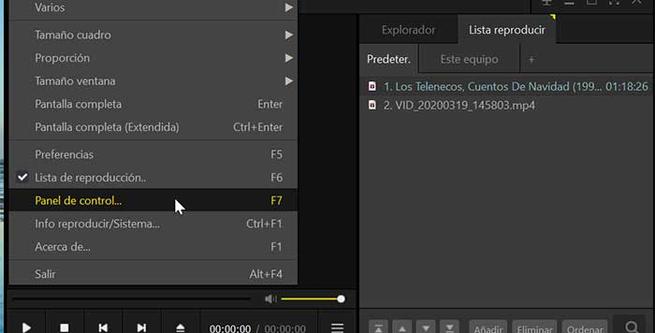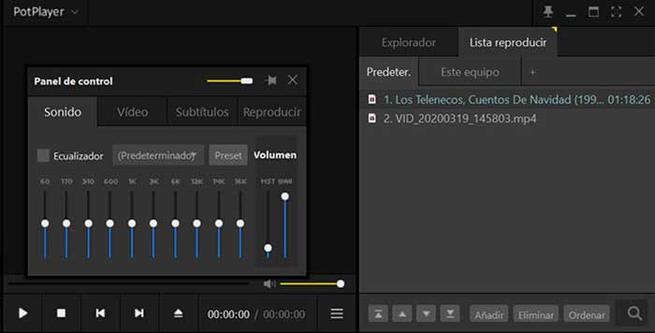 Within the PotPlayer options menu there is also a Preferences tool , ideal for more advanced users. From here we can control all kinds of program parameters in an orderly way, being similar in some respects to the Control Panel but much broader. We will find all the available options for playback, audio, video, subtitles as well as filters and extensions.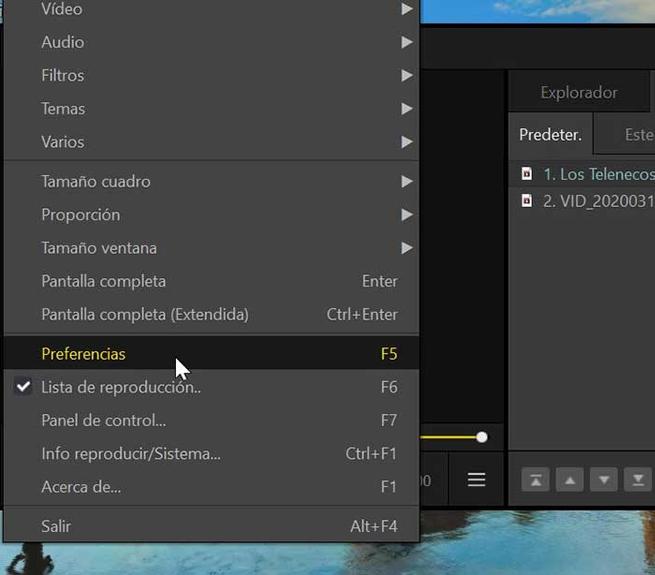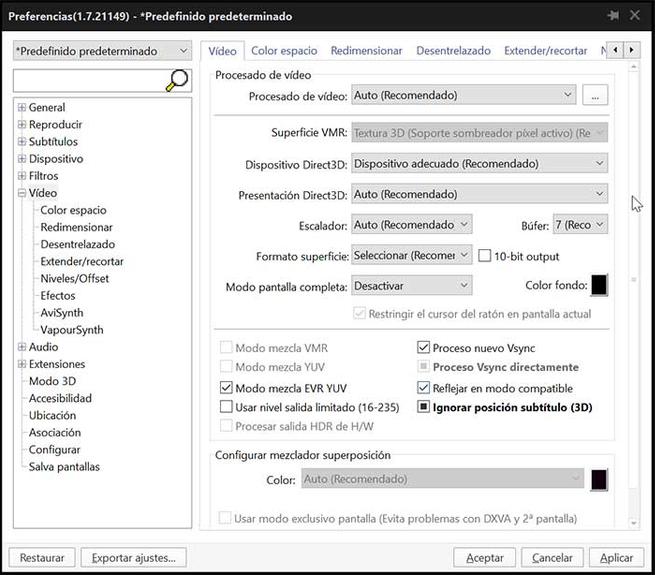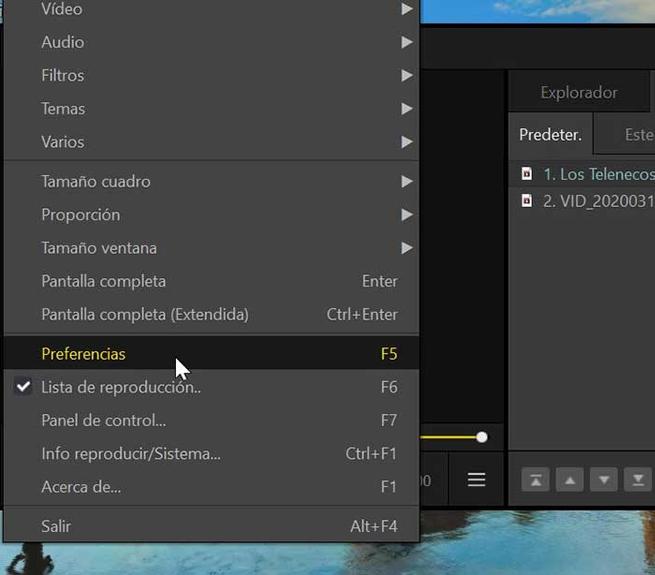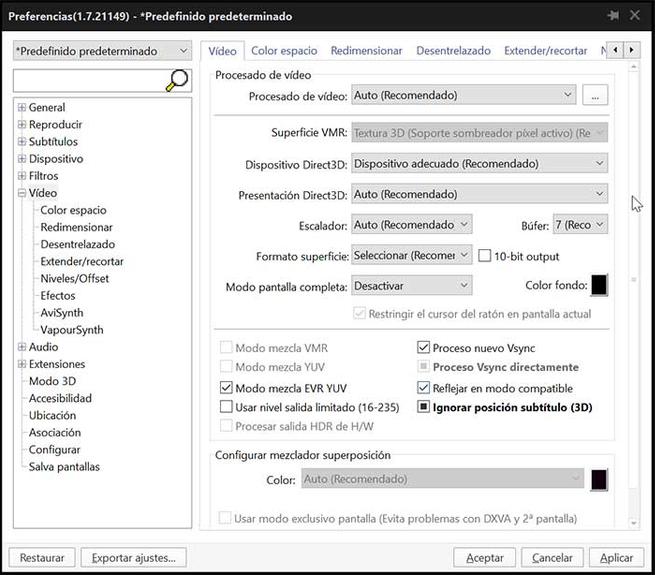 How to download for free
PotPlayer is a completely free video player in Spanish that we can download from its website. It is compatible with the Windows operating system in both 32-bit and 64-bit versions. From its page it is also possible to download new beta editions, as well as a codec pack.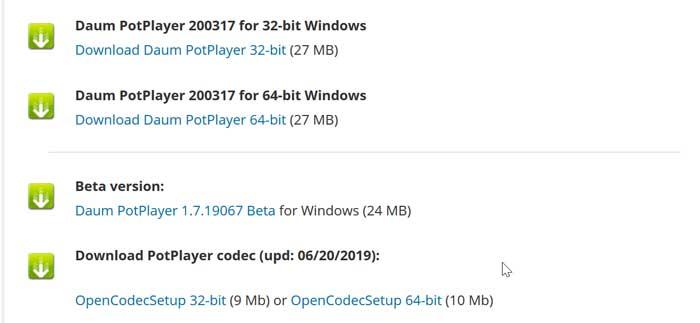 Alternatives to PotPlayer
PotPlayer is a solvent and versatile multimedia player, but if you have not finished convincing you, you can also choose some of the following alternatives:
VLC Media Player
VLC is the quintessential media player that has gained a lot of popularity among users. It plays all kinds of video and audio formats, as well as subtitles in a simple way. It is also compatible with the reproduction of local content or via streaming over the Internet. And best of all, it's completely free.
5K Player
5K Player is a video player that we can choose as an alternative and that has the possibility of playing videos in 4K and 5k, as well as those recorded in 360 degrees, in addition to being compatible with the most popular video and audio formats on the market such as MKV, AVI, MPE or ACC among others. It also features wireless audio and video streaming, as well as video downloads from online services like YouTube. It can be downloaded for free from their website.
KM Player
KM Player is a multimedia player that stands out for being able to play videos up to 8K smoothly and without loss of performance. It also includes support for playback from optical discs such as DVD and Blu-ray, as well as support for subtitles and the possibility of downloading videos from some streaming portals. You can download it for free from their website .