multimedia
Performs professional digital painting works with corel painter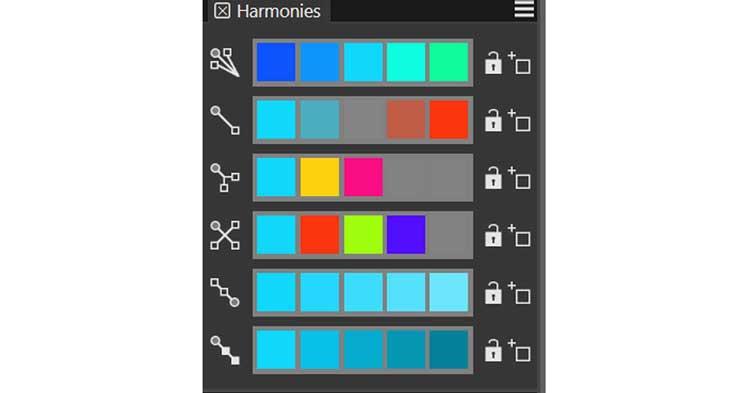 All those users who are creative and are good at drawing, surely they have thought to abandon the paper and brush to go to creating in digital format. This is something that can be done obtaining spectacular results with the help of our computer and a tablet. In addition, we will need a professional tool with which to achieve professional results. For this, today we are going to talk about a program that will make us obtain an experience similar to traditional drawing, such as Corel Painter .
Corel Painter is a professional painting and illustration tool aimed at professional photographers, designers and artists who can develop their full potential and create authentic works of art. The program includes all kinds of tools and customization options that make it suitable for any artistic approach.
With this powerful application we can mix colors freely and experiment with a wide variety of brushes, materials, textures, making combinations between them until we achieve the desired result. It includes support for most of the most popular and used image formats, as well as sections for managing palettes, retouching, cropping, and vector modification.
We will have extensive control of the canvas, with the possibility of moving, zooming, rotating and applying lighting and textures with great ease, giving life to our canvas with papers, flow maps, textures and gradients. We can use your color wheel and mixer to create a perfect color palette. It also allows us to control the brush by modifying its size, shape, angle, flow thanks to its depth control panels.
Unleash your creativity with Corel Painter
Once we start the program, its main menu appears with an interface that will be familiar to us if we have used other members of the Corel family, and that provides us with quick access to all the necessary tools to create our project. It also allows us to rearrange the palettes and change the design, so that we can create a suitable environment to encourage our creativity. Its main drawback is that it is only in English . This can be a problem for certain types of users that can be overcome with a little practice.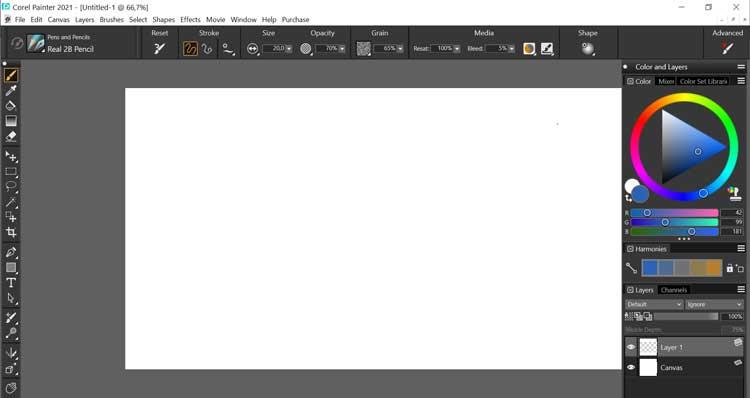 More than 900 brushes to choose from
If this powerful tool is characterized by something, it is by incorporating more than 900 brushes and paths so that we can find the right one to carry out our task. In addition, it has a powerful brush search engine that allows us to find different alternatives and preview the strokes while we explore the different options available. In addition, it is possible to customize each brush by creating presets that allow us to reproduce the strokes in various drawings. Brushes can be grouped into a custom palette for quick access to our project needs. If we look at the upper left we find the «Pens and Pencils» button where we will have access to its wide range of brushes.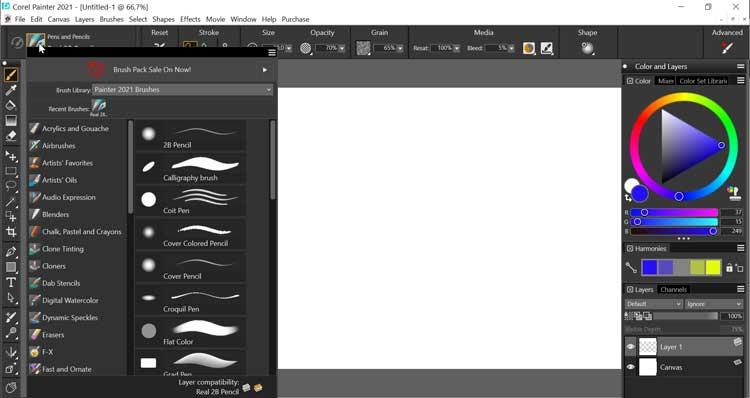 Located on the left side of the screen we find a toolbar that we can move and move to any other point on the screen. In it we find classic and well-known functions such as Brush, Eyedropper, Paint Bucket, Delete, Select lasso, cut, add text, etc. On the right side, Corel Painter includes an extensive collection of effects that allows us to modify the colors, adjust the brightness and change the texture of the canvas.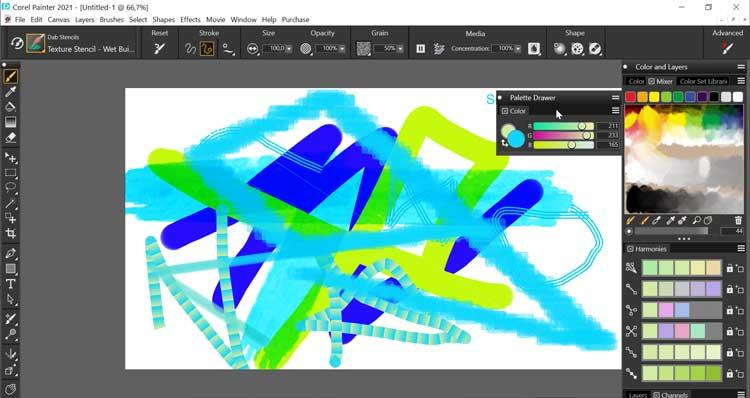 This program also allows us to manage the layers so that we can organize our projects, being able to combine and group the drawings. In the same way, we can eliminate parts of a drawing using the layer visibility option.
Color wheel for the perfect match
The color wheel that we can find in Corel Painter is quite useful. The outer circle allows us to choose a tone and the inner triangle will help us to choose the saturation and value. It also offers a split preview while we mix the colors, designed to choose the best color for our needs.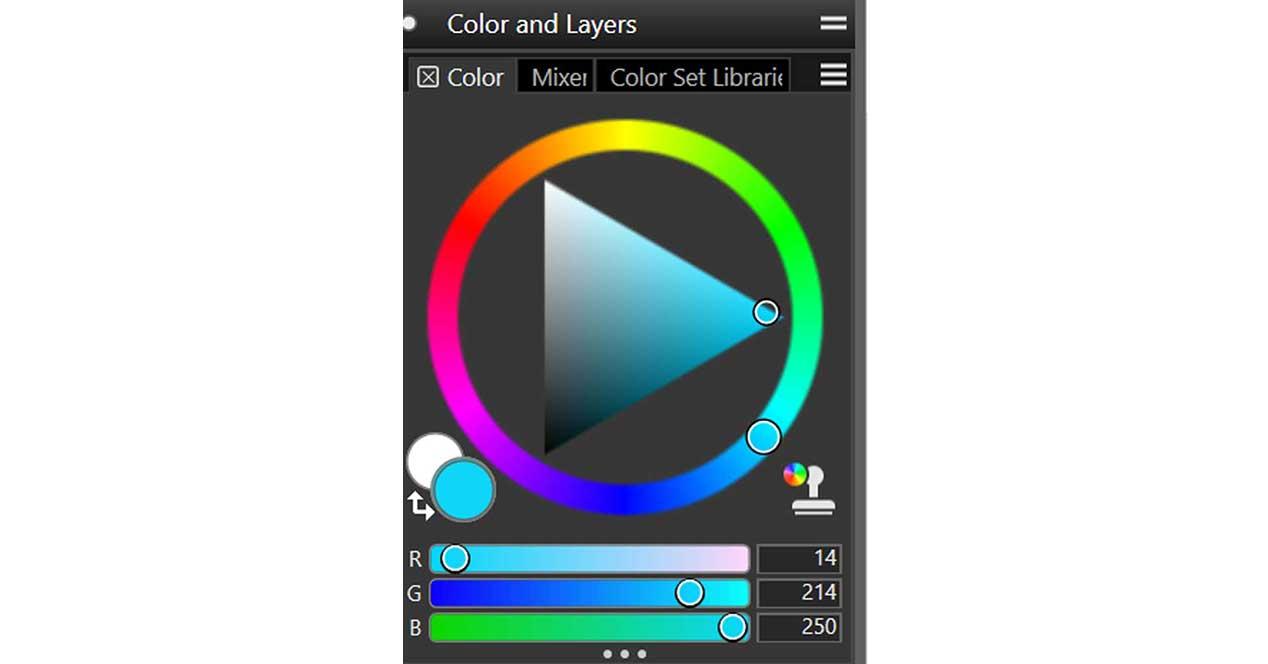 Just below we find the Color Harmonies tool , which is responsible for offering complementary colors based on our current selection. It has six different types that we can show even at the same time. We can even block some sets so that it does not change regardless of whether we select another color. Our combinations can be saved to be used later in other projects.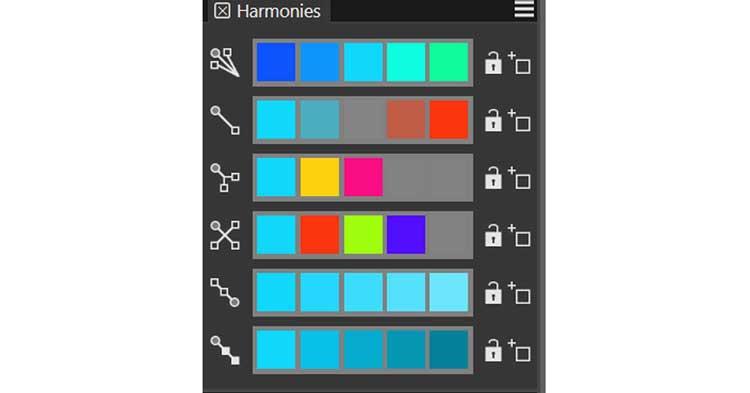 Download Corel Painter
Corel Painter is a professional digital drawing and painting program that has a commercial license, so you will have to pay to use it. If we want to test it beforehand to see if it meets our needs, it is possible to download a free trial version from its website, being compatible with Mac OS and Windows computers .
If we want to buy Corel Painter, we can buy it with a single payment of $ 429 . It also supports subscription for $ 16.58 per month, with annual billing ($ 199). It is also possible to find offers in a timely manner that lower the cost of it.
Alternatives to Corel Painter
If we are looking for a digital drawing and painting tool, we present a couple of free alternatives to Corel Painter to consider:
Krita
It is a professional, multiplatform, open source, and completely free digital painting program. The application puts at our disposal a large number of brushes and effects, which will offer us the possibility of working comfortably and efficiently with several layers. It incorporates support for most of the most popular and used image formats. It also has sections for managing palettes, retouching, cropping, and vector modification. We can download Krita from their website .
SketchBook Pro
This powerful tool is aimed at all those people who have a true passion for illustration and digital drawing. It has a warehouse of more than 190 different types of brushes, such as pencils, brushes, airbrushes, inks, etc., which we can customize as they best suit us, incorporating textures and shapes. We will have all kinds of rulers, elliptical guides and French curves that will be adjusted to us so that we can make drawings with great precision. And best of all, SketchBook Pro is completely free and can be downloaded from the developer's website.