multimedia
Open and edit all kinds of images for free with avs photo editor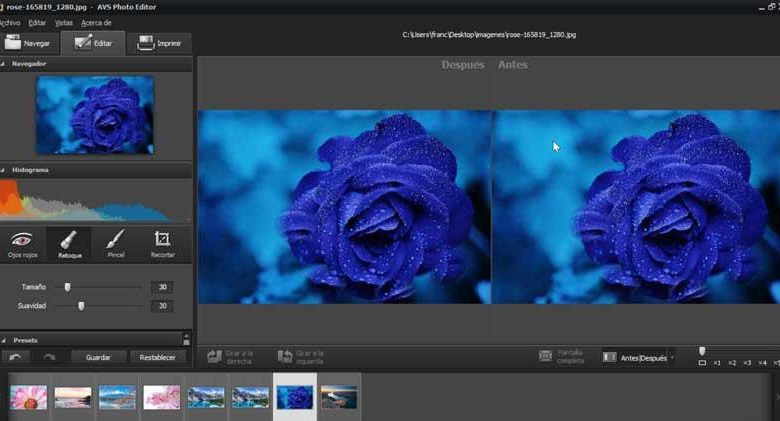 It is increasingly common to store a large number of images and photographs on our PC to always have them at hand and which we can treat later. To be able to edit and improve the images we need an editing tool with which to carry out any task that we need. For this we can a program like AVS Photo Editor, which we will talk about below.
AVS Photo Editor, main features
AVS Photo Editor is a complete program for editing images and photos with a large number of extra functions, being able to manipulate the files to our liking, without losing quality and obtaining completely professional results. This free tool provides us with customizable presets and options when it comes to white balance, tone correction, and other enhancement methods.
Thanks to this editing software we can perform functions such as cropping, playing with effects, shadows and colors, repairing damaged photographs and adding colors. There will be no shortage of the ability to adjust the brightness, contract, saturation and color balance. So that we do not have format compatibility problems, the application is compatible with the most popular formats such as JPEG, GIF, PNG, TIFF, RAW, among others.
With AVS Photo Editor we can rotate and crop images without loss of quality, being able to change their shades, shadows and colors to give a completely different style to our photos. Likewise, we can use it to remove that annoying red-eye effect from our photos, as well as change objects and improve all kinds of imperfections. In addition, we can make our photos look old or transform the originals into black and white.
Basic image formats supported
Read : BMP, ICO, WMF, EMF, JPEG, JPG, GIF, PNG, TIF, TIFF, EXIF, PCX, TGA, RAS, CRW, CR2, RAF, DNG, MEF, NEF, ORF, ARW, SRW.
Writing : BMP, WMF, EMF, JPG, GIF, PNG, TIFF, EXIF, PCX, TGA, RAS.
With all kinds of tools to edit images
Once we execute the program, its main menu appears with an interface with a dark tone and an intuitively structured design, giving an aspect of professionalism in general. In addition, it is correctly translated into Spanish.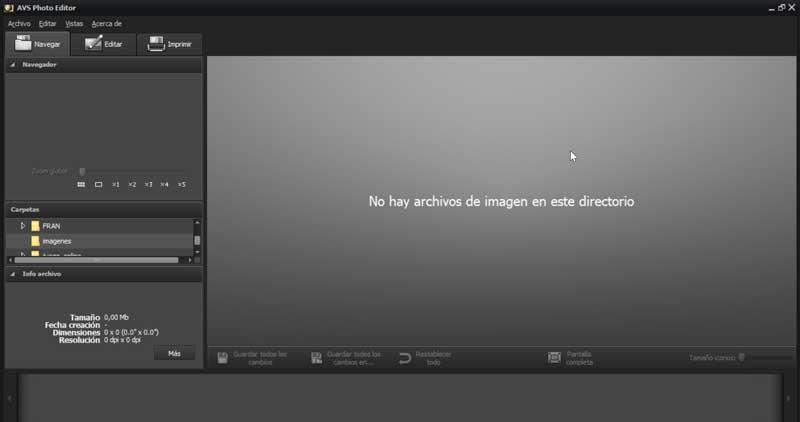 This tool offers us an integrated folder explorer, from which we can search and open images. This allows us to analyze the size of the file, its creation date, the resolution, its dimensions, as well as all the EXIF information . In a way that makes it easier for us to see them, the images in the current directory are placed in the form of a filmstrip.
To be able to vary the image parameters we must go to the "Edit" tab. Here the presets preserve all the original image settings and include various types of effects, such as aged photo, black and white photo, sepia, soft focus and other effects. Any of these settings can be saved as presets to keep them as presets.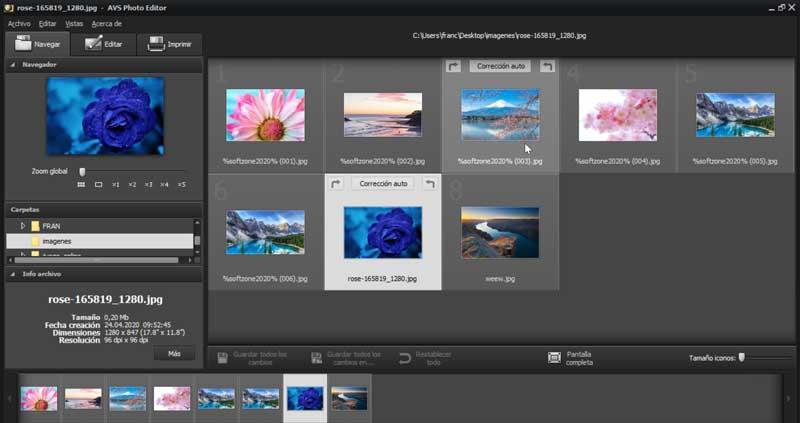 Predefined and custom image enhancement settings
Other options that we have available are the possibility of removing red eyes, adjusting different sizes for the brush and painting with it, cropping parts of an image after specifying the angle, as well as adjusting the size and smoothness. It will also be possible to correct the levels of brightness, contrast, sharpness and saturation and it incorporates an eraser tool to be able to correct any mistakes that we could make.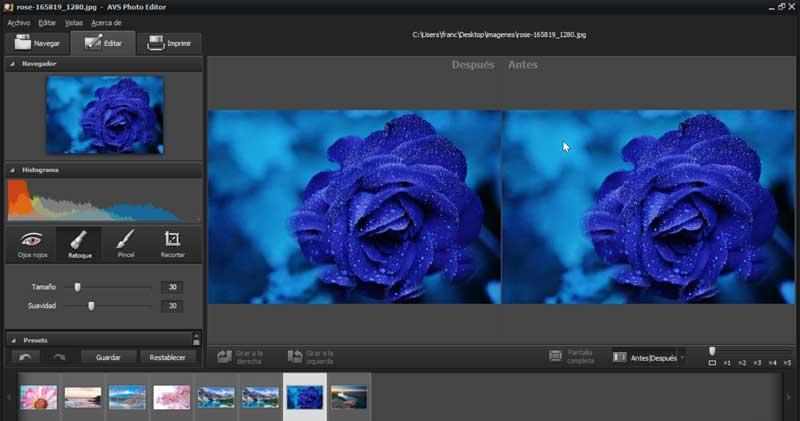 With this application we can also study the histogram of the photo, we can configure the white balance, correct the color tones, adjust the brightness, the blur, carry out an intelligent correction of the clarity and the vibration and carry out vignette effects. As in other editing programs, we can apply watermarks, rotate photos, undo and redo actions, access a full screen mode and activate the "Before / After" function that will allow us to view a comparison of the image original compared to the modified one and check if we are satisfied with the results.
Conclusions
As we can see, AVS Photo Editor is a fairly complete program, with the most fundamental options of a program to edit photos. Perhaps it is far from professional applications such as Photoshop, although we have to bear in mind that this is a free application, with which we can obtain very good results. Perhaps, its main drawbacks are that it has a somewhat slow response time and the large amount of memory it needs, so this is not exactly a lightweight program.
Download AVS Photo Editor
AVS Photo Editor is a free program that we can download from the developer's website . It is compatible with Windows in all its versions from XP to Windows 10. Its latest version available is 3.2.5.169 and the installation file has a size of 13.46 MB . The installation is done through its wizard quickly, without at any time trying to get us to install other unwanted third-party programs.
Minimum system requirements
Processor: Intel Core 2 Duo / AMD or 3 GHz equivalent (Intel Core 2 Quad 2.4 GHz or higher recommended).
RAM: 2 GB (3 GB or higher recommended).
Video: Windows 7/8/10 compatible video card.
DirectX: Microsoft DirectX 9.0c or more updated.
Audio: Windows 7/8/10 compatible sound card.
Alternatives to AVS Photo Editor
If we are looking for a program to edit our photographs, we propose a couple of alternatives to AVS Photo Editor that we must take into account.
GIMP
This program has become one of the best alternatives as photographic editing and retouching software to the famous Photoshop, obtaining professional finishes. It has selection tools, layer management, smart selection scissors, painting tool, modification tools, tools for small adjustments and the possibility of adding text. In addition, it is compatible with the most popular and used image formats, as well as Photoshop PSDs. We can download GIMP for free from the following link .
PhotoFiltre
It is a complete software for retouching and editing images with which we can perform all kinds of tasks. It has more than 100 filters and a layer manager with all kinds of brushes. It also allows vector edits with automatic and custom formulas. In addition, it consumes very few resources so it can be used by all types of computers. PhotoFiltre is a completely free professional image editing program that we can download from the developer's website .