multimedia
Normalize the volume of your audio files for free with mp3gain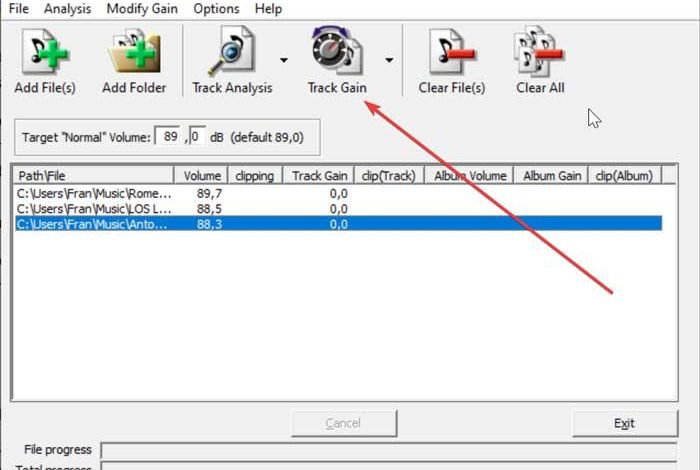 Listening to music in MP3 format has become a common trend for many years, since they are files that have enormous versatility and compatibility with all types of devices. In the same way, there are many compatible softwares available to be able to treat them, either to edit them, cut them, convert them, join them … and even normalize the volume.
And it is that the main problem that we can find when listening to music in MP3 is, precisely, the normalization of the audio. This is something that can happen to us, especially if we have obtained the files from different sources, which can cause some songs to be heard louder than others, which becomes quite annoying when playing them.
This problem can be frequent when we play a playlist on our player and we notice how the quality and volume of each song varies as we go from song to song. This leads us to constantly having to adjust the sound of our player. To solve this problem, we can use a program like MP3Gain, capable of normalizing the volume of MP3s, and about which we will talk next.
MP3Gain solves MP3 volume problems
MP3Gain is a free and open source program that analyzes and adjusts our MP3 files to ensure that they all have the same volume . This application will be in charge, through a statistical analysis, to determine how loud the file sounds to our ears. In this way you can analyze and normalize files to the same volume, and more importantly, without loss of quality . This happens because the program adjusts the MP3 file directly, without the need to decode and re-encode.
Once we execute the program, its main menu appears with an interface that, although it has a slightly obsolete design, is relatively simple and easy to use for almost any user as soon as they experiment with the different elements that compose it.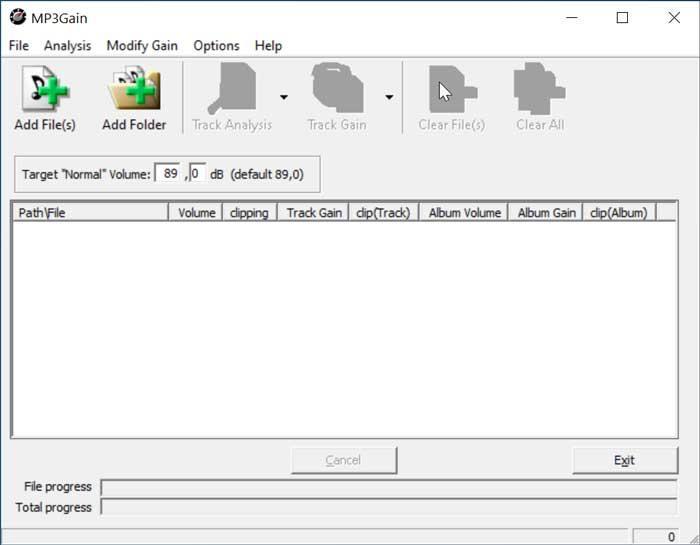 Add files to your interface and analyze tracks
The first thing we must do is start adding our MP3 or M3U files in the main menu. This is as easy as dragging and dropping our files onto the interface. We also have the option of clicking on the "Add File (s)" button from where we can add songs by selecting it from the file explorer. Similarly, we can add complete folders from the "Add Folder" button. These files are added as a list on the main screen and can be sorted by path, volume, album, etc.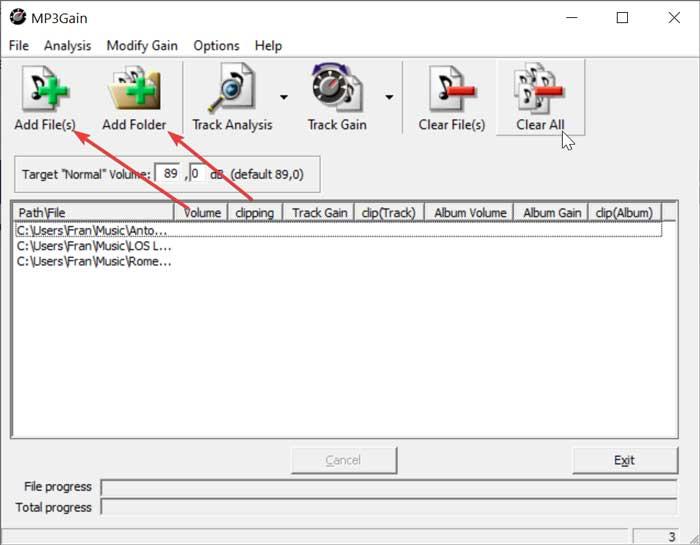 Once we have added all the sound files that we want to normalize, we click on the «Track Analysis» button. In this way, the program is in charge of analyzing the files and will generate a report on the current volume level of each one of them. The value that appears to us is important that we keep in mind, in case, for any circumstance, we want to cover the volume to its original state.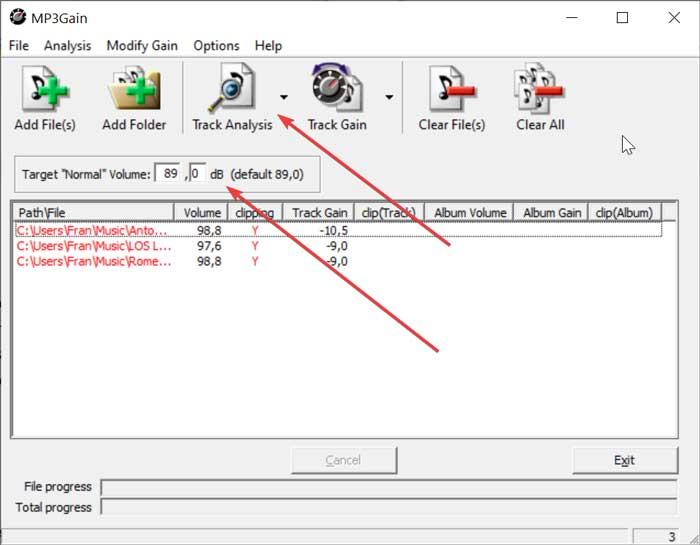 Just above the list of songs we can select the preferred volume value, in the "Target Normal Volume" section. By default, it is set to 89.0 dB. Therefore, in the result of the analysis we will see the volume at which the files are and next to it the variation that MP3Gain will make to normalize them to the volume that we have established.
Normalize audios with a simple click
Once we have selected the volume to which we want to normalize our files, just click on the "Track Gain" button to start the process. Once finished, the new established volume will appear, so we only have to play the tracks to check if the volume is correct or is heard too high or low. For this we can double click on any song and play them with the desired player that we have installed.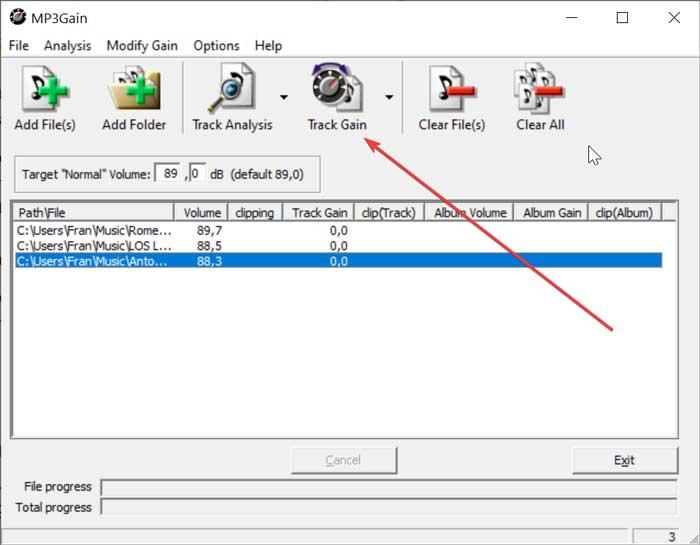 In the event that we are not satisfied with the results obtained, we can provide a new level in "Target Normal Volume" and click on "Track Again".
Conclusions: is MP3Gain worth using?
MP3Gain is a program that works well and requires a low amount of system resources for its use, fulfilling its purpose satisfactorily. It is fast in the process, although this is something that depends on the number of files that we are going to normalize. As it is a simple program, it may be too simple for more advanced users and lacking in options. For all other users it is a good way to normalize the volume of our songs, being especially useful to normalize an entire folder with the MP3s that we want to burn to CD.
Download MP3Gain
MP3Gain is an open source program with a Freeware license, so we can download it for free from the developer's website . It is compatible with the Windows operating system and has both an installation version and a portable version . This means that we can run it on any computer without the need for installation through an external storage medium such as a hard drive, a pendrive or a memory card. This also ensures that the Windows registry is not updated with new entries. Its latest stable version available is 1.2.5, and it also has a beta version of version 1.3.4.
MP3Gain alternatives
If we are looking for a program with which to normalize the volume of our MP3 files, we suggest a couple of alternatives to MP3Gain to take into account:
Audacity
It is possibly one of the most popular free audio editors. Among its multiple functions we find the possibility of normalizing the audio of our MP3s. For this, it ensures that all the frequencies that are part of each clip are raised to a certain decibel level, making the volume become uniform, without peaks or drops. We can download Audacity for free from this link .
Lastar
With this free application we can normalize the volume of our MP3 files in batches. The program is responsible for the normalization of the loudness that is carried out in the signal power, which causes a higher and more homogeneous result, especially in live recordings, so it is ideal for normalizing analog or vinyl tapes. We can download Lastar for free directly from the  developer's website .
Kanto Audio Mix
We are talking about an audio editor that also has the possibility of assembling, dividing, converting and removing the voice of the files. Therefore we are facing an ideal application for music lovers. Among its different functions we find the possibility of improving the quality of music files by modifying the audio by improving the frequency of the songs, as well as their treble and bass. We can also extract audio tracks from a video file, and generally have full control of our MP3, MIDI and KAR. If we want to normalize the sound with Kanto Audio Mix, just download it for free from this link .
Sound Normalizer
This application will be of great help to us to improve the sound quality of our music files, as it has great compatibility with all types of files, including MP3. This software has been developed to be able to improve, level and restore the volume of our songs, since it is able to show the volume level, the distribution of the sound and the properties of the format. Download Sound Normalizer for free from its  website .