multimedia
Miro, the player that stood up to the almighty kodi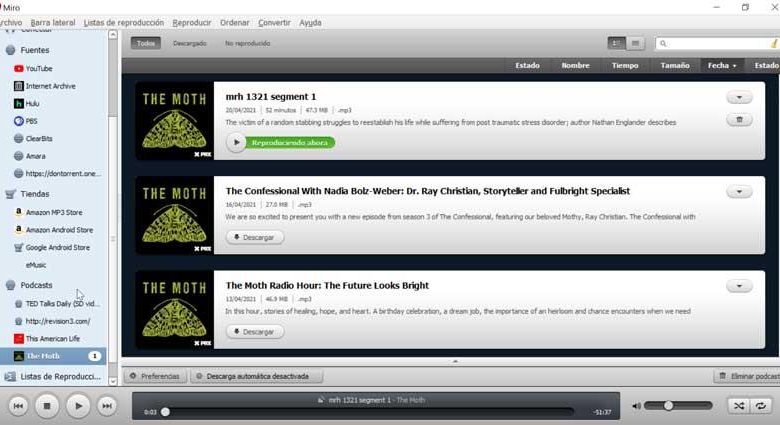 Currently, the consumption of multimedia content on our computer is a common practice. Either play content over the Internet or from our computer's hard drive, listen to music or our favorite Podcasts. In one way or another, everything related to multimedia is in our day to day. That is why today we are going to talk about Miro, a multimedia center that aims to unite all this content in a single program.
Miro is a free and open source multimedia player that has been developed for the reproduction of audio and video, as well as with additional features such as downloading and watching videos via BitTorrent, buying in stores and listening to Podcasts, among other functions.
And we are facing a player that is presumed to be very complete, with which we should be able to convert and synchronize our music and videos with Android devices. It also incorporates a section to buy MP3 directly from Amazon, which we can download and listen to without problems on our computer.
Consuming multimedia content over the Internet is increasingly common, that is why Miro has the functionality to download from platforms such as YouTube. In addition, it is compatible with the most popular video formats such as WMV, XVID, MPEG, AVI, QT, among others, so that we do not have problems when enjoying our series and movies, regardless of the format in which I can configure them. Is it therefore the definitive player?
I look, what could have been and is not
Once we run the application we find an interface that has a clean and simple design that is also compatible with Spanish, so we will not have to have problems when accessing its functions. It also allows us to scan a directory or a drive in search of multimedia files. Once finished, the audio or video elements that we have scanned within the chosen location will appear automatically.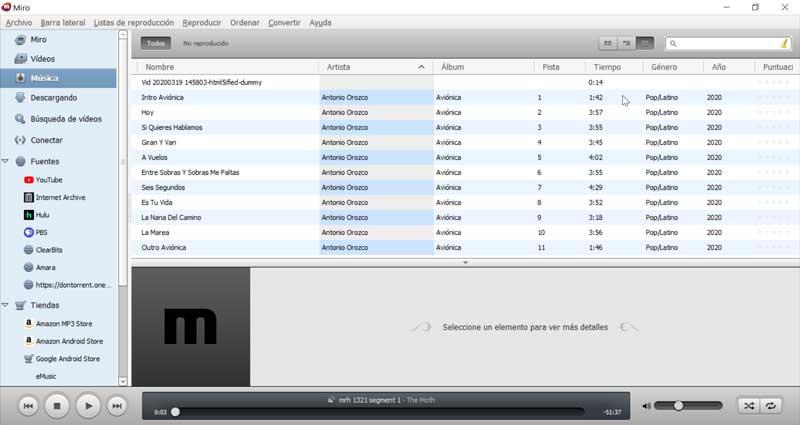 As a good player, Miro will allow us to play, pause or stop playback, adjust the volume, perform search operations and switch to a full screen mode. It will also be possible to order the elements according to various criteria, as well as order the audio elements by name, album, track, genre, year, etc.
Download files on local network and other devices
Within the Connect section, this player will allow us to transmit and download files from and to other computers that have Miro installed, as well as synchronize it with a mobile phone, a tablet, a digital camera. This will require us to install the Bonjour libraries.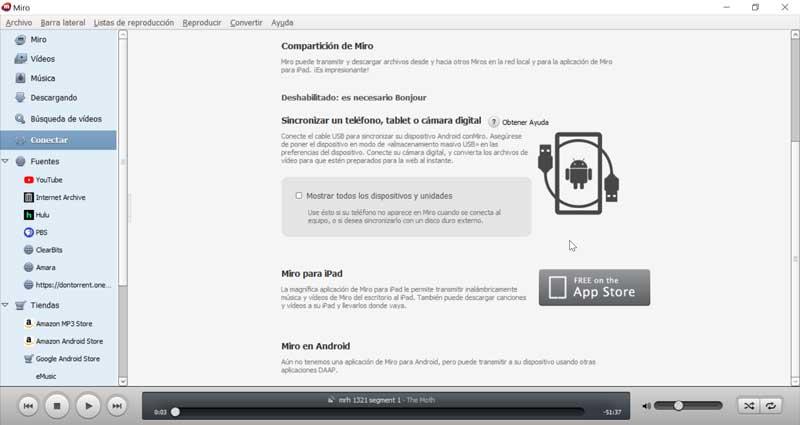 In the event that we have an Android device or a digital camera, we must synchronize it by connecting it by cable to our computer, making sure that the device is in "mass storage" mode. Although it is also indicated that it is compatible with iPad through an application, the truth is that it is not available.
Add audio, video or torrent sources to download?
From the Sources section. Supposedly, we are going to be able to add websites that offer audio, videos or torrents to download. The problem is that we have tried to add torrent links and we have not been able to get it to play or download.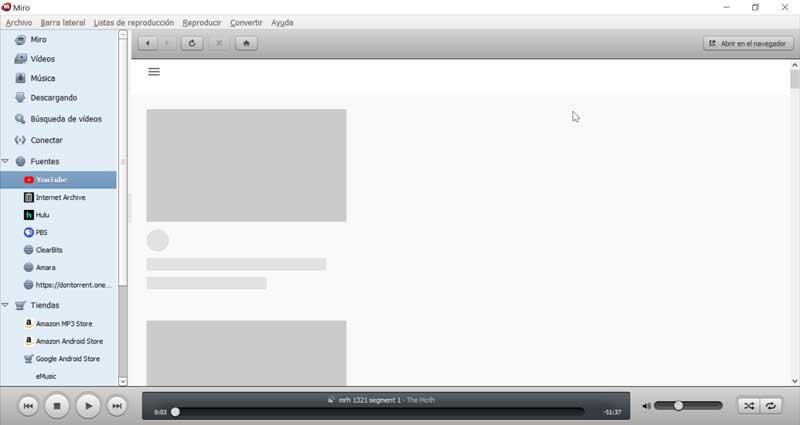 Within this section we also find different direct accesses such as websites such as YouTube, Don Torrent, PBS, among others. This should be achieved through the presence of its integrated browser, which leaves a lot to be desired, as it does not work as it should. The YouTube website does not load directly, not even being able to show the thumbnails, while Don Torrent does not let us move through its interface. So it is, but it can't be harnessed
Buy MP3 on Amazon or Google Store
Next, we find its Stores section. From here we will find shortcuts to the Amazon MP3 Store, Amazon Android Store and Google Android Store. This should help us to buy music and play it directly on the player. The idea is not bad, although again we must use its integrated browser for it.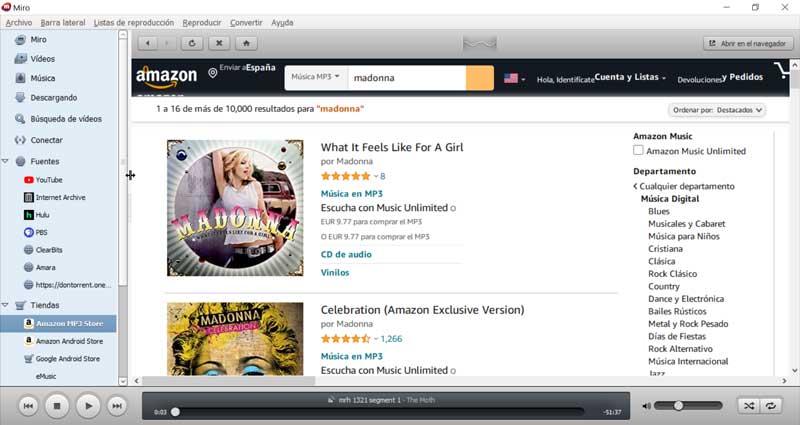 We find again the problems of rough and little fluid navigation that do not offer a good feeling, especially to trust our login data on the platforms to make purchases. We also find a direct access to eMusic which directly gives an error when trying to access, so it is not possible to use it.
Download and listen to Podcasts
Finally, we find the Podcasts section that will help us download and play Podcasts from different websites such as TED Talks Daily, revision3, This American Life and The Moth. Here again we run into some drawbacks. On the one hand, the four pages offer content in English, which may be of little use to many users. On the other, we have had problems downloading files in TED Talks Daily, while in The Moth we have been able to download and play it correctly.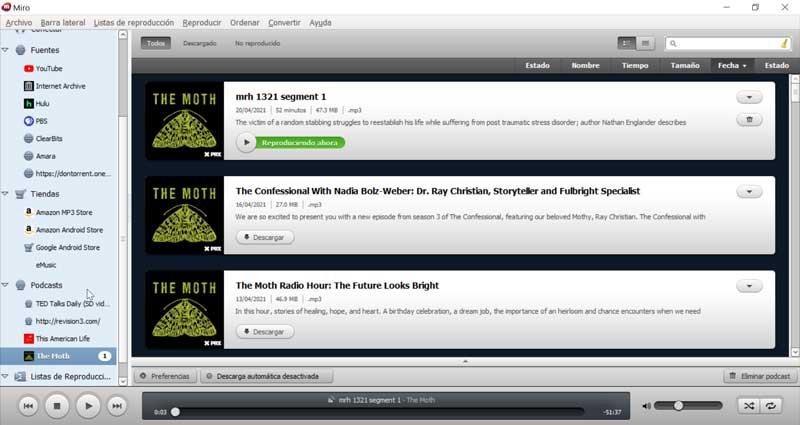 Conclusions: Miro was in a good attempt
Miro was raised at the time as a great multimedia center where you can play audio and video, download torrents, watch YouTube content, listen to Podcasts or make purchases on Amazon. The problem is that the program does not work as many of its functions should. It is probably because since 2013 it has not received updates, so it seems that the project came to an end many years ago, and that is why many of its options do not work properly. Therefore, beyond playing audio and video, we can get little more out of this player, which, had it had better support, could have been a serious option to consider.
Free download Miro
Miro is an open source and 100% free multimedia player created by a non-profit organization that we can download from their website . It is compatible with Windows XP, Windows Vista, Windows 7, Windows 8 and Windows 10 in 32-bit and 64-bit versions. It is also compatible with Linux and macOS. The installation process is quick and easy, the entire process being carried out through its wizard. During it, the program will urge us to install a series of programs or add-ons (Adobe Flash, Java) as an option for better operation.
Unfortunately, the last Miro update dates from 2013, so it has not received support from its developers and the community for 8 years .
Alternatives to Miro
If we are looking for a multimedia player with additional functions that go beyond playing audio and video, we suggest some alternatives to Miro to consider:
Kodi
It is possibly the most popular multimedia center, allowing us to play both videos, audio and images from any medium in which we have it stored. In addition, it is characterized by being compatible with a large number of accessories to customize it to our liking. We can download Kodi for free from its website .
Media Portal
This program allows us to play videos and movies, as well as DVD and Blu-ray discs. We can also listen to music and radio, as well as view images, home videos or make a slide show. Furthermore, we can stream media, radio and TV to any network connected HTPC / PC, and even use a remote control to control the HTPC from our couch. Media Portal is free and can be downloaded from this link .
Stremio
It is a modern multimedia center that gives us the opportunity to watch everything we want: movies, TV shows, channels, the web, sports, listen to podcasts and much more. In addition, it is compatible with Chromecast so we can transmit our content to view it on our television. We can download it for free from here.