multimedia
Mediaportal, the best alternative to kodi to reproduce multimedia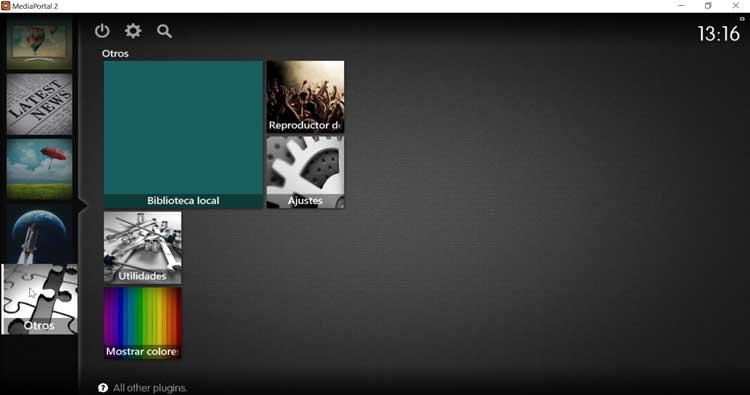 The multimedia section is usually one of the most important uses that we usually give to our computer. And it is usually the ideal place from where to play all kinds of movies or series from our DVD or Blu-Ray, listen to music or the radio, as well as view photos. To do all this, we can choose specific applications for each one or opt for a program like MediaPortal, which turns our PC into a complete multimedia center.
MediaPortal is a free and open source program with which we can turn our computer or television into a real multimedia center . Its interface is inspired by Windows Media Center and works with very basic hardware, which when connected to our television allows us to enjoy videos, movies and images in a fast and dynamic way.
With this software we can play videos and movies, as well as DVD and Blu-ray discs. We can also listen to music and radio, as well as view images, home videos or make a slide show. It also allows us to transmit media, radio and TV to any HTPC / PC connected to the network, and even use a remote control to control the HTPC from our sofa. In addition, it allows us to access news and check the weather among other options.
In addition, MediaPortal has a wide variety of add-ons available with additional features that will allow us to view sports scores, movie schedules, download YouTube videos or listen to Internet radio.
Turn your PC into a multimedia center
The installation and configuration of MediaPortal is not for everyone, since it allows us to go from a basic configuration process where the settings are configured automatically or we can choose more advanced options that allow us to select the services and elements that we want to implement in our system.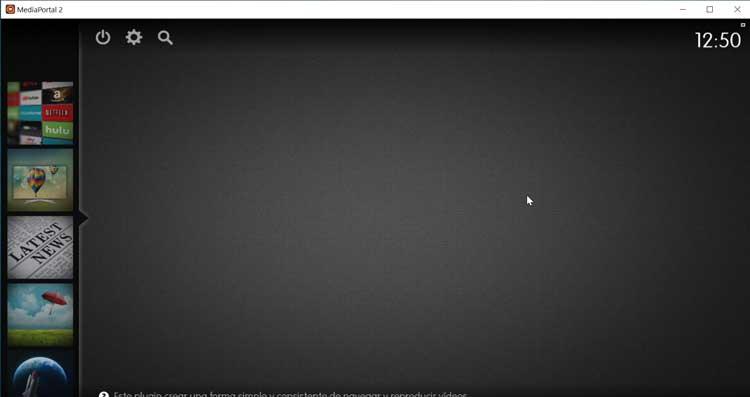 Once we run the application, an interface appears that shines in visual terms, which we can even customize, selecting the type of display by categories, as well as being able to add background images and elements to appear in the main menu. By default we will have access to TV, videos, music, images and radio. Everything can be configured so that we get flawless navigation and visual representation. In the right column we will have direct access to the most important functions. We can change the interface skins from the "Settings" and "Skins" section to choose the one that best suits us.
OnlineVideos
From this section we can have access to channels of online video platforms. In it we can find it organized by country or globally. By country, we have Spain available where we can access channels such as La 1, La 2, Teledeporte and have access to all their content. In a global way, we can access platforms such as Netflix, Last.fm, Pokémon TV and MusicTelevisión.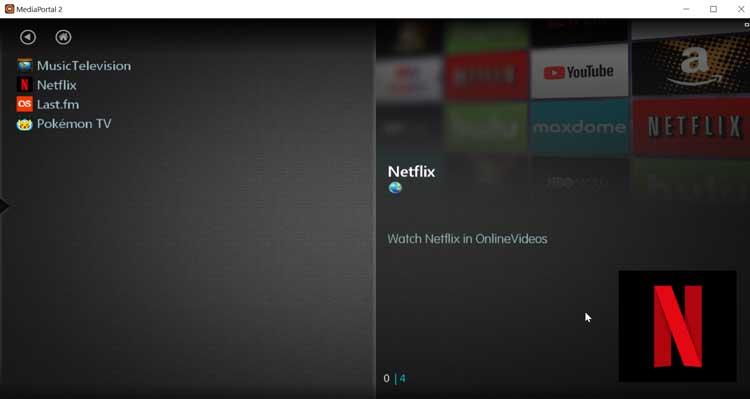 TV
In the case of having a television tuner installed on our computer , we can access it through the TV section. Here we can watch live television, consult the guide, the programming, search for any channel or even make recordings.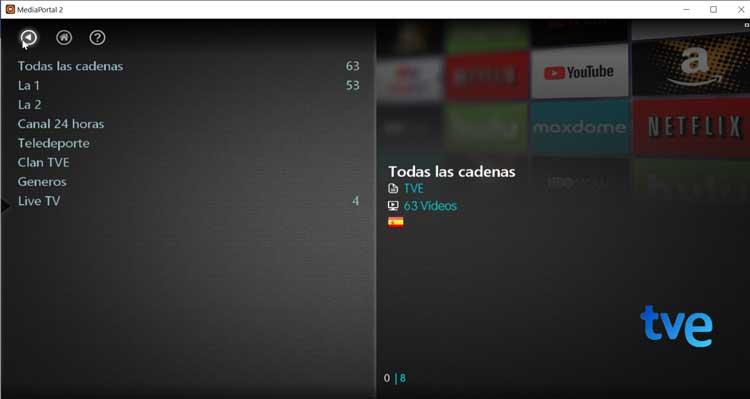 News
From this section we can have access to all the web news . By default, two news pages are incorporated, but that we can configure by adding and removing the elements that compose it. From the settings section we will be able to add our favorite websites to be able to consult them directly from the application. Keep in mind that we can add those websites compatible with RSS .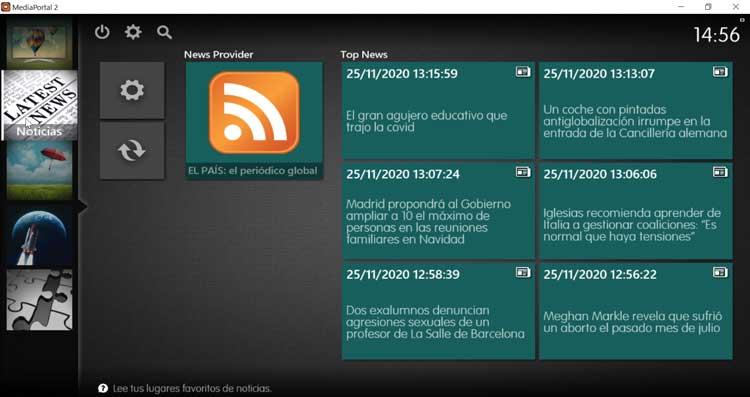 Weather
Here we can add our location from its corresponding settings section and in this way be able to check the weather graphically at any time. The time available both for the same day and for subsequent days appears, also showing us the maximum and minimum temperature, as well as the degree of humidity. We can add our locality manually through the «Location» icon, which will do so automatically through our location.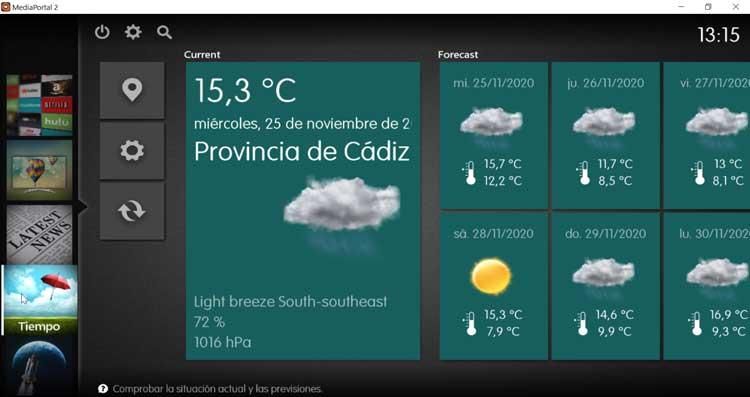 Others
From this section we will have access to our local Library, from where we can play videos, music and images, simply by accessing its location on the hard drive. We can also activate the Music Player and add a playlist. In addition, we can enter the global settings from where to install plugins and thoroughly configure all the sections of this complete.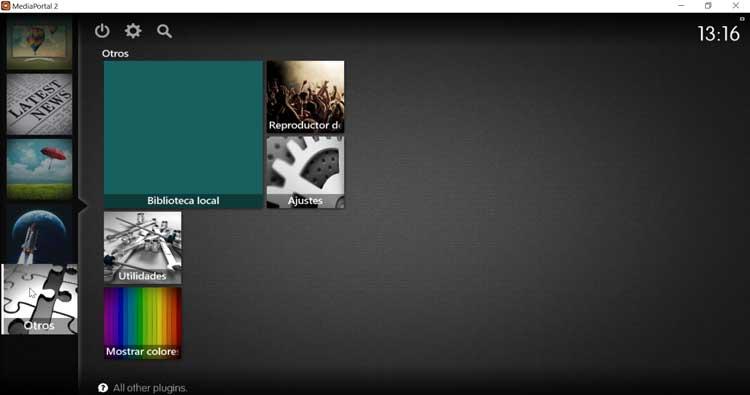 Conclusions
If we are looking for a powerful multimedia center, full of options and widely configurable, with a wide variety of options and plugins to install, MediaPortal is a great option. Of course, only the most advanced users will be able to get the most out of it. We must also bear in mind that it is not a precisely light application, as it consumes a good amount of system resources, something to keep in mind if we are going to use it for something other than playing videos. Its greatest utility is undoubtedly as a multimedia center to be fully used with a television from the computer itself.
Download MediaPortal for free
MediaPortal is a free and open source program that we can download from the developer's website . It has two versions of the same program, MediaPortal 1 (MP1) and MediaPortal 2 (MP2), both free. MP1 is the original version, and it currently has more add-ons available to use, it is completely stable and receives updates, since its version 1.26 corresponds to November 2020. MP2 is the new version developed from MP1, with fewer add-ons , although just as usable and stable. Its latest version is 2.3 and corresponds to October 2020. Both are compatible with Windows.
Alternatives to MediaPortal
If you are looking for a program with which to turn your computer into a powerful multimedia center, we propose a couple of alternatives to MediaPortal to take into account:
Kodi
This program is probably the most popular multimedia center. With it we can play videos, music and images from any medium where we have it stored. It also allows us to catalog our library with our own cover art, as well as information taken from Filmaffinity or IMDB. In addition, it is characterized by being compatible with a large number of accessories to customize it to our liking. We can download Kodi for free from its website .
Plex
It is a software with which we can organize our collections of music, videos and images, being compatible with almost all formats. Your UI library presents your media with illustrations, biographies, etc. It also allows us to create multiple user accounts and restrict inappropriate content. In addition, it allows you to synchronize media with Google Drive, Dropbox and Box cloud storage. You can download Plex from its official website .