multimedia
Make your photos bigger without losing quality with thess programs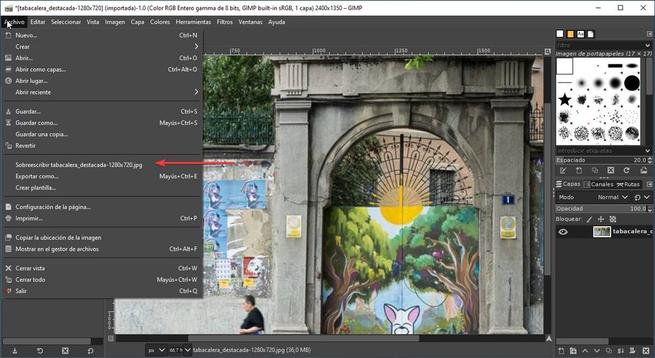 Every day we take photographs and pay attention to the framing, the composition or the colors so that the memory of that moment is as perfect as possible. Many times we store the photos and we will not see them again until, for example, we print them and there a problem may arise: we need to enlarge the photos without losing quality .
Today we are going to see a list of programs with which you can expand the size of your photographs without affecting the quality. In addition, we are going to see how to carry out this process with two of the most used photographic retouching programs: Adobe Photoshop and GIMP .
How do these programs work?
A digital image is mainly made up of pixels, and when we enlarge an image, we separate them from each other. Those in-between spaces are what the software uses to produce new pixels. The better the tool, the smoother the transition between the originals and the new ones and the more natural the photo as a whole will appear to us. It is also important to know that the image must have a minimum of pixels so that the enlargement can be satisfactory and we do not have a blurry image. No matter how good the program is, if the image is very small it will not be able to perform miracles when it comes to enlarging it. Therefore it is always recommended that the image has at least 300 pixels.
Enlarge your photos without losing quality with these programs
If we need a program with which we can make enlargements of our photos, we propose a series of options with which we can carry out the work without loss of quality.
PhotoZoom Pro, the most advanced option
The BenVista company program offers spectacular results. Thanks to its S-Spline Max technology, it allows you to enlarge photos up to 1 million pixels by 1 million pixels.
The interface has a somewhat dated design, but it is clear and all the tools are within reach of the mouse. The application allows you to work in batches which will save you time. In addition, offering various presets, it includes specific tools to improve noise correction.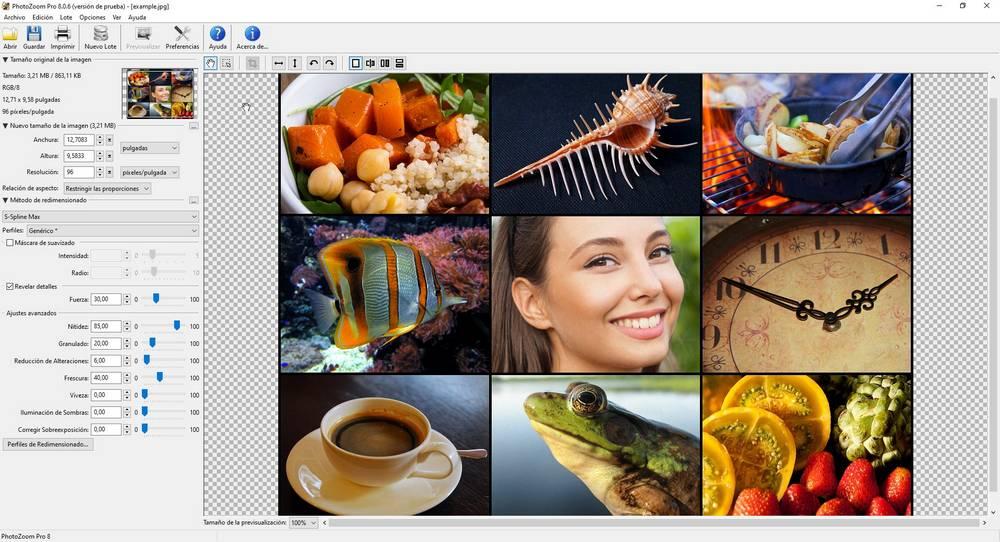 Although it works independently, it can be integrated as a plug-in in Adobe (Photoshop and Photoshop Elements) and Corel (PHOTO-PAINT and PaintShop Pro) programs or completely in the case of Adobe Lightroom.
The price to pay to enjoy this complete program is 159 euros. If you don't want to pay it, but you are interested in seeing how this program works, your images will be exported with a watermark.
You can access the download through the link .
A Sharper Scaling, up to 400%
This free tool is very easy to use and will allow us to expand the size of our photos up to 400%. We can enlarge the complete image or select a part of it and increase it up to the indicated percentage.
The program offers the possibility to choose the image conversion method: pixel repetition, bicubic or bilinear interpolation and bicubic interpolation with the Sharpen add-on. The latter is the one that offers the best results and the one we recommend.
In addition, it offers a conversion manager that will save us a lot of time in the event that we have several photographs to enlarge. We just have to select the folder where the images are, indicate the enlargement percentage and indicate a destination folder. The program will take care of everything for us.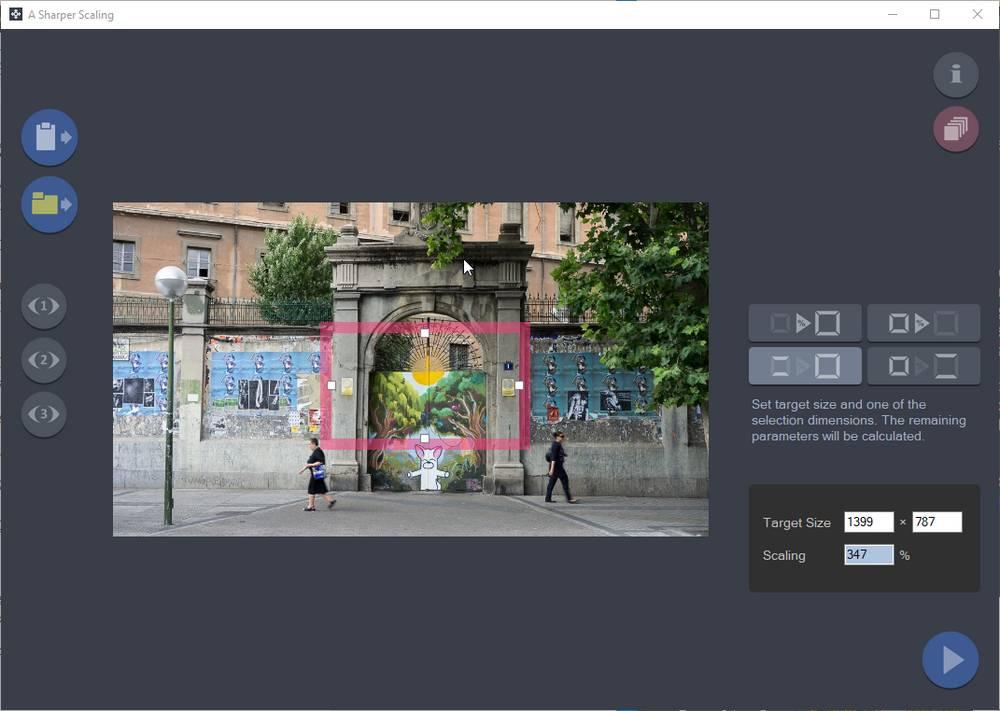 The program has two drawbacks. On the one hand, it only accepts color images with the JPEG, TIFF, PNG and BMP format and a color depth of 8 bits per channel. And on the other, it exports the files without alpha channel.
If the pros and cons of this program outweigh you, visit their website to download your free copy.
Topaz Gigapixel AI, one step further up to 600%
The option that we bring you next is a professional program that is priced at $ 99.99. However, it offers a trial version for 30 days after registering on its website. The images you get with this trial version are free of watermarks or other similar modifications.
The program is very easy to use and the interface is intuitive. It stands out above all for the «face refinement» tool which, thanks to artificial intelligence, perfects the faces that appear in the photographs. The finish, therefore, is of a high quality.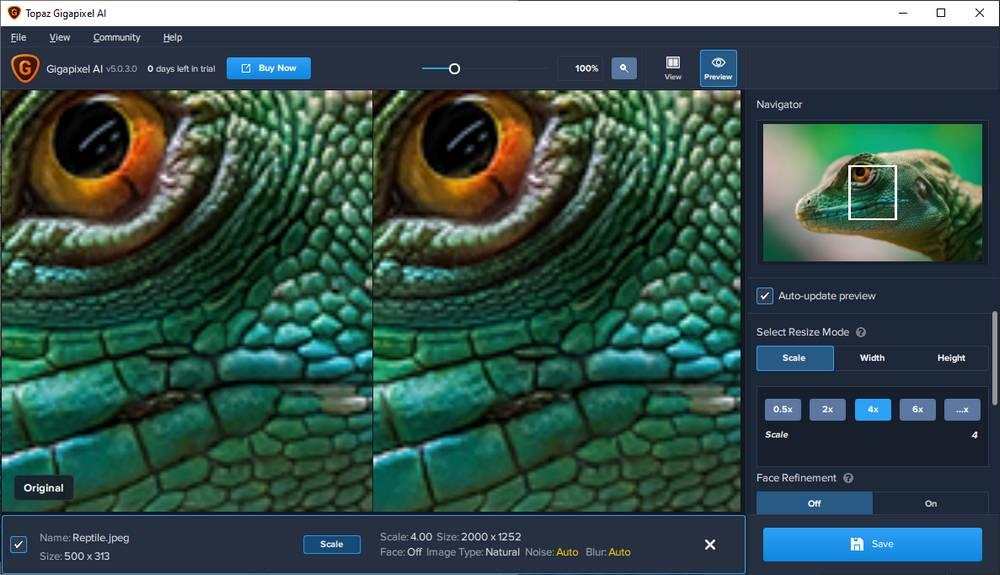 Register on their website and request your test copy.
AI Image Enlarger, enlarge images without loss in seconds
On the other hand, we can also opt for this other proposal called AI Image Enlarger . Here we find a very useful application that we can use to improve the size of reduced images. Of course, we can achieve this without losing quality thanks to the internal workings of the application itself. It is worth mentioning that this is something that we can carry out in a few seconds and easily on any Windows-based computer.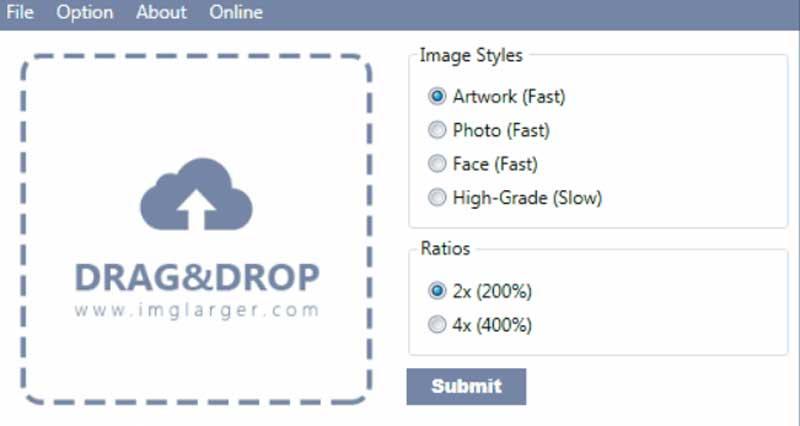 Thus, once downloaded from this link, we will have the ability to convert low resolution images . Thus in a few steps we will obtain high definition photos through a fairly simple process that is carried out internally. To all this we can add a fairly intuitive user interface in which we can drag and drop the image as such. We can also select the styles to use and the output dimensions of the photo.
ON1 Resize 2020, from your camera to your wall
ON1 has released software that is specially designed to transform our photographs into large canvases to hang on our wall. For best results, include default settings to best suit the target printer.
The quality of the final image is very good since, thanks to its patented algorithm based on fractal interpolation, we can obtain enlargements of up to 1000%.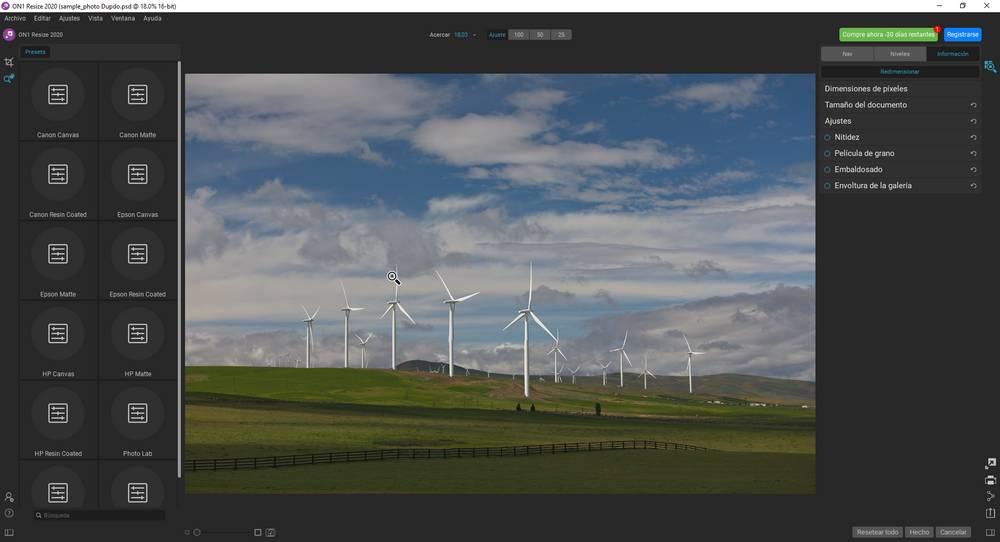 Like other of the previous options, ON1 Resize 2020 offers the possibility of working in batches. To highlight, for different, is that it allows the compression of images and the search of your photos both on your hard drive and on a network or in a remote storage service.
Get your proof copy from the link below .
Waiffu 2x-caffe, enlarge your images freely
This tool of Japanese origin stands out for being free and open source. Therefore, we will not have to pay to use it and we can even collaborate in its improvement and dissemination.
The interface is very static, but it includes everything necessary for us to obtain a good result. What we highlight most about this program is that image enlargement is a customizable process. None of the other options give you more freedom when it comes to manipulating the image.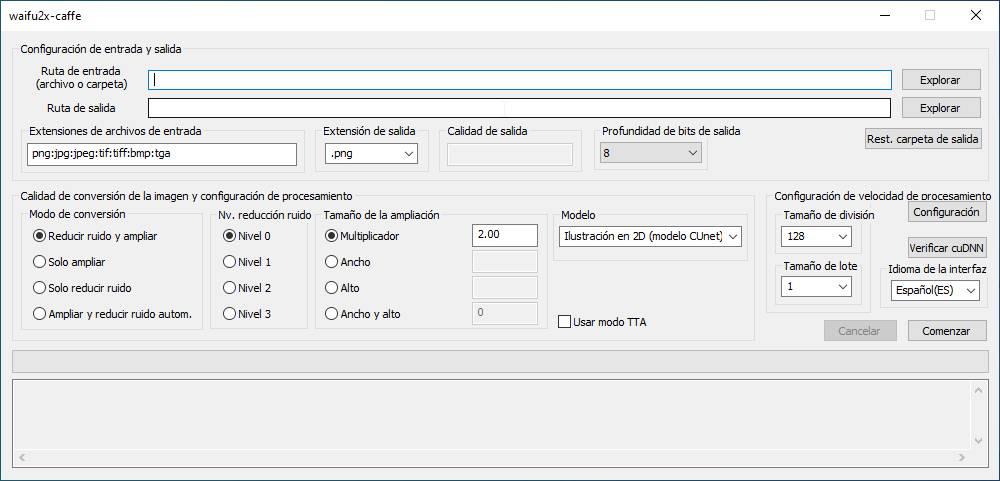 Visit their page on GitHub to start expanding your images.
Kneson Imagener, powerful image enlargement tool
We are talking about a program that is capable of working better than if we expand the photography by hardware. This software handles image analysis better than a hardware photographic enlarger thanks to its digital nature and layer-based technology. Imagener is responsible for analyzing the pixels of the photos and analyzes the content using C ++ object-oriented programming language techniques. In this way, it makes the enlargement of photographs much more efficient than other alternatives. The application has a simple and essential interface, so that it can be used by all types of users, from the most inexperienced to the most experienced. Despite this, it is recommended that all images be at least 200 DPI or even more than 300 DPI for enlargement purposes.

We can download a free version of Kneson Imagener from their website .
Resize photos with Adobe Photoshop without losing quality
Adobe Photoshop is the most used photographic retouching program and we can use some of its tools to achieve the objective we are looking for: enlarge a photograph without losing quality. To achieve this you just have to follow the following steps
Open Adobe Photoshop and load the image you want to enlarge. Next, pull down the "image" menu and select "image size."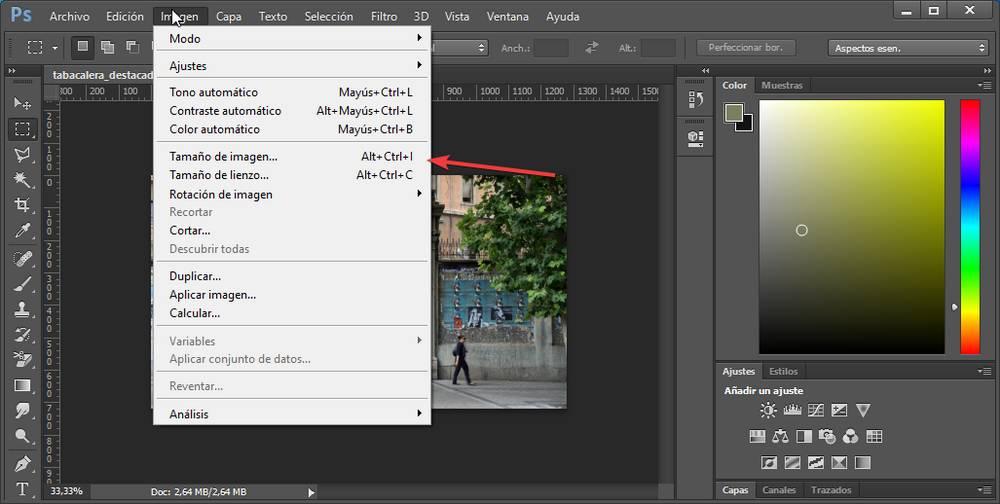 Now you have to select "pixel" and determine the size you want for your photo. You must also select "resample" and "retain details" from the drop-down menu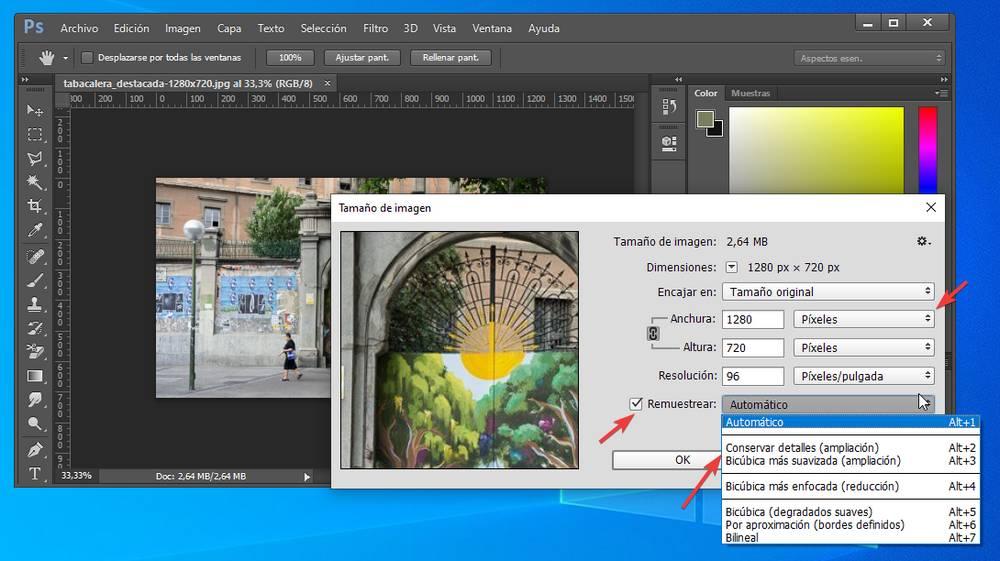 Finally, save your modified file so that the original is not affected by the changes. We recommend the PNG format.
Do the same but for free and with GIMP
The most popular free alternative is GIMP and with it we will achieve the same results that we achieve with Photoshop.
The first thing we have to do, after opening the program and the image we want to enlarge, is go to the "image" menu and click on "scale image"
Then we will select the desired size. If you have version 2.4 of GIMP, select the "Sync (Lanczos3)" option in the "interpolation" menu. If you have another version and do not have this option, select "LoHalo".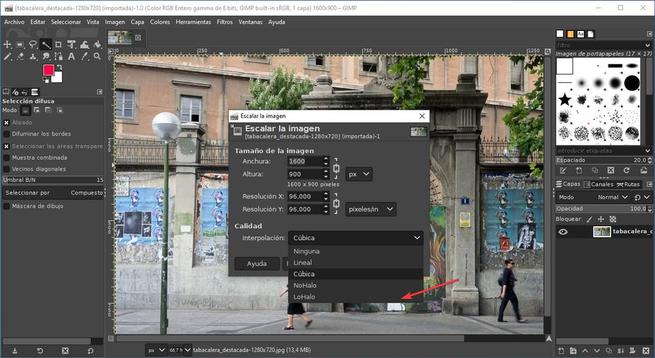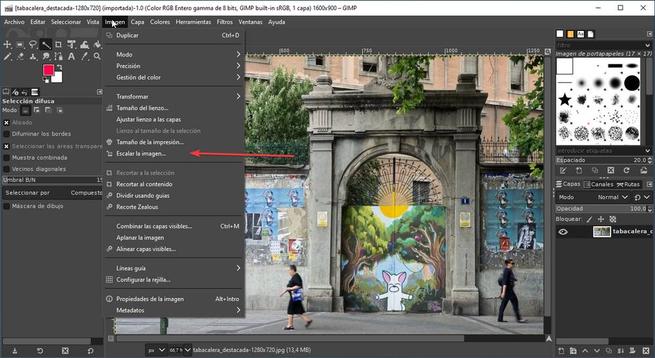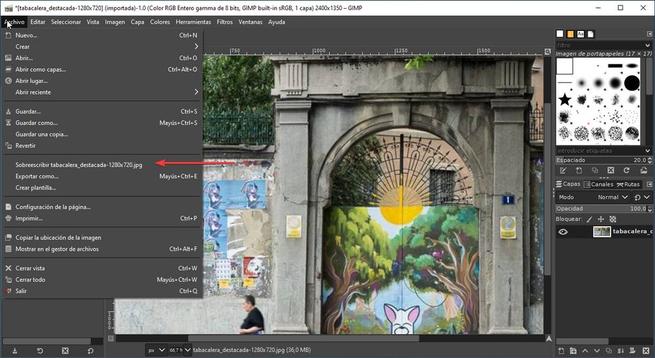 Finally, drop down the «file» menu and select the «Overwrite» option. Now you can do with it what you had thought.