multimedia
Looking for a simple and minimalist player? Use dopamine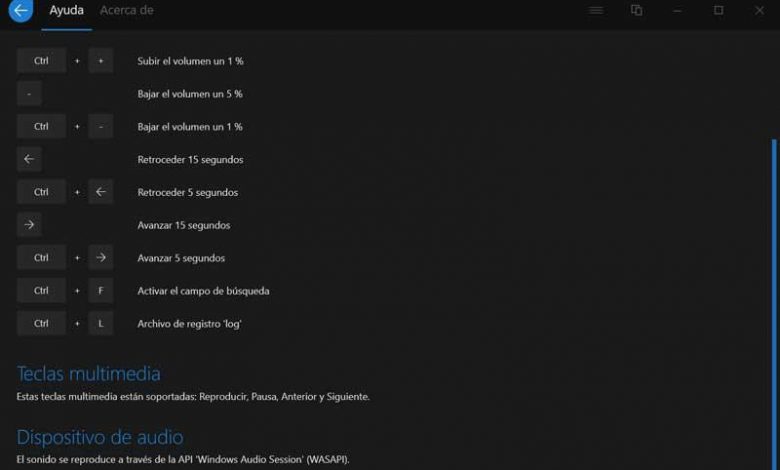 Every good music lover surely saves a complete music library on the computer's hard drive to listen to on a regular basis. For its reproduction, it will be necessary to have a suitable player that does not consume many resources, that is compatible with the most popular codecs and that has a pleasant and minimalist appearance. For this we can use an MP3 player like Dopamine, about which we are going to talk to you next.
Dopamine is a minimalist music player that takes care of organizing our music library within its elegant interface. The program lacks advanced options that may be inconsequential for a number of users, and focuses on allowing us to enjoy our favorite music in the simplest and most practical way. It offers compatibility with the most popular audio formats such as MP3, WAV, OGG, VORBIS, FLAC, WMA, APE, OPUS, and M4A / AAC.
This player will allow us to have all our music organized in tabs within its interface so that we can find the album or song we are looking for quickly. It is possible to organize everything to our liking and view our music by genre, artist, songs or albums, as well as by playlists or folders.
Among its various features include the ability to perform meta-tags automatically, it has an equalizer to make the most of our music files and allows scrobbling to last.fm . It also allows you to switch your theme between light and dark mode and choose a highlight color. In addition, it has a view to see the reproductions that we have activated and will allow us to add a score to it. In this way we can know which are our favorite songs and keep the tracks perfectly identified and ordered.
Dopamine offers without fanfare the possibility of enjoying our music
Once we execute the Dopamine installation file, its assistant will appear through which we can choose a light or dark theme for its interface. We must also select the folder where we have our music library stored. In this way, once its main menu appears, the program will search for all available folders and audio files to show us on its interface. We will have the option to view it through "Artists", "Genres", "Albums" and "Songs", as well as "Playlists" or "Folders".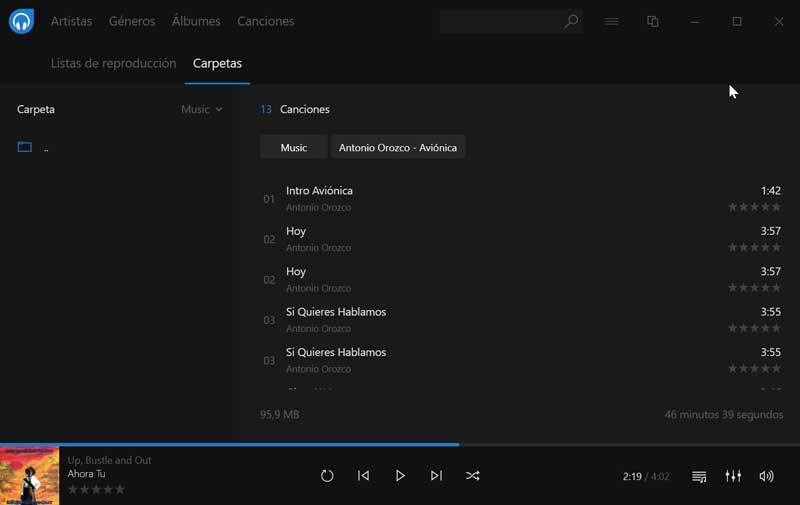 From the "Playlists" tab it will be possible to create a new list or import an existing playlist. If we click on a new list, we will have the possibility to enter the name and add the songs manually or choose a smart playlist. In this way we can create a list based on rules that we can preset and limit the number of songs that will make it up.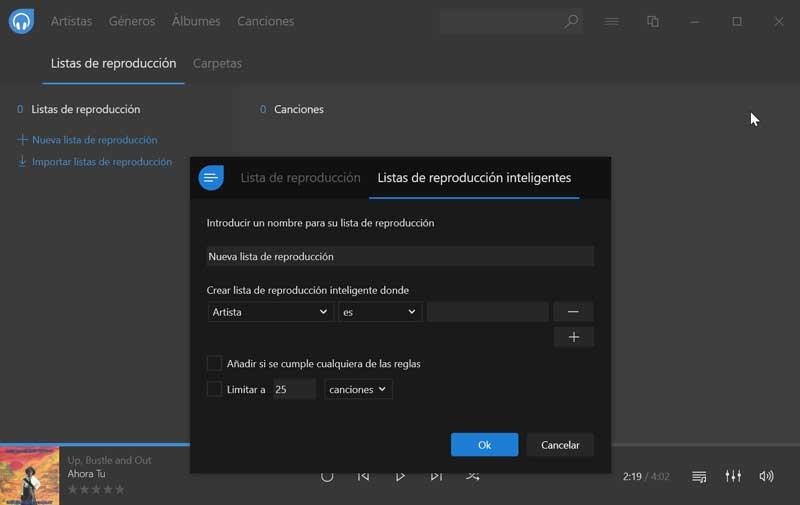 At the bottom of the interface we find the classic playback buttons such as Play / Pause, Previous, Next, Repeat and Random. It also has a button to adjust the volume and an equalizer that, by default, is deactivated. In order to use it, it will be necessary to check the Activate equalizer box, making it possible to make adjustments manually or choose some of its predefined styles such as Classical, Club, Dance, Pop, Rock, Funky, among other options.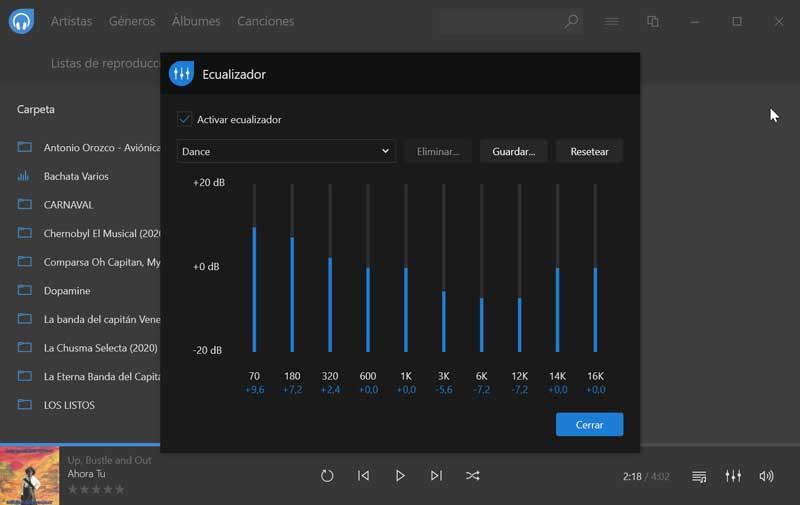 If we go to its Options menu we can configure some aspects of Appearance, Behavior, Playback, Start and Online. Within the Appearance section, we can set a light or dark theme, use the Windows color pattern, use a color pattern for the album cover, show one-pixel borders around the window, or change the language. Finally, highlight in the Information section, all the formats that are supported by the player. It also shows us the different keyboard shortcuts it has, to increase the volume, go back, go forward or activate the search field.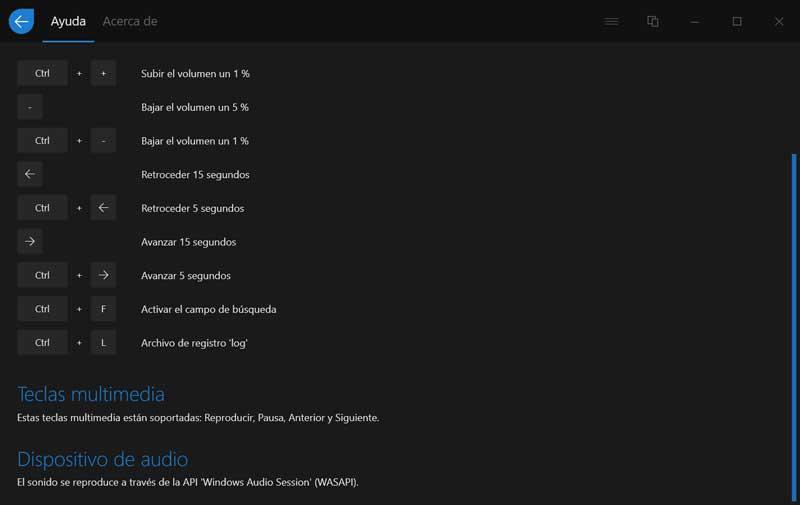 Conclusions: is Dopamine the player we need?
Dopamine is a very interesting music player, with an attractive and minimalist design, a light weight and very easy to handle. It is perfect for listening to our favorite songs or podcasts that we have stored on our computer without weighing down the performance of the equipment. However, it is far from being a perfect application, as we may miss some editing options that allow us to equalize the sound, extract files from CDs or have support for add-ons. That is why it is really recommended for those users who seek simplicity and who only require a program with which they can view music without too much fanfare or extra functions.
Dopamine free download
Dopamine is an open source audio player under the LGPLv2.1 license that we can download for free from its website . It is compatible with Windows 7, Windows 8 and Windows 10 on both 32-bit and 64-bit systems. For its use it will be necessary to have .NET Framework 4.6.1 or higher. The program has both a version with installation and a portable version, which will allow it to be executed from any external storage device such as a pendrive, a hard disk or a memory card without the need to make modifications to the Windows registry.
The latest version of Dopamine available to date is 2.0.8 that was released on April 10, 2021 . This shows the good support and update policy that the application has both by its developers and by the user community.
Alternatives to Dopamine
If we are looking for an MP3 player that also has file organization options, we suggest some alternatives to Dopamine that we must take into account:
Musicbee
It is a free application with which we can reproduce our entire music library. It also has file management and search functions, allowing us to improve the organization and management of our music through tags. In addition, it has a lyrics finder, an audio CD ripper, allows synchronization with MP3 players and converts between different formats. We can download it for free from this link.
MediaMonkey
With this program we will be able to reproduce and organize the MP3s stored on our computer. It allows us to organize our music by genre, name, year, artist and album title. We can also share our music on different devices and create playlists. We can download MediaMonkey for free from here .
Foobar2000
This is a versatile audio player, compatible with most popular formats. It has support for Unicde, so we can edit track names and labels. It also incorporates tools for managing music libraries, advanced tagging features, and keyboard shortcuts. We can download Foobar200 from the developer's website .